Monthly archive for September, 2011
Two prints of Nils Müller were shown in an old bunker in Cologne, Germany this month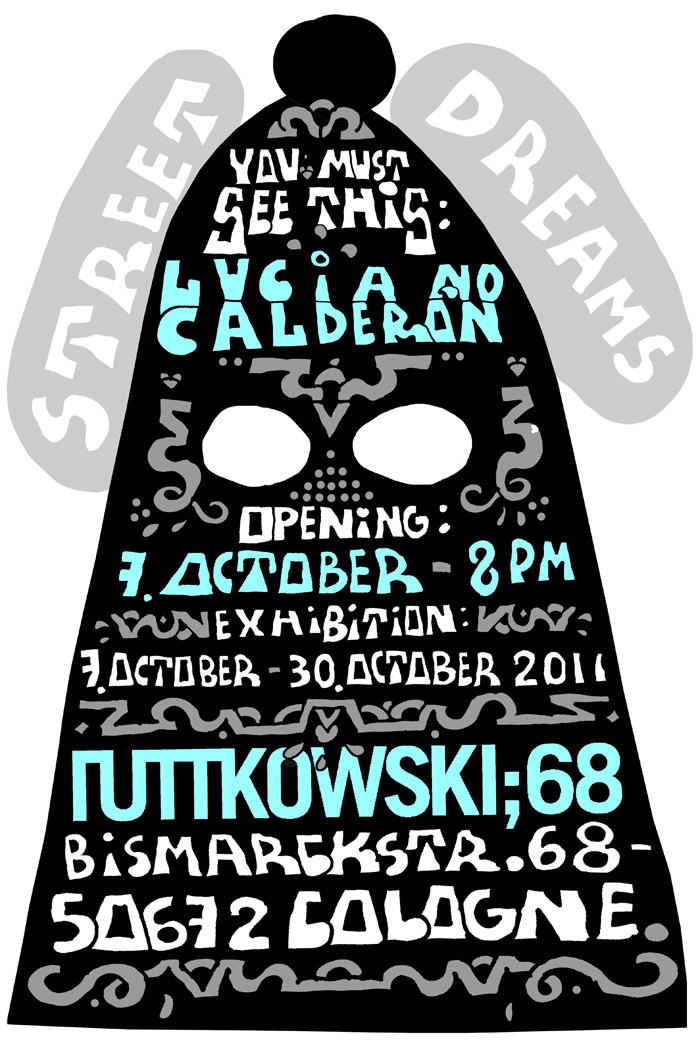 Following up on our older post, here is more information about the upcoming exhibition of Luciano Calderon at the Ruttkowski68 gallery in Cologne, Germany, done in collaboration with Public Delivery. The opening takes place on the 7th of October at 8pm.
About the exhibition
Coming from the ghetto of Villa 31 in Buenos Aires, Luciano Calderon (b. 1985) is showing new works on canvases. The exhibition is on display from the 7th until the 30th of October.
Calderon utilizes primitive figures and outspoken graphics in his art works. Having both a foreigner's and a native's perspective, he is heavily influenced by the extreme contrasts of growing up in both the clean and calm Swiss capital, Bern, and the grimy but lively ghetto of El Alto, Bolivia. Calderon optained a degree in graphic design in 2007 and continued to travel between Europe and South America; living, working in and drawing inspiration from both worlds.
His recent works show that Calderon exceeds simple comments on his and his friends' lives and reveal his persepective as an empathetic observer. He comments on sociological and political issues, sometimes obvious and nasty but sometimes also subtly like in "Hormigón armado, 2010″ ("armed ant"), which is an abstract portrait of a homeless person, named after the newspaper of street children of La Paz, Bolivia. Another element of the work of Calderon is his usage of typical South American typography, inspired by the pixação from Brazil or the tattoo style of the notorious Mara Salvatrucha, as well as patterns, inspired by traditional Bolivian art and everyday objects.
Calderon lives and works in Villa 31, the most well-known informal estate located in Downtown, Buenos Aires. After several fruitless attempts to transplant the inhabitants to the outskirts of the city, it's now in the process of being transformed from a slum to a "regular" district.
> more about Luciano Calderon
> more about Ruttkowski68
(update) see photos of the exhibition here
(via)
Balloon sculptures done in 1998 and 2007
We recently stumbled over these balloon sculptures by German artist Hans Hemmer (b. 1960) who lives and works in Berlin. Inflatables, preferable made from yellow latex, have been his most important artistic means of expression.
german panther, 2007
balloon, air, glue, 960x370x300cm
Shown at städtische galerie nordhorn
without title, 1998
balloon, air, 900x550x650cm
Shown at Centro Galego de Arte Contemporanea CGAC, Santiago de Compostella
> more about Hans Hemmer here
(via)
Posted by publicdelivery
Posted September 27, 2011 2:00 am
Tags: 1998, 2007, sculpture.
Short video from the photographer from NYC
21 year old photographer Sean Vegezzi from NYC has been taking photos since six years, and lately been experimenting with film. In his latest video he has filmed the NYC underground from the perspective of a rat, hiding in the subway tunnels and even opening an emergency exit in the end.
By Sean Vegezzi
> Older video (2007) showing photos by and a short interview with Sean here
(via)
Posted by publicdelivery
Posted September 24, 2011 2:00 am
Tags: 2011, NYC, video.
Work by the NYC based artist
Mulgunamu means handstand in Korean and that is exactly what you can see on the recent works of Pepsi Kim. "Mulgunamu in NewYork" ranges between photography, performance and video and is recently being continued in a series called "Mulgunamu in Seoul".
Here is the observation the artist made:
"This country, United States of America, has made ordinary people to be enthusiastic about super-hero stories. Whenever ordinary people have hard time, the country makes super-heroes for people to make them calm down, to make them feel proud of super-heroes and their country. Soldiers were treated as super-heros at the period of World War 2, NYPD and FDNY are like that after 9/11. (Even super-heroes in cartoons and movies such as Superman, Batman, Spiderman, Something-man are still being produced for same reason in certain aspect) This country has succeeded in making them to be super-heroes for super-ordinary people.
However, who are living in this country for real? 
Who are carrying this world with all their strength?"
The project has been exhibited in several solo shows
2011 MULGUNAMU @ W.D.S Gallery (Seoul)
2011 Capture and Release @ International Center of Photography Gallery (NYC)
> more at nycpep.com
On-going public art project in Brussels, Belgium.
Wouter De Raeve recently installed his project LINK in the city centre of Brussels. LINK is supposed to create a temporary physical connection between the Fontainas square and the Fontainas park, which forms the only public green space in this North-South axis in the centre of Brussels. LINK aims to launch a debate on a potential redefinition of this urban site. Due to its location, the Fontainas square is used by a population of great diversity.
The use of scaffolding for its material refers to public works, and aims to trigger all sorts of associations to anyone crossing the site: change, evolution, restoration, starting of larger works, and the beginning of something new. Locals and passersby are in this way involved and mobilized for the possible change that LINK aims to bring in.
LINK aims to launch a debate on a potential redefinition of this urban site. LINK does not claim to be a definite proposal for the site. It rather wishes to encourage residents and authorities to reflect upon this potential and envision a different, long-term approach for the site.
- LINK is the Brussels/Belgian contribution to the European project Green Days which takes place this summer in four European cities and focuses on the relationship between urban and natural environment
- LINK is supported by the European Cultural Foundation (ECF)
- On display until October 14th, 2011
> more images at Parfois Blog
(Photos by Helen Hermans)
Yesterday Saber, well-known artist from Los Angeles, used five jet planes to write a message concerning the city's plan of banning public art in the sky.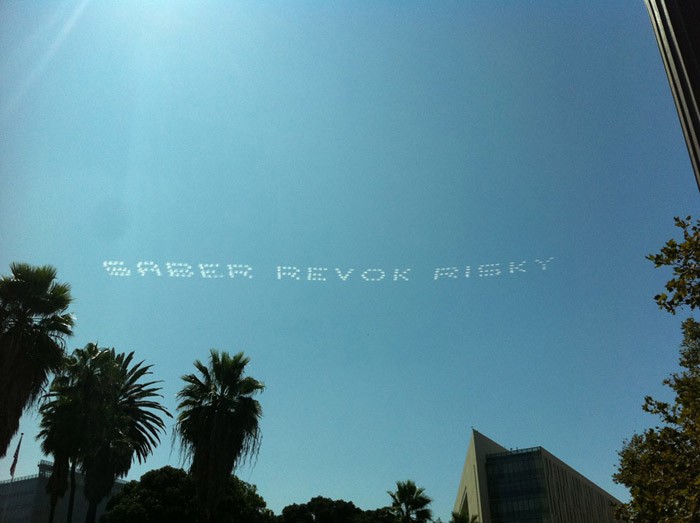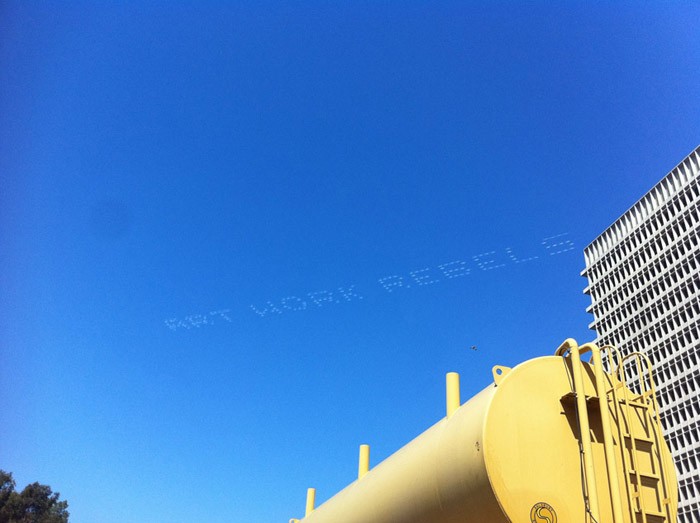 Yesterday LA artist Saber hired five jet planes to skywrite with smoke over City Hall and downtown Los Angeles. He used this new approach to write his name and fellows artists and crews, like Revok, Tempt, MSK, LTS, Risky, Ayer and Dream, and also to convey his message which says Art is not a crime. End mural moratorium: twitter at end mural moratorium. With this 45min lasting action saber tries to bring awareness to the recent city's efforts to ban public art and having it removed by using the money of taxpayers. The city of LA spends +10.000.000US$ to stop graffiti, but none to support legal mural programs. Furthermore, there has been a huge dispute about the practices of private graffiti removal companies, who sometimes illegally break into private property to cover commissioned murals by established artists such as Os Gemeos or Retna. The documentary Vigilante Vigilante: The Battle for Expression, released in cinemas worldwide last month, covers these illegal techniques and their practitioners, who essentially use graffiti to fight graffiti, in depth.
Saber, well-known for executing the world's largest graffiti piece in 1997, furthermore claims, that the city is threatening owners of small businesses with fines if they don't remove the murals painted on their stores, and therefore trying to earn money on graffiti by yet another method.
> more about the petition here
> sign the petition here
(via arrestedmotion.com, lataco.com)