Monthly archive for February, 2012
Minelli recently appeared in the magazine Musiques & culture digitales #65, Paris
> more information about MCD on the official site
Photos from the on-going exhibition of Hendrik Beikirch, Luciano Calderon and Nils Müller at the Forumkunst Rottweil, Germany.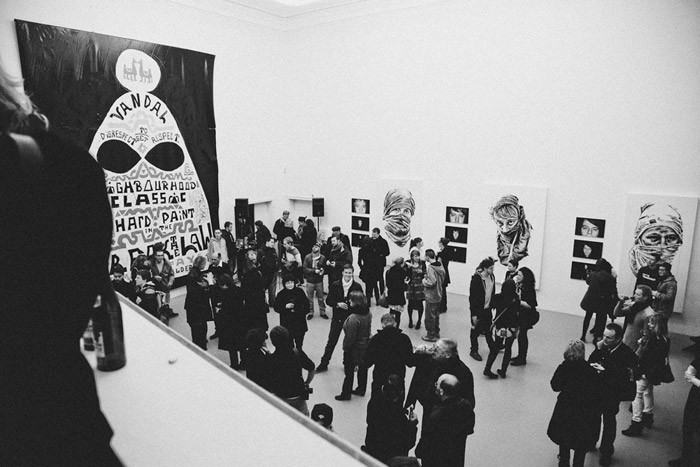 > click the image or here, so you can finally see the big mask painting by Calderon of one of the previous posts in action.
> read everything about the exhibition
> visit the official site
(photo by Robert Hak)
An article was illustrated with the works of the Contradictions series by Minelli.´
The work of Minelli recently appeared in Le Monde, one of the two major French daily papers. It was used in the article "Réseaux: la quête des lois du Web" by David Larousserie in the Science&Techno section.
Video from the latest exhibition of Exactitudes at Ruttkowski68 in Cologne, Germany
Following up on our previous post, here is a video from the Exactitudes (NL) exhibition at Ruttkowski68 in Cologne, Germany, featuring a few words by the photographer Ari Versluis. The exhibition is running until March 18th.
Beikirch was interviewed for ARTE Creative, an international online network, which is part of the French – German tv station dedicated to culture.
Online installation and publication initiated by Vivienne Westwood.
Filippo Minelli took part in an online installation 100 Days of Active Resistance initiated by Vivienne Westwood. The results got published in a book.
Scottish/British Montgomery is the associate publisher of Dazed & Confused and also a conceptual artist. He shows his poetry in public space, similar to ads. Some of his recent works have been shown throughout the city of Istanbul as part of the 12th Istanbul Biennial.
His thoughts about the reception of his work by the public:
"They know its not advertising, and its not graffiti either and they do not need an art history knowledge to read it. I'm super-interested in the ordinary person at the bus stop getting on the bus to their job everyday and suddenly seeing this weird text. I'm interested in reaching those people. They are my primary audience."
> read an interview with Montgomery at Dazed Digital
(via)
UPDATE: Check out Montgomery's works in Berlin