Monthly archive for June, 2012
Photography of subway tunnels world wide by the Berlin based artist

Underground #02 (Vienna), 2011

Underground #08 (New York City), 2008

Underground #01 (Budapest), 2011

Underground #08 (Berlin), 2010
We just had a chance to meet up with Timo Stammberger (b. 1980), a photographer from Berlin. He is the first to document subway tunnels in his extensive series Underground Landscapes that shows the underground architecture from major cities like New York, Lisbon, Budapest, Berlin and others.
The surprising element is that the subway tunnels that millions of people pass through every day have their own unique character, Stammberger's photos reveal a stunning perspective on the city's underground. The eager adventurer has discovered a broad variety of tunnels, from the dirty and old ones in NYC that were built in the 1900s, to the brandnew high-tech tunnels of Vienna, in operation since 2010. His work requires a lot of dedication: Usually the subway companies don't allow photographers into their network and even taking photos on the subway platforms is forbidden. The underground architecture is protected by a broad variety of security measures, ranging from infra red cameras, sensors to security personnel. How Stammberger creates his photos will remain unknown for now but make sure to keep an eye out for this underrated photographer.
> visit timostammberger.com for more
Fireflies have become a rare sight in Japan. Once they used to glow their low light all over the country in the summer time but now they have become an uncommon sight even in rural areas. Last month 100,000 LED lights floated down through Tokyo's city centre on the Sumida river mimicking a stream of fireflies. This happend on the occasion of the Tokyo Hotaru Festival (Tokyo Firefly Festival) which was first held in 2012 and is intended to revalue the river and its surroundings, similar to what Seoul has done with their prestigious Cheonggyecheon stream renaturation project. The LED lights were sponsored by Panasonic and equipped with solar cells. At the end all of the lights were taken out of the river by using a big net.
(via, photos by Tokyo Hotaru & Mai Suzuki)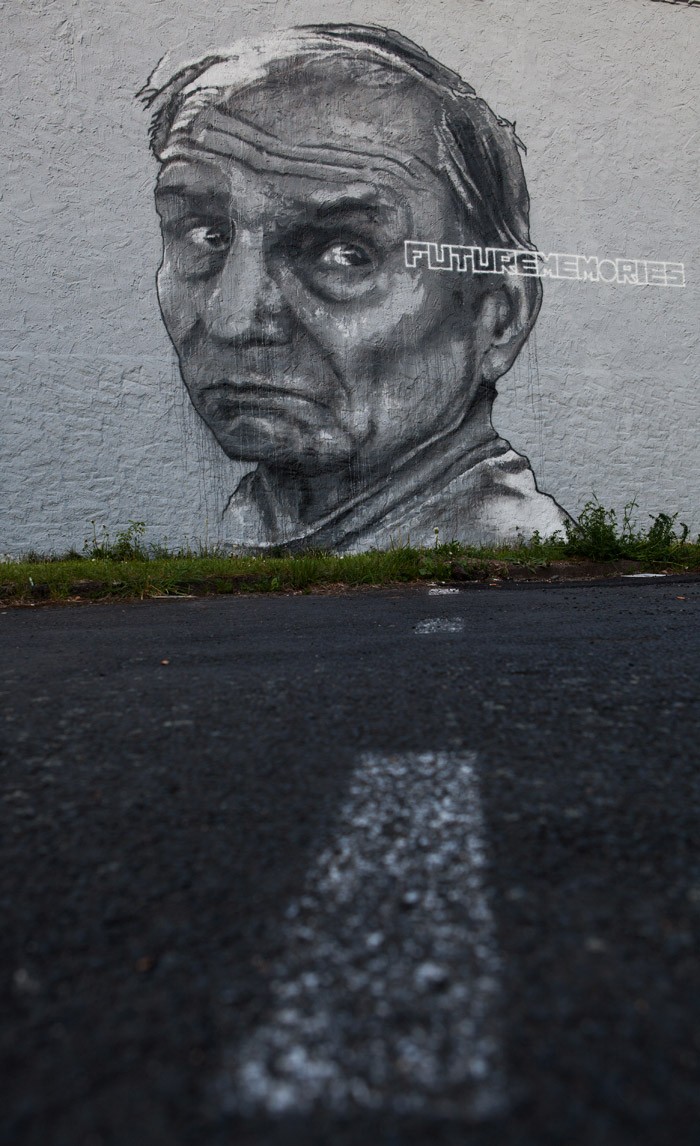 A couple of weeks ago we organized the mural futurememories in Friedberg, Germany. It got painted on the backside of an old and famous Jugendstil indoor swimming pool from 1909 and was featured in a tv report (see above).
The mural was presented together with an exhibition by Young-in Son at the Kunstverein Friedberg.
Over the past 1 1/2 years British artist Antony Gormley has prepared an exhibition at the Deichtorhallen Hamburg, Europe's biggest space for contemporary art. Rather than following through with the proposed retrospective, Gormley decided creating a huge interactive sculpture that only comes alive by the participation of the visitors. To enforce his point Gormley accomplished to keep the exhibition that runs until 9th of September 2012 free of charge.
The sculpture itself stretches over 1200m2 big and weighs 67 tons. One single person can make it vibrate, by walking, running or jumping. The experience is enhanced by the reflecting ground which makes a gigantic mirror. A dedicated website allows visitors uploading their own photos of the art work which then appear in a blog.
> extensive documentation and additional info at deichtorhallen.de
(photos by Henning Rogge)
Rem Koolhaas and Ole Scheeren of OMA recently completed the CCTV (China Central Television Headquarters) building in Beijing, one of the most well-known architecture projects around the world. Being the visual representation of one of the major Chinese state owned media corporations, together with Xinhua, for many it also stands for Chinese (media) politics as such. The absence of hard facts like reliable statistics from external organizations is almost completely missing in the Chinese media world. That lack of information is creating rumors and speculations that even Amnesty International, BBC and others are picking up.
Jon Leung took another approach and built a series of provocative and humorous sculptures. The third part of CCTV got installed on the roof of the Foo Tak building in Hong Kong while blending in with the surrounding architecture. A burning incense stick is used in the 150cm tall sculpture.
He says: "Deliberately abstracting the form and changing its function, the sculptures serve as a contemporary shrine to worship the new Chinese Post-Capitalistic religion. Mixing traditional Chinese religious elements (incense) with Postmodern realism, the CCTV-series is a celebration of both the good and the bad of what China currently represents."
Leung's CCTV sculptures have been shown in art spaces such as the Museum of Contemporary Art Antwerp, as well as in the public space of Hong Kong.
> read all about the CCTV series
Multi-sited exhibition consisting of installations which are shown around Hong Kong

Yu Lik-wai – Fantomas

Leung Mee-ping – I Miss Fanta
M+ is the name of a new museum that focuses on 20th and 21th century art and will be completed in late 2017. It will provide more than 60,000 square metres of space, similar to the NYC MoMA. Prior to the opening a series of major pop-up "nomadic" exhibitions curated by M+ will take place as the museum tries to engage the public.
Mobile M+ is their first project. It is a multi-sited exhibition consisting of six large-scale installations which are shown around Yau Ma Tei, one of Hong Kong's busiest residential and commercial districts. "Neglected" spaces like shops, offices, a park and an empty lot under a flyover were chosen to turn those selected sites into "museums without walls" and bring art closer to the local community and people.
The exhibition is accompanied by free guided tours, a series of artist talks, an iPhone app and a bilingual exhibition catalogue. Mobile M+ is on display now and runs until June 10th.