Monthly archive for August, 2012
Robert Montgomery who was featured on here earlier for the Istanbul Biennale shows his largest billboard project in Berlin right now.
Montgomery's billboards are poetic pieces of text and always using the strong contrasts of a white letters on a black background. He captures spots that are usually occupied by advertising, trying to create a surprising artistic situation.
In total, the project Echoes of Voices in the High Towers, organized by Neue Berliner Räume, will display 23 billboards, two illuminated poem sculptures as well as artistic interventions in several print publications like EXBERLINER, Sleek, Päng!, Um[laut] and others, as well as an exhibition of his drawings.
Echoes of Voices in the High Towers runs until October 2012.
> read more about the interesting anonymous publications / interventions of the project and the historic context here
> more photos on Facebook here and here
The Hong Kong 1 July protests are a surprising sight on the often chaotic stress. This day marks the transfer of Hong Kong from the United Kingtom to China (PRC) and being a public holiday it was originally thought to be a day of celebration. However, now it is mostly known for hundreds of thousands of people flooding the streets who protest for democracy, universal suffrage and a variety of other political concerns. This annual protest rally started in 1997, the year of the handover, and in 2003 brought out as much as 500.000 Hong Kongers. Only the protest in May 1989 in favor of the participants of the Tiananmen Square protests was bigger with 1.5 million participants.
This year 400.000 other citizens took part in the protest, among them Kacey Wong, one of Hong Kong's most exciting artists. He paraded the streets, using a pink tank made out of cardboard. His artwork called The Real Culture Bureau and the Real Culture Bureau director aims to reflect the changing political and cultural situation of Hong Kong and to portray a corrupted government official which for the artist embodies money and violence often seen in mainland China. Kacey Wong threw fake money ($100 million dollars bill, see below) to real politicians and other real local political parties to prevent them for putting up resistance against the Pink Party and demanded harmonious silence from them.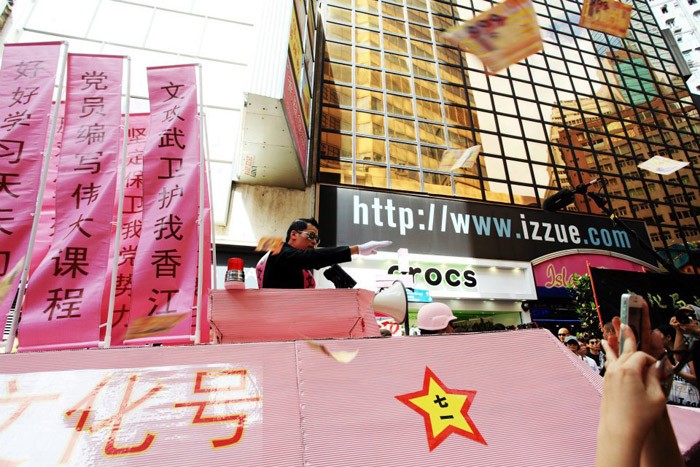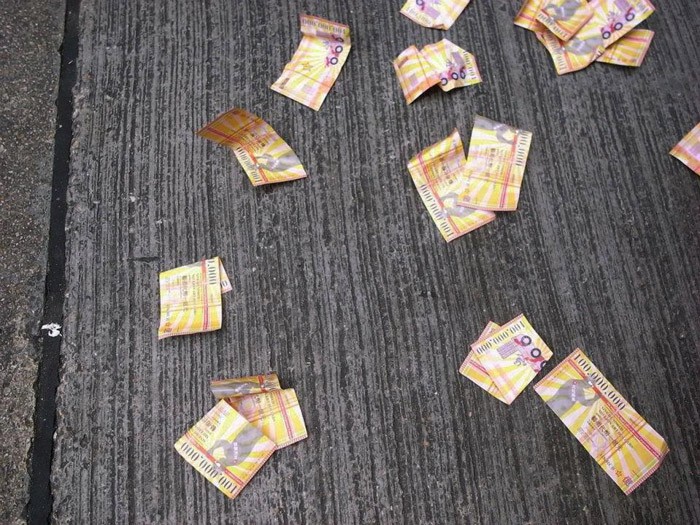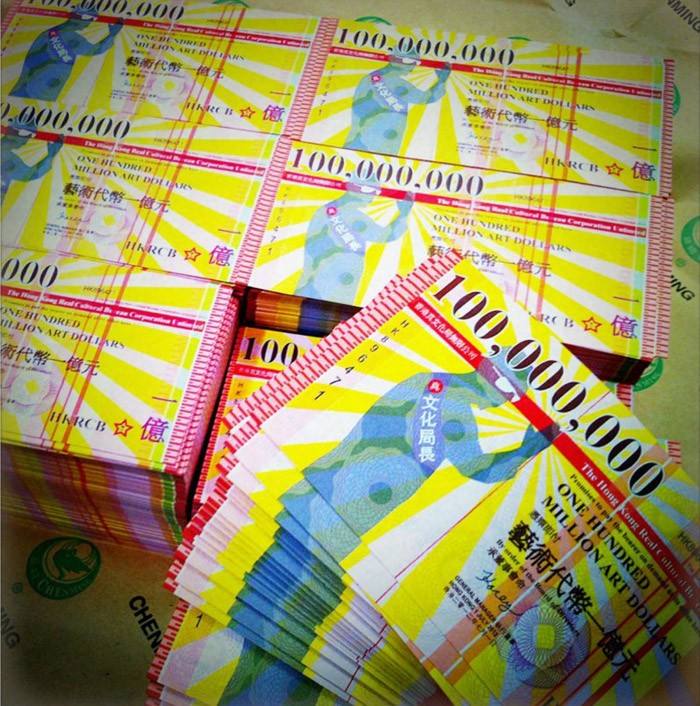 (photos: Laway Law and others)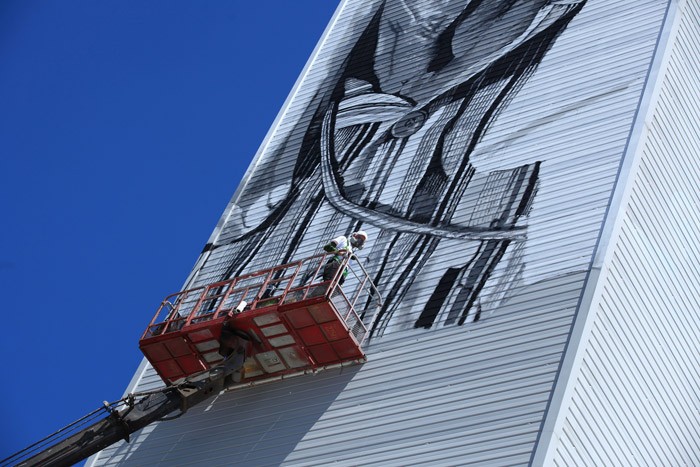 Quick update of the mural. The upcoming typhoon delivers perfect working circumstances but also adds some time pressure for Hendrik Beikirch.
UPDATE: See the result here
(photos by Kim Tae Jeong / 김태정)
Brooklyn based artist Tom Fruin (1974) just installed Watertower, a large sculpture made by scavenged, reclaimed, and recycled plexiglas and steel. It is installed high upon a water tower platform in Brooklyn, NYC and part of his Icon series, that consists of sculptural tributes to architectural icons around the world.
About one thousand scrap pieces of plexiglas were used, often reclaimed and discarded material, some of it coming from Chinatown sign shops or closed artist studios in Brooklyn. Since the opening in June there are daily light shows beginning at dusk and continuing to morning, using light sequences designed by Ryan Holsopple. Watertower will be installed until June 2013.
Watertower, 2010
6x3x3m, found plexiglas, steel, bolts
Location
On the rooftop of 20 Jay Street and viewable from the parks and streets of Dumbo, the Brooklyn and Manhattan Bridges, FDR Drive and Lower Manhattan.
Prime viewing locations
Brooklyn Bridge Park at Washington Street (map) and the Manhattan Bridge bike path.
Posted by publicdelivery
Posted August 22, 2012 9:00 am
Tags: 2012, NYC, public.
Filippo Minelli's work appeared in yet another magazine: Lotto Magazine from Germany. Read the full text by David Pierce about Minelli's Contradictions series here.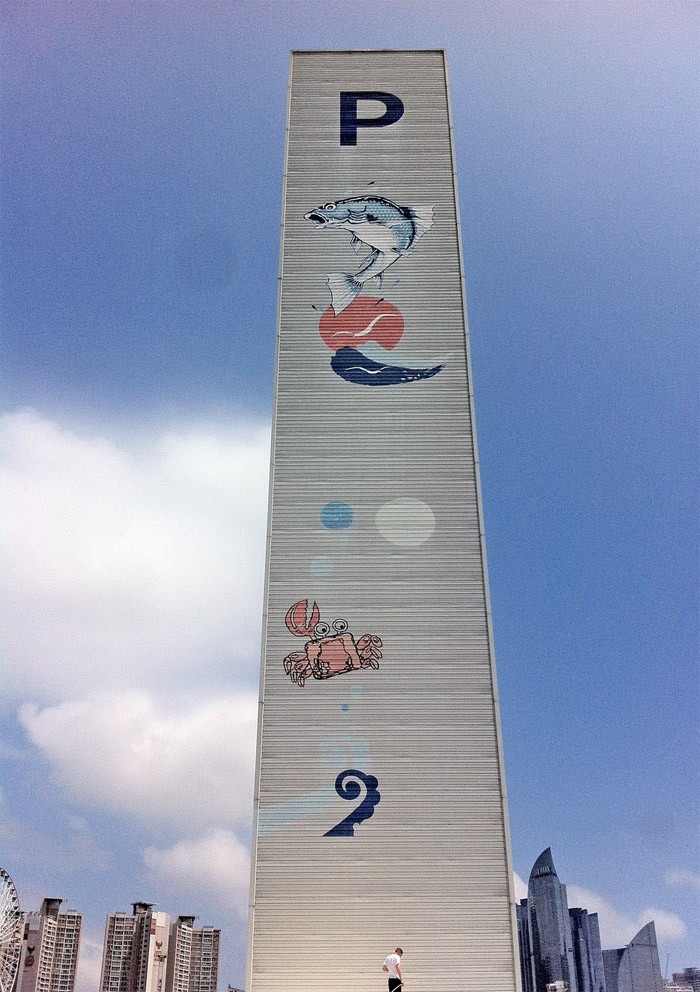 ECB Hendrik Beikirch in front of his blank canvas
Public Delivery is proudly presenting the tallest non-commercial painting ever made in Korea, applied by ECB Hendrik Beikirch, stretching over 70m. The artwork is located in Busan, the second largest city, between Korea's two most famous beaches, Gwangalli (광안리해수욕장) and Haeundae (해운대해수욕장).
The project is kindly supported by the Busan Cultural Foundation, the Arts Council Korea, Busan Metropolitan City and Suyeong Local Government. We are glad to have MBC, the oldest and one of the major commercial broadcasting companies, as our media partner.
UPDATE: The final photos and everything about the project, preview 1, preview 2