Archive for Nils Müller.
Written for the german fashion magazine Qvest.
> read it here
The exhibition is opening in two days!
Read more about it in our previous post or visit the official site.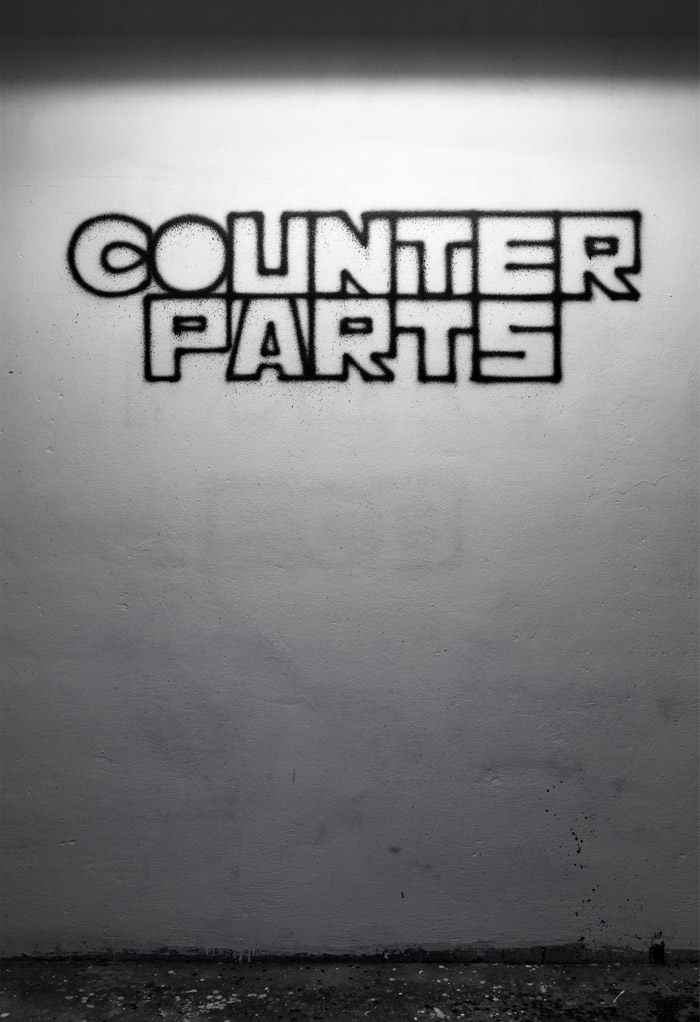 UPDATE: photos here
Information about the upcoming exhibition at Forum Kunst Rottweil, Germany.
Happy New Year! We are kicking of 2012 with a great exhibition, opening at the end of this month in the well known non-commercial art space Forum Kunst Rottweil. We already showed a small preview, more info is following.
On the 28th of January, the Forum Kunst Rottweil will unveil Counterparts, an exhibition featuring works by painters Hendrik Beikirch (DE) and Luciano Calderon (CH/AR), and the photographer Nils Müller (DE).
Through collaborative dialogue, the three created new works that provide a unique interpretation of graffiti artists and their reception by the public.
Graffiti artists shape the appearance of urban spaces, yet often work without revealing their personal identities. Why do they break laws, invest much time and energy, and risk getting prosecuted? Counterparts is twisting the logic of identity by delivering a rare glimpse of some of the performers of this relatively young art form, fueling one's fascination with the artists and their stories.
For Counterparts, Müller, well known for documenting subway graffiti worldwide, took portrait shots of three prolific German artists. Normally, his photos show the figures with covered faces due to the clandestine nature of their work, but this time, Müller reveals the faces of this secretive subculture. Furthermore, the close-ups provide the viewer with an intense face-to-face encounter. Müller's photos are accompanied with short biographies of each artist to give better insight.
Hendrik Beikirch recreates Müller's images in his larger-than-life paintings, yet his contribution to Counterparts chooses to obscure the artist's' visages, reinforcing their common affiliation and highlighting striking individual differences.
Calderon's version is more abstract. Meeting the needs of the expansive exhibition space, he created a large centerpiece: a 6-meter-high mask painting. The mask is covered with lettering using Calderon's graffiti style, and further, incorporates elements of South American typography inspired by the Pixação from Brazil and the tattoos of the notorious Mara Salvatrucha.
Counterparts harnesses three highly unique and contrasting styles: the monochrome painting of Beikirch, the black and white photography of Müller, and the outspoken lettering of Calderon, and gives the visitor a rare opportunity to see these artists in consonance.
The website counter-parts.de will document the working process, releasing images and videos pertaining to the project. The exhibition will open on January 28, 2012 and will run through March 11, 2012.
The Forum Kunst Rottweil, located between Stuttgart and Zürich, is a non-commercial art space founded in 1970 that has established a reputation for exhibiting world-renowned artists throughout its 40-year history.
The exhibition is curated by Robert Hak and Martin Schulze.
> more information at the official site
UPDATE: photos here
Have you seen the new site of Nils Müller? Here are a few examples, all taken this year.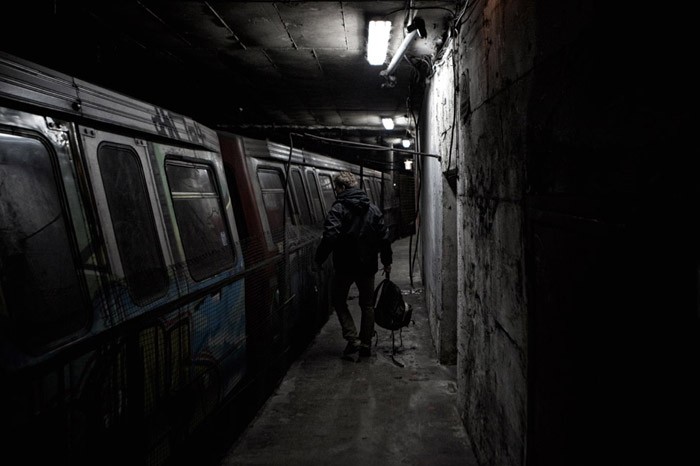 Photos from the exhibition opening last Saturday
This Saturday the exhibition of Martha Cooper and Nils Müller opened. The exhibition is running until the 8th of January.
Exhibition in Bochum, Germany
On Saturday, 3rd December 2011, the photographers Martha Cooper (US) and Nils Müller (DE) will show a few works at The Gallerian INC. in Bochum, Germany. Both are well-known for taking photos of graffiti writers, especially those that paint their names on trains.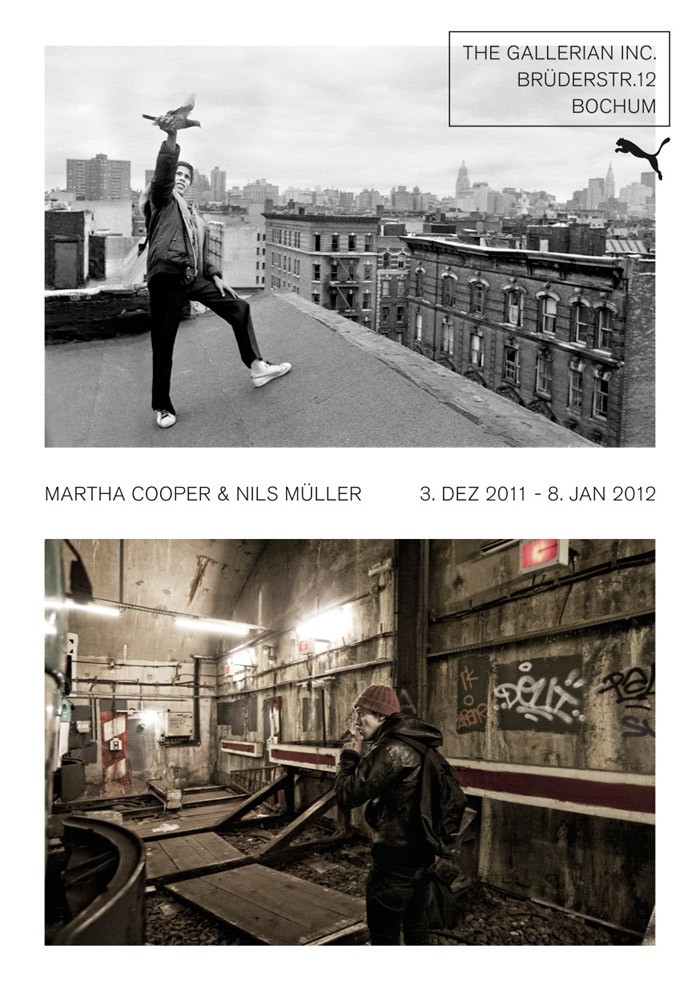 Martha Cooper (b. 1942) started out as a photo journalist and was one of the first to document the early hours of the breakdance and graffiti culture in New York. In 1984 she published the book "Subway Art" together with fellow photographer Henry Chalfant. "Subway Art" became an important milestone of the graffiti movement and one of the major sources of inspiration for aspiring European writers.
Cooper's photography was influenced by her studies in ethnology, which tries to describe and understand different cultures. She took some portraits of writers in New York, usually when they were not painting but mostly her photos showed the painted trains themselves. New York City with its elevated subway tracks was the perfect background for some of her legendary shots.
Eventually the movement in New York faded away in the late 1980s and painting trains turned into a felony, which could get a writer jail time and thousands of dollars in fines. Graffiti spread to Europe and developed in many different directions. One is painting subways, which is considered the top prize within the international graffiti world. Subways hold such a high value because of the difficulty, the danger and risk involved in painting them. Regardless of the subway system or the country, razor wired fences have to be cut or climbed, motion sensors, cameras, and alarm systems have to be overcome. Fines and arrest are the risks to take. Subway painting has separated itself from the common graffiti community as it is a more secretive sect of the elite who push the bar and have created something which can be likened to an extreme graffiti sport. It is exactly this elite and their practices which Nils Müller (b. 1982) started to document ten years ago.
On Müller's photos the colored trains are usually secondary, as he focuses on documenting the action of writing on trains. He shows a view into a split second of this practice from his perspective, often when things are happening so fast that there isn't a second to stop. There is a story that is told, the skillful entering through secured emergency exits, the swift dash on subway tracks while the subway system is in service. The emotions that are captured stem from successes to failures; the tension and fear, the sense of focus and determination of the writers are clearly felt throughout his work.
Müller's work on his Vandals series is on-going and took him to European metropolises such as Paris and London, visiting Berlin, Bucharest, Oslo and Milano but also documenting international destinations like Bangkok, Shanghai, Caracas and New York. Müller takes a variety of risks in order to document these actions and this global movement. He is, as the ones he depicts on his photos, threatened by arrest, imprisonment and heavy monetary penalties in his native Europe, while his work in other countries carries a far higher risk, where security forces are equipped with machine guns.
Müller is currently working on a follow up to his first book "Blütezeit" (Gingko Press, 2009) which will be released in early 2012.
UPDATE: photos here
Video about the birthday cruise and concert of Torch, a German rapper
Following up on the older post, here is a video that first shows a boat cruise and later on a concert, both done in honor for the 40th birthday of Torch.
Edited by Rob Hak