Archive for Others.
Tam Wai – Falling into the Mundane World, 2013
Falling into the Mundane World, commissioned for this project, reflects Tam's ongoing interest in working in the public realm and exploring myriad responses to specific sites and contexts. The oversized female legs and cockroach sculptures point to ubiquitous aspects of life in Hong Kong as well as underlying ills that plague contemporary society at large.
Paul McCarthy – Complex Pile
Complex Pile is a 51-foot-high, 110-foot-long, inflatable sculpture of a twisted pile of excrement. Embodying his rare ability to leverage bad taste to infiltrate the well-mannered confines of the art world, Complex Pile mocks its picturesque surroundings and pokes fun at the prudent qualities of public sculpture.
Choi Jeong Hwa – Emptiness is Form. Form is Emptiness, 2013
Departing from his usual cheery hues, Emptiness is Form. Form is Emptiness re-casts this iconic symbol of purity as something seemingly dark, or solemn. By placing the work on the future site of the park of West Kowloon Cultural District, a plot of land which cannot be said to be either wholly natural or man-made, Choi also points to hazy relationships between nature and artifice, urban and non-urban space, and to the presence, or absence, of nature within Hong Kong's increasingly urban, often consumer-frenzied environment.
Cao Fei – House of Treasures, 2013
Fascinated by places and moments in which people can bring their private imaginings to life and intersect with the public sphere, Cao has created House of Treasures, an outsize inflatable suckling pig that celebrates themes of prosperity and abundance. Part playful interactive attraction, part nod to Hong Kong's food-obsessed culture, House of Treasures injects a space of leisure and pleasure into the West Kowloon site, while prompting visitors to ponder the meaning behind such enjoyment.
Tomás Saraceno – Poetic Cosmos of the Breath (photo by Nicholas Tse)
Inspired by the work of Dominic Michaelis, an English architect and inventor who pioneered the technology for a solar-powered hot air balloon, Poetic Cosmos of the Breath is a time-based experimental solar dome that takes flight only under certain climatic conditions. It uses deceptively simple materials — a paper-thin foil membrane accompanied by a few sandbags and a handful of participants, to produce a startlingly ethereal, shimmering effect.
Jeremy Deller – Sacrilege, 2012
Sacrilege, a life-size bouncy castle in the shape of Stonehenge, encapsulates Deller's interest in the generative spirit of public participation. By recasting one of the world's most famous existing prehistoric monuments (closed to the public since 1977) as an interactive public sculpture, he allows audiences to reacquaint themselves with history in a high-spirited and entertaining manner.
Jeremy Deller – Sacrilege, 2012
VIDEO
Inflation! is the name of a project that shows six large-scale inflatable sculptures on the site of the Park at West Kowloon Cultural District. The large-scale inflatable sculptures by Cao Fei (China), Choi Jeong Hwa (South Korea), Jeremy Deller (UK), Jiakun Architects (China), Paul McCarthy (USA), and Tam Wai Ping (Hong Kong) pose questions about the nature of public art and the ways in which audiences might engage with it. The works are on public display until 9 June 2013.
By transforming the current site into a (con)temporary sculpture park of inflatables, Inflation! attempts to consider how certain realities and preconceptions around art in public space can be altered, undermined and challenged in the context of an evolving and endlessly mutating cultural and urban landscape.
> Directions and more information about guided tours, interpretive performances, workshops and talks
Images: AP / Getty, via Dailymail

Weng Fen – Sitting on the Wall – Guangzhou (1), 2002-2003

Weng Fen – Sitting on the Wall – Guangzhou (3), 2002-2003

Weng Fen – Sitting on the Wall – Shenzhen (1), 2002-2003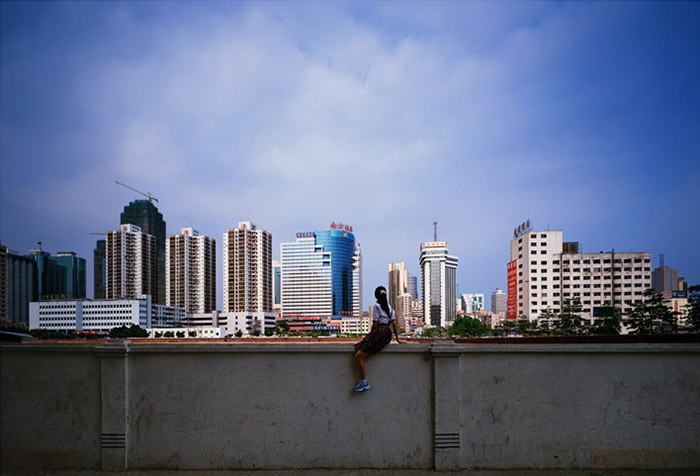 Weng Fen – Sitting on the Wall – Shenzhen (1), 2002-2003

Weng Fen – Sitting on the Wall – Haikou (2), 2002-2003

Weng Fen – Sitting on the Wall – Haikou (4), 2002-2003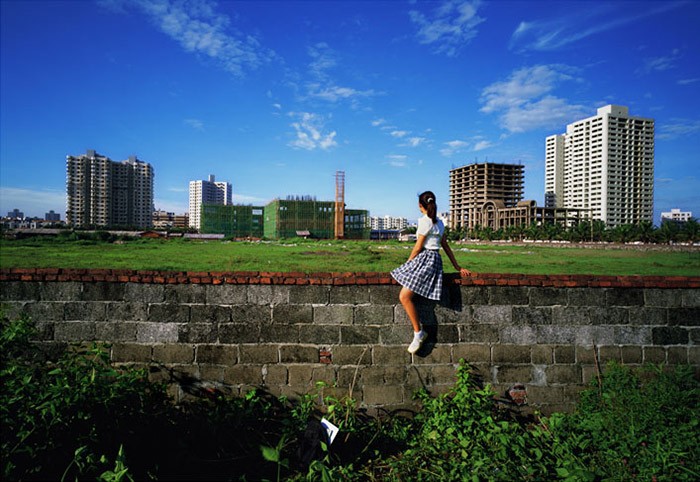 Weng Fen – Sitting on the Wall – Haikou (5), 2002-2003
The transitional phases and changes in China since its opening up in the 1980′s, both physically and emotionally, have been the source of inspiration for Weng Fen (b. 1961) and his work. In his earlier series Sitting on the Wall and Bird's Eye View, Weng's epic images focus on the upraising of urbanism in cities such as Haikou, Shanghai and Shenzhen. His subjects start out as outsiders looking into this overwhelming transformation with anticipation, fear and curiosity to being in the centre of it all. Weng then follows and evolves inwardly, shifting his attention from physical changes to emotional and spiritual transformations, from urban cities to rural countries, exploring the possibility of finding an otherworldly utopia, a place that may have existed all along in our hearts and minds, in our memories and those innocent times, which results in the acclaimed Staring at The Sea series.
Weng Fen has been exhibited worldwide in Asia, Europe and America, including the Pompidou Centre in Paris, the San Diego Museum of Art, the Shanghai Art Museum, the Taipei Museum of Contemporary Art, the Mori Museum in Tokyo, the Kunstmuseum Wolfsburg in Germany, the International Centre of Photography in New York and the Singapore Art Museum

Karl Haendel – Scribble (digital rendering), NYC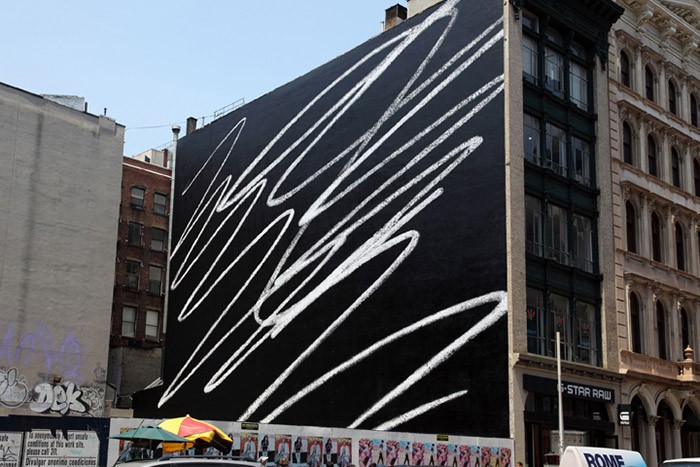 Karl Haendel – Scribble, 2009, paint on brick, NYC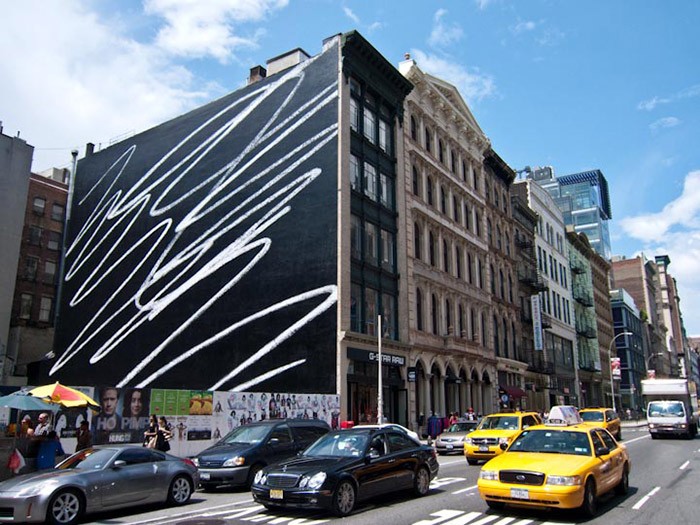 Karl Haendel – Scribble, 2009, paint on brick, NYC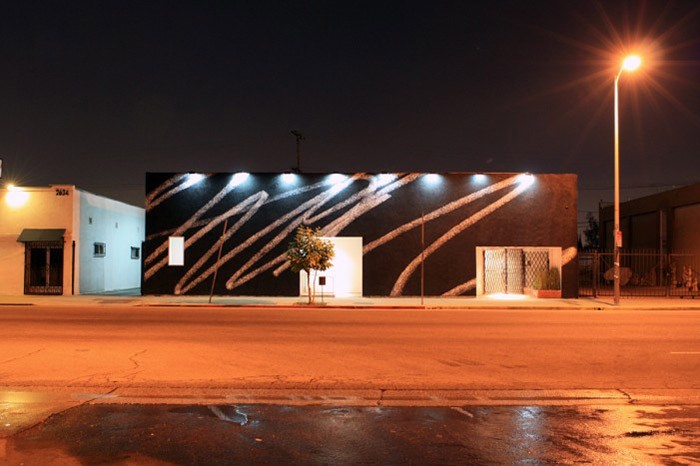 Karl Haendel, Public Scribble #2, 2009, paint on brick, 5,5 x 19,5m, Los Angeles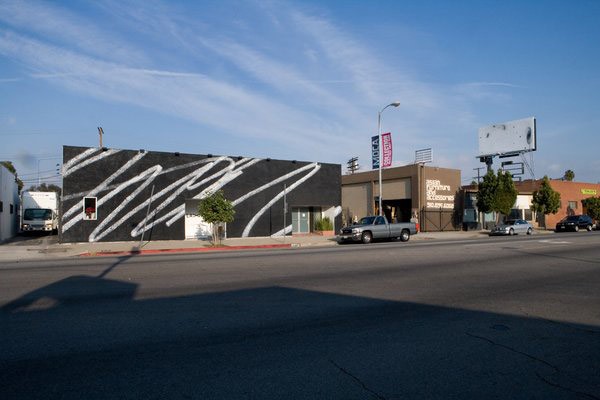 Karl Haendel, Public Scribble #2, 2009, paint on brick, 5,5 x 19,5m, Los Angeles

Karl Haendel, Public Scribble #2, 2009, paint on brick, 5,5 x 19,5m, Los Angeles
In 2009, Los Angeles based artist Karl Haendel made two large scribble murals, one was his first public installation in New York, the other, a similar painting, was executed in Los Angeles. His gigantic scribbles are an anti heroic gesture with roots in street art, public mark making and a universal means of communication.
To put one of these scribbles on the side of a building of course engages a dialogue with graffiti and street art, and this became a central concern as well as an inspiration. My scribble work, because its an anonymous mark and one that anybody could make, I hope will draw attention to the simple need to make a mark, and I hope it makes people think about gesture, pure expression, and the straightforward act of creation. These are tendencies that I think are not only fundamental to art making, but to life in general, and are imperatives that most people I hope can relate to.
Karl Haendel (b. 1976) owns and individualizes the world of popular culture by re-drawing it in his own vision, cleverly manipulating scale, composition, and juxtaposition to uncannily transform ordinary images into witty perspectives on contemporary life. He received his MFA from UCLA in 2003 and has had solo exhibitions at the Museum of Contemporary Art, Los Angeles; Harris Lieberman, New York; Anna Helwing Gallery, Los Angeles. His work has also been included in such notable exhibitions as the 2004 and 2008 California Biennials and Uncertain States of America, a touring exhibition that originated at the Astrup Fearnley Museum for Modern Art, Oslo, and traveled to Serpentine Gallery, London, and the Center for Curatorial Studies, Bard College, among other venues.
Photos: #2: Michael Shaw, #4,5,6: Courtesy of the artist, LA><ART, Los Angeles and Kelly Barrie
VIDEO
PHOTOS
In March 2012, two monumental kinetic sculptures, each about 7.5m tall, transformed a disused public space in Midtown Manhattan into an art piece by Josephine Meckseper. Though mirroring the forms and materials of the mid-century oil industry, the artist locates her work firmly inside the contemporary debate about American business, wealth and consumerism.
The Manhattan Oil Project is inspired by mid 20th century oil pumps the artist discovered in Electra, a boarded-up town once famous for being the pump jack capital of Texas. Each sculpture is fully motorized to simulate the motions of a working oil pump. Placed in a vacant lot next to Times Square, the black and red steel structures slowly creak in the ceaseless oscillations of phantom oil excavation. The pump jacks recall the ruins of ghost towns, forgotten monuments of America's decaying industrial past.
This pairing of the pump jacks and the Times Square location merges a classic symbol of American oil production and wealth with the center of New York City commercial culture. The pumps are intended as ignition points for critical discussion engaged directly with modern life, as opposed to operating in the realm of disengaged abstract geometries. They evoke speculation about a functional reality and the notion of use value. I hope to draw parallels between the American industrial system, transitioning from a past of heavy industry, factories, and teamsters and the disembodied present of electronic mass-media, surface advertising, and consumerism – so clearly embodied in Times Square, explained Meckseper, The critical placement of the pumps is a conceptual gesture that raises questions about business and capital; land use and resources; wealth and decay; decadence and dependence.
Josephine Meckseper (b. 1964) has developed a practice which melds the aesthetic language of modernism with a profound critique of consumerism. Through her shop windows, vitrines, installations, photographs, films and magazine projects she draws a direct correlation to the way consumer culture defines and circumvents subjectivity and sublimates the key instruments of individual political agency. Her works have been included in international biennials such as the Whitney Biennial, the Second Moscow Biennial of Contemporary Art and Biennale d'Art Contemporain de Lyon. She has also had solo exhibitions at the Migros Museum für Gegenwartskunst (Zürich, Switzerland), Ausstellungshalle zeitgenössische Kunst (Münster, Germany) and a retrospective at the Kunstmuseum Stuttgart. Her work was featured at the Museum of Modern Art in New Photography and at the Guggenheim Museum, New York.
Photos by James Ewing, courtesy of Art Production Fund
Posted by publicdelivery
Posted January 25, 2013 9:00 am
Tags:2012, NYC, public.
Video
Photos

How I Roll, 2012; Rotating Piper Seneca, steel supports, motor

How I Roll, 2012; Rotating Piper Seneca, steel supports, motor
For two months a small air plane was rotating 24 hours a day in summer 2012 in Central Park, NYC. Previous works by Paola Pivi have also featured large machines, including an overturned tractor-trailer and a helicopter placed upside down.
Born in Milan, Italy, in 1971 and now based in Anchorage, Alaska, Paola Pivi's diverse artistic practice embraces sculpture, photography, video, and performance. How I Roll is Pivi's first public commission in the United States.
(Photos by Attilio Maranzano, via)
Posted by publicdelivery
Posted January 23, 2013 9:00 am
Tags:2012, NYC, sculpture.
Not much information can be found about Sunghee Lee, a French based photographer, and his work, but his empty billboard photos quickly remind of Bernd and Hilla Becher and their Neue Sachlichkeit (New Objectivity). However, he is using various angles and distances and usually contextualizes his objects with the surroundings and small events like a passing person or taxi.
Video
Photos
Desert Rooftops by David Brooks is a 5,000-square-foot sculpture that is an wavy configuration of multiple asphalt-covered rooftops similar to those on suburban developments, McMansions and strip malls conjoined to resemble a rolling, dune-like landscape.
The piece examines issues of the natural and built landscape by comparing the monoculture that arises from unchecked suburban and urban sprawl with that of an over-cultivated landscape – creating a work that is picturesque, familiar and simultaneously foreboding. Brooks' sculptural approach gives a nod to Robert Smithson's earthworks and Gordon Matta-Clark's building cuts while offering a much needed sense of humor to help digest today's somber environmental issues.
As housing communities devour more and more land and resources each year the outcome is equivalent to the very process of desertification. The United Nations Convention to Combat Desertification defines desertification as: land degradation into arid and dry sub-humid areas resulting from various factors, including human activities and climatic variations derived from over-development, over-grazing and an overworked land. The result is often a depleted landscape inhospitable to other life.
David Brooks (b. 1975) is an American sculptor and installation artist, whose work considers the relationship between the individual and the built and natural environment. Brooks has exhibited large-scale installations at Dallas Contemporary, Miami Art Museum, Nouveau Musée National de Monaco, Bold Tendencies London, as well as American Contemporary and the Sculpture Center in New York. Brooks was featured in the 2010 Greater New York at MoMA PS1 and lives and works in NYC.
(Photos by James Ewing, courtesy of Art Production Fund)