Archive for Others.

Yvette Mattern – Global Rainbow, 2012
ABOUT GLOBAL RAINBOW
Global Rainbow, After the Storm is a monumental outdoor laser installation by American artist Yvette Mattern, viewable to millions of New Yorkers. Organized in response to Hurricane Sandy, the artist projected seven beams of high power laser light over communities hit hard by the storm, originating on Manhattan's lower west side and spanning across Brooklyn toward the Rockaways. The installation aimed to symbolize hope and act as a call to action to support the communities that were devastated by the storm. The artwork illuminated the night sky and was visible for up to 35 miles. Despite its significant range, the lasers used a minimal amount of power, approximately the equivalent of two hairdryers. Global Rainbow has been presented throughout Europe and launched the London 2012 Cultural Olympiad in England and Northern Ireland.
ABOUT YVETTE MATTERN
Yvette Mattern is a visual artist who lives between New York and Berlin. She holds a Master of Fine Arts degree from Columbia University's Film Division. Mattern works mainly with video and film, which she fuses with elements of performance, public, art and sculpture. Mattern's video Last Day of Magic was included at the 53rd Venice Biennale Official Satellite Program in 2009, and her work has also been exhibited at the Stenersen Museum, Oslo, Norway; Künstlerhaus Büchsenhausen, Innsbruck, Austria; and Freies Museum, Berlin.

Yvette Mattern – Global Rainbow, 2012

Yvette Mattern – Global Rainbow, 2012

Yvette Mattern – Global Rainbow, 2012
Photos by James Ewing

Elmgreen and Dragset – Short Cut, 2003
Mixed-media installation, 250 x 850 x 300 cm
ABOUT SHORT CUT
In Short Cut (2003), Elmgreen and Dragset installed a run-of-the-mill white Fiat Uno in Milan's quintessential strolling and gathering place for all tourists and residents, the Galleria Vittorio Emanuele.
The work is a metaphor for global tourism, but also a symbol for the precarious nature of today's world. It also describes a universe in movement that travels along endless, unpredictable paths towards fanciful destinations. The first impression of passers-by is that they have come across an accident scene: the floor is cracked and the wheels of the car are stuck among shards of the mosaic. Short Cut sparks reactions and debate throughout the city; animated clusters of people gather around the installation. On the morning that the exhibition opens, the traffic police leave a ticket on the car for parking in an unauthorized area, and two members of the city council ask for it to be removed; to demonstrate their disapproval, they stage a protest in Galleria Vittorio Emanuele, eating a pizza next to the installation.
ABOUT ELMGREEN & DRAGSET
Michael Elmgreen (b. 1961, Copenhagen, DK) and Ingar Dragset (b. 1969, Trondheim, NO) live and work in Berlin, where they have been collaborating since 1995. The duo has taken part in major contemporary art events, exhibiting their work at international institutions such as the Museum of Contemporary Art in Chicago (2007 and 2005), the Serpentine Gallery in London (2006), Tate Modern in London (2004), Museum für Moderne Kunst in Frankfurt (2003), Palais de Tokyo in Paris (2002 and 2001) and Musée d'Art moderne de la Ville de Paris (1998). Nominated in 2000 for the New York Guggenheim's Hugo Boss Prize, they were also featured at the 25th Bienal Internacional de São Paulo (2002), as well as the 7th International Istanbul Biennial (2001). Their work can be found in major collections. In 2009, they represented Scandinavia (Denmark, Finland, Norway, Sweden) at the Venice Biennale's 53rd International Art Exhibition.

Elmgreen and Dragset – Short Cut, 2003
Mixed-media installation, 250 x 850 x 300 cm

Elmgreen and Dragset – Short Cut, 2003
Mixed-media installation, 250 x 850 x 300 cm
Sol LeWitt, Wall Drawing 1136
Over the course of his prolific, influential career, Sol LeWitt (1928–2007) produced more than 1.200 wall drawings. Early in his career, Sol LeWitt began to have others help execute his wall drawings. Wall Drawing 16 was first drawn by a draftsmen, which helped LeWitt to realize his work according to his instructions and diagrams, addressing practical concerns such as the time-consuming nature of the drawings. More significantly, however, this choice articulated LeWitt's belief that the conception of the idea, rather than its execution, constitutes the art work. He was also rejecting the traditional importance assigned to the artist's own hand. The artist executed the earliest wall drawings within a square, usually four by four feet wide, but by 1969 he was using the entire wall, starting with Wall Drawing 16.
The drawings range from layers of straight lines meticulously drawn in black graphite pencil lead, to rows of delicately rendered wavy lines in colored pencil; from bold black-and-white geometric forms, to bright planes in acrylic paint arranged like the panels of a folding screen; from sensuous drawings created by dozens of layers of transparent washes, to a tangle of vibratory orange lines on a green wall, and much more. Forms may appear to be flat, to recede in space, or to project into the viewer's space, while others meld to the structure of the wall itself.
LeWitt, who stressed the idea behind his work over its execution, is widely regarded as one of the leading exponents of Minimalism and Conceptual art, and is known primarily for his deceptively simple geometric structures and architecturally scaled wall drawings. His experiments with the latter commenced in 1968 and were considered radical, in part because this new form of drawing was purposely temporal and due to the collaborative element.
Sol LeWitt, Wall Drawing #346, india ink
Sol LeWitt, Wall Drawing #879, Loopy Doopy (black and white), acrylic
Sol LeWitt, Wall Drawing 631, india ink, Wall Drawing 614, india ink
Sol LeWitt, Wall drawing #836
Sol LeWitt, Wall Drawing #260
Sol LeWitt, Wall Drawing #831 (Geometric Forms), acrylic
Sol LeWitt, Wall Drawing #1183
Sol LeWitt, Wall Drawing #1183
Sol LeWitt, Wall Drawing #366
Sol LeWitt, Wall Drawing #901
Photos #2&3 courtesy of Centre Pompidou-Metz / Rémi Villaggi, #5,8,9,10 by Peter Cox, #6 by Charclam
Posted by publicdelivery
Posted July 17, 2013 5:00 pm
Tags:mural, sol-lewitt.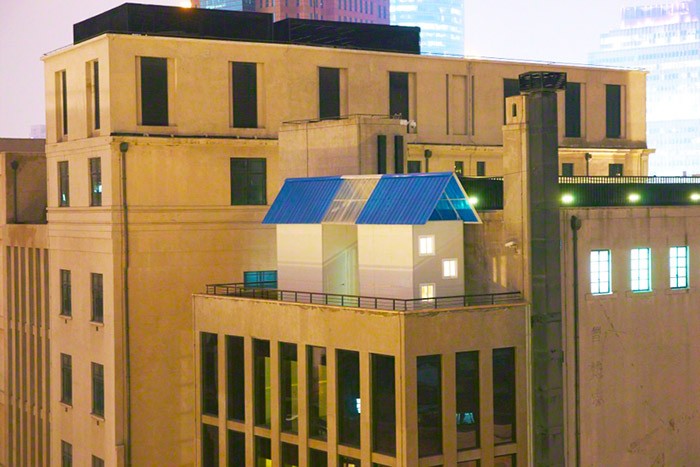 Michael Lin – Model Home, 2012, Rockbund Art Museum, Shanghai, China
ABOUT MODEL HOME
Model Home – A Proposition by Michael Lin was an exhibition of new conceptual work, made by Michael Lin. For the exhibition, he installed a temporary structure on top of the Rockbund Art Museum in Shanghai, China. The exhibition has been created in collaboration with building workers, furniture makers and musicians, film-makers and urban studies researchers based in Shanghai and is an experiment in composite creative work, combining a variety of mediums including painting, sculpture, installation, music, film and performance.
Inspiration has been drawn from the history of the Rockbund Art Museum itself and events that occurred at the same time as the building the gallery is housed in was constructed in the early years of the twentieth century, also from the Bauhaus manifesto with its emphasis on the social functions of art. The artist and architects hope to be able to give a response to the Bauhaus call for architecture to be a vehicle for multi-media art and their advocacy of the combination of architecture, painting and sculpture as a single unity that is suited to the cultural context of contemporary Shanghai and the Rockbund Art Museum. It is also hoped that through a range of art experiments rooted in cross-disciplinary collaboration, a debate can be inspired about the modes of production and social practice of art, the relationship between site specificity and the cultural landscape of its given locale, and creation-as-dialogue and the public sphere.
ABOUT MICHAEL LIN
Michael Lin is an artist living and working in Taipei, Shanghai, and Brussels. Lin turns away from painting as an object of contemplation toward one of painting as a bounded, physical space, one we can settle into and inhabit (Vivian Rehberg). Lin orchestrates monumental painting installations that re-conceptualize and reconfigure public spaces.
Using patterns and designs appropriated from traditional Taiwanese textiles his works have been exhibited in major institutions and international Biennials around the world, The Museum of Contemporary Art, Tokyo, 2007, UCCA, Beijing, 2008, The Lyon Biennial 2009, The Vancouver Art Gallery, 2010, and most recently at the Singapore Biennial and the Towada Art Center. Transforming the institutional architecture of the public museum, his unconventional paintings invite visitors to reconsider their usual perception of those spaces, and to become an integral part of the work, giving meaning to its potential as an area for interaction, encounter, and re-creation.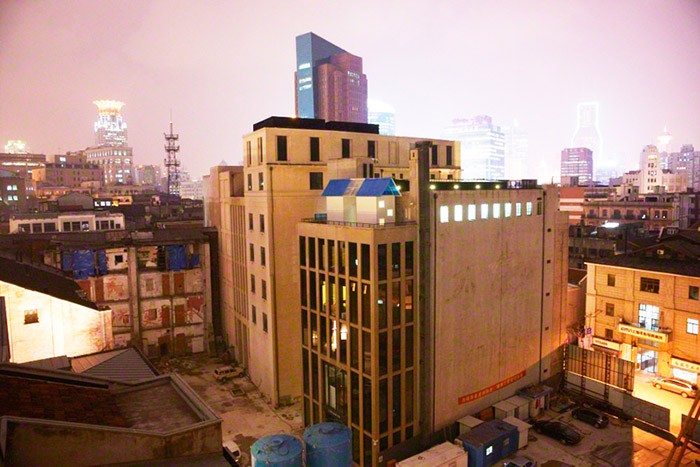 Michael Lin – Model Home, 2012, Rockbund Art Museum, Shanghai, China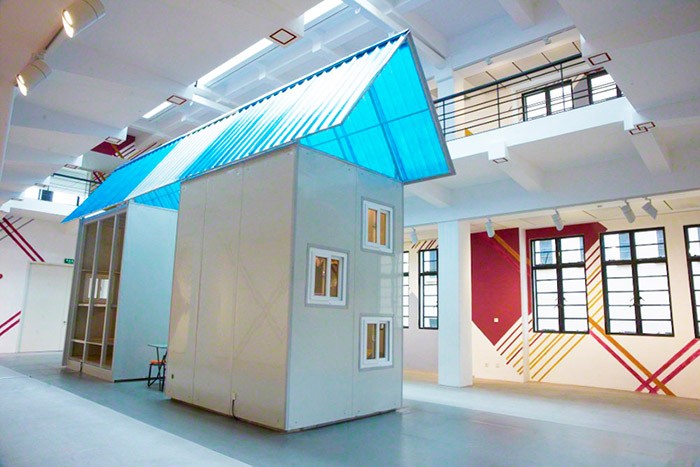 Michael Lin – Model Home, 2012, Rockbund Art Museum, Shanghai, China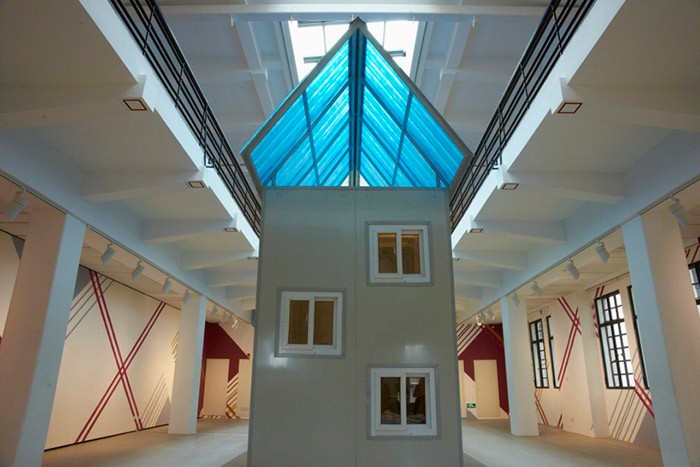 Michael Lin – Model Home, 2012, Rockbund Art Museum, Shanghai, China

Michael Lin – Model Home, 2012, Rockbund Art Museum, Shanghai, China
Video
In 1984 the National Union of Mineworkers went on strike. The dispute lasted for over a year and was the most bitterly fought since the general strike of 1926, marking a turning point in the struggle between the government and the trade union movement.
On 18 June of that year, the Orgreave coking plant was the site of one of the strike's most violent confrontations. It began in a field near the plant and culminated in a cavalry charge through the village of Orgreave.
Jeremy Deller's The Battle of Orgreave, staged seventeen years later, was a spectacular re-enactment of what happened on that day. It was orchestrated by Howard Giles, a historical re-enactment expert and the former director of English Heritage's event programme. More than 800 people participated in the re-enactment, many of them former miners, and a few former policemen, reliving the events from 1984 that they themselves took part in. Other participants were drawn from battle re-enactment societies across England.
The Battle of Orgreave aired on Sunday, 20 October 2002. The film intercuts dramatic photographic stills from the clashes in 1984 with footage of the clashes re-enacted in 2001, together with moving and powerful testimonies, to tease out the complexities of this bitter struggle.
Mac McLoughlin, a former miner and serving policeman on the field that day, reveals details about the build-up within the police force prior to the stand-off; David Douglass (NUM) talks about the meaning of the confrontation in relation to the trade union movement in England; Stephanie Gregory (Womens' Support Group) reminisces about the effects on family life; Tony Benn talks about the media's role in covering up the truth about the strike in 1984; and Jeremy Deller contextualises this event and highlights its contemporary cultural relevance.
Photo 1, 3, 4, 5 by Martin Jenkinson

Weng Fen – Bird's Eye View – Shenzhen, 2002
Following up on our previous post, more works by Chinese photographer Weng Fen.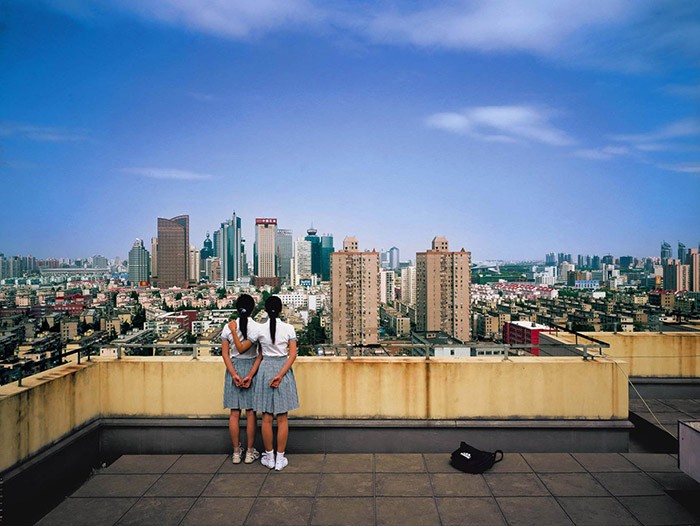 Weng Fen – Bird's Eye View – Shanghai, 2004
Weng Fen – Bird's Eye View – Haikou, 2002

Weng Fen – Bird's Eye View – Guangzhou, 2004

Weng Fen – Bird's Eye View – Chongqing, 2004
Photo by Arjen Noordeman
In 2005, MASS MoCA (Massachusetts Museum of Contemporary Art) presented a monumental and uniquely American sculptural installation by Dave Cole. Cole's project The Knitting Machine comprised two excavators specially fitted with massive 20′ knitting needles which produced an oversized American flag, which can be seen as both a celebratory gesture of pride and a commentary on America's role in world affairs.
When the flag was removed from The Knitting Machine it was folded into the traditional flag triangle and was on display in a presentation case which Cole described as slightly smaller than a Volkswagen Beetle, accompanied by the 20′ knitting needles, and a video of the knitting process.
VIDEO