Archive for '2007'

Fat car, 2001

Fat car, 2005

Telekineticaly bent VW van, 2006

UFO, 2006

Truck, 2007
Erwin Wurm, one of Austria's most important and internationally famous sculptors, has been preoccupied with expanding the concept of sculpture since the 1980s. Wurm is primarily a sculptor, and traditional sculptural concerns such as the relationship between object and pedestal, the function of gravity, the fixing of form, and the manipulation of volume, play through all his work.
Increasing, remodeling or removing volume, the habitual interests of many sculptors, are given a new twist in Wurm's work. Volume and adding volume are treated as sociocrital issues. In 1993, Erwin Wurm wrote an instructional book on how to gain two clothing sizes in eight days. Eight years later, he made his first Fat Car by plumping up an existing car with styrofoam and fiberglass, which resulted in a pitiful, chubby version of the original sportsy model. By taking the question of obesity, Wurm probes the link between power, wealth and body weight. He also wants to offer a sharp criticism of our current value system, as the advertising world demands us to stay thin but to consume more and more.
> also see his One Minute Sculptures
These two videos have Nadav Kander (1961) commenting on his famous Yangtze – The Long River series and deliver an interesting insight on his opinions on the purpose of photography, the rapid change of China, his own identity and more.
For his Yangtze photos Kander came to China several times in 2005 to 2007, visited 186 cities and traveled along the world's third largest river, from the spring in the Himalaya to the mouth. Humans are usually just portrayed as small figures next to a gigantic setting, either of the river itself or one of the numerous construction projects. The Chinese people shown are often merely victims of the unstoppable change that is flowing through China with an enormous force, comparable to that of the Yangtze river. Old, traditional buildings and housing boats are replaced by gigantic anonymous buildings, reducing the human to the role of a spectator rather than a maker.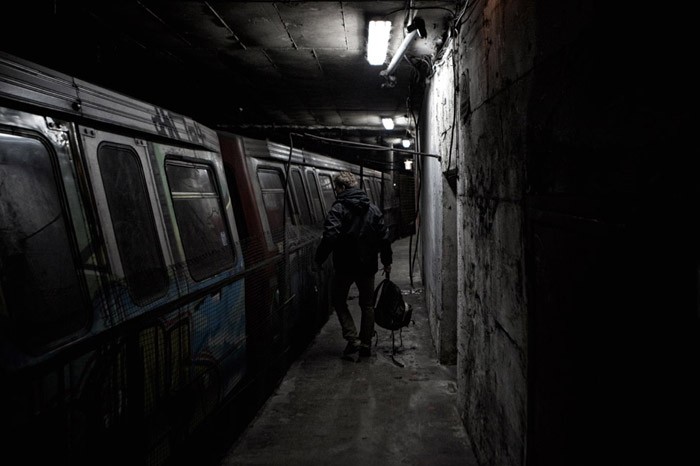 Two new available works by Nils Müller are available as a 80x50cm LightJet print for 90€ (~118$) each.
"Geographically, my eye has shifted from entire nations to border areas, the specificities of places, ethnic groups, traditions "not-yet-institutionalized", and I think that my attitude is visible also in the approach that I use towards the media: I'm curious to face the spaces between photography and performance, interventions that cross public life and the virtual world, the search for beauty or controversy, without shutting myself into a specific classification. The cost reduction of technology on the one hand, and, on the other hand, the acquired ability to reproduce almost every idea, thanks to new technologies, are the perfect combinations for those, who, like me, are constantly distracted by what is around them and look for an approach that could be defined artisanal, based on mastering the use of various media not as the means to an end, but simply as tools."
> read the full interview at Digicult
Balloon sculptures done in 1998 and 2007
We recently stumbled over these balloon sculptures by German artist Hans Hemmer (b. 1960) who lives and works in Berlin. Inflatables, preferable made from yellow latex, have been his most important artistic means of expression.
german panther, 2007
balloon, air, glue, 960x370x300cm
Shown at städtische galerie nordhorn
without title, 1998
balloon, air, 900x550x650cm
Shown at Centro Galego de Arte Contemporanea CGAC, Santiago de Compostella
> more about Hans Hemmer here
(via)
Posted by publicdelivery
Posted September 27, 2011 2:00 am
Tags: 1998, 2007, sculpture.