Archive for '2009'

Karl Haendel – Scribble (digital rendering), NYC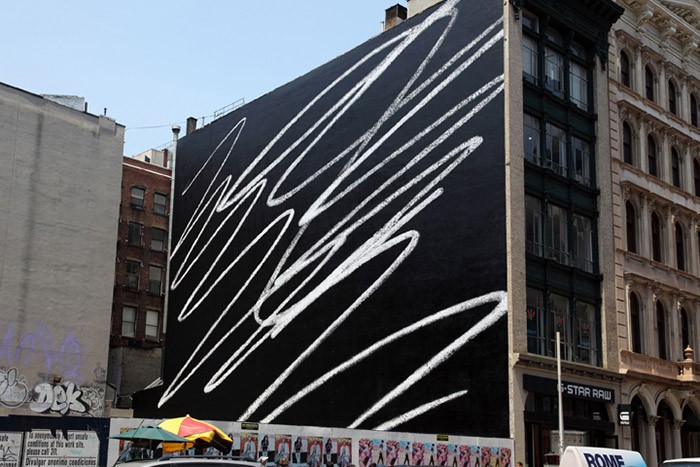 Karl Haendel – Scribble, 2009, paint on brick, NYC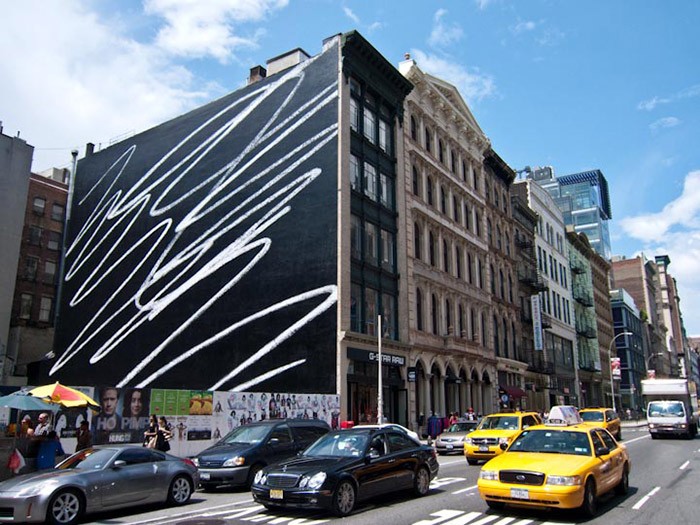 Karl Haendel – Scribble, 2009, paint on brick, NYC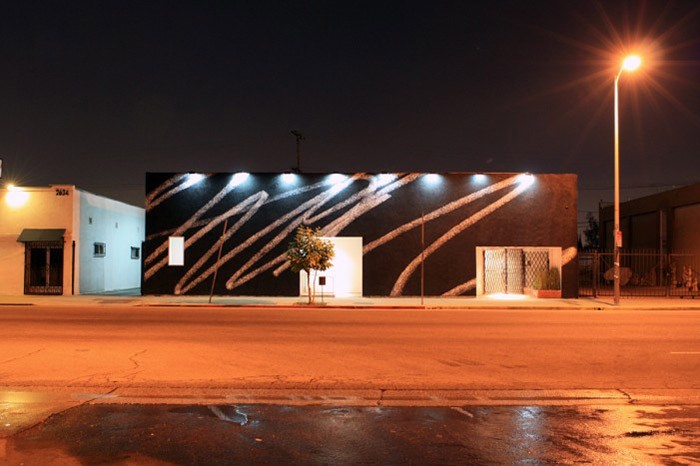 Karl Haendel, Public Scribble #2, 2009, paint on brick, 5,5 x 19,5m, Los Angeles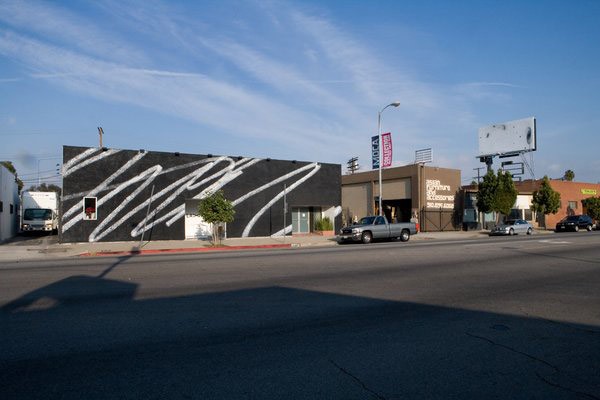 Karl Haendel, Public Scribble #2, 2009, paint on brick, 5,5 x 19,5m, Los Angeles

Karl Haendel, Public Scribble #2, 2009, paint on brick, 5,5 x 19,5m, Los Angeles
In 2009, Los Angeles based artist Karl Haendel made two large scribble murals, one was his first public installation in New York, the other, a similar painting, was executed in Los Angeles. His gigantic scribbles are an anti heroic gesture with roots in street art, public mark making and a universal means of communication.
To put one of these scribbles on the side of a building of course engages a dialogue with graffiti and street art, and this became a central concern as well as an inspiration. My scribble work, because its an anonymous mark and one that anybody could make, I hope will draw attention to the simple need to make a mark, and I hope it makes people think about gesture, pure expression, and the straightforward act of creation. These are tendencies that I think are not only fundamental to art making, but to life in general, and are imperatives that most people I hope can relate to.
Karl Haendel (b. 1976) owns and individualizes the world of popular culture by re-drawing it in his own vision, cleverly manipulating scale, composition, and juxtaposition to uncannily transform ordinary images into witty perspectives on contemporary life. He received his MFA from UCLA in 2003 and has had solo exhibitions at the Museum of Contemporary Art, Los Angeles; Harris Lieberman, New York; Anna Helwing Gallery, Los Angeles. His work has also been included in such notable exhibitions as the 2004 and 2008 California Biennials and Uncertain States of America, a touring exhibition that originated at the Astrup Fearnley Museum for Modern Art, Oslo, and traveled to Serpentine Gallery, London, and the Center for Curatorial Studies, Bard College, among other venues.
Photos: #2: Michael Shaw, #4,5,6: Courtesy of the artist, LA><ART, Los Angeles and Kelly Barrie

Filippo Minelli – Silence: Lines, 2010

Filippo Minelli – Silence: Lines, 2010

Filippo Minelli – Silence: Lines, 2009

Filippo Minelli – Silence: Lines, 2009

Filippo Minelli – Silence: Lines, 2009
Silence: Lines is an on-going series of works by Filippo Minelli, and shares a similar idea like his smoke bomb photos. The line is a tool that is normally used in writing to say nothing. It represents silence and interacts with the urban and rural surrounding in a drastic way without changing it's own nature. In Chinese culture the horizontal line represents the primordial breath, the separation between earth and sky and shows separation and unity at the same time, portraying the cycle that rules everything on the planet.
Photos above are taken in various locations around Europe in 2009-2011.
> see more Silence: Lines works on Public Delivery
Katharina Grosse (1961) is famous for her innovative painting style that is heavily inspired by graffiti and conceptual art. She usually uses an industrial spray paint gun to cover everything from mud hills, found objects to abstract forms made from wood, plastic and styrofoam, and often includes the walls and ceilings of the art space.
In her show Can You Spell Mixing at Dirimart, Istanbul she is showing a less known side of her work: paintings on canvas made between 2009 and 2011.
Katharina Grosse will be at Dirimart until September 3rd, 2012.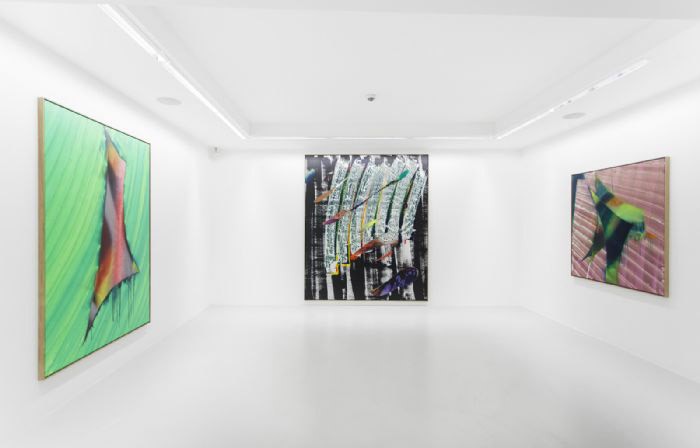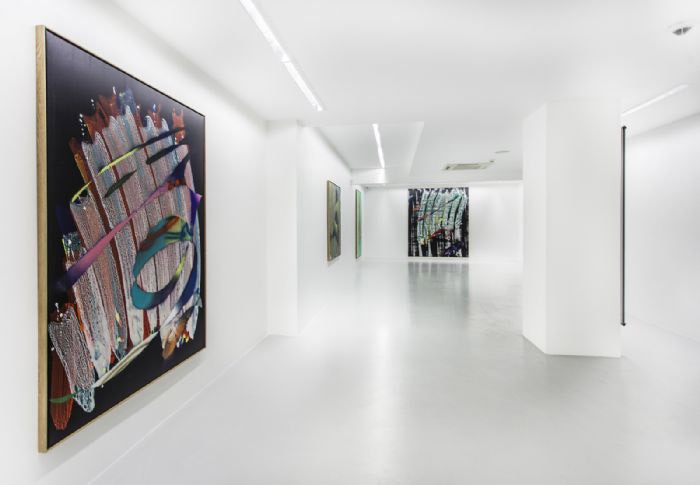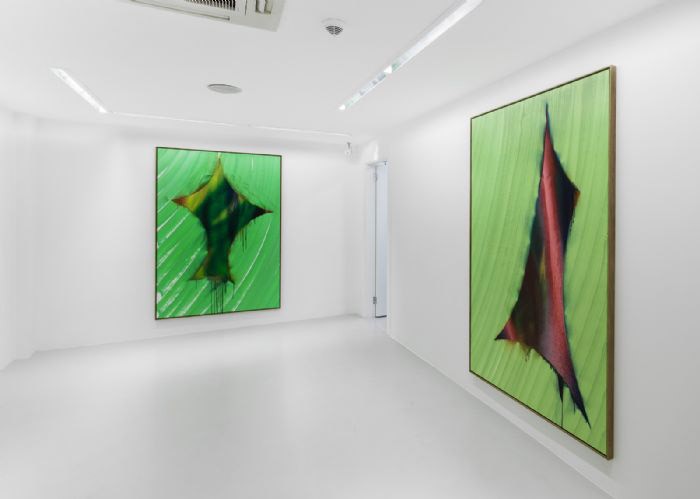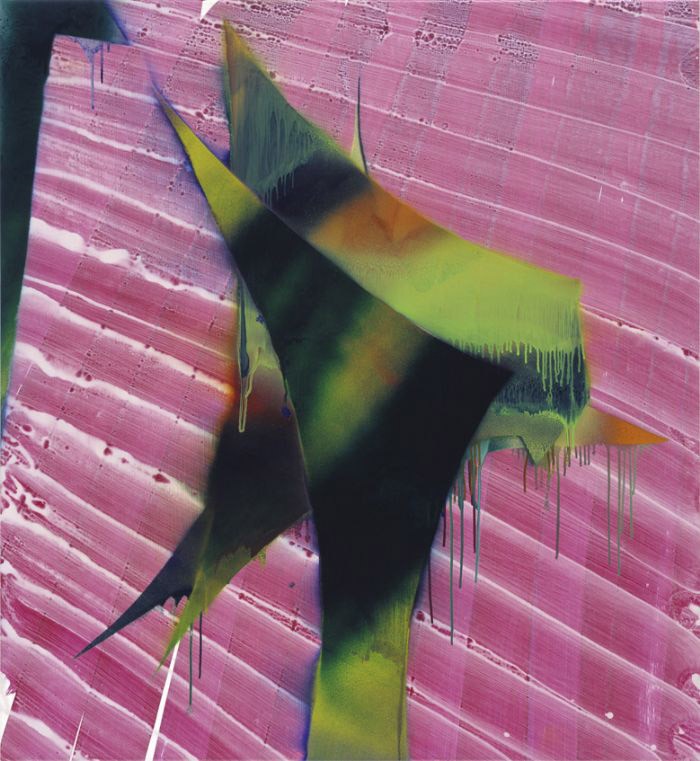 Untitled, 2009, 134×123 cm

Untitled, 2009 – 201×135 cm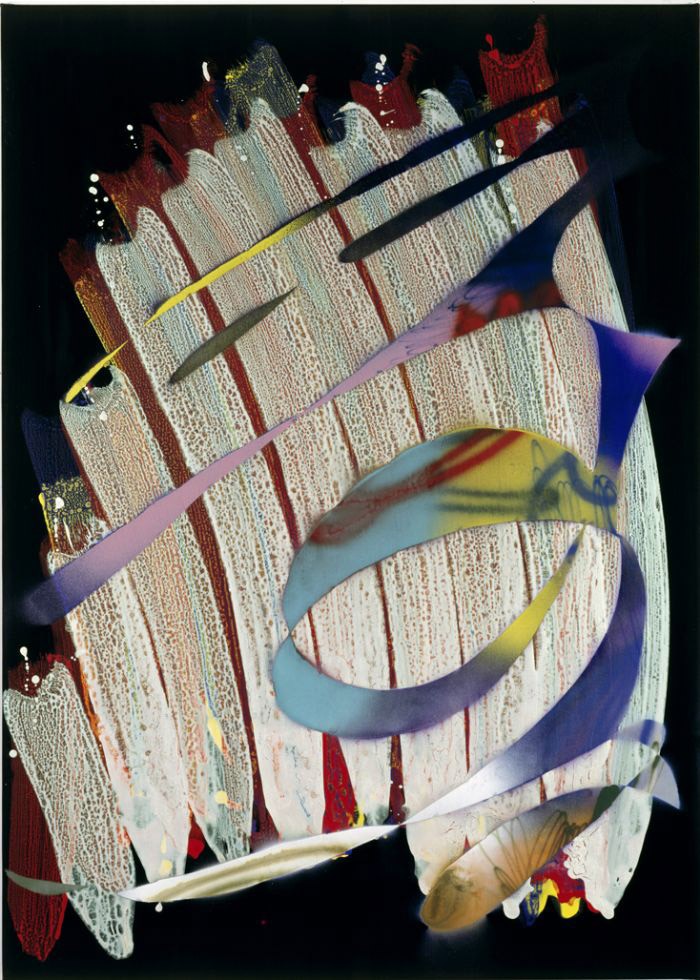 Untitled, 2011 – 180×129 cm
(photos courtesy of DIRIMART)
Posted by publicdelivery
Posted August 13, 2012 9:00 am
Tags: 2009, 2011, 2012.
Rem Koolhaas and Ole Scheeren of OMA recently completed the CCTV (China Central Television Headquarters) building in Beijing, one of the most well-known architecture projects around the world. Being the visual representation of one of the major Chinese state owned media corporations, together with Xinhua, for many it also stands for Chinese (media) politics as such. The absence of hard facts like reliable statistics from external organizations is almost completely missing in the Chinese media world. That lack of information is creating rumors and speculations that even Amnesty International, BBC and others are picking up.
Jon Leung took another approach and built a series of provocative and humorous sculptures. The third part of CCTV got installed on the roof of the Foo Tak building in Hong Kong while blending in with the surrounding architecture. A burning incense stick is used in the 150cm tall sculpture.
He says: "Deliberately abstracting the form and changing its function, the sculptures serve as a contemporary shrine to worship the new Chinese Post-Capitalistic religion. Mixing traditional Chinese religious elements (incense) with Postmodern realism, the CCTV-series is a celebration of both the good and the bad of what China currently represents."
Leung's CCTV sculptures have been shown in art spaces such as the Museum of Contemporary Art Antwerp, as well as in the public space of Hong Kong.
> read all about the CCTV series
Introduction of our new artist, Filippo Minelli from Italy.
We are very glad to announce our new collaboration with Italian artist Filippo Minelli who we introduced earlier. He works in a variety of media such as smoke bombs, flags and elephants, and represents one of the most exciting emerging artists. Minelli has been extensively featured in blogs, magazines, newspapers, tv-stations, art books and exhibitions such as the Venice Biennale.
More info after the images
> selected works by Minelli
> read more about Minelli
> his series Silence: Shapes