Archive for '2010'

Filippo Minelli – Silence: Lines, 2010

Filippo Minelli – Silence: Lines, 2010

Filippo Minelli – Silence: Lines, 2009

Filippo Minelli – Silence: Lines, 2009

Filippo Minelli – Silence: Lines, 2009
Silence: Lines is an on-going series of works by Filippo Minelli, and shares a similar idea like his smoke bomb photos. The line is a tool that is normally used in writing to say nothing. It represents silence and interacts with the urban and rural surrounding in a drastic way without changing it's own nature. In Chinese culture the horizontal line represents the primordial breath, the separation between earth and sky and shows separation and unity at the same time, portraying the cycle that rules everything on the planet.
Photos above are taken in various locations around Europe in 2009-2011.
> see more Silence: Lines works on Public Delivery
The Austrian Franz West (1947-2012), one of the most important postwar-artists, died less than two weeks ago. His work has been repeatedly exhibited at documenta, the Venice Biennale and in 2011 was awarded the Golden Lion at the Biennale di Venezia in recognition for his life's work.
Internationally he got famous through participating at the Documenta IX in 1992: Several of his art pieces were distributed around the area and served as chairs and sofas. Due to their affordable price they quickly spread within the art world and finally became a mass-product. Though not appreciated by everybody, it made West's approach to art clear: Creating usuable art. In an interview with Robert Fleck he also said "Best of all I like art in the streets; it doesn't demand that you make a special journey to see it, it's simply there. You don't even have to look at it – that is probably the ideal art."
In the 1970s West created Adaptives, small, portable sculptures. The following large artworks, made from plaster and gauze and painted with dispersion paint (see below) are directly based on them.

(photo: Art Basel)
This sculpture, Gekröse, 2011, was one of the most dominant pieces shown at the Art Basel Art Unlimited last year by Gagosian Gallery. It was West's largest outdoor sculpture and sold for a seven digit figure a few hours after the opening.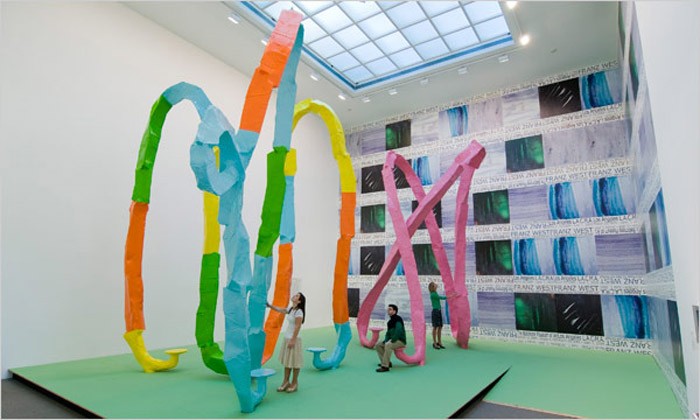 (photo: Mitro Hood/Baltimore Museum of Art)
The Ego and the Id, 2008, a 20 feet high aluminum sculpture was installed at the Franz West retrospective at the Baltimore Museum of Art. It featured chairs that were built into the artwork and invited viewers to interact with it. The title of the art piece is a reference to one of Sigmund Freud's most famous texts in which he describes the Id, ego and super-ego as the three parts of the psychic apparatus.

(photo: Noel. Y. C. / nyclovesnyc)
Afterwards the same sculpture previously shown in Baltimore got exhibited at the Doris Freedman Plaza in Central Park and was on display until March 2010 while some of his smaller sculptures could be seen at the MOMA.

(photo: apa /Franz West / Kunsthaus Bregenz / Rudolf Sagmeister)
Drama (Modell), 2001 at Kunsthaus Bregenz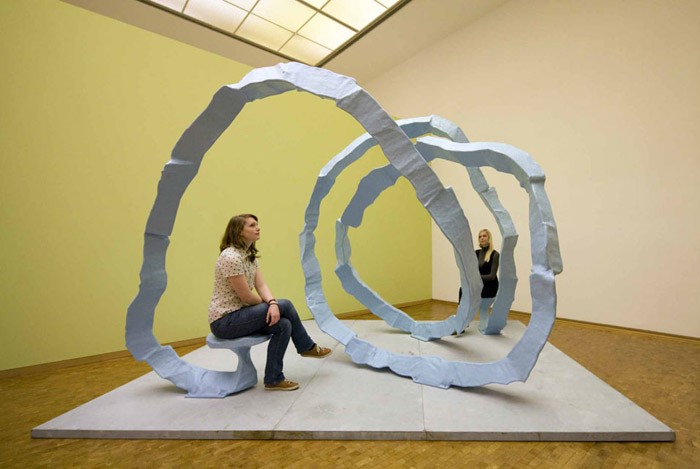 (photo: Museum Ludwig)
Ergebnis, 2008 at Museum Ludwig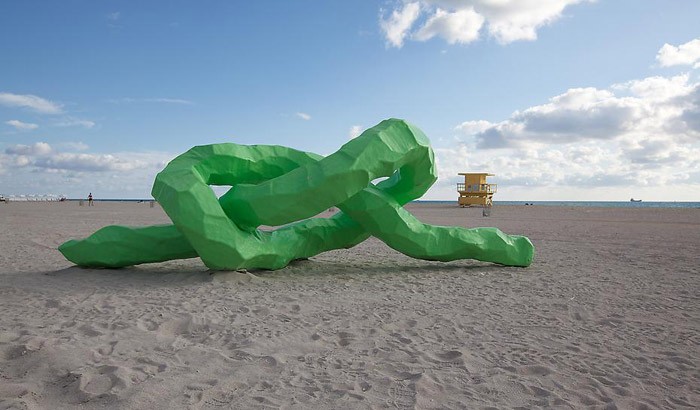 (photo: Gagosian)
Lying Not, 2008 for Gagosian New York at Art Basel Miami Beach Art Projects, 2009

(photo: Gagosian)
Installation view at Gagosian Rome, 2010
Photography of subway tunnels world wide by the Berlin based artist

Underground #02 (Vienna), 2011

Underground #08 (New York City), 2008

Underground #01 (Budapest), 2011

Underground #08 (Berlin), 2010
We just had a chance to meet up with Timo Stammberger (b. 1980), a photographer from Berlin. He is the first to document subway tunnels in his extensive series Underground Landscapes that shows the underground architecture from major cities like New York, Lisbon, Budapest, Berlin and others.
The surprising element is that the subway tunnels that millions of people pass through every day have their own unique character, Stammberger's photos reveal a stunning perspective on the city's underground. The eager adventurer has discovered a broad variety of tunnels, from the dirty and old ones in NYC that were built in the 1900s, to the brandnew high-tech tunnels of Vienna, in operation since 2010. His work requires a lot of dedication: Usually the subway companies don't allow photographers into their network and even taking photos on the subway platforms is forbidden. The underground architecture is protected by a broad variety of security measures, ranging from infra red cameras, sensors to security personnel. How Stammberger creates his photos will remain unknown for now but make sure to keep an eye out for this underrated photographer.
> visit timostammberger.com for more
Two new works by Filippo Minelli from his Silence/ Shapes series added! Request a price by following the links above.
Both are:
Original fine art print, Edition of 3 (+1 Artist Proof)
Inkjet print on acid free Hahnemühle archival paper
Laminated on 3mm aluminium dibond, 120x80cm
Gallery rails attached on all four sides on the back
Signed by the artist
Gana Mplanet is one of the most exciting places for public art in South Korea and arguably all of Asia. Being located directly at Seoul Station this huge 99 x 79m media canvas displays various art installations throughout the year.
Yang Man-ki (양만기)
> for a quick peek check the life stream
> more videos on ganamplanet.com
Insight in the background and production process of one of the most spectacular exhibitions of 2010, Sunflower Seeds by Ai Weiwei at Tate Modern. Follow Ai Weiwei to the city of Jingdezhen in northern Jiangxi, China, famed for its production of Imperial porcelain, where all of the sunflower seeds have been individually hand-sculpted and hand-painted.
> official site
> visitor questions answered by Ai Weiwei
Additionally, you can see Sunflower Seeds at Mary Boone Gallery right now. The exhibition opened on January 7 and is on view until February 4. Below are a few installation shots. The installation is made out of millions (five tons) of hand-painted porcelain sunflower seeds. Each actual-size seed is unique and intricately hand-formed and like those shown at Tate Modern painted in Jingdezhen.
The sunflower, following the sun, is a well-known metaphor for The People during China's Cultural Revolution. The seeds provided nourishment at all levels of society, and the ubiquitous discarded husks provided evidence of an individual's existence. Ai Weiwei created a deceptively unified field with a large number of individual seeds. Sunflower Seeds comments on social, political and economical issues relevant to contemporary China such as the role of the individual in relationship to the collective.
(photos by twi-ny.com)
Six new available works by Filippo Minelli
Six new photos by Minelli are available now, four medium sized ones for a very reasonable price, and two bigger ones with an edition of 3.
> click any image to get more information or see more of his Silence: Shapes works