Archive for '2011'
Live at the Museum is Public Delivery's next big project, done together with Andre Hemer. It is an international performance project and an on-going series of video works. So far it has been shot in various locations on four different continents.
More information next month, stay tuned!
Video
Photos
Desert Rooftops by David Brooks is a 5,000-square-foot sculpture that is an wavy configuration of multiple asphalt-covered rooftops similar to those on suburban developments, McMansions and strip malls conjoined to resemble a rolling, dune-like landscape.
The piece examines issues of the natural and built landscape by comparing the monoculture that arises from unchecked suburban and urban sprawl with that of an over-cultivated landscape – creating a work that is picturesque, familiar and simultaneously foreboding. Brooks' sculptural approach gives a nod to Robert Smithson's earthworks and Gordon Matta-Clark's building cuts while offering a much needed sense of humor to help digest today's somber environmental issues.
As housing communities devour more and more land and resources each year the outcome is equivalent to the very process of desertification. The United Nations Convention to Combat Desertification defines desertification as: land degradation into arid and dry sub-humid areas resulting from various factors, including human activities and climatic variations derived from over-development, over-grazing and an overworked land. The result is often a depleted landscape inhospitable to other life.
David Brooks (b. 1975) is an American sculptor and installation artist, whose work considers the relationship between the individual and the built and natural environment. Brooks has exhibited large-scale installations at Dallas Contemporary, Miami Art Museum, Nouveau Musée National de Monaco, Bold Tendencies London, as well as American Contemporary and the Sculpture Center in New York. Brooks was featured in the 2010 Greater New York at MoMA PS1 and lives and works in NYC.
(Photos by James Ewing, courtesy of Art Production Fund)
Katharina Grosse (1961) is famous for her innovative painting style that is heavily inspired by graffiti and conceptual art. She usually uses an industrial spray paint gun to cover everything from mud hills, found objects to abstract forms made from wood, plastic and styrofoam, and often includes the walls and ceilings of the art space.
In her show Can You Spell Mixing at Dirimart, Istanbul she is showing a less known side of her work: paintings on canvas made between 2009 and 2011.
Katharina Grosse will be at Dirimart until September 3rd, 2012.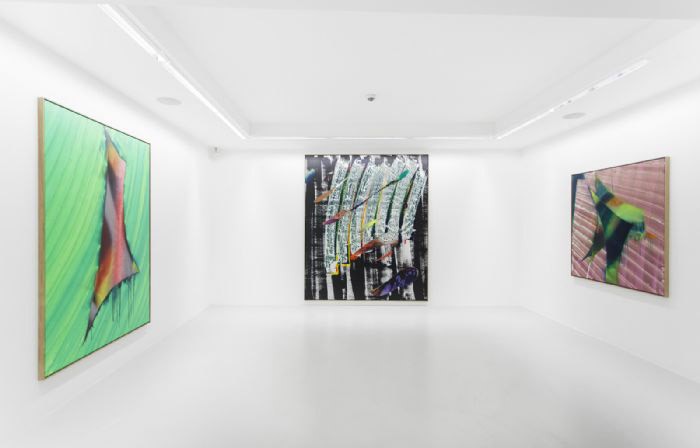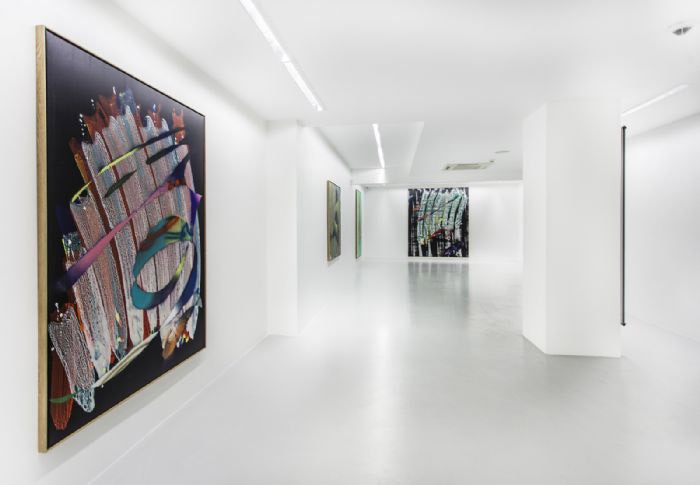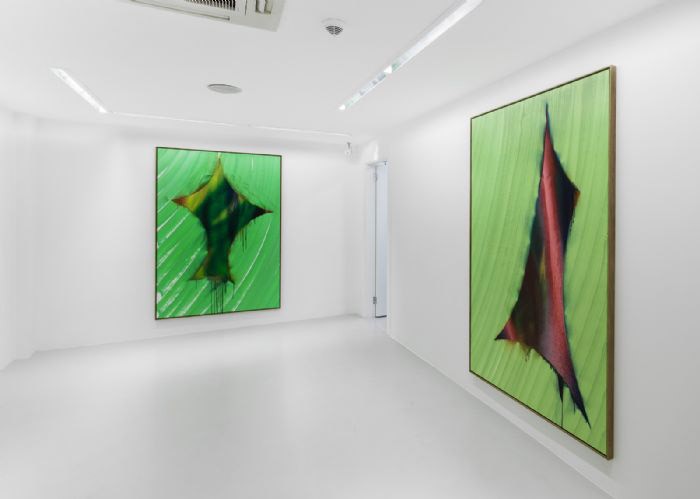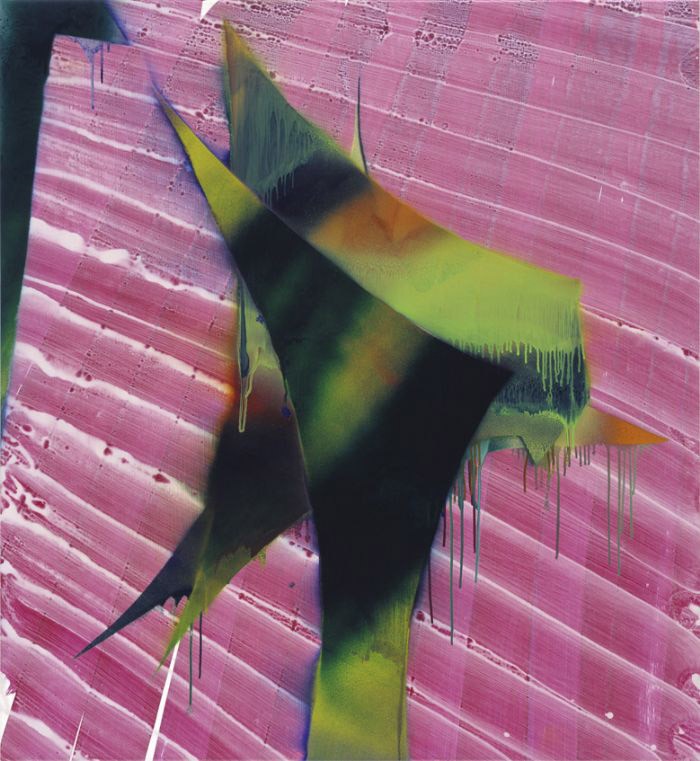 Untitled, 2009, 134×123 cm

Untitled, 2009 – 201×135 cm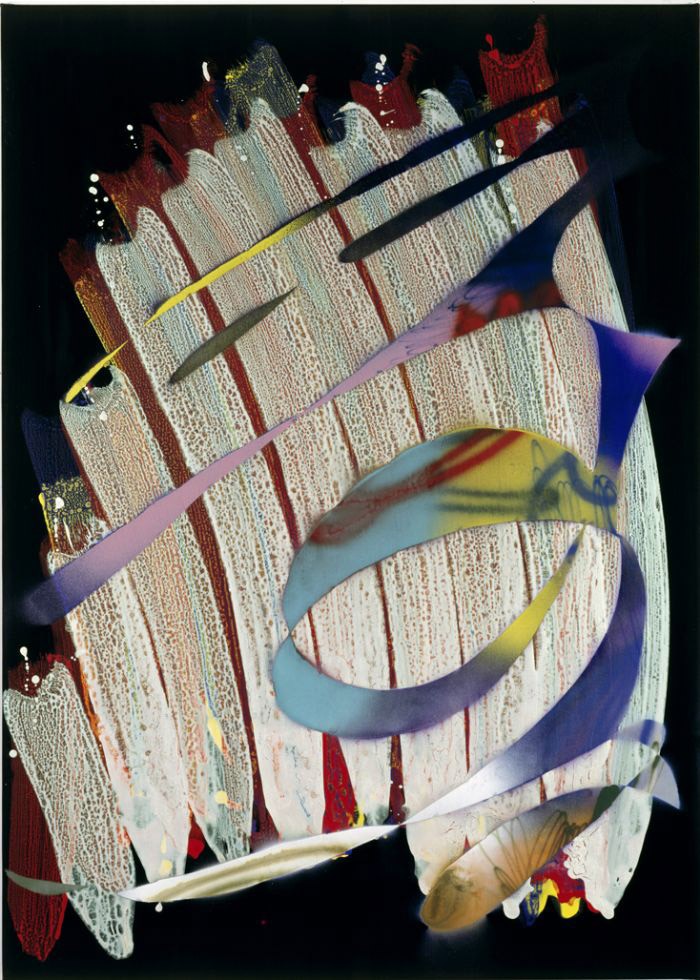 Untitled, 2011 – 180×129 cm
(photos courtesy of DIRIMART)
Posted by publicdelivery
Posted August 13, 2012 9:00 am
Tags: 2009, 2011, 2012.
The Austrian Franz West (1947-2012), one of the most important postwar-artists, died less than two weeks ago. His work has been repeatedly exhibited at documenta, the Venice Biennale and in 2011 was awarded the Golden Lion at the Biennale di Venezia in recognition for his life's work.
Internationally he got famous through participating at the Documenta IX in 1992: Several of his art pieces were distributed around the area and served as chairs and sofas. Due to their affordable price they quickly spread within the art world and finally became a mass-product. Though not appreciated by everybody, it made West's approach to art clear: Creating usuable art. In an interview with Robert Fleck he also said "Best of all I like art in the streets; it doesn't demand that you make a special journey to see it, it's simply there. You don't even have to look at it – that is probably the ideal art."
In the 1970s West created Adaptives, small, portable sculptures. The following large artworks, made from plaster and gauze and painted with dispersion paint (see below) are directly based on them.

(photo: Art Basel)
This sculpture, Gekröse, 2011, was one of the most dominant pieces shown at the Art Basel Art Unlimited last year by Gagosian Gallery. It was West's largest outdoor sculpture and sold for a seven digit figure a few hours after the opening.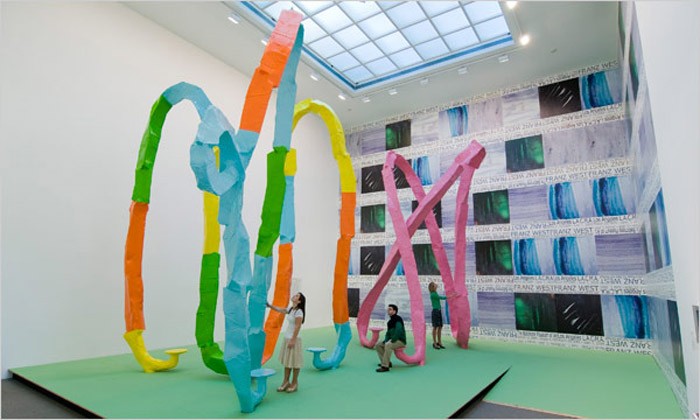 (photo: Mitro Hood/Baltimore Museum of Art)
The Ego and the Id, 2008, a 20 feet high aluminum sculpture was installed at the Franz West retrospective at the Baltimore Museum of Art. It featured chairs that were built into the artwork and invited viewers to interact with it. The title of the art piece is a reference to one of Sigmund Freud's most famous texts in which he describes the Id, ego and super-ego as the three parts of the psychic apparatus.

(photo: Noel. Y. C. / nyclovesnyc)
Afterwards the same sculpture previously shown in Baltimore got exhibited at the Doris Freedman Plaza in Central Park and was on display until March 2010 while some of his smaller sculptures could be seen at the MOMA.

(photo: apa /Franz West / Kunsthaus Bregenz / Rudolf Sagmeister)
Drama (Modell), 2001 at Kunsthaus Bregenz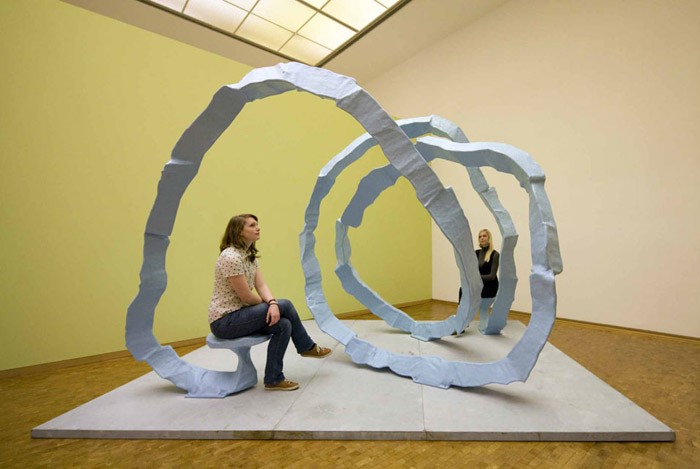 (photo: Museum Ludwig)
Ergebnis, 2008 at Museum Ludwig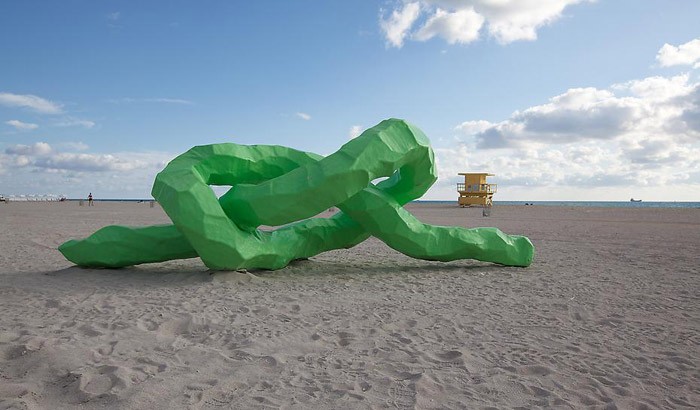 (photo: Gagosian)
Lying Not, 2008 for Gagosian New York at Art Basel Miami Beach Art Projects, 2009

(photo: Gagosian)
Installation view at Gagosian Rome, 2010
Beikirch painted a mural in late 2011 in Bushwick, Brooklyn and it appeared in several tv shows, music videos and now lately in The New York Times. More photos from the mural realityisjustamatterofperception here.
Photography of subway tunnels world wide by the Berlin based artist

Underground #02 (Vienna), 2011

Underground #08 (New York City), 2008

Underground #01 (Budapest), 2011

Underground #08 (Berlin), 2010
We just had a chance to meet up with Timo Stammberger (b. 1980), a photographer from Berlin. He is the first to document subway tunnels in his extensive series Underground Landscapes that shows the underground architecture from major cities like New York, Lisbon, Budapest, Berlin and others.
The surprising element is that the subway tunnels that millions of people pass through every day have their own unique character, Stammberger's photos reveal a stunning perspective on the city's underground. The eager adventurer has discovered a broad variety of tunnels, from the dirty and old ones in NYC that were built in the 1900s, to the brandnew high-tech tunnels of Vienna, in operation since 2010. His work requires a lot of dedication: Usually the subway companies don't allow photographers into their network and even taking photos on the subway platforms is forbidden. The underground architecture is protected by a broad variety of security measures, ranging from infra red cameras, sensors to security personnel. How Stammberger creates his photos will remain unknown for now but make sure to keep an eye out for this underrated photographer.
> visit timostammberger.com for more
There are a still a few prints of Born To Roll by Luciano Calderon left.
Born To Roll, 2011
Silkscreen print on paper
Edition of 30, signed and numbered
44 x 32 cm
€90.00 (~$115)
> order it here