Archive for '2012'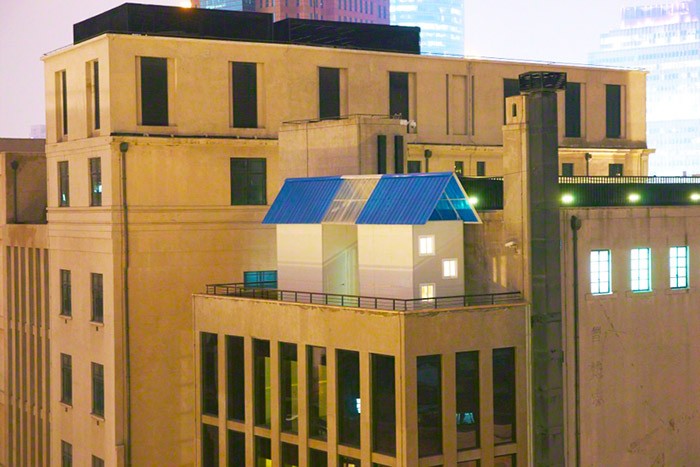 Michael Lin – Model Home, 2012, Rockbund Art Museum, Shanghai, China
ABOUT MODEL HOME
Model Home – A Proposition by Michael Lin was an exhibition of new conceptual work, made by Michael Lin. For the exhibition, he installed a temporary structure on top of the Rockbund Art Museum in Shanghai, China. The exhibition has been created in collaboration with building workers, furniture makers and musicians, film-makers and urban studies researchers based in Shanghai and is an experiment in composite creative work, combining a variety of mediums including painting, sculpture, installation, music, film and performance.
Inspiration has been drawn from the history of the Rockbund Art Museum itself and events that occurred at the same time as the building the gallery is housed in was constructed in the early years of the twentieth century, also from the Bauhaus manifesto with its emphasis on the social functions of art. The artist and architects hope to be able to give a response to the Bauhaus call for architecture to be a vehicle for multi-media art and their advocacy of the combination of architecture, painting and sculpture as a single unity that is suited to the cultural context of contemporary Shanghai and the Rockbund Art Museum. It is also hoped that through a range of art experiments rooted in cross-disciplinary collaboration, a debate can be inspired about the modes of production and social practice of art, the relationship between site specificity and the cultural landscape of its given locale, and creation-as-dialogue and the public sphere.
ABOUT MICHAEL LIN
Michael Lin is an artist living and working in Taipei, Shanghai, and Brussels. Lin turns away from painting as an object of contemplation toward one of painting as a bounded, physical space, one we can settle into and inhabit (Vivian Rehberg). Lin orchestrates monumental painting installations that re-conceptualize and reconfigure public spaces.
Using patterns and designs appropriated from traditional Taiwanese textiles his works have been exhibited in major institutions and international Biennials around the world, The Museum of Contemporary Art, Tokyo, 2007, UCCA, Beijing, 2008, The Lyon Biennial 2009, The Vancouver Art Gallery, 2010, and most recently at the Singapore Biennial and the Towada Art Center. Transforming the institutional architecture of the public museum, his unconventional paintings invite visitors to reconsider their usual perception of those spaces, and to become an integral part of the work, giving meaning to its potential as an area for interaction, encounter, and re-creation.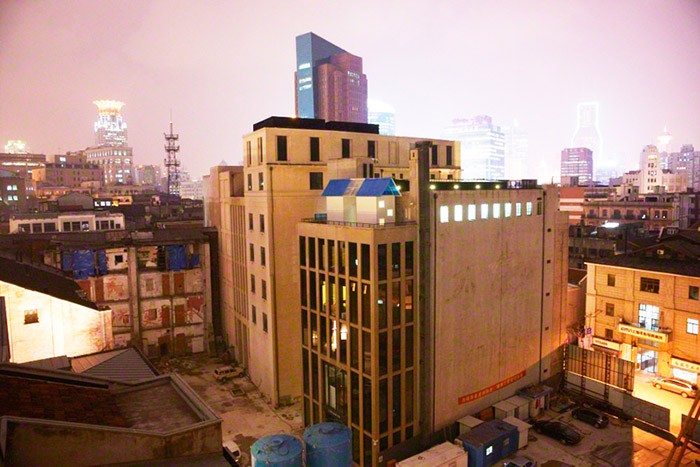 Michael Lin – Model Home, 2012, Rockbund Art Museum, Shanghai, China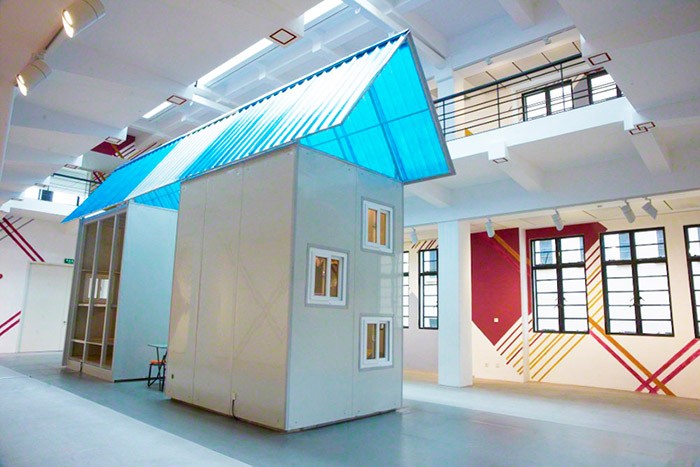 Michael Lin – Model Home, 2012, Rockbund Art Museum, Shanghai, China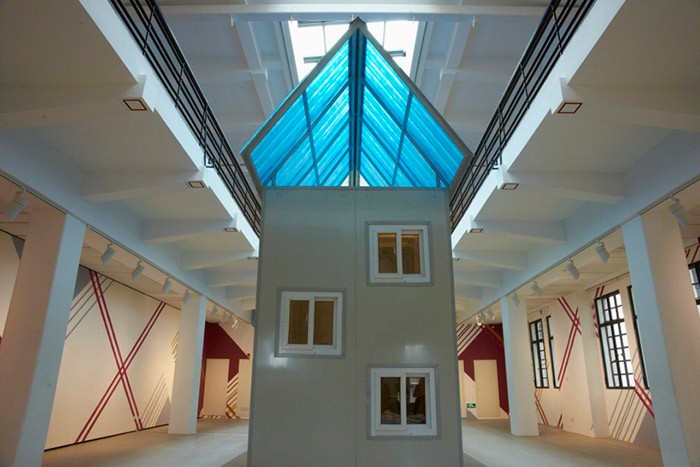 Michael Lin – Model Home, 2012, Rockbund Art Museum, Shanghai, China

Michael Lin – Model Home, 2012, Rockbund Art Museum, Shanghai, China
VIDEO
PHOTOS
In March 2012, two monumental kinetic sculptures, each about 7.5m tall, transformed a disused public space in Midtown Manhattan into an art piece by Josephine Meckseper. Though mirroring the forms and materials of the mid-century oil industry, the artist locates her work firmly inside the contemporary debate about American business, wealth and consumerism.
The Manhattan Oil Project is inspired by mid 20th century oil pumps the artist discovered in Electra, a boarded-up town once famous for being the pump jack capital of Texas. Each sculpture is fully motorized to simulate the motions of a working oil pump. Placed in a vacant lot next to Times Square, the black and red steel structures slowly creak in the ceaseless oscillations of phantom oil excavation. The pump jacks recall the ruins of ghost towns, forgotten monuments of America's decaying industrial past.
This pairing of the pump jacks and the Times Square location merges a classic symbol of American oil production and wealth with the center of New York City commercial culture. The pumps are intended as ignition points for critical discussion engaged directly with modern life, as opposed to operating in the realm of disengaged abstract geometries. They evoke speculation about a functional reality and the notion of use value. I hope to draw parallels between the American industrial system, transitioning from a past of heavy industry, factories, and teamsters and the disembodied present of electronic mass-media, surface advertising, and consumerism – so clearly embodied in Times Square, explained Meckseper, The critical placement of the pumps is a conceptual gesture that raises questions about business and capital; land use and resources; wealth and decay; decadence and dependence.
Josephine Meckseper (b. 1964) has developed a practice which melds the aesthetic language of modernism with a profound critique of consumerism. Through her shop windows, vitrines, installations, photographs, films and magazine projects she draws a direct correlation to the way consumer culture defines and circumvents subjectivity and sublimates the key instruments of individual political agency. Her works have been included in international biennials such as the Whitney Biennial, the Second Moscow Biennial of Contemporary Art and Biennale d'Art Contemporain de Lyon. She has also had solo exhibitions at the Migros Museum für Gegenwartskunst (Zürich, Switzerland), Ausstellungshalle zeitgenössische Kunst (Münster, Germany) and a retrospective at the Kunstmuseum Stuttgart. Her work was featured at the Museum of Modern Art in New Photography and at the Guggenheim Museum, New York.
Photos by James Ewing, courtesy of Art Production Fund
Posted by publicdelivery
Posted January 25, 2013 9:00 am
Tags: 2012, NYC, public.
Video
Photos

How I Roll, 2012; Rotating Piper Seneca, steel supports, motor

How I Roll, 2012; Rotating Piper Seneca, steel supports, motor
For two months a small air plane was rotating 24 hours a day in summer 2012 in Central Park, NYC. Previous works by Paola Pivi have also featured large machines, including an overturned tractor-trailer and a helicopter placed upside down.
Born in Milan, Italy, in 1971 and now based in Anchorage, Alaska, Paola Pivi's diverse artistic practice embraces sculpture, photography, video, and performance. How I Roll is Pivi's first public commission in the United States.
(Photos by Attilio Maranzano, via)
Posted by publicdelivery
Posted January 23, 2013 9:00 am
Tags: 2012, NYC, sculpture.
Live at the Museum is Public Delivery's next big project, done together with Andre Hemer. It is an international performance project and an on-going series of video works. So far it has been shot in various locations on four different continents.
Video
Photos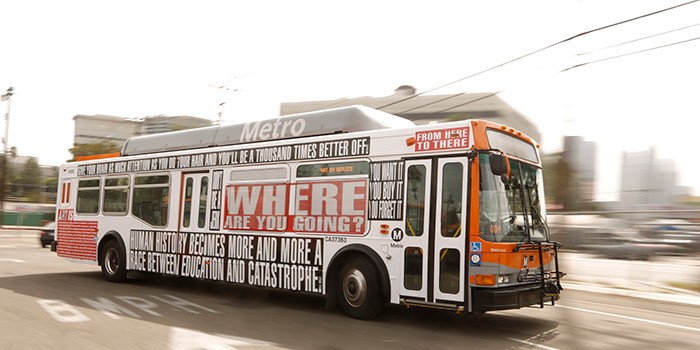 School Bus, 2012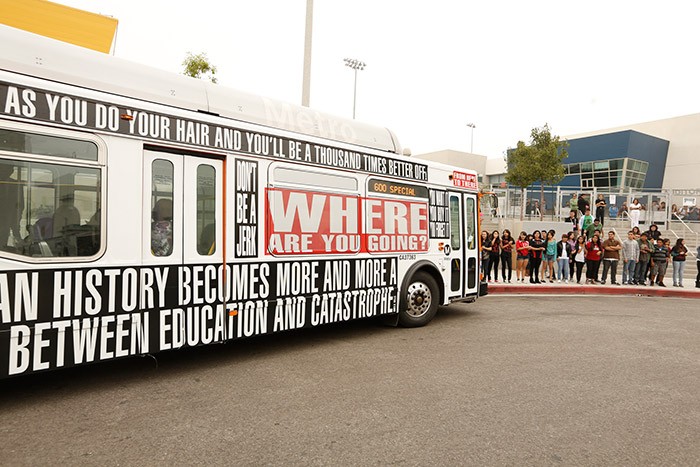 School Bus, 2012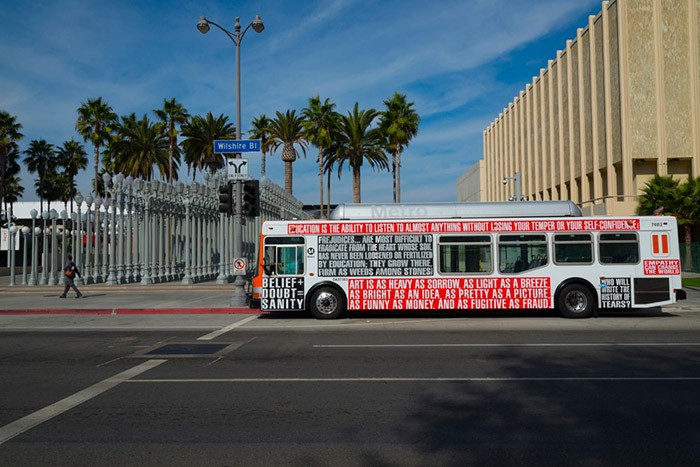 School Bus, 2012
Barbara Kruger wrapped a school bus, addressing the importance of arts education in Los Angeles public schools.
Barbara Kruger's work is universally known for its bold, eye-catching design, and philosophical themes. The artist's project for Arts Matter, a philanthropic organization, rendered in Kruger's signature style, addressed directly and urgently the importance of education, especially in the arts. Kruger's statement, Art is as heavy as sorrow, as light as a breeze, as bright as an idea.. emphasizes the fluid nature of art. At the same time, Kruger stresses that art remains a crucial, indispensible part of a successful educational system. School Bus also references an earlier bus wrap Kruger created for New York City's Public Art Fund in 1997.
About Barbara Kruger
Barbara Kruger is an artist based in Los Angeles and New York and is one of the most renowned contemporary artists working today. For over three decades her work has encompassed a broad spectrum of contexts and scales, ranging from publication inserts to immersive installations that involve text, images, and video. Kruger's work has appeared in museums and galleries worldwide.
> visit lafund.org for information about bus routes and Kruger's billboards
(Photos: #1,2 by Steve Cohn, #3 by Joshua White)
Posted by publicdelivery
Posted January 7, 2013 9:00 am
Tags: 2012, Los Angeles.