Archive for 'Berlin'
Robert Montgomery who was featured on here earlier for the Istanbul Biennale shows his largest billboard project in Berlin right now.
Montgomery's billboards are poetic pieces of text and always using the strong contrasts of a white letters on a black background. He captures spots that are usually occupied by advertising, trying to create a surprising artistic situation.
In total, the project Echoes of Voices in the High Towers, organized by Neue Berliner Räume, will display 23 billboards, two illuminated poem sculptures as well as artistic interventions in several print publications like EXBERLINER, Sleek, Päng!, Um[laut] and others, as well as an exhibition of his drawings.
Echoes of Voices in the High Towers runs until October 2012.
> read more about the interesting anonymous publications / interventions of the project and the historic context here
> more photos on Facebook here and here
Photography of subway tunnels world wide by the Berlin based artist

Underground #02 (Vienna), 2011

Underground #08 (New York City), 2008

Underground #01 (Budapest), 2011

Underground #08 (Berlin), 2010
We just had a chance to meet up with Timo Stammberger (b. 1980), a photographer from Berlin. He is the first to document subway tunnels in his extensive series Underground Landscapes that shows the underground architecture from major cities like New York, Lisbon, Budapest, Berlin and others.
The surprising element is that the subway tunnels that millions of people pass through every day have their own unique character, Stammberger's photos reveal a stunning perspective on the city's underground. The eager adventurer has discovered a broad variety of tunnels, from the dirty and old ones in NYC that were built in the 1900s, to the brandnew high-tech tunnels of Vienna, in operation since 2010. His work requires a lot of dedication: Usually the subway companies don't allow photographers into their network and even taking photos on the subway platforms is forbidden. The underground architecture is protected by a broad variety of security measures, ranging from infra red cameras, sensors to security personnel. How Stammberger creates his photos will remain unknown for now but make sure to keep an eye out for this underrated photographer.
> visit timostammberger.com for more
New York, at the beginning of the 1980s. A gloomy urban sprawl between hedonism and abyss. The subway, in its dilapidated state, is a hazardous place. Fires in tunnels, muggings, murder and drug trafficking are the order of the day; overcrowded wagons, frequent delays, graffiti and dirt everywhere. The journey with public transport is a nightmare. The photographer Bruce Davidson (b. 1933) boards the train, immerses himself in the raging, rattling hustle and bustle of the city and portraits the passengers between uniformity and diversity, anonymity and intimacy, depression and inspiration. Whether lovers, musicians, homeless people, tourists or business people – in the subway and its passengers he finds the perfect metaphor for life in the metropolis with its aggression and ugliness, its hope and humanity.
Democratic and radically public – the subway provides Bruce Davidson with the ideal setting for his long-term urban reports. In this rolling prison everyone is visible to everyone. The passengers respond very differently to this exposed setting. While some hide and duck away timidly in the crowd, others pose unabashed and use the carriages and stations as stages for their self-portrayal. Even though Bruce Davidson does not photograph from a hidden perspective and usually respectfully asks for permission, nothing is staged in his pictures, every situation is authentic. The photographer is always a passenger, observing the scenario – hunting for the "decisive moment". This creates a unique tension in his pictures – the persons portraited appear full of human dignity even in this inhumane, ruthless world.
To shoot in this environment, he had to prepare in a way that reminds on the way some of the Public Delivery artists approach their work:
"To prepare myself for the subway, I started a crash diet, a military fitness exercise program, and early every morning I jogged in the park. I knew I would need to train like an athlete to be physically able to carry my heavy camera equipment around in the subway for hours every day. Also, I thought that if anything was going to happen to me down there I wanted to be in good shape, or at least to believe that I was. Each morning I carefully packed my cameras, lenses, strobe light, filters, and accessories in a small, canvas camera bag. In my green safari jacket with its large pockets, I placed my police and subway passes, a few rolls of film, a subway map, a notebook, and a small, white, gold-trimmed wedding album containing pictures of people I'd already photographed in the subway. In my pants pocket I carried quarters for the people in the subway asking for money, change for the phone, and several tokens. I also carried a key case with additional identification and a few dollars tucked inside, a whistle, and a small Swiss Army knife that gave me a little added confidence. I had a clean handkerchief and a few Band-Aids in case I found myself bleeding."
Bruce Davidson is currently exhibiting his subway photos at c/o Berlin. The exhibition runs until May 20th 2012, directions and more information at c/o Berlin.
> read the full interview here

Subway, 1980

Subway, 1980

Subway, 1980

Subway, 1980

Subway, 1980

Subway, 1980
please install flash
Earlier this year Cyprien Gaillard built a pyramid out of 72.000 bottles of beer at KW Institute for Contemporary Art, Berlin. Participants were free to enter and consume as much as the Turkish beer Efes as they wanted. The work refers to the "the concept of displacement and a tourist colonialism" of previously artifacts which were relocated from other countries to Berlin.
> Photos via and read more about this controversial piece here, here, here, here and here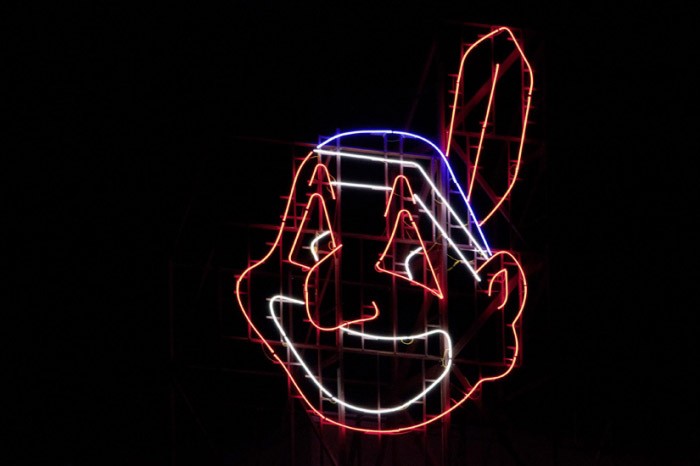 Cyprien Gaillard (b. 1980 in Paris) put up the enormous Neon Indian on the Haus der Statistik at the Alexanderplatz in Berlin. The Indian is reminiscent of the logo of the US Baseball team Cleveland Indians. Gaillard often uses this in 1894 created image and refers to the use of indian names and mascots in the US, despite their extermination. Even though those images seem outmoded, they still continue to exist in mass culture, and although Indians were victims of exclusion, some part of their culture serves as marketing tools for American sport teams and others.
The Neon Indian can be see until the 11th of December, then the Haus of Statistik will be teared down.
Details:
Neon Indian, 2011
Neon tubes, steel construction
Height: 10m
Address:
Haus der Statistik
Otto-Braun-Str./ Karl-Marx-Allee
10178 Berlin
(Image Cyprien Gaillard Neon Indian, 2011 (Skizze), Courtesy: Berliner Künstlerprogramm / DAAD & the artist / Sprüth Magers)
Recent work made on a s-train in Berlin
Our blog is showing works of others artists too, even if we don't work with them.
Here is an interesting work from Dtagno from Berlin, created with The Morphogenetic Field Device Little Boy. This instrument holds 22 spraycans, which is similar to those he has created before.
please install flash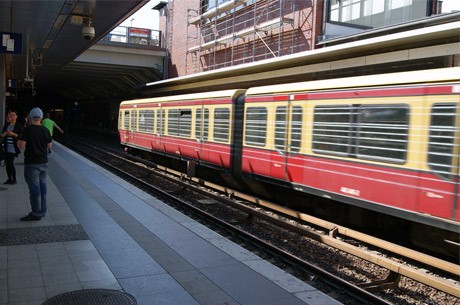 Photo from streetfiles.org