Archive for 'exhibition'
VIDEO
PHOTOS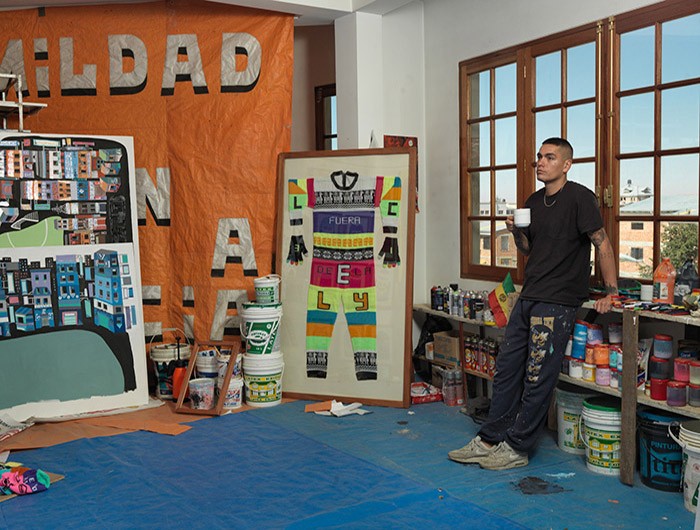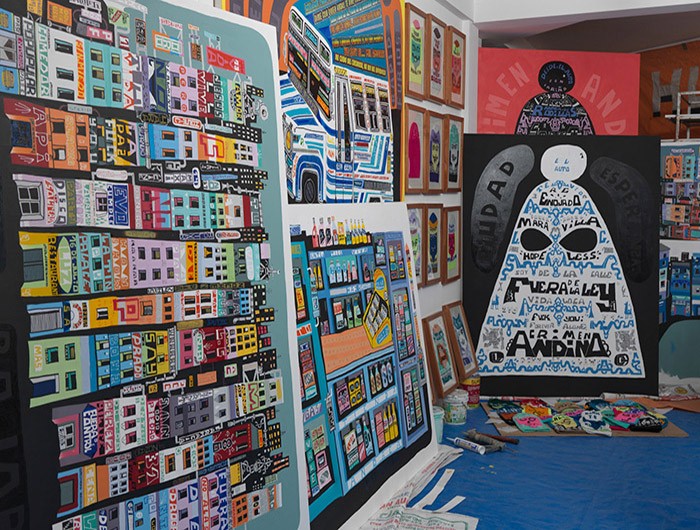 We are delighted to share some exclusive studio photos of Luciano Calderon's upcoming show next week in La Paz, Bolivia.
> Read all about the exhibition and see more photos here or check the older preview
> Download the presskit: web, print
Photos by Gabriel Barceló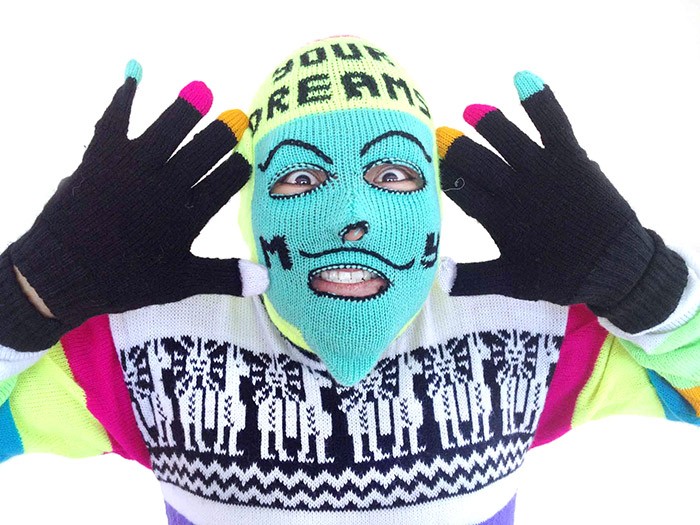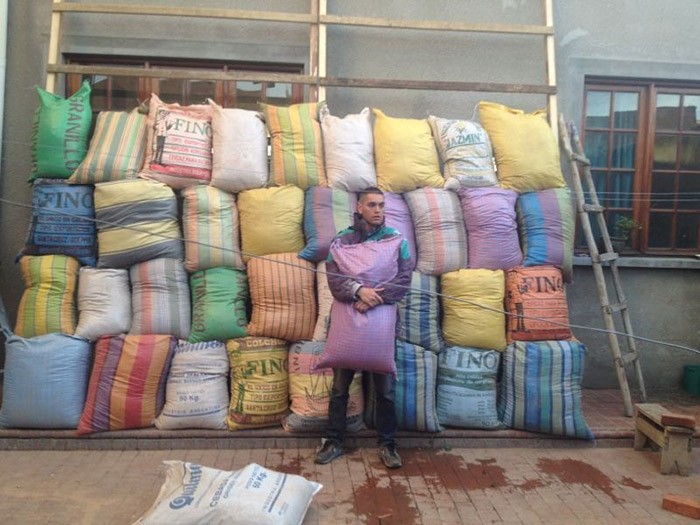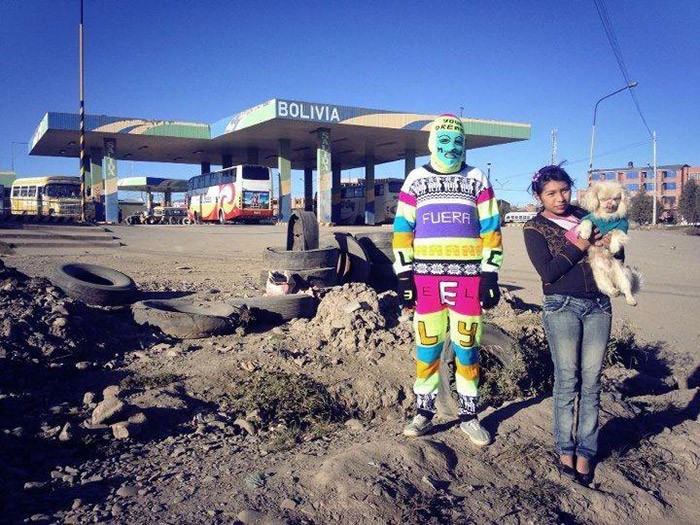 Our next project is coming in May in La Paz, Bolivia!
El Choco is a solo exhibition by the Swiss-Bolivian artist Luciano Calderon. He is going to show completely new works ranging from videos to sculptures and paintings. The exhibition takes place in one of Bolivia's most important non-commercial art spaces, Centro Cultural de España en La Paz.
More information here on May 8.

Don't holla at me unless money is the topic (sketch), 2013

What's love got to do with it, 2013

Don't holla at me unless money is the topic, 2013

On the front page of Metro Belo Horizonte, part of Metro, the world's largest newspaper
In March, 2013 Swiss-Bolivian artist Luciano Calderon painted a site-specific, indoor mural in Belo Horizonte, Brasil. The painting was executed for the Verão Arte Contemporânea Festival inside Sesc Palladium.
Calderon used two quotes by African American artists, the first being Tina Turner's What's love got to with it which is an ironic comment about the relationship of art and money. In contemporary times how much does love actually have in common with art?
Nipsey Hussle's Don't holla at me unless money is the topic alludes to the people working solely for money, some of those being business men using the very center where the mural is painted.
Calderon's upcoming shows are a major show Centro Cultural de España en La Paz, one of Bolivia's most exciting art spaces, and a group show at the State Museum for Ethnology in Munich. More infos following here
Artwork details:
Untitled, 2013
Marker, spray paint, liquid paper on wood
250x1200cm
The project was curated by Angelina Camelo
Hendrik Beikirch's upcoming solo exhibition, Transsib – Greyhound. Paintings from train and bus rides, is a showcase of his latest works. As the title suggests, they are inspired by his travels and encounters on Russia's Trans-Siberian Railway and America's Greyhound buses. Both transport the working classes, connecting people and products and bringing them in line. In Beikirch's canvases, it is difficult to determine whether subjects hail from the East or the West, with only tiny details giving any clue. Like his previous works in graffiti, Beikirch blurs the boundaries.
In both his large-scale murals and canvases, Hendrik Beikirch depicts the personal and the private, portraits that tell a story. Instead of illustrating famous people, he draws attention to those who have a magnetic personality or some other recognition value, characters who become all the more interesting because they remain anonymous.
Beikirch takes inspiration from accidental and brief encounters. In some cases, he gains insight into his sitter's life. At other times, the particulars remain unknown. As such, his paintings are open to interpretation whilst exuding authenticity.
The 39-year-old German artist enlarges his portraits as tall as 70 meters (230 ft.). He applies India ink, acrylic paint, and spray paint – a rough tool that does not allow for pinpoint accuracy, but it does effectively reveal Beikirch's background in graffiti, and the glance, expression and mood of his subjects.
The exhibition is open until May 19, 2013.

Installation view

Installation view

That Discussion, 220x360cm, mixed media on canvas, board and dibond
(click above to enlarge)

Shape: Burn A/C, 180x240cm, mixed media on canvas
(click above to enlarge)

Twitter, 110x165cm, print on dibond

Line A/B, 40x60cm, print on Hahnemühle paper

Line A/H, 40x60cm, print on Hahnemühle paper

Installation view

Shape B/B, 2012

Shape A/N, 2012
After the video teaser and a preview here are some exclusive installation views of Filippo Minelli's solo show in Germany, enjoy! The exhibition runs until January 20.

V&R, 2011

Rhein II, 1999

Prada II, 1997

Ohne Titel XV, 2008

Ocean I, 2010

Katar, 2012

Kamiokande, 2007
The work of world-renowned art photographer Andreas Gursky (b. 1955 in Leipzig, Germany) who lives and works in Düsseldorf, Germany represents a revaluation of realism within contemporary photography through conceptual staging and digital image editing. For his exhibition at the Museum Kunstpalast Gursky has selected 60 works from his oeuvre. Waiving a chronological hanging the mix of old and new, small and very large format works allows new and unusual views of Gursky's photography.
The spectrum of Gursky's work includes topics such as architecture, landscape, interiors, as well as large events with huge crowds. In the Düsseldorf exhibition, whose arch spans of works from the early 1980s up to the series of works Ocean I-VI, 2010, or Bangkok, 2011, Andreas Gursky is presenting some of his latest, as yet not publicly exhibited works.
"It is not pure photography, what I do," Gursky describes his own work. "All my pictures are based on a direct visual experience from which I develop an idea for a picture, which is subjected to testing in the studio and eventually worked on and precised at the computer."
The exhibition runs until January 13, 2013
(All images © Andreas Gursky, VG Bild-Kunst, Bonn 2012, Sprüth Magers Berlin London)