Archive for 'graffiti'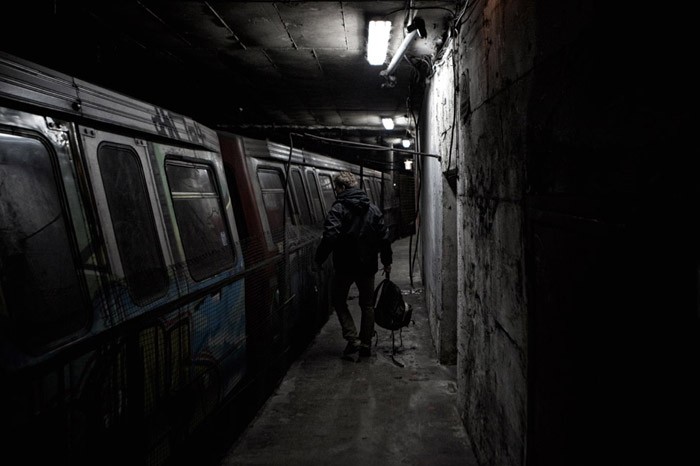 Two new available works by Nils Müller are available as a 80x50cm LightJet print for 90€ (~118$) each.
New York, at the beginning of the 1980s. A gloomy urban sprawl between hedonism and abyss. The subway, in its dilapidated state, is a hazardous place. Fires in tunnels, muggings, murder and drug trafficking are the order of the day; overcrowded wagons, frequent delays, graffiti and dirt everywhere. The journey with public transport is a nightmare. The photographer Bruce Davidson (b. 1933) boards the train, immerses himself in the raging, rattling hustle and bustle of the city and portraits the passengers between uniformity and diversity, anonymity and intimacy, depression and inspiration. Whether lovers, musicians, homeless people, tourists or business people – in the subway and its passengers he finds the perfect metaphor for life in the metropolis with its aggression and ugliness, its hope and humanity.
Democratic and radically public – the subway provides Bruce Davidson with the ideal setting for his long-term urban reports. In this rolling prison everyone is visible to everyone. The passengers respond very differently to this exposed setting. While some hide and duck away timidly in the crowd, others pose unabashed and use the carriages and stations as stages for their self-portrayal. Even though Bruce Davidson does not photograph from a hidden perspective and usually respectfully asks for permission, nothing is staged in his pictures, every situation is authentic. The photographer is always a passenger, observing the scenario – hunting for the "decisive moment". This creates a unique tension in his pictures – the persons portraited appear full of human dignity even in this inhumane, ruthless world.
To shoot in this environment, he had to prepare in a way that reminds on the way some of the Public Delivery artists approach their work:
"To prepare myself for the subway, I started a crash diet, a military fitness exercise program, and early every morning I jogged in the park. I knew I would need to train like an athlete to be physically able to carry my heavy camera equipment around in the subway for hours every day. Also, I thought that if anything was going to happen to me down there I wanted to be in good shape, or at least to believe that I was. Each morning I carefully packed my cameras, lenses, strobe light, filters, and accessories in a small, canvas camera bag. In my green safari jacket with its large pockets, I placed my police and subway passes, a few rolls of film, a subway map, a notebook, and a small, white, gold-trimmed wedding album containing pictures of people I'd already photographed in the subway. In my pants pocket I carried quarters for the people in the subway asking for money, change for the phone, and several tokens. I also carried a key case with additional identification and a few dollars tucked inside, a whistle, and a small Swiss Army knife that gave me a little added confidence. I had a clean handkerchief and a few Band-Aids in case I found myself bleeding."
Bruce Davidson is currently exhibiting his subway photos at c/o Berlin. The exhibition runs until May 20th 2012, directions and more information at c/o Berlin.
> read the full interview here

Subway, 1980

Subway, 1980

Subway, 1980

Subway, 1980

Subway, 1980

Subway, 1980
Have you seen the new site of Nils Müller? Here are a few examples, all taken this year.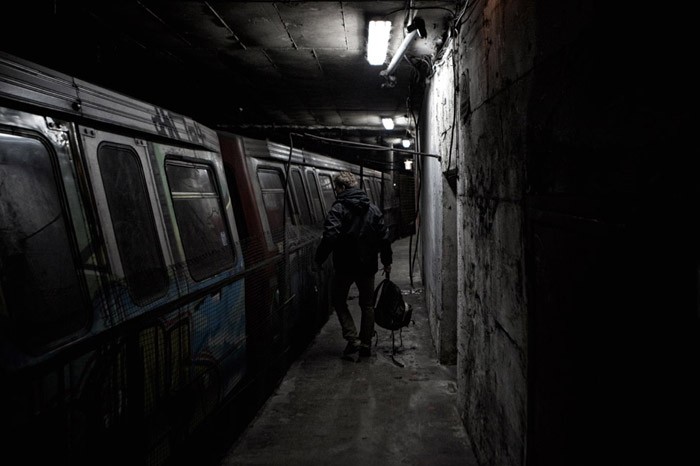 Photos from the exhibition opening last Saturday
This Saturday the exhibition of Martha Cooper and Nils Müller opened. The exhibition is running until the 8th of January.
Exhibition in Bochum, Germany
On Saturday, 3rd December 2011, the photographers Martha Cooper (US) and Nils Müller (DE) will show a few works at The Gallerian INC. in Bochum, Germany. Both are well-known for taking photos of graffiti writers, especially those that paint their names on trains.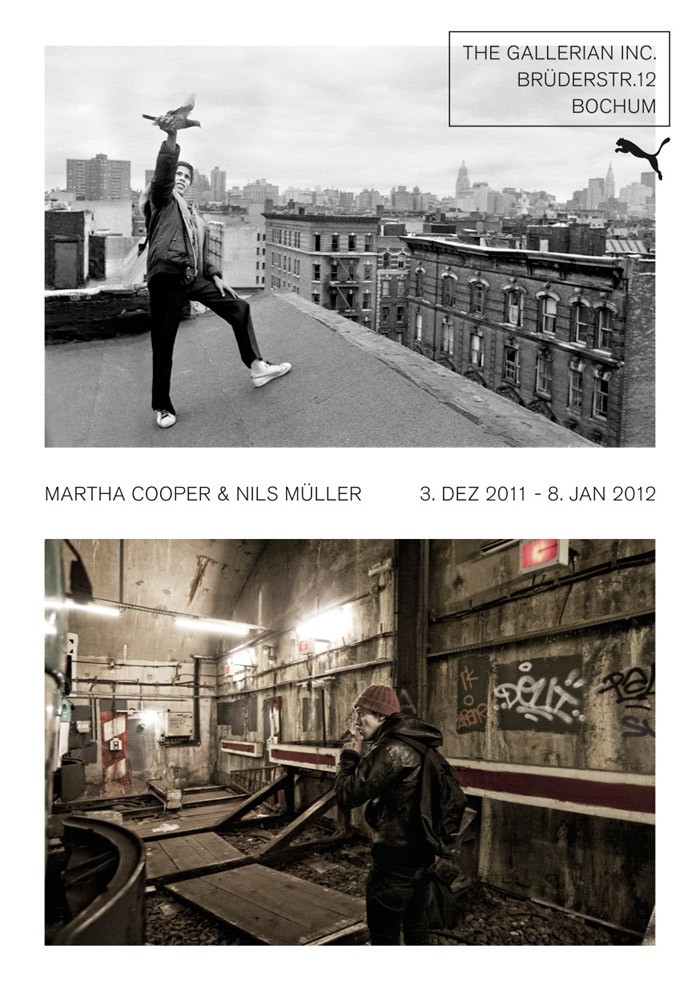 Martha Cooper (b. 1942) started out as a photo journalist and was one of the first to document the early hours of the breakdance and graffiti culture in New York. In 1984 she published the book "Subway Art" together with fellow photographer Henry Chalfant. "Subway Art" became an important milestone of the graffiti movement and one of the major sources of inspiration for aspiring European writers.
Cooper's photography was influenced by her studies in ethnology, which tries to describe and understand different cultures. She took some portraits of writers in New York, usually when they were not painting but mostly her photos showed the painted trains themselves. New York City with its elevated subway tracks was the perfect background for some of her legendary shots.
Eventually the movement in New York faded away in the late 1980s and painting trains turned into a felony, which could get a writer jail time and thousands of dollars in fines. Graffiti spread to Europe and developed in many different directions. One is painting subways, which is considered the top prize within the international graffiti world. Subways hold such a high value because of the difficulty, the danger and risk involved in painting them. Regardless of the subway system or the country, razor wired fences have to be cut or climbed, motion sensors, cameras, and alarm systems have to be overcome. Fines and arrest are the risks to take. Subway painting has separated itself from the common graffiti community as it is a more secretive sect of the elite who push the bar and have created something which can be likened to an extreme graffiti sport. It is exactly this elite and their practices which Nils Müller (b. 1982) started to document ten years ago.
On Müller's photos the colored trains are usually secondary, as he focuses on documenting the action of writing on trains. He shows a view into a split second of this practice from his perspective, often when things are happening so fast that there isn't a second to stop. There is a story that is told, the skillful entering through secured emergency exits, the swift dash on subway tracks while the subway system is in service. The emotions that are captured stem from successes to failures; the tension and fear, the sense of focus and determination of the writers are clearly felt throughout his work.
Müller's work on his Vandals series is on-going and took him to European metropolises such as Paris and London, visiting Berlin, Bucharest, Oslo and Milano but also documenting international destinations like Bangkok, Shanghai, Caracas and New York. Müller takes a variety of risks in order to document these actions and this global movement. He is, as the ones he depicts on his photos, threatened by arrest, imprisonment and heavy monetary penalties in his native Europe, while his work in other countries carries a far higher risk, where security forces are equipped with machine guns.
Müller is currently working on a follow up to his first book "Blütezeit" (Gingko Press, 2009) which will be released in early 2012.
UPDATE: photos here
Artwork by the two Japanese So Kanno and Takahiro Yamaguchi. It was shown at the exhibition "UTOPIA no OSHIRASE" in Tokyo last month.
"exploring the relationship between machine and art, so kanno and takahiro yamaguchi have created 'senseless drawing bot', a self-propelling device on a skateboard that sprays abstract linework on a stretch of wall using a double pendulum. extrapolating the dynamism of modern graffiti forms, the robot takes advantage of the chaotic gestures of the swinging pendulum to create erratic yet organic paint strokes.
featuring a motorized skateboard base, the construction consists of a single arm equipped with a rotary encoder attached to the fulcrum of the pendulum. as the robot moves from side to side, the swinging motion of the arm is amplified through the physics of inertia which is delineated by a quick release of paint from the spray can. the resulting collage of lines is a complex illustration derived from a simple operation."
> more here
(via)
Yesterday Saber, well-known artist from Los Angeles, used five jet planes to write a message concerning the city's plan of banning public art in the sky.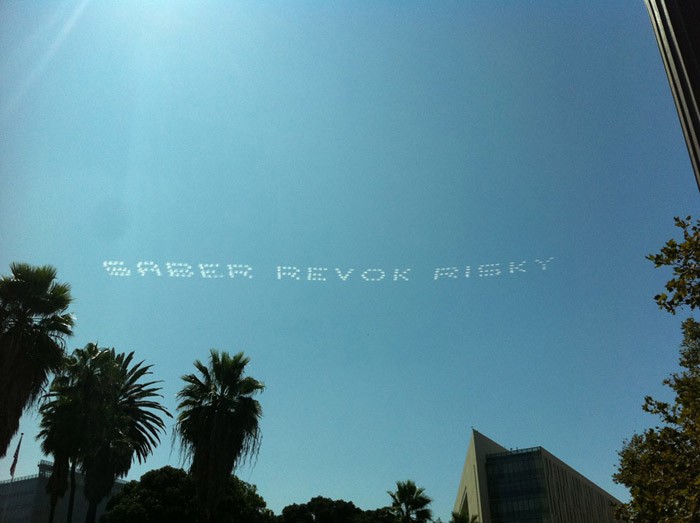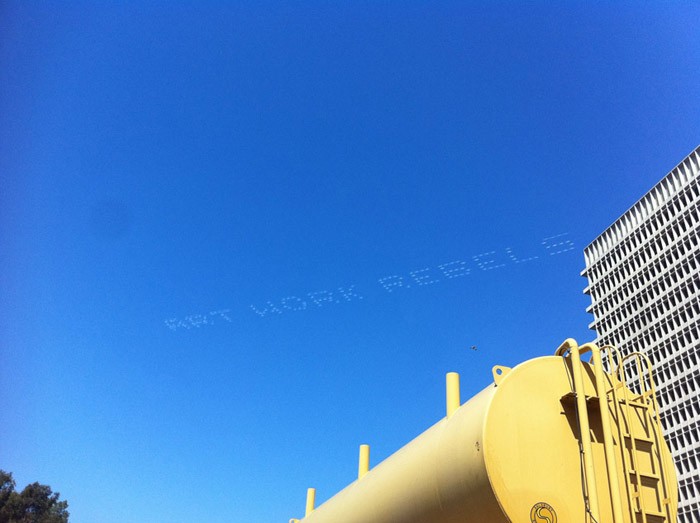 Yesterday LA artist Saber hired five jet planes to skywrite with smoke over City Hall and downtown Los Angeles. He used this new approach to write his name and fellows artists and crews, like Revok, Tempt, MSK, LTS, Risky, Ayer and Dream, and also to convey his message which says Art is not a crime. End mural moratorium: twitter at end mural moratorium. With this 45min lasting action saber tries to bring awareness to the recent city's efforts to ban public art and having it removed by using the money of taxpayers. The city of LA spends +10.000.000US$ to stop graffiti, but none to support legal mural programs. Furthermore, there has been a huge dispute about the practices of private graffiti removal companies, who sometimes illegally break into private property to cover commissioned murals by established artists such as Os Gemeos or Retna. The documentary Vigilante Vigilante: The Battle for Expression, released in cinemas worldwide last month, covers these illegal techniques and their practitioners, who essentially use graffiti to fight graffiti, in depth.
Saber, well-known for executing the world's largest graffiti piece in 1997, furthermore claims, that the city is threatening owners of small businesses with fines if they don't remove the murals painted on their stores, and therefore trying to earn money on graffiti by yet another method.
> more about the petition here
> sign the petition here
(via arrestedmotion.com, lataco.com)