Archive for 'Hong Kong'
Tam Wai – Falling into the Mundane World, 2013
Falling into the Mundane World, commissioned for this project, reflects Tam's ongoing interest in working in the public realm and exploring myriad responses to specific sites and contexts. The oversized female legs and cockroach sculptures point to ubiquitous aspects of life in Hong Kong as well as underlying ills that plague contemporary society at large.
Paul McCarthy – Complex Pile
Complex Pile is a 51-foot-high, 110-foot-long, inflatable sculpture of a twisted pile of excrement. Embodying his rare ability to leverage bad taste to infiltrate the well-mannered confines of the art world, Complex Pile mocks its picturesque surroundings and pokes fun at the prudent qualities of public sculpture.
Choi Jeong Hwa – Emptiness is Form. Form is Emptiness, 2013
Departing from his usual cheery hues, Emptiness is Form. Form is Emptiness re-casts this iconic symbol of purity as something seemingly dark, or solemn. By placing the work on the future site of the park of West Kowloon Cultural District, a plot of land which cannot be said to be either wholly natural or man-made, Choi also points to hazy relationships between nature and artifice, urban and non-urban space, and to the presence, or absence, of nature within Hong Kong's increasingly urban, often consumer-frenzied environment.
Cao Fei – House of Treasures, 2013
Fascinated by places and moments in which people can bring their private imaginings to life and intersect with the public sphere, Cao has created House of Treasures, an outsize inflatable suckling pig that celebrates themes of prosperity and abundance. Part playful interactive attraction, part nod to Hong Kong's food-obsessed culture, House of Treasures injects a space of leisure and pleasure into the West Kowloon site, while prompting visitors to ponder the meaning behind such enjoyment.
Tomás Saraceno – Poetic Cosmos of the Breath (photo by Nicholas Tse)
Inspired by the work of Dominic Michaelis, an English architect and inventor who pioneered the technology for a solar-powered hot air balloon, Poetic Cosmos of the Breath is a time-based experimental solar dome that takes flight only under certain climatic conditions. It uses deceptively simple materials — a paper-thin foil membrane accompanied by a few sandbags and a handful of participants, to produce a startlingly ethereal, shimmering effect.
Jeremy Deller – Sacrilege, 2012
Sacrilege, a life-size bouncy castle in the shape of Stonehenge, encapsulates Deller's interest in the generative spirit of public participation. By recasting one of the world's most famous existing prehistoric monuments (closed to the public since 1977) as an interactive public sculpture, he allows audiences to reacquaint themselves with history in a high-spirited and entertaining manner.
Jeremy Deller – Sacrilege, 2012
VIDEO
Inflation! is the name of a project that shows six large-scale inflatable sculptures on the site of the Park at West Kowloon Cultural District. The large-scale inflatable sculptures by Cao Fei (China), Choi Jeong Hwa (South Korea), Jeremy Deller (UK), Jiakun Architects (China), Paul McCarthy (USA), and Tam Wai Ping (Hong Kong) pose questions about the nature of public art and the ways in which audiences might engage with it. The works are on public display until 9 June 2013.
By transforming the current site into a (con)temporary sculpture park of inflatables, Inflation! attempts to consider how certain realities and preconceptions around art in public space can be altered, undermined and challenged in the context of an evolving and endlessly mutating cultural and urban landscape.
> Directions and more information about guided tours, interpretive performances, workshops and talks
Images: AP / Getty, via Dailymail
The Hong Kong 1 July protests are a surprising sight on the often chaotic stress. This day marks the transfer of Hong Kong from the United Kingtom to China (PRC) and being a public holiday it was originally thought to be a day of celebration. However, now it is mostly known for hundreds of thousands of people flooding the streets who protest for democracy, universal suffrage and a variety of other political concerns. This annual protest rally started in 1997, the year of the handover, and in 2003 brought out as much as 500.000 Hong Kongers. Only the protest in May 1989 in favor of the participants of the Tiananmen Square protests was bigger with 1.5 million participants.
This year 400.000 other citizens took part in the protest, among them Kacey Wong, one of Hong Kong's most exciting artists. He paraded the streets, using a pink tank made out of cardboard. His artwork called The Real Culture Bureau and the Real Culture Bureau director aims to reflect the changing political and cultural situation of Hong Kong and to portray a corrupted government official which for the artist embodies money and violence often seen in mainland China. Kacey Wong threw fake money ($100 million dollars bill, see below) to real politicians and other real local political parties to prevent them for putting up resistance against the Pink Party and demanded harmonious silence from them.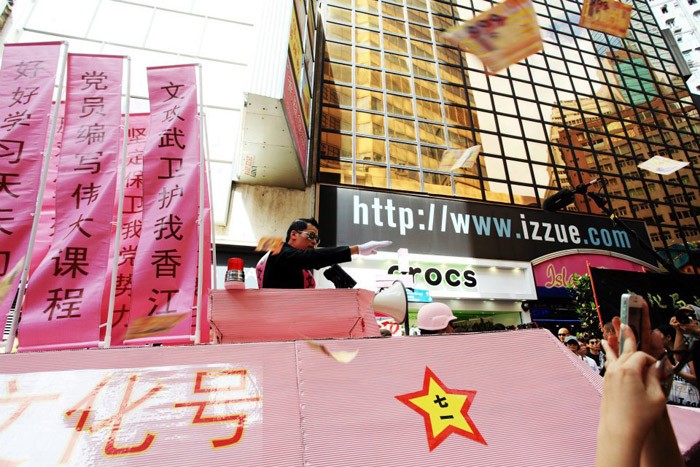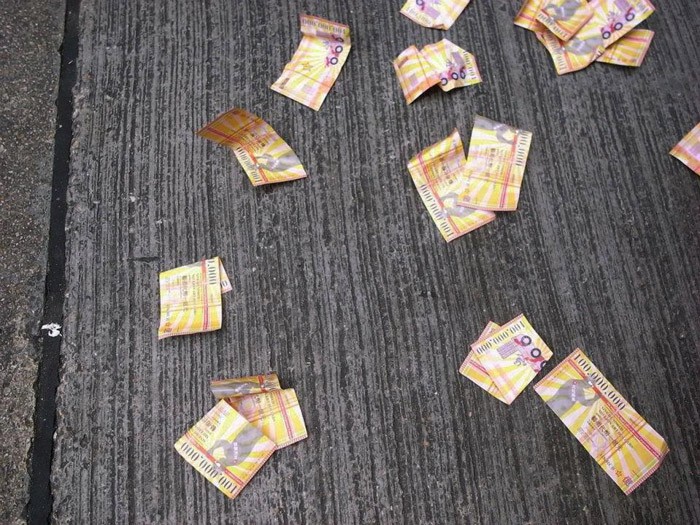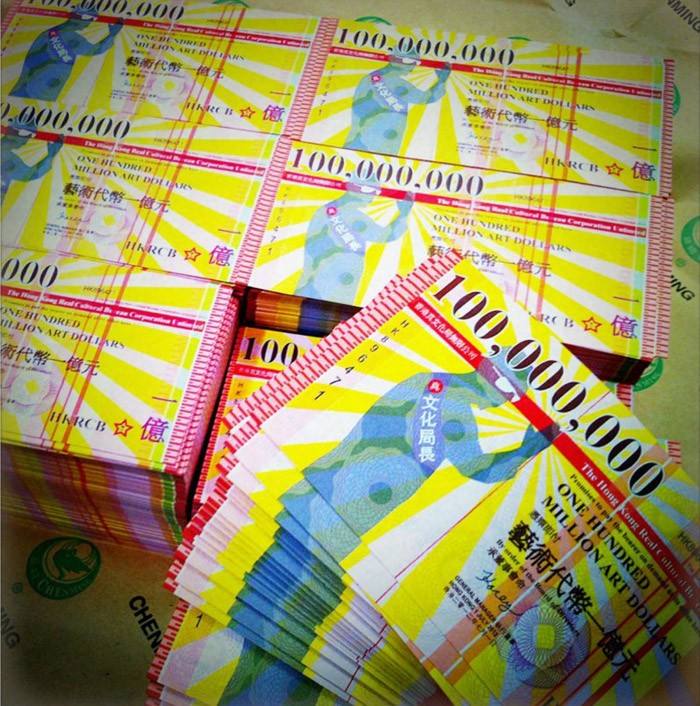 (photos: Laway Law and others)
Rem Koolhaas and Ole Scheeren of OMA recently completed the CCTV (China Central Television Headquarters) building in Beijing, one of the most well-known architecture projects around the world. Being the visual representation of one of the major Chinese state owned media corporations, together with Xinhua, for many it also stands for Chinese (media) politics as such. The absence of hard facts like reliable statistics from external organizations is almost completely missing in the Chinese media world. That lack of information is creating rumors and speculations that even Amnesty International, BBC and others are picking up.
Jon Leung took another approach and built a series of provocative and humorous sculptures. The third part of CCTV got installed on the roof of the Foo Tak building in Hong Kong while blending in with the surrounding architecture. A burning incense stick is used in the 150cm tall sculpture.
He says: "Deliberately abstracting the form and changing its function, the sculptures serve as a contemporary shrine to worship the new Chinese Post-Capitalistic religion. Mixing traditional Chinese religious elements (incense) with Postmodern realism, the CCTV-series is a celebration of both the good and the bad of what China currently represents."
Leung's CCTV sculptures have been shown in art spaces such as the Museum of Contemporary Art Antwerp, as well as in the public space of Hong Kong.
> read all about the CCTV series
Multi-sited exhibition consisting of installations which are shown around Hong Kong

Yu Lik-wai – Fantomas

Leung Mee-ping – I Miss Fanta
M+ is the name of a new museum that focuses on 20th and 21th century art and will be completed in late 2017. It will provide more than 60,000 square metres of space, similar to the NYC MoMA. Prior to the opening a series of major pop-up "nomadic" exhibitions curated by M+ will take place as the museum tries to engage the public.
Mobile M+ is their first project. It is a multi-sited exhibition consisting of six large-scale installations which are shown around Yau Ma Tei, one of Hong Kong's busiest residential and commercial districts. "Neglected" spaces like shops, offices, a park and an empty lot under a flyover were chosen to turn those selected sites into "museums without walls" and bring art closer to the local community and people.
The exhibition is accompanied by free guided tours, a series of artist talks, an iPhone app and a bilingual exhibition catalogue. Mobile M+ is on display now and runs until June 10th.
The first Public Delivery project