Archive for 'mural'

Don't holla at me unless money is the topic (sketch), 2013

What's love got to do with it, 2013

Don't holla at me unless money is the topic, 2013

On the front page of Metro Belo Horizonte, part of Metro, the world's largest newspaper
In March, 2013 Swiss-Bolivian artist Luciano Calderon painted a site-specific, indoor mural in Belo Horizonte, Brasil. The painting was executed for the Verão Arte Contemporânea Festival inside Sesc Palladium.
Calderon used two quotes by African American artists, the first being Tina Turner's What's love got to with it which is an ironic comment about the relationship of art and money. In contemporary times how much does love actually have in common with art?
Nipsey Hussle's Don't holla at me unless money is the topic alludes to the people working solely for money, some of those being business men using the very center where the mural is painted.
Calderon's upcoming shows are a major show Centro Cultural de España en La Paz, one of Bolivia's most exciting art spaces, and a group show at the State Museum for Ethnology in Munich. More infos following here
Artwork details:
Untitled, 2013
Marker, spray paint, liquid paper on wood
250x1200cm
The project was curated by Angelina Camelo
Hendrik Beikirch's upcoming solo exhibition, Transsib – Greyhound. Paintings from train and bus rides, is a showcase of his latest works. As the title suggests, they are inspired by his travels and encounters on Russia's Trans-Siberian Railway and America's Greyhound buses. Both transport the working classes, connecting people and products and bringing them in line. In Beikirch's canvases, it is difficult to determine whether subjects hail from the East or the West, with only tiny details giving any clue. Like his previous works in graffiti, Beikirch blurs the boundaries.
In both his large-scale murals and canvases, Hendrik Beikirch depicts the personal and the private, portraits that tell a story. Instead of illustrating famous people, he draws attention to those who have a magnetic personality or some other recognition value, characters who become all the more interesting because they remain anonymous.
Beikirch takes inspiration from accidental and brief encounters. In some cases, he gains insight into his sitter's life. At other times, the particulars remain unknown. As such, his paintings are open to interpretation whilst exuding authenticity.
The 39-year-old German artist enlarges his portraits as tall as 70 meters (230 ft.). He applies India ink, acrylic paint, and spray paint – a rough tool that does not allow for pinpoint accuracy, but it does effectively reveal Beikirch's background in graffiti, and the glance, expression and mood of his subjects.
The exhibition is open until May 19, 2013.

Karl Haendel – Scribble (digital rendering), NYC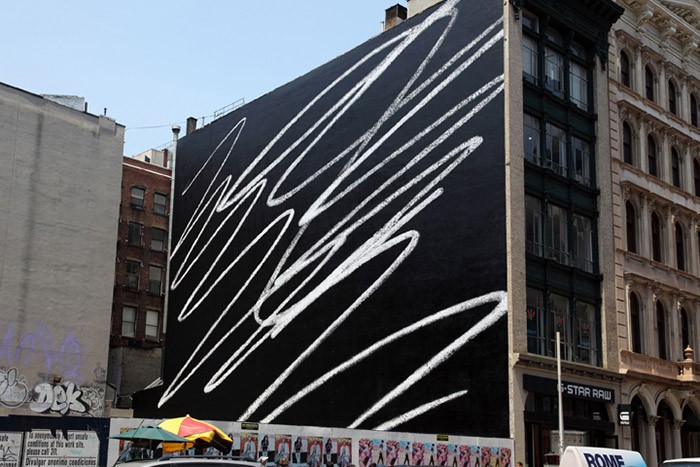 Karl Haendel – Scribble, 2009, paint on brick, NYC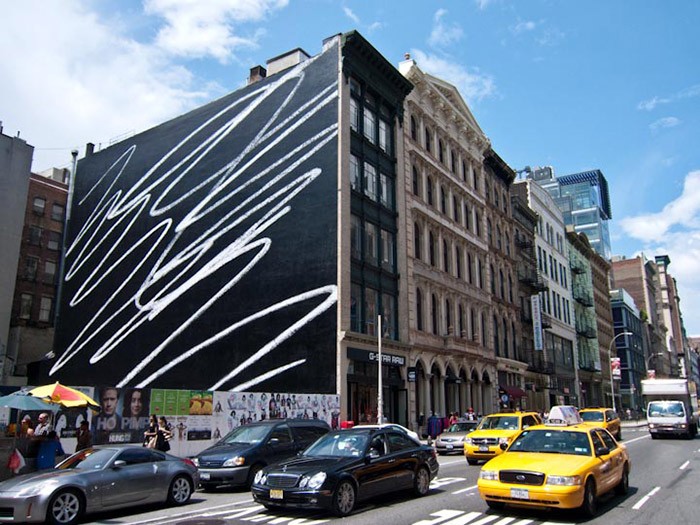 Karl Haendel – Scribble, 2009, paint on brick, NYC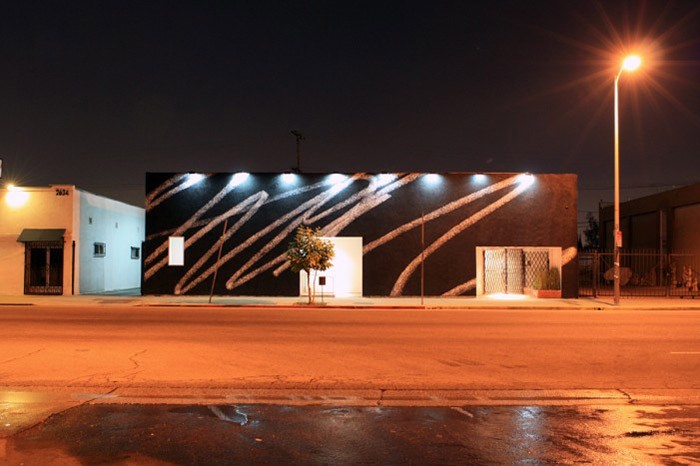 Karl Haendel, Public Scribble #2, 2009, paint on brick, 5,5 x 19,5m, Los Angeles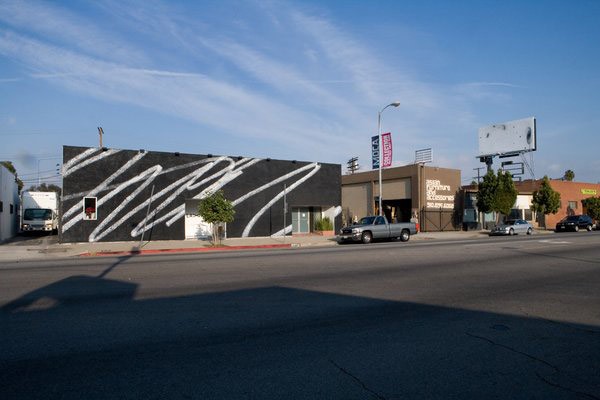 Karl Haendel, Public Scribble #2, 2009, paint on brick, 5,5 x 19,5m, Los Angeles

Karl Haendel, Public Scribble #2, 2009, paint on brick, 5,5 x 19,5m, Los Angeles
In 2009, Los Angeles based artist Karl Haendel made two large scribble murals, one was his first public installation in New York, the other, a similar painting, was executed in Los Angeles. His gigantic scribbles are an anti heroic gesture with roots in street art, public mark making and a universal means of communication.
To put one of these scribbles on the side of a building of course engages a dialogue with graffiti and street art, and this became a central concern as well as an inspiration. My scribble work, because its an anonymous mark and one that anybody could make, I hope will draw attention to the simple need to make a mark, and I hope it makes people think about gesture, pure expression, and the straightforward act of creation. These are tendencies that I think are not only fundamental to art making, but to life in general, and are imperatives that most people I hope can relate to.
Karl Haendel (b. 1976) owns and individualizes the world of popular culture by re-drawing it in his own vision, cleverly manipulating scale, composition, and juxtaposition to uncannily transform ordinary images into witty perspectives on contemporary life. He received his MFA from UCLA in 2003 and has had solo exhibitions at the Museum of Contemporary Art, Los Angeles; Harris Lieberman, New York; Anna Helwing Gallery, Los Angeles. His work has also been included in such notable exhibitions as the 2004 and 2008 California Biennials and Uncertain States of America, a touring exhibition that originated at the Astrup Fearnley Museum for Modern Art, Oslo, and traveled to Serpentine Gallery, London, and the Center for Curatorial Studies, Bard College, among other venues.
Photos: #2: Michael Shaw, #4,5,6: Courtesy of the artist, LA><ART, Los Angeles and Kelly Barrie
After a previous interview with ARTE Creative in February make sure to check out the interview with Hendrik Beikirch done for the 5Minutes series, where he talks about his perception of Urban Art / Street Art after being active in the scene since the late 1980s.
5Minutes is produced by the team behind ilovegraffiti.de and gives an extended view on urban art.
> everything about the finished mural here or larger images here
Some weeks ago Hendrik Beikirch painted maythebestofyourtodays I in Halle, Germany.
interview in Backspin
wherethereisnostrugglethereisnostrength in VIEW

pripyat I, 2011 (190x150cm) at Blooom Art Fair in Cologne, Germany

chita I, 2012 (150x112cm), Soze Gallery

installed in Aarhus, Denmark

subwayno03 installed in Aarhus, Denmark
- the last issue of German Backspin magazine features an interview with Hendrik Beikirch
- the large mural in Busan, South Korea has been printed in numerous magazines such as German VIEW, Bloomberg and others
- the canvas pripyat I, 2011 (190x150cm), inspired by Beikirch's trip to chernobyl has been shown at Blooom Art Fair in Cologne, Germany last month.
- Beikirch's next group show is called graffuturism and opens at Soze Gallery in Los Angeles on Dec 14
- more works have been installed in the city scape of Aarhus, Denmark, more to come..
(click last image to enlarge)
theonlyrealityisnow I is another mural by Hendrik Beikirch which adds to a now substantial amount of works painted all over NYC in the past years.