Archive for 'NYC'

Karl Haendel – Scribble (digital rendering), NYC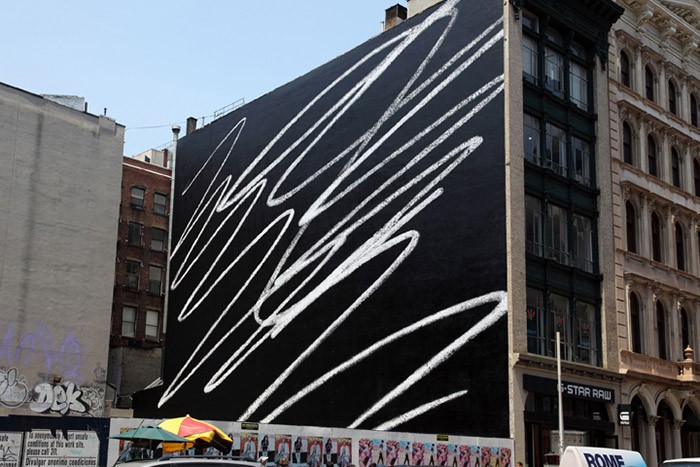 Karl Haendel – Scribble, 2009, paint on brick, NYC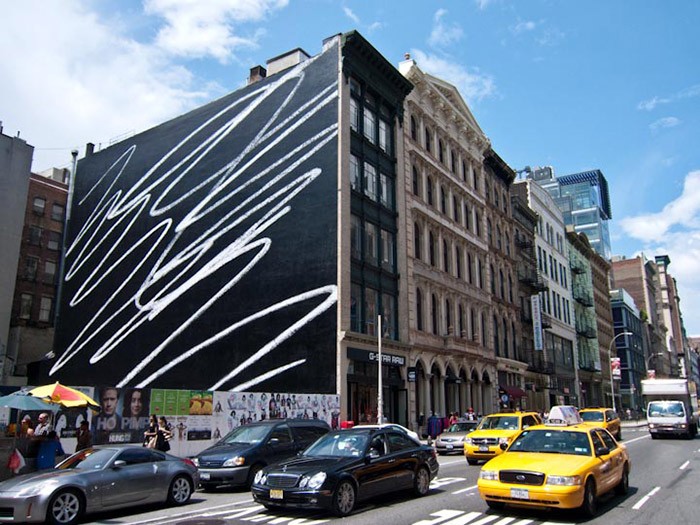 Karl Haendel – Scribble, 2009, paint on brick, NYC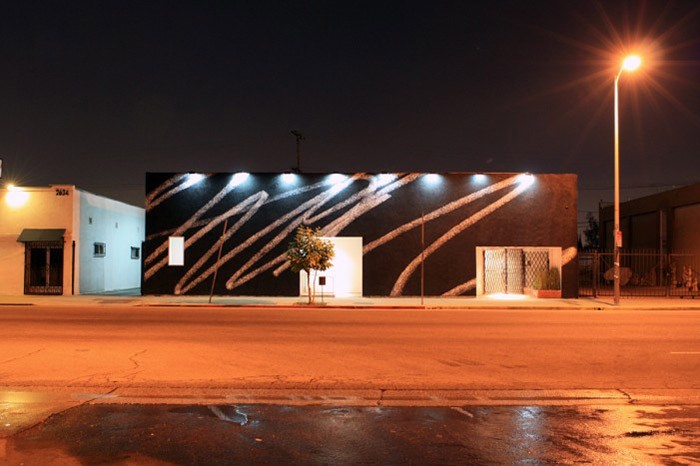 Karl Haendel, Public Scribble #2, 2009, paint on brick, 5,5 x 19,5m, Los Angeles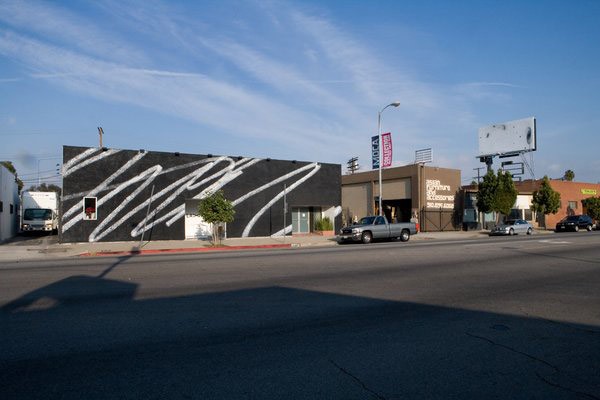 Karl Haendel, Public Scribble #2, 2009, paint on brick, 5,5 x 19,5m, Los Angeles

Karl Haendel, Public Scribble #2, 2009, paint on brick, 5,5 x 19,5m, Los Angeles
In 2009, Los Angeles based artist Karl Haendel made two large scribble murals, one was his first public installation in New York, the other, a similar painting, was executed in Los Angeles. His gigantic scribbles are an anti heroic gesture with roots in street art, public mark making and a universal means of communication.
To put one of these scribbles on the side of a building of course engages a dialogue with graffiti and street art, and this became a central concern as well as an inspiration. My scribble work, because its an anonymous mark and one that anybody could make, I hope will draw attention to the simple need to make a mark, and I hope it makes people think about gesture, pure expression, and the straightforward act of creation. These are tendencies that I think are not only fundamental to art making, but to life in general, and are imperatives that most people I hope can relate to.
Karl Haendel (b. 1976) owns and individualizes the world of popular culture by re-drawing it in his own vision, cleverly manipulating scale, composition, and juxtaposition to uncannily transform ordinary images into witty perspectives on contemporary life. He received his MFA from UCLA in 2003 and has had solo exhibitions at the Museum of Contemporary Art, Los Angeles; Harris Lieberman, New York; Anna Helwing Gallery, Los Angeles. His work has also been included in such notable exhibitions as the 2004 and 2008 California Biennials and Uncertain States of America, a touring exhibition that originated at the Astrup Fearnley Museum for Modern Art, Oslo, and traveled to Serpentine Gallery, London, and the Center for Curatorial Studies, Bard College, among other venues.
Photos: #2: Michael Shaw, #4,5,6: Courtesy of the artist, LA><ART, Los Angeles and Kelly Barrie
VIDEO
PHOTOS
In March 2012, two monumental kinetic sculptures, each about 7.5m tall, transformed a disused public space in Midtown Manhattan into an art piece by Josephine Meckseper. Though mirroring the forms and materials of the mid-century oil industry, the artist locates her work firmly inside the contemporary debate about American business, wealth and consumerism.
The Manhattan Oil Project is inspired by mid 20th century oil pumps the artist discovered in Electra, a boarded-up town once famous for being the pump jack capital of Texas. Each sculpture is fully motorized to simulate the motions of a working oil pump. Placed in a vacant lot next to Times Square, the black and red steel structures slowly creak in the ceaseless oscillations of phantom oil excavation. The pump jacks recall the ruins of ghost towns, forgotten monuments of America's decaying industrial past.
This pairing of the pump jacks and the Times Square location merges a classic symbol of American oil production and wealth with the center of New York City commercial culture. The pumps are intended as ignition points for critical discussion engaged directly with modern life, as opposed to operating in the realm of disengaged abstract geometries. They evoke speculation about a functional reality and the notion of use value. I hope to draw parallels between the American industrial system, transitioning from a past of heavy industry, factories, and teamsters and the disembodied present of electronic mass-media, surface advertising, and consumerism – so clearly embodied in Times Square, explained Meckseper, The critical placement of the pumps is a conceptual gesture that raises questions about business and capital; land use and resources; wealth and decay; decadence and dependence.
Josephine Meckseper (b. 1964) has developed a practice which melds the aesthetic language of modernism with a profound critique of consumerism. Through her shop windows, vitrines, installations, photographs, films and magazine projects she draws a direct correlation to the way consumer culture defines and circumvents subjectivity and sublimates the key instruments of individual political agency. Her works have been included in international biennials such as the Whitney Biennial, the Second Moscow Biennial of Contemporary Art and Biennale d'Art Contemporain de Lyon. She has also had solo exhibitions at the Migros Museum für Gegenwartskunst (Zürich, Switzerland), Ausstellungshalle zeitgenössische Kunst (Münster, Germany) and a retrospective at the Kunstmuseum Stuttgart. Her work was featured at the Museum of Modern Art in New Photography and at the Guggenheim Museum, New York.
Photos by James Ewing, courtesy of Art Production Fund
Posted by publicdelivery
Posted January 25, 2013 9:00 am
Tags: 2012, NYC, public.
Video
Photos

How I Roll, 2012; Rotating Piper Seneca, steel supports, motor

How I Roll, 2012; Rotating Piper Seneca, steel supports, motor
For two months a small air plane was rotating 24 hours a day in summer 2012 in Central Park, NYC. Previous works by Paola Pivi have also featured large machines, including an overturned tractor-trailer and a helicopter placed upside down.
Born in Milan, Italy, in 1971 and now based in Anchorage, Alaska, Paola Pivi's diverse artistic practice embraces sculpture, photography, video, and performance. How I Roll is Pivi's first public commission in the United States.
(Photos by Attilio Maranzano, via)
Posted by publicdelivery
Posted January 23, 2013 9:00 am
Tags: 2012, NYC, sculpture.
Video
Photos
Desert Rooftops by David Brooks is a 5,000-square-foot sculpture that is an wavy configuration of multiple asphalt-covered rooftops similar to those on suburban developments, McMansions and strip malls conjoined to resemble a rolling, dune-like landscape.
The piece examines issues of the natural and built landscape by comparing the monoculture that arises from unchecked suburban and urban sprawl with that of an over-cultivated landscape – creating a work that is picturesque, familiar and simultaneously foreboding. Brooks' sculptural approach gives a nod to Robert Smithson's earthworks and Gordon Matta-Clark's building cuts while offering a much needed sense of humor to help digest today's somber environmental issues.
As housing communities devour more and more land and resources each year the outcome is equivalent to the very process of desertification. The United Nations Convention to Combat Desertification defines desertification as: land degradation into arid and dry sub-humid areas resulting from various factors, including human activities and climatic variations derived from over-development, over-grazing and an overworked land. The result is often a depleted landscape inhospitable to other life.
David Brooks (b. 1975) is an American sculptor and installation artist, whose work considers the relationship between the individual and the built and natural environment. Brooks has exhibited large-scale installations at Dallas Contemporary, Miami Art Museum, Nouveau Musée National de Monaco, Bold Tendencies London, as well as American Contemporary and the Sculpture Center in New York. Brooks was featured in the 2010 Greater New York at MoMA PS1 and lives and works in NYC.
(Photos by James Ewing, courtesy of Art Production Fund)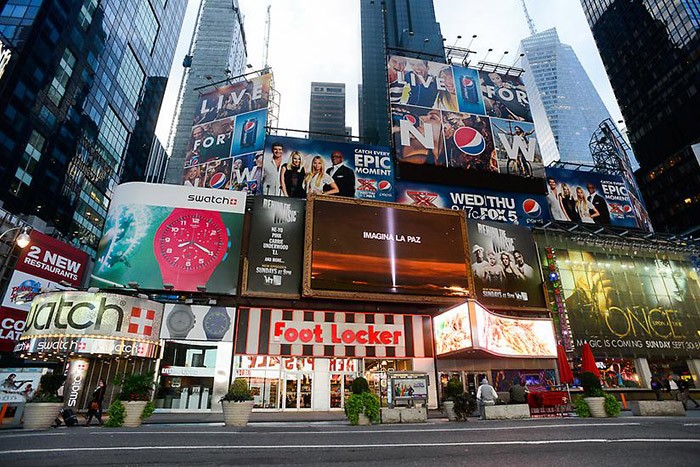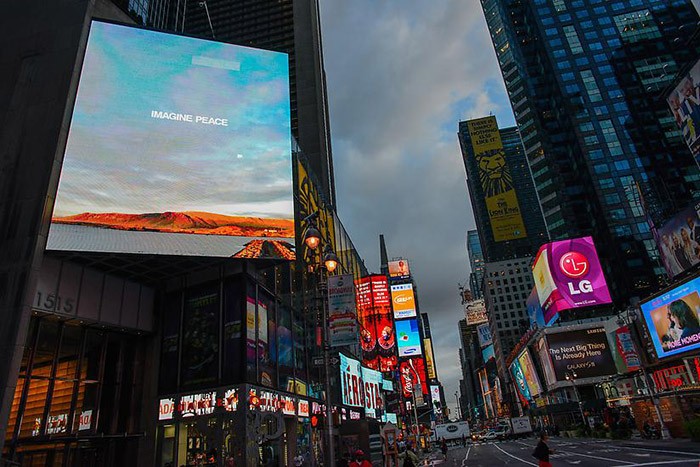 Until December 30, 15 giant electronic billboards at Times Square, New York, are transformed into Imagine Peace, a public art project by Yoko Ono. Her message of anti-violence will be translated into 24 world languages set over the tranquil imagery of a blue-sky background. The piece has been transformed into a site-specific multi-channel work, and spreads the message of peace across the monumental screens simultaneously, displayed hourly across American Eagle Times Square, MTV 44 ½ and Viacom North and South signs throughout one of the world's most famous places, which is also known as the Crossroads of the World.
Imagine Peace uses internet projects and presence, posters, badges, and a multitude of other media to communicate its message of peace to the global community. Located in a highly trafficked location, the installation tries to spread awareness and encourage the community to take responsibility and promote worldwide peace.
Past Imagine Peace projects include Imagine Peace for Pause at The Cosmopolitan Las Vegas and the Imagine Peace Tower in Reykjavik, Iceland (2007) for which the artist has collected over 1 million wishes over the past few years.
Yoko Ono (b. 1933, Tokyo) lives and works in New York. Ono is an influential artist who pushes the boundaries of the art, film, music and theatre media. She received the prestigious Golden Lion Award for Lifetime Achievement at the 2009 Venice Biennale.
Times Square Arts is a public art program which presents leading contemporary art and performances in multiple forms and media to more than 400,000 daily visitors to New York City's Times Square, making it one of the highest profile public arts programs in the United States. Since its inception, the program has featured works by a diverse group of more than four dozen prominent and emerging artists.
Photos: #1, James Ewing, #2,5, Casey Kelbaug, #3,4, Ka-Man Tse
(via)
Posted by publicdelivery
Posted December 27, 2012 9:00 am
Tags: 2012, NYC, public.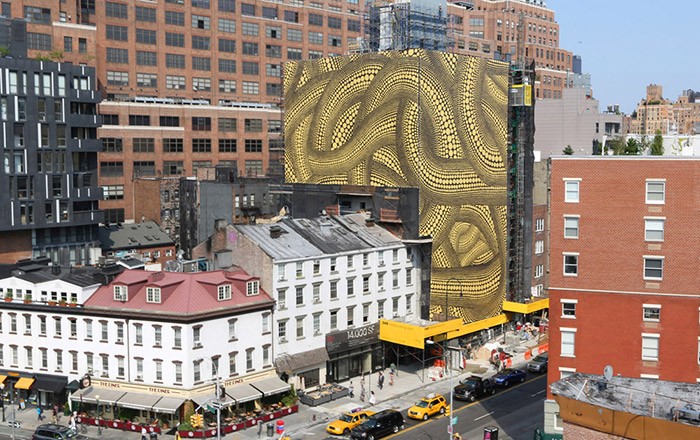 Yellow Tree by Yayoi Kusama (rendering)

Yellow Tree by Yayoi Kusama

Yayoi Kusama at Louis Vuitton (New York)
In celebration of Yayoi Kusama's past retrospective at the Whitney Museum of American Art earlier this year, two off-site projects took place. In one of them Kusama's rhythmic dotted "Yellow Tree motif transformed a construction site in the Meatpacking District in Manhattan into a giant canvas. A detail of the original painting Yellow Trees (1994) has been printed onto special mesh netting and wrapped around the building. The large-scale (150 feet wide by 120 feet high) reproduction applies patterns to the surface of the canvas, often using strong linear gestures to give a sense of space along with jarring visual contrast.
Yayoi Kusama was born in Matsumoto, Japan in 1929. She lives and works in Tokyo.
> more about the exhibition at Whitney
(Photos: Courtesy DDG Partners)
Posted by publicdelivery
Posted December 17, 2012 9:00 am
Tags: 2012, NYC, public.
(click last image to enlarge)
theonlyrealityisnow I is another mural by Hendrik Beikirch which adds to a now substantial amount of works painted all over NYC in the past years.