Archive for 'NYC'
Brooklyn based artist Tom Fruin (1974) just installed Watertower, a large sculpture made by scavenged, reclaimed, and recycled plexiglas and steel. It is installed high upon a water tower platform in Brooklyn, NYC and part of his Icon series, that consists of sculptural tributes to architectural icons around the world.
About one thousand scrap pieces of plexiglas were used, often reclaimed and discarded material, some of it coming from Chinatown sign shops or closed artist studios in Brooklyn. Since the opening in June there are daily light shows beginning at dusk and continuing to morning, using light sequences designed by Ryan Holsopple. Watertower will be installed until June 2013.
Watertower, 2010
6x3x3m, found plexiglas, steel, bolts
Location
On the rooftop of 20 Jay Street and viewable from the parks and streets of Dumbo, the Brooklyn and Manhattan Bridges, FDR Drive and Lower Manhattan.
Prime viewing locations
Brooklyn Bridge Park at Washington Street (map) and the Manhattan Bridge bike path.
Posted by publicdelivery
Posted August 22, 2012 9:00 am
Tags: 2012, NYC, public.
The Austrian Franz West (1947-2012), one of the most important postwar-artists, died less than two weeks ago. His work has been repeatedly exhibited at documenta, the Venice Biennale and in 2011 was awarded the Golden Lion at the Biennale di Venezia in recognition for his life's work.
Internationally he got famous through participating at the Documenta IX in 1992: Several of his art pieces were distributed around the area and served as chairs and sofas. Due to their affordable price they quickly spread within the art world and finally became a mass-product. Though not appreciated by everybody, it made West's approach to art clear: Creating usuable art. In an interview with Robert Fleck he also said "Best of all I like art in the streets; it doesn't demand that you make a special journey to see it, it's simply there. You don't even have to look at it – that is probably the ideal art."
In the 1970s West created Adaptives, small, portable sculptures. The following large artworks, made from plaster and gauze and painted with dispersion paint (see below) are directly based on them.

(photo: Art Basel)
This sculpture, Gekröse, 2011, was one of the most dominant pieces shown at the Art Basel Art Unlimited last year by Gagosian Gallery. It was West's largest outdoor sculpture and sold for a seven digit figure a few hours after the opening.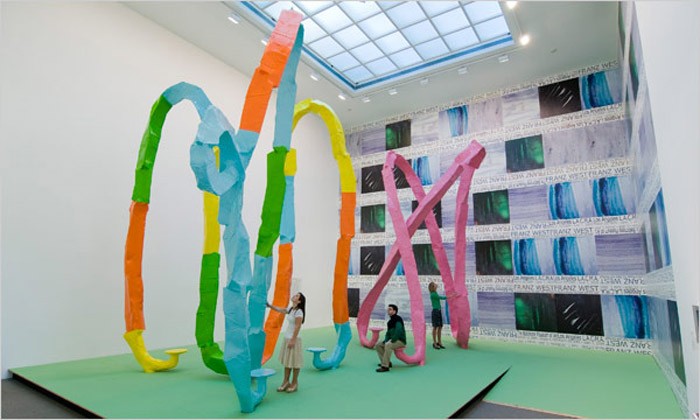 (photo: Mitro Hood/Baltimore Museum of Art)
The Ego and the Id, 2008, a 20 feet high aluminum sculpture was installed at the Franz West retrospective at the Baltimore Museum of Art. It featured chairs that were built into the artwork and invited viewers to interact with it. The title of the art piece is a reference to one of Sigmund Freud's most famous texts in which he describes the Id, ego and super-ego as the three parts of the psychic apparatus.

(photo: Noel. Y. C. / nyclovesnyc)
Afterwards the same sculpture previously shown in Baltimore got exhibited at the Doris Freedman Plaza in Central Park and was on display until March 2010 while some of his smaller sculptures could be seen at the MOMA.

(photo: apa /Franz West / Kunsthaus Bregenz / Rudolf Sagmeister)
Drama (Modell), 2001 at Kunsthaus Bregenz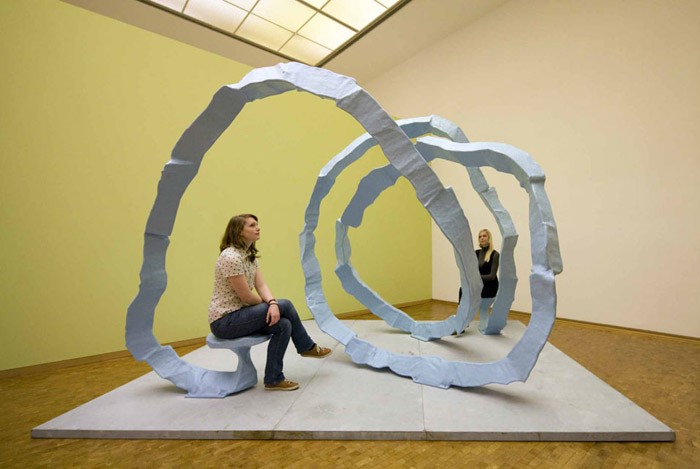 (photo: Museum Ludwig)
Ergebnis, 2008 at Museum Ludwig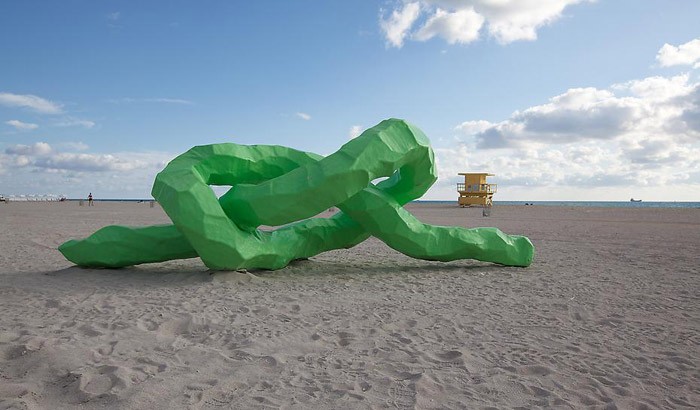 (photo: Gagosian)
Lying Not, 2008 for Gagosian New York at Art Basel Miami Beach Art Projects, 2009

(photo: Gagosian)
Installation view at Gagosian Rome, 2010
Photography of subway tunnels world wide by the Berlin based artist

Underground #02 (Vienna), 2011

Underground #08 (New York City), 2008

Underground #01 (Budapest), 2011

Underground #08 (Berlin), 2010
We just had a chance to meet up with Timo Stammberger (b. 1980), a photographer from Berlin. He is the first to document subway tunnels in his extensive series Underground Landscapes that shows the underground architecture from major cities like New York, Lisbon, Budapest, Berlin and others.
The surprising element is that the subway tunnels that millions of people pass through every day have their own unique character, Stammberger's photos reveal a stunning perspective on the city's underground. The eager adventurer has discovered a broad variety of tunnels, from the dirty and old ones in NYC that were built in the 1900s, to the brandnew high-tech tunnels of Vienna, in operation since 2010. His work requires a lot of dedication: Usually the subway companies don't allow photographers into their network and even taking photos on the subway platforms is forbidden. The underground architecture is protected by a broad variety of security measures, ranging from infra red cameras, sensors to security personnel. How Stammberger creates his photos will remain unknown for now but make sure to keep an eye out for this underrated photographer.
> visit timostammberger.com for more
New York, at the beginning of the 1980s. A gloomy urban sprawl between hedonism and abyss. The subway, in its dilapidated state, is a hazardous place. Fires in tunnels, muggings, murder and drug trafficking are the order of the day; overcrowded wagons, frequent delays, graffiti and dirt everywhere. The journey with public transport is a nightmare. The photographer Bruce Davidson (b. 1933) boards the train, immerses himself in the raging, rattling hustle and bustle of the city and portraits the passengers between uniformity and diversity, anonymity and intimacy, depression and inspiration. Whether lovers, musicians, homeless people, tourists or business people – in the subway and its passengers he finds the perfect metaphor for life in the metropolis with its aggression and ugliness, its hope and humanity.
Democratic and radically public – the subway provides Bruce Davidson with the ideal setting for his long-term urban reports. In this rolling prison everyone is visible to everyone. The passengers respond very differently to this exposed setting. While some hide and duck away timidly in the crowd, others pose unabashed and use the carriages and stations as stages for their self-portrayal. Even though Bruce Davidson does not photograph from a hidden perspective and usually respectfully asks for permission, nothing is staged in his pictures, every situation is authentic. The photographer is always a passenger, observing the scenario – hunting for the "decisive moment". This creates a unique tension in his pictures – the persons portraited appear full of human dignity even in this inhumane, ruthless world.
To shoot in this environment, he had to prepare in a way that reminds on the way some of the Public Delivery artists approach their work:
"To prepare myself for the subway, I started a crash diet, a military fitness exercise program, and early every morning I jogged in the park. I knew I would need to train like an athlete to be physically able to carry my heavy camera equipment around in the subway for hours every day. Also, I thought that if anything was going to happen to me down there I wanted to be in good shape, or at least to believe that I was. Each morning I carefully packed my cameras, lenses, strobe light, filters, and accessories in a small, canvas camera bag. In my green safari jacket with its large pockets, I placed my police and subway passes, a few rolls of film, a subway map, a notebook, and a small, white, gold-trimmed wedding album containing pictures of people I'd already photographed in the subway. In my pants pocket I carried quarters for the people in the subway asking for money, change for the phone, and several tokens. I also carried a key case with additional identification and a few dollars tucked inside, a whistle, and a small Swiss Army knife that gave me a little added confidence. I had a clean handkerchief and a few Band-Aids in case I found myself bleeding."
Bruce Davidson is currently exhibiting his subway photos at c/o Berlin. The exhibition runs until May 20th 2012, directions and more information at c/o Berlin.
> read the full interview here

Subway, 1980

Subway, 1980

Subway, 1980

Subway, 1980

Subway, 1980

Subway, 1980
Insight in the background and production process of one of the most spectacular exhibitions of 2010, Sunflower Seeds by Ai Weiwei at Tate Modern. Follow Ai Weiwei to the city of Jingdezhen in northern Jiangxi, China, famed for its production of Imperial porcelain, where all of the sunflower seeds have been individually hand-sculpted and hand-painted.
> official site
> visitor questions answered by Ai Weiwei
Additionally, you can see Sunflower Seeds at Mary Boone Gallery right now. The exhibition opened on January 7 and is on view until February 4. Below are a few installation shots. The installation is made out of millions (five tons) of hand-painted porcelain sunflower seeds. Each actual-size seed is unique and intricately hand-formed and like those shown at Tate Modern painted in Jingdezhen.
The sunflower, following the sun, is a well-known metaphor for The People during China's Cultural Revolution. The seeds provided nourishment at all levels of society, and the ubiquitous discarded husks provided evidence of an individual's existence. Ai Weiwei created a deceptively unified field with a large number of individual seeds. Sunflower Seeds comments on social, political and economical issues relevant to contemporary China such as the role of the individual in relationship to the collective.
(photos by twi-ny.com)
Hirst opens an exhibition in all of Gagosian Gallery's eleven locations that shows his complete Spots series.
On the January 12 Hirst's show was opened on all of Gagosian Gallery's eleven locations in New York, London, Paris, Los Angeles, Rome, Athens, Geneva, and Hong Kong.
More than 150 private individuals or public institutions from twenty countries provided their paintings to create this single exhibition in different countries
More than 300 paintings are shown, from the first spot, created by Hirst in 1986, to the smallest spot painting comprising half a spot and measuring 1 x 1/2 inch (1996); to a monumental work comprising only four spots, each 60 inches in diameter; and up to the most recent spot painting completed in 2011 containing 25,781 spots that are each 1 millimeter in diameter, with no single color ever repeated.
The exhibition precedes the first major museum retrospective of Hirst's work opening at Tate Modern in London in April, 2012.
Those visitors who manage to see all eleven galleries spread on three continents until February 10, 2012, receive a signed spot print by Damien Hirst with a personal dedication. Participation conditions are relatively strict as the print might be worth up to 50.000US$.
> all information about the complete spot challenge
(all photos by Rob McKeever)
Posted by publicdelivery
Posted January 16, 2012 11:42 am
Tags: 2012, exhibition, NYC.
In November Hendrik Beikirch painted a mural on a 150 year old building in Brooklyn, New York.
realityisjustamatterofperception, 2011 (NYC, spray paint + emulsion paint, 10x30m)
> read the whole story and see more photos at Brooklyn Street Art
(Photo 1+2 by Jaime Rojo)