Archive for 'performance'
Live at the Museum is Public Delivery's next big project, done together with Andre Hemer. It is an international performance project and an on-going series of video works. So far it has been shot in various locations on four different continents.
More information next month, stay tuned!

Silence:Shapes – B/B, 2012 (from Silence: Shapes series)

New shooting for his Flags series in Rotterdam Centrum

In Chuan Art book (#2) from Taiwan
Restlessly Filippo Minelli has been traveling throughout Europe. Several new works have been made, one of them is Santa Europa da Esperança, a public installation in Lisboa. Others have been exhibited at the Noordkaap Tour, a group show in Dordrecht, Netherlands, which showed a review of some of his recent works: the We don't need you at all performance in Cologne, Germany, the Flags of Istanbul and others.
Minelli's next exhibition takes place in London this Saturday (Nov 10), a 1 day only group show at Chris Beetles Fine Photographs Gallery. After that a solo show in Cologne, Germany at Ruttkowski68 opens on Dec 7. Pick up the next issues of Elephant (NL) and Inventario (IT) because they feature some of his new works.
The Hong Kong 1 July protests are a surprising sight on the often chaotic stress. This day marks the transfer of Hong Kong from the United Kingtom to China (PRC) and being a public holiday it was originally thought to be a day of celebration. However, now it is mostly known for hundreds of thousands of people flooding the streets who protest for democracy, universal suffrage and a variety of other political concerns. This annual protest rally started in 1997, the year of the handover, and in 2003 brought out as much as 500.000 Hong Kongers. Only the protest in May 1989 in favor of the participants of the Tiananmen Square protests was bigger with 1.5 million participants.
This year 400.000 other citizens took part in the protest, among them Kacey Wong, one of Hong Kong's most exciting artists. He paraded the streets, using a pink tank made out of cardboard. His artwork called The Real Culture Bureau and the Real Culture Bureau director aims to reflect the changing political and cultural situation of Hong Kong and to portray a corrupted government official which for the artist embodies money and violence often seen in mainland China. Kacey Wong threw fake money ($100 million dollars bill, see below) to real politicians and other real local political parties to prevent them for putting up resistance against the Pink Party and demanded harmonious silence from them.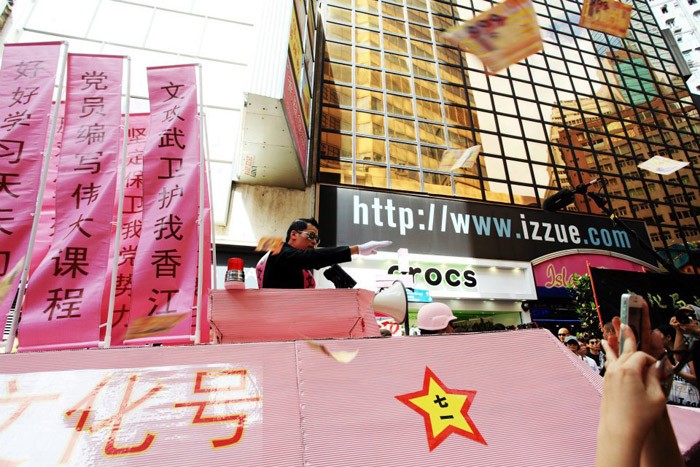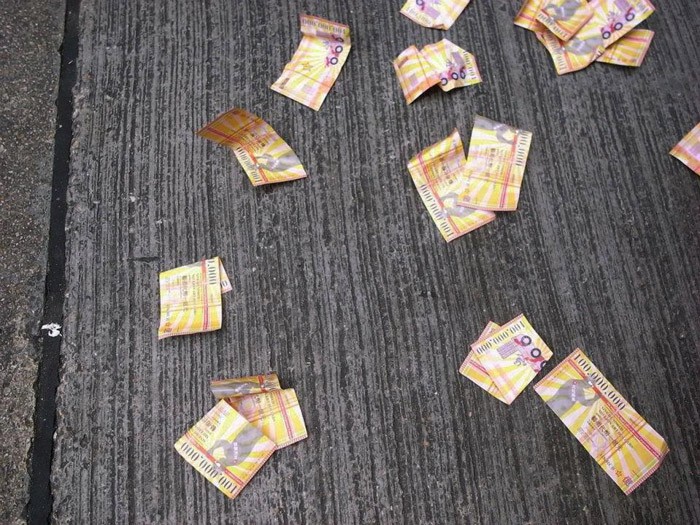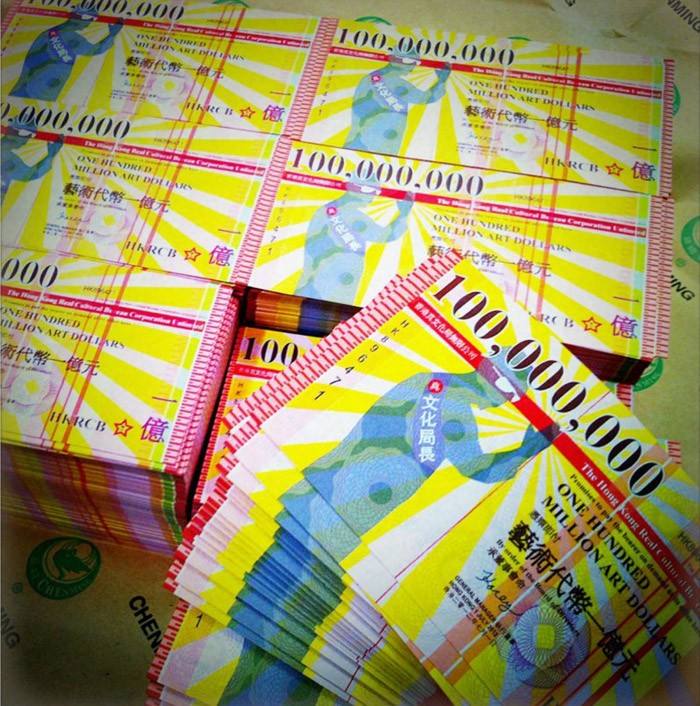 (photos: Laway Law and others)
Shooting of performance for an upcoming group show in Cologne, Germany, organized by Noordkaap Foundation & Artspace.
More information is following.
> some information about the exhibition here
> for now check the Facebook event
UPDATE: More information here
Work by the NYC based artist
Mulgunamu means handstand in Korean and that is exactly what you can see on the recent works of Pepsi Kim. "Mulgunamu in NewYork" ranges between photography, performance and video and is recently being continued in a series called "Mulgunamu in Seoul".
Here is the observation the artist made:
"This country, United States of America, has made ordinary people to be enthusiastic about super-hero stories. Whenever ordinary people have hard time, the country makes super-heroes for people to make them calm down, to make them feel proud of super-heroes and their country. Soldiers were treated as super-heros at the period of World War 2, NYPD and FDNY are like that after 9/11. (Even super-heroes in cartoons and movies such as Superman, Batman, Spiderman, Something-man are still being produced for same reason in certain aspect) This country has succeeded in making them to be super-heroes for super-ordinary people.
However, who are living in this country for real? 
Who are carrying this world with all their strength?"
The project has been exhibited in several solo shows
2011 MULGUNAMU @ W.D.S Gallery (Seoul)
2011 Capture and Release @ International Center of Photography Gallery (NYC)
> more at nycpep.com