Archive for 'photography'

Shape C/L, 2013

Shape C/G, 2013

Shape C/D, 2013

Shape A/Z, 2013

Shape A/V, 2013

Shape A/U, 2013
Filippo Minelli has been shooting more smoke bomb photos this year

Weng Fen – Sitting on the Wall – Guangzhou (1), 2002-2003

Weng Fen – Sitting on the Wall – Guangzhou (3), 2002-2003

Weng Fen – Sitting on the Wall – Shenzhen (1), 2002-2003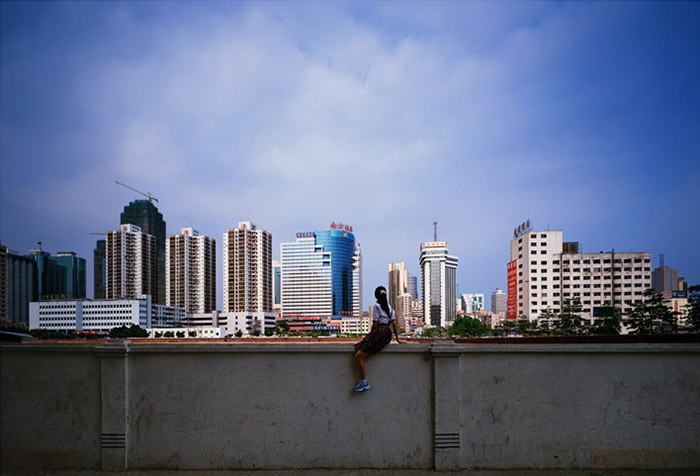 Weng Fen – Sitting on the Wall – Shenzhen (1), 2002-2003

Weng Fen – Sitting on the Wall – Haikou (2), 2002-2003

Weng Fen – Sitting on the Wall – Haikou (4), 2002-2003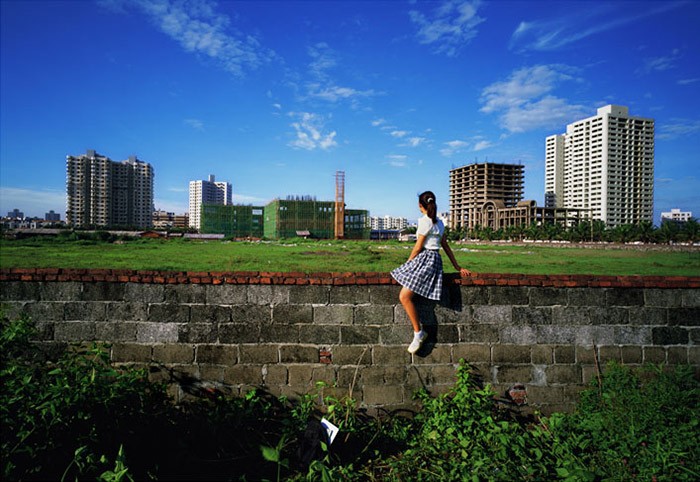 Weng Fen – Sitting on the Wall – Haikou (5), 2002-2003
The transitional phases and changes in China since its opening up in the 1980′s, both physically and emotionally, have been the source of inspiration for Weng Fen (b. 1961) and his work. In his earlier series Sitting on the Wall and Bird's Eye View, Weng's epic images focus on the upraising of urbanism in cities such as Haikou, Shanghai and Shenzhen. His subjects start out as outsiders looking into this overwhelming transformation with anticipation, fear and curiosity to being in the centre of it all. Weng then follows and evolves inwardly, shifting his attention from physical changes to emotional and spiritual transformations, from urban cities to rural countries, exploring the possibility of finding an otherworldly utopia, a place that may have existed all along in our hearts and minds, in our memories and those innocent times, which results in the acclaimed Staring at The Sea series.
Weng Fen has been exhibited worldwide in Asia, Europe and America, including the Pompidou Centre in Paris, the San Diego Museum of Art, the Shanghai Art Museum, the Taipei Museum of Contemporary Art, the Mori Museum in Tokyo, the Kunstmuseum Wolfsburg in Germany, the International Centre of Photography in New York and the Singapore Art Museum

Filippo Minelli – Silence: Lines, 2010

Filippo Minelli – Silence: Lines, 2010

Filippo Minelli – Silence: Lines, 2009

Filippo Minelli – Silence: Lines, 2009

Filippo Minelli – Silence: Lines, 2009
Silence: Lines is an on-going series of works by Filippo Minelli, and shares a similar idea like his smoke bomb photos. The line is a tool that is normally used in writing to say nothing. It represents silence and interacts with the urban and rural surrounding in a drastic way without changing it's own nature. In Chinese culture the horizontal line represents the primordial breath, the separation between earth and sky and shows separation and unity at the same time, portraying the cycle that rules everything on the planet.
Photos above are taken in various locations around Europe in 2009-2011.
> see more Silence: Lines works on Public Delivery
Not much information can be found about Sunghee Lee, a French based photographer, and his work, but his empty billboard photos quickly remind of Bernd and Hilla Becher and their Neue Sachlichkeit (New Objectivity). However, he is using various angles and distances and usually contextualizes his objects with the surroundings and small events like a passing person or taxi.

V&R, 2011

Rhein II, 1999

Prada II, 1997

Ohne Titel XV, 2008

Ocean I, 2010

Katar, 2012

Kamiokande, 2007
The work of world-renowned art photographer Andreas Gursky (b. 1955 in Leipzig, Germany) who lives and works in Düsseldorf, Germany represents a revaluation of realism within contemporary photography through conceptual staging and digital image editing. For his exhibition at the Museum Kunstpalast Gursky has selected 60 works from his oeuvre. Waiving a chronological hanging the mix of old and new, small and very large format works allows new and unusual views of Gursky's photography.
The spectrum of Gursky's work includes topics such as architecture, landscape, interiors, as well as large events with huge crowds. In the Düsseldorf exhibition, whose arch spans of works from the early 1980s up to the series of works Ocean I-VI, 2010, or Bangkok, 2011, Andreas Gursky is presenting some of his latest, as yet not publicly exhibited works.
"It is not pure photography, what I do," Gursky describes his own work. "All my pictures are based on a direct visual experience from which I develop an idea for a picture, which is subjected to testing in the studio and eventually worked on and precised at the computer."
The exhibition runs until January 13, 2013
(All images © Andreas Gursky, VG Bild-Kunst, Bonn 2012, Sprüth Magers Berlin London)

Yasusuke Ota – Tomioka Machi
Some cows were roaming in the parking lot of Mega Electronic Appliances Store along Route 6. A bizarre scene we can hardly see in everyday life.

A day after the tsunami damaged a nuclear reactor at Fukushima in Japan on 11 March 2011, inhabitants living within 20km of the power plant were forcibly evacuated. They had to leave their personal belongings as well as their household pets and farm animals behind. Three days later, there was a hydrogen explosion at the power plant, so that it became uncertain when the evacuees could return home again.
Just about two weeks later, Japanese photographer Yasusuke Ota (1958) was one of the volunteers who, at risk to his own life and carrying only animal feed and water, entered the 'No go' area stretching within 20 kilometres of the Fukushima Daiichi Nuclear Power Plant.
These volunteers had no clear idea what they would find, but they found themselves in a hell on earth: cows still locked into their stalls, in desperate need for food and water. Other animals could free themselves but got stuck in bogs and ditches, situations from which they could not possibly save themselves. Pets had died at their posts waiting for their owners to return, or had died of hunger because they were chained to their kennel or trapped indoors. Other animals had survived by eating whatever presented itself. Still, 18 months later, they were patiently and innocently waiting for owners who will not be able to return. 

Two books have since been published of the photographs Yasusuke Ota took in Fukushima for about one year. This tragedy was for some reason not reported by the Japanese media at first, and the truth is that there has been no proper help given to these animals even after one and a half years. I felt I needed to inform the world and leave evidence of what really happened. So I started to take photos of this while going inside the zone on rescue, writes Ota.
Yasusuke Ota (1958) was born in Shiga Prefecture. He worked as a photographic assistant before becoming a cameraman for a production company. In 1991 he became a freelancer and joined The Photographic Society of Japan. In the late 1980s and early 1990s Yasusuke Ota worked in war zones in Afghanistan, Cambodia and the former Yugoslavia. He and his camera also infiltrated the nuclear power plant area in Taiwan.
> Ota's photos will been shown at the Huis Marseille – Museum voor fotografie in Amsterdam until today. A number of photographs are for sale, with some of the proceeds going to Nederland helpt Japan.
> Read more about the exhibition

Yasusuke Ota – Okuma Machi
One ostrich escaped from the Ostriches Farm. Lucky that he's an omnivorous animal, he's living off on dried pet food that was left by volunteers inside the area

Yasusuke Ota – Odaka Ku
"Minisama City. I named this miniature dachshund 'Kurumi' that stayed at a dike that was destroyed by the Tsunami. We tried to rescue her on several occassions, but her death was confirmed in September.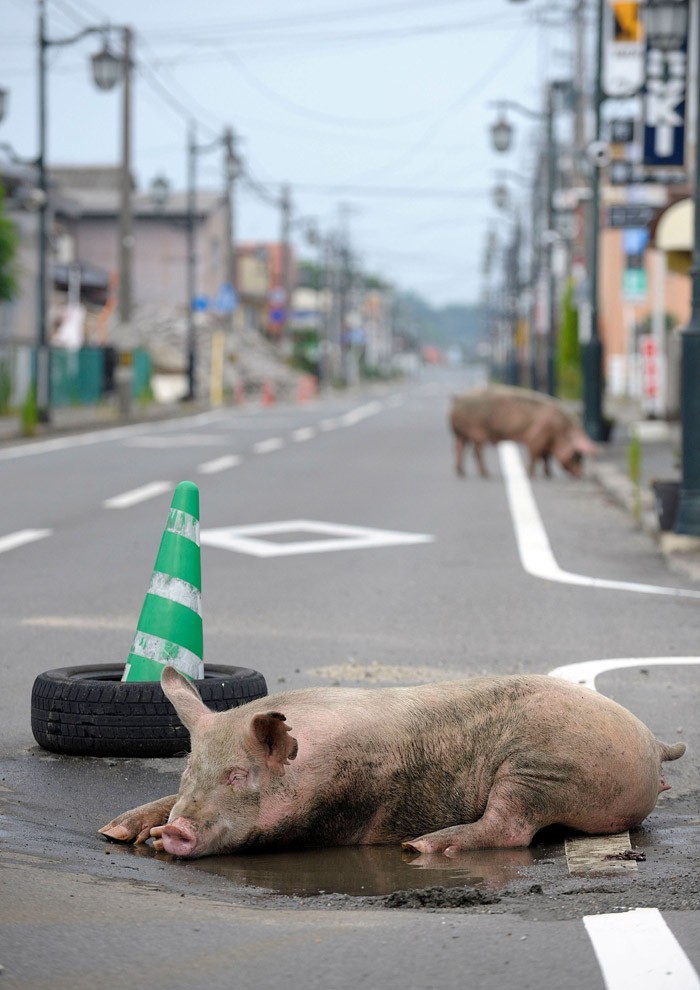 Yasusuke Ota – Namie Machi
On one hot July day, pigs that escaped from a pig barn were trying to cool themselves down in a small pool of water.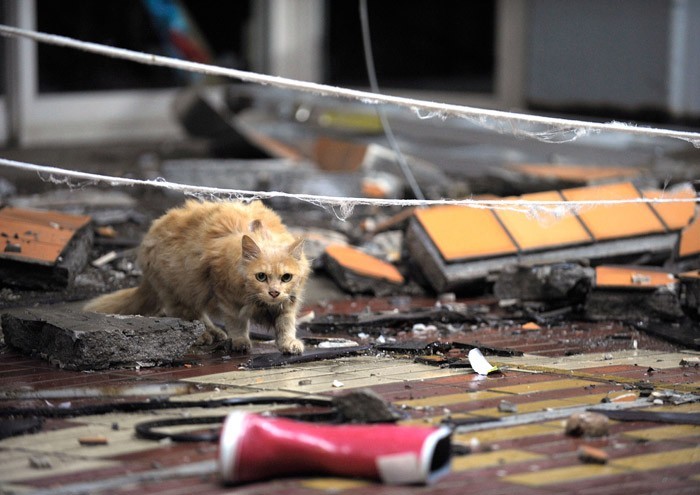 Yasusuke Ota – Namie Machi
His fur is entangled and you can see he's lived in an extreme condition. However, his body was found after one month.
These two videos have Nadav Kander (1961) commenting on his famous Yangtze – The Long River series and deliver an interesting insight on his opinions on the purpose of photography, the rapid change of China, his own identity and more.
For his Yangtze photos Kander came to China several times in 2005 to 2007, visited 186 cities and traveled along the world's third largest river, from the spring in the Himalaya to the mouth. Humans are usually just portrayed as small figures next to a gigantic setting, either of the river itself or one of the numerous construction projects. The Chinese people shown are often merely victims of the unstoppable change that is flowing through China with an enormous force, comparable to that of the Yangtze river. Old, traditional buildings and housing boats are replaced by gigantic anonymous buildings, reducing the human to the role of a spectator rather than a maker.