Archive for 'public'
Live at the Museum is Public Delivery's next big project, done together with Andre Hemer. It is an international performance project and an on-going series of video works. So far it has been shot in various locations on four different continents.

Filippo Minelli – Silence: Lines, 2010

Filippo Minelli – Silence: Lines, 2010

Filippo Minelli – Silence: Lines, 2009

Filippo Minelli – Silence: Lines, 2009

Filippo Minelli – Silence: Lines, 2009
Silence: Lines is an on-going series of works by Filippo Minelli, and shares a similar idea like his smoke bomb photos. The line is a tool that is normally used in writing to say nothing. It represents silence and interacts with the urban and rural surrounding in a drastic way without changing it's own nature. In Chinese culture the horizontal line represents the primordial breath, the separation between earth and sky and shows separation and unity at the same time, portraying the cycle that rules everything on the planet.
Photos above are taken in various locations around Europe in 2009-2011.
> see more Silence: Lines works on Public Delivery
Not much information can be found about Sunghee Lee, a French based photographer, and his work, but his empty billboard photos quickly remind of Bernd and Hilla Becher and their Neue Sachlichkeit (New Objectivity). However, he is using various angles and distances and usually contextualizes his objects with the surroundings and small events like a passing person or taxi.
Video
Photos
Desert Rooftops by David Brooks is a 5,000-square-foot sculpture that is an wavy configuration of multiple asphalt-covered rooftops similar to those on suburban developments, McMansions and strip malls conjoined to resemble a rolling, dune-like landscape.
The piece examines issues of the natural and built landscape by comparing the monoculture that arises from unchecked suburban and urban sprawl with that of an over-cultivated landscape – creating a work that is picturesque, familiar and simultaneously foreboding. Brooks' sculptural approach gives a nod to Robert Smithson's earthworks and Gordon Matta-Clark's building cuts while offering a much needed sense of humor to help digest today's somber environmental issues.
As housing communities devour more and more land and resources each year the outcome is equivalent to the very process of desertification. The United Nations Convention to Combat Desertification defines desertification as: land degradation into arid and dry sub-humid areas resulting from various factors, including human activities and climatic variations derived from over-development, over-grazing and an overworked land. The result is often a depleted landscape inhospitable to other life.
David Brooks (b. 1975) is an American sculptor and installation artist, whose work considers the relationship between the individual and the built and natural environment. Brooks has exhibited large-scale installations at Dallas Contemporary, Miami Art Museum, Nouveau Musée National de Monaco, Bold Tendencies London, as well as American Contemporary and the Sculpture Center in New York. Brooks was featured in the 2010 Greater New York at MoMA PS1 and lives and works in NYC.
(Photos by James Ewing, courtesy of Art Production Fund)
Prada Marfa is a site specific, permanent land art project by artists Elmgreen & Dragset. From a distance the artwork appears ot be a large minimalist sculpture. As one gets closer the building resembles a Prada boutique where a display of Fall 2005 high-heel Prada shoes and bags can be seen through the store front windows. However, the sculpture will never function as a place of commerce, the door cannot be opened.
The work is located on the outskirts of Valentine, Texas near Marfa on desolate ranching land with no other visible trace of civilization.
(photos courtesy of Art Production Fund)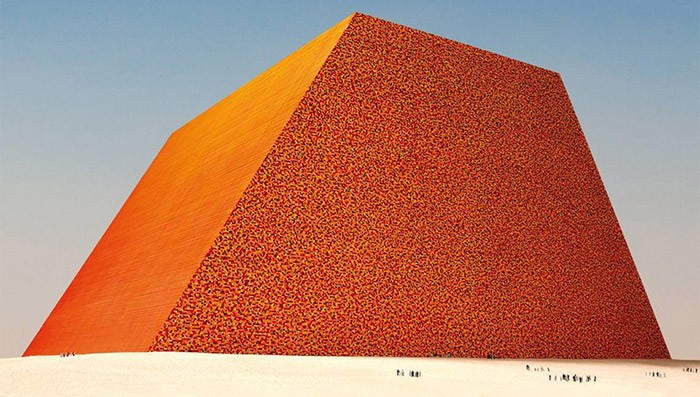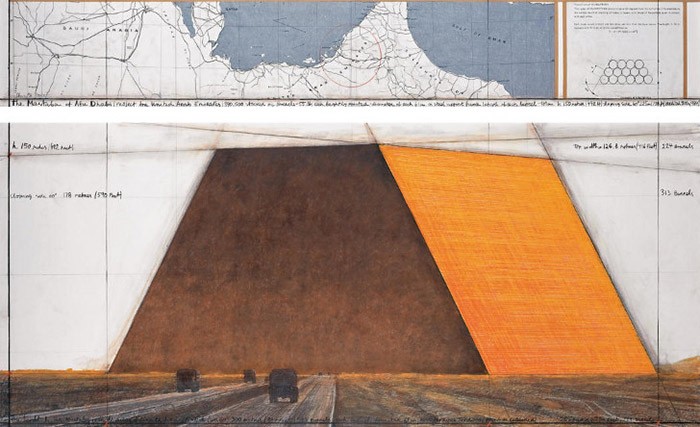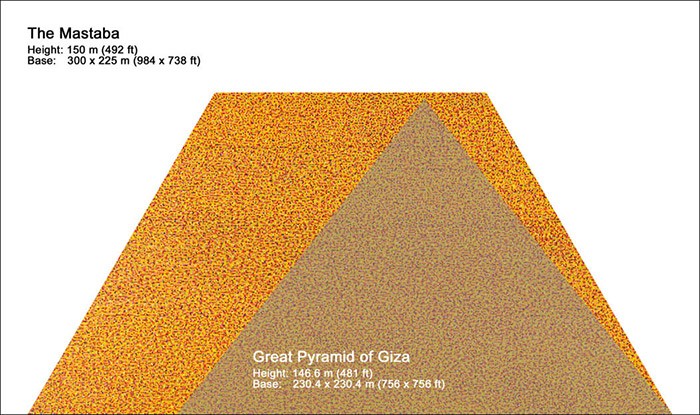 Christo's first permanent large-scale work, The Mastaba, will be the world's largest sculpture and installed 160km south of the city of Abu Dhabi. The enormous project was conceived in 1977 and will be made from 410.000 multi-colored barrels to form a mosaic of bright colors, echoing Islamic architecture. A mastaba is a type of ancient Egyptian tomb and a familiar shape to the people of the region, and will become larger than any pyramid.
It will take about 30 months of construction work to create thee 150m high, 225m and 300m wide sculpture. The top of The Mastaba will be a horizontal surface 127m wide and 225m deep. Through a long planning period it's possible to raise the entire structure on rails to its final position in about 3 to 4 days. The estimated cost is 340.000.000US$.
> As usual, the Mastaba is extensively documented here on the artist's site
Photo #1 by By Wolfgang Volz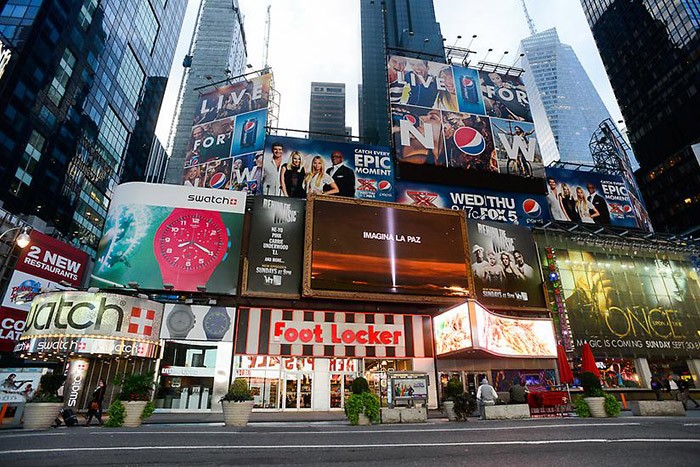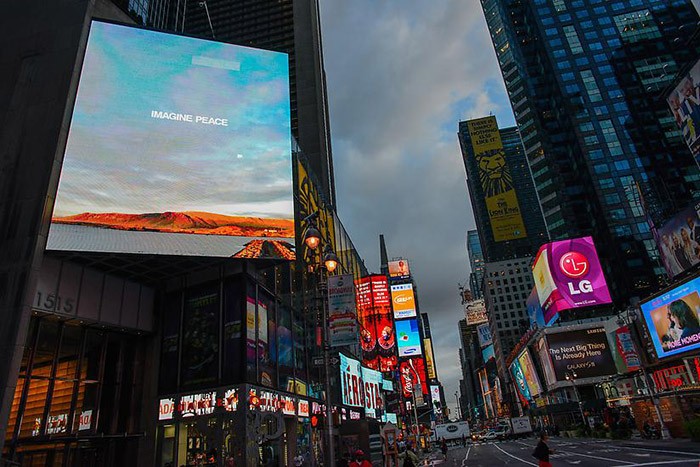 Until December 30, 15 giant electronic billboards at Times Square, New York, are transformed into Imagine Peace, a public art project by Yoko Ono. Her message of anti-violence will be translated into 24 world languages set over the tranquil imagery of a blue-sky background. The piece has been transformed into a site-specific multi-channel work, and spreads the message of peace across the monumental screens simultaneously, displayed hourly across American Eagle Times Square, MTV 44 ½ and Viacom North and South signs throughout one of the world's most famous places, which is also known as the Crossroads of the World.
Imagine Peace uses internet projects and presence, posters, badges, and a multitude of other media to communicate its message of peace to the global community. Located in a highly trafficked location, the installation tries to spread awareness and encourage the community to take responsibility and promote worldwide peace.
Past Imagine Peace projects include Imagine Peace for Pause at The Cosmopolitan Las Vegas and the Imagine Peace Tower in Reykjavik, Iceland (2007) for which the artist has collected over 1 million wishes over the past few years.
Yoko Ono (b. 1933, Tokyo) lives and works in New York. Ono is an influential artist who pushes the boundaries of the art, film, music and theatre media. She received the prestigious Golden Lion Award for Lifetime Achievement at the 2009 Venice Biennale.
Times Square Arts is a public art program which presents leading contemporary art and performances in multiple forms and media to more than 400,000 daily visitors to New York City's Times Square, making it one of the highest profile public arts programs in the United States. Since its inception, the program has featured works by a diverse group of more than four dozen prominent and emerging artists.
Photos: #1, James Ewing, #2,5, Casey Kelbaug, #3,4, Ka-Man Tse
(via)
Posted by publicdelivery
Posted December 27, 2012 9:00 am
Tags: 2012, NYC, public.