Archive for 'public'
It looks like somebody has misplaced two couches right in the center of Zürich, but curious passers looking for a rest will be surprised, the furniture feels hard and cold and doesn't deliver the expected comfort. The Sofa in White are two artworks made out of marble, created by Chinese artist Ai Weiwei (1957).
For Art and the City, the largest outdoor exhibition of Switzerland, he placed The Sofa in White right in the financial district. The artworks look like a certain model of 1970s furniture, sold in millions especially to the Chinese middle class and turned into an icon of a generation, representing achievable modest wealth and comfort. Weiwei's couches are handmade by Chinese craftsman using expensive marble, each piece is 1.020 kg heavy. They are currently in front of Credit Suisse, with UBS one of the two big banks that are situated at the Paradeplatz since the end of the 19th Century. This place is one of the world's most expensive locations and became well known through international tv as almost every report about Swiss banks shows the Paradeplatz. Now it embodies the cliche of Swiss banks like no other and stands for money and gold, bank secrecy and money laundering and for bonuses and financial crisis. The seatings are a symbol for globalization, a source of major profits for the Credit Suisse.
Ai Weiwei's The Sofa in White and other artworks are on display in the city space until September 23rd.
Art and the City takes place in Zürich right now and shows 40 works by artists like Doug Aitken, Paul McCarthy and others. The public art project coincides with the Venice Biennale and Kassel's documenta, roughly located between their two venues.
> overview of extensive tours and other dates and events of Art and the City
> Ai Weiwei's Sunflower Seeds on Public Delivery
> Wilfredo Prieto's b/w flags – Apolítico, another work installed in Zürich right now
(photos: courtesy the artist und Galerie Urs Meile, Beijing – Lucerne)
The Austrian Franz West (1947-2012), one of the most important postwar-artists, died less than two weeks ago. His work has been repeatedly exhibited at documenta, the Venice Biennale and in 2011 was awarded the Golden Lion at the Biennale di Venezia in recognition for his life's work.
Internationally he got famous through participating at the Documenta IX in 1992: Several of his art pieces were distributed around the area and served as chairs and sofas. Due to their affordable price they quickly spread within the art world and finally became a mass-product. Though not appreciated by everybody, it made West's approach to art clear: Creating usuable art. In an interview with Robert Fleck he also said "Best of all I like art in the streets; it doesn't demand that you make a special journey to see it, it's simply there. You don't even have to look at it – that is probably the ideal art."
In the 1970s West created Adaptives, small, portable sculptures. The following large artworks, made from plaster and gauze and painted with dispersion paint (see below) are directly based on them.

(photo: Art Basel)
This sculpture, Gekröse, 2011, was one of the most dominant pieces shown at the Art Basel Art Unlimited last year by Gagosian Gallery. It was West's largest outdoor sculpture and sold for a seven digit figure a few hours after the opening.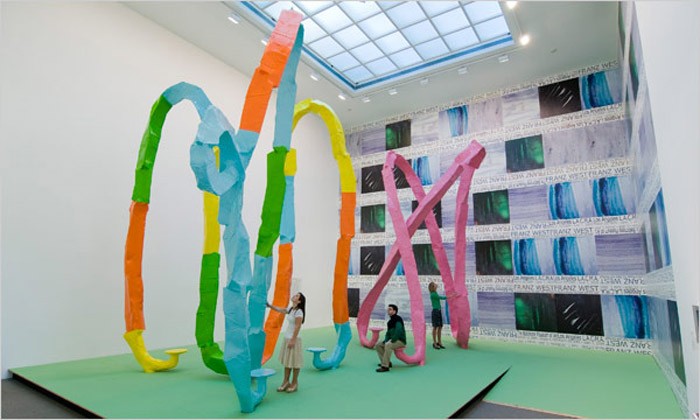 (photo: Mitro Hood/Baltimore Museum of Art)
The Ego and the Id, 2008, a 20 feet high aluminum sculpture was installed at the Franz West retrospective at the Baltimore Museum of Art. It featured chairs that were built into the artwork and invited viewers to interact with it. The title of the art piece is a reference to one of Sigmund Freud's most famous texts in which he describes the Id, ego and super-ego as the three parts of the psychic apparatus.

(photo: Noel. Y. C. / nyclovesnyc)
Afterwards the same sculpture previously shown in Baltimore got exhibited at the Doris Freedman Plaza in Central Park and was on display until March 2010 while some of his smaller sculptures could be seen at the MOMA.

(photo: apa /Franz West / Kunsthaus Bregenz / Rudolf Sagmeister)
Drama (Modell), 2001 at Kunsthaus Bregenz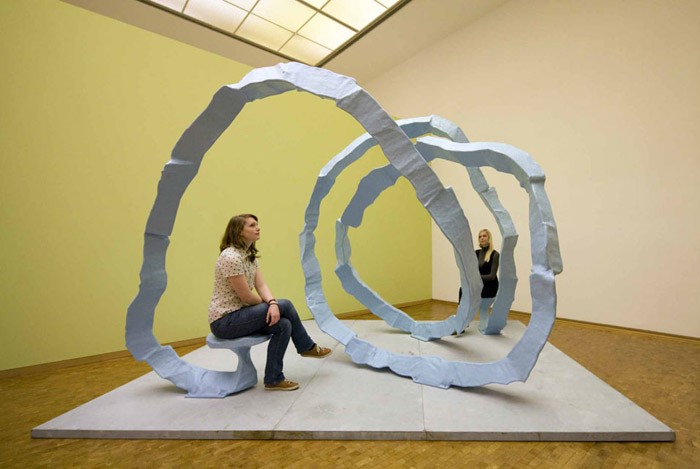 (photo: Museum Ludwig)
Ergebnis, 2008 at Museum Ludwig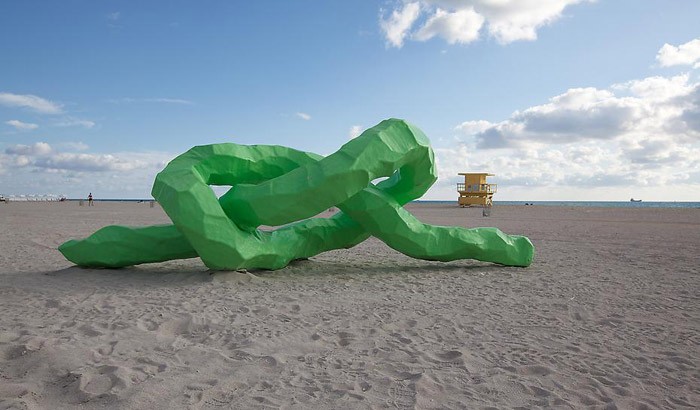 (photo: Gagosian)
Lying Not, 2008 for Gagosian New York at Art Basel Miami Beach Art Projects, 2009

(photo: Gagosian)
Installation view at Gagosian Rome, 2010
noothergods is another large scale mural (15x20m) by Hendrik Beikirch. It got painted in Germany a few weeks ago.
memorieswallbywall is 30x8m and got finished this week.
Fireflies have become a rare sight in Japan. Once they used to glow their low light all over the country in the summer time but now they have become an uncommon sight even in rural areas. Last month 100,000 LED lights floated down through Tokyo's city centre on the Sumida river mimicking a stream of fireflies. This happend on the occasion of the Tokyo Hotaru Festival (Tokyo Firefly Festival) which was first held in 2012 and is intended to revalue the river and its surroundings, similar to what Seoul has done with their prestigious Cheonggyecheon stream renaturation project. The LED lights were sponsored by Panasonic and equipped with solar cells. At the end all of the lights were taken out of the river by using a big net.
(via, photos by Tokyo Hotaru & Mai Suzuki)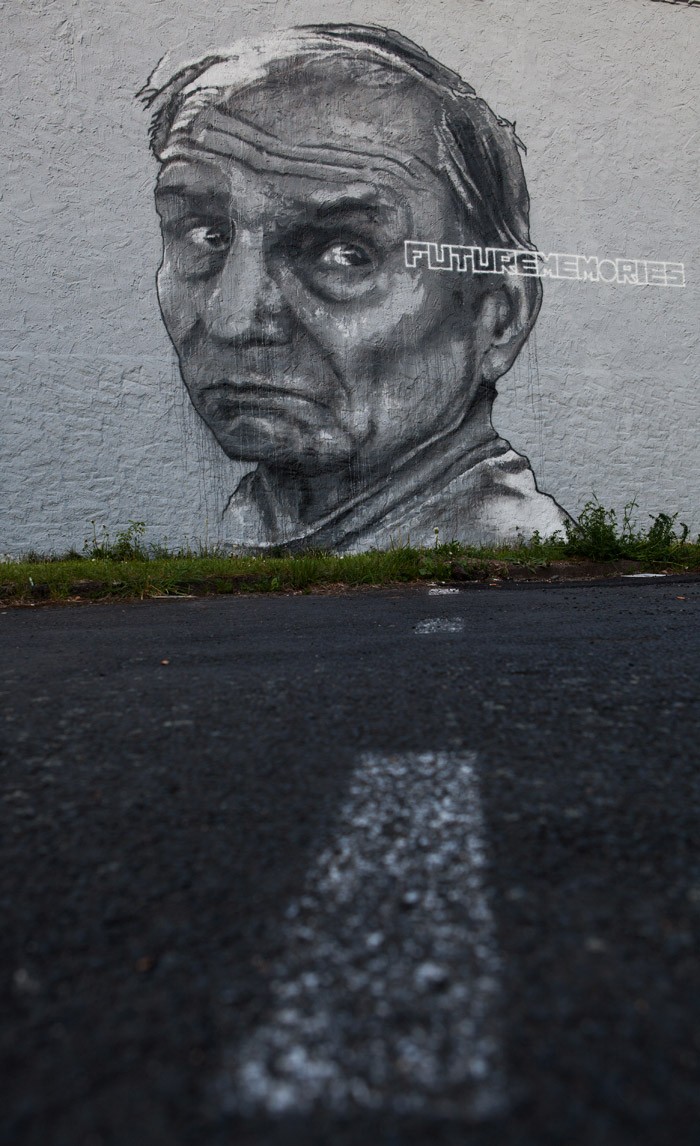 A couple of weeks ago we organized the mural futurememories in Friedberg, Germany. It got painted on the backside of an old and famous Jugendstil indoor swimming pool from 1909 and was featured in a tv report (see above).
The mural was presented together with an exhibition by Young-in Son at the Kunstverein Friedberg.
Rem Koolhaas and Ole Scheeren of OMA recently completed the CCTV (China Central Television Headquarters) building in Beijing, one of the most well-known architecture projects around the world. Being the visual representation of one of the major Chinese state owned media corporations, together with Xinhua, for many it also stands for Chinese (media) politics as such. The absence of hard facts like reliable statistics from external organizations is almost completely missing in the Chinese media world. That lack of information is creating rumors and speculations that even Amnesty International, BBC and others are picking up.
Jon Leung took another approach and built a series of provocative and humorous sculptures. The third part of CCTV got installed on the roof of the Foo Tak building in Hong Kong while blending in with the surrounding architecture. A burning incense stick is used in the 150cm tall sculpture.
He says: "Deliberately abstracting the form and changing its function, the sculptures serve as a contemporary shrine to worship the new Chinese Post-Capitalistic religion. Mixing traditional Chinese religious elements (incense) with Postmodern realism, the CCTV-series is a celebration of both the good and the bad of what China currently represents."
Leung's CCTV sculptures have been shown in art spaces such as the Museum of Contemporary Art Antwerp, as well as in the public space of Hong Kong.
> read all about the CCTV series