Archive for 'sculpture'
Video
Photos
Desert Rooftops by David Brooks is a 5,000-square-foot sculpture that is an wavy configuration of multiple asphalt-covered rooftops similar to those on suburban developments, McMansions and strip malls conjoined to resemble a rolling, dune-like landscape.
The piece examines issues of the natural and built landscape by comparing the monoculture that arises from unchecked suburban and urban sprawl with that of an over-cultivated landscape – creating a work that is picturesque, familiar and simultaneously foreboding. Brooks' sculptural approach gives a nod to Robert Smithson's earthworks and Gordon Matta-Clark's building cuts while offering a much needed sense of humor to help digest today's somber environmental issues.
As housing communities devour more and more land and resources each year the outcome is equivalent to the very process of desertification. The United Nations Convention to Combat Desertification defines desertification as: land degradation into arid and dry sub-humid areas resulting from various factors, including human activities and climatic variations derived from over-development, over-grazing and an overworked land. The result is often a depleted landscape inhospitable to other life.
David Brooks (b. 1975) is an American sculptor and installation artist, whose work considers the relationship between the individual and the built and natural environment. Brooks has exhibited large-scale installations at Dallas Contemporary, Miami Art Museum, Nouveau Musée National de Monaco, Bold Tendencies London, as well as American Contemporary and the Sculpture Center in New York. Brooks was featured in the 2010 Greater New York at MoMA PS1 and lives and works in NYC.
(Photos by James Ewing, courtesy of Art Production Fund)

Fat car, 2001

Fat car, 2005

Telekineticaly bent VW van, 2006

UFO, 2006

Truck, 2007
Erwin Wurm, one of Austria's most important and internationally famous sculptors, has been preoccupied with expanding the concept of sculpture since the 1980s. Wurm is primarily a sculptor, and traditional sculptural concerns such as the relationship between object and pedestal, the function of gravity, the fixing of form, and the manipulation of volume, play through all his work.
Increasing, remodeling or removing volume, the habitual interests of many sculptors, are given a new twist in Wurm's work. Volume and adding volume are treated as sociocrital issues. In 1993, Erwin Wurm wrote an instructional book on how to gain two clothing sizes in eight days. Eight years later, he made his first Fat Car by plumping up an existing car with styrofoam and fiberglass, which resulted in a pitiful, chubby version of the original sportsy model. By taking the question of obesity, Wurm probes the link between power, wealth and body weight. He also wants to offer a sharp criticism of our current value system, as the advertising world demands us to stay thin but to consume more and more.
> also see his One Minute Sculptures
Prada Marfa is a site specific, permanent land art project by artists Elmgreen & Dragset. From a distance the artwork appears ot be a large minimalist sculpture. As one gets closer the building resembles a Prada boutique where a display of Fall 2005 high-heel Prada shoes and bags can be seen through the store front windows. However, the sculpture will never function as a place of commerce, the door cannot be opened.
The work is located on the outskirts of Valentine, Texas near Marfa on desolate ranching land with no other visible trace of civilization.
(photos courtesy of Art Production Fund)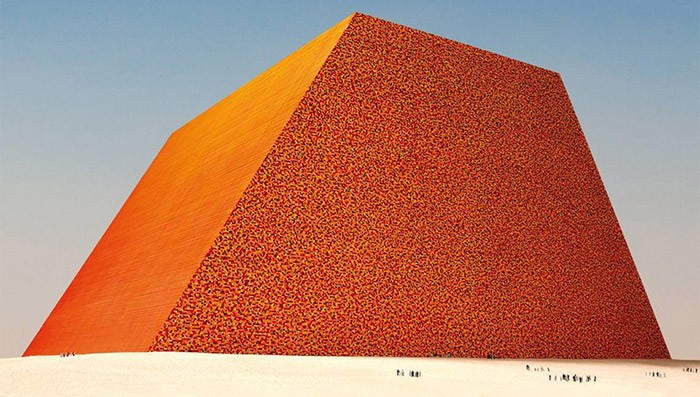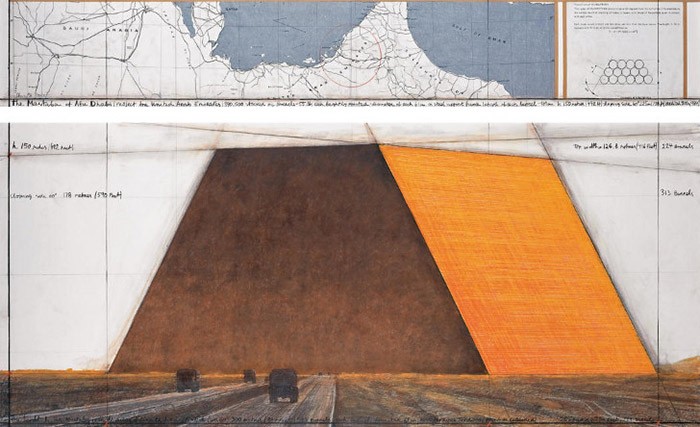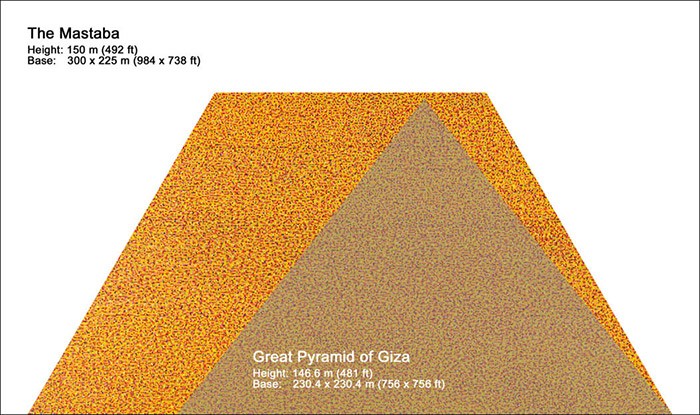 Christo's first permanent large-scale work, The Mastaba, will be the world's largest sculpture and installed 160km south of the city of Abu Dhabi. The enormous project was conceived in 1977 and will be made from 410.000 multi-colored barrels to form a mosaic of bright colors, echoing Islamic architecture. A mastaba is a type of ancient Egyptian tomb and a familiar shape to the people of the region, and will become larger than any pyramid.
It will take about 30 months of construction work to create thee 150m high, 225m and 300m wide sculpture. The top of The Mastaba will be a horizontal surface 127m wide and 225m deep. Through a long planning period it's possible to raise the entire structure on rails to its final position in about 3 to 4 days. The estimated cost is 340.000.000US$.
> As usual, the Mastaba is extensively documented here on the artist's site
Photo #1 by By Wolfgang Volz
After Franz West we follow up with another well-known Austrian artist, Erwin Wurm. Since the late 1990s he is working on his on-going One Minute Sculpture series in which he or others pose with everyday objects, often within an art space.
The One Minute Sculptures redefine the concept of sculpture into one of dynamic act rather than static object. Wurm's sculptures are wrought from the human body, choreographed into absurd, witty and often perilous, relationships with objects of everyday life – a man lying squeezed under a Barcelona chair, a banana peeping out of a man's trousers, a man balancing two bottles of detergent on his toes, or two men balancing brief cases between their knees and chests. One Minute Sculptures can happen anywhere, anytime: on a street, at home, in a hotel. Riven with a sense of imminent failure, each sculpture exists for barely a minute, before gravity triumphs, everything collapses, and the only thing to remain is a video or, in this case, a photograph.
A One Minute Sculpture could be called a sculptural variant of situation comedy because they unleash a similar effect: usually funny, often embarrassing, occasionally flowing with pathos.
In his book The Artist Who Swallowed the World (Hatje Cantz) Wurm said: I am interested in the everyday life. All the materials that surrounded me could be useful, as well as the objects, topics involved in contemporary society. My work speaks about the whole entity of a human being: the physical, the spiritual, the psychological and the political.
Wurm is also credited for inspiring the video Can't Stop of Red Hot Chili Peppers which got +32.000.000 views on YouTube..
Right now 18 of Wurm's photographs are on display at Open Eye Gallery in Liverpool (UK). Erwin Wurm: One Minute Sculptures runs to September 2.
Following our best-of of Wurm's One Minute Sculptures: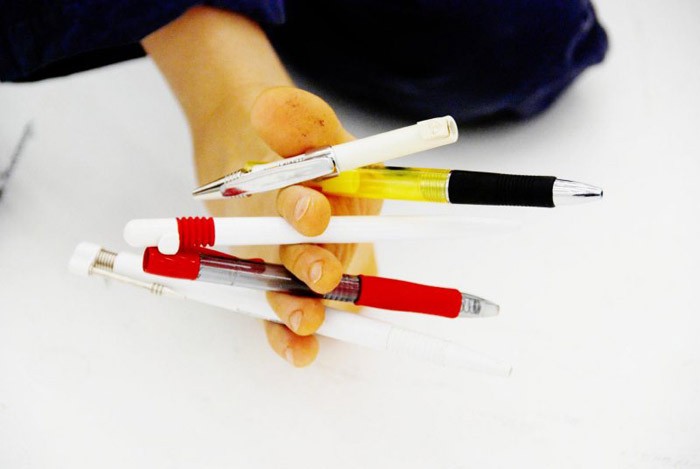 Over the past 1 1/2 years British artist Antony Gormley has prepared an exhibition at the Deichtorhallen Hamburg, Europe's biggest space for contemporary art. Rather than following through with the proposed retrospective, Gormley decided creating a huge interactive sculpture that only comes alive by the participation of the visitors. To enforce his point Gormley accomplished to keep the exhibition that runs until 9th of September 2012 free of charge.
The sculpture itself stretches over 1200m2 big and weighs 67 tons. One single person can make it vibrate, by walking, running or jumping. The experience is enhanced by the reflecting ground which makes a gigantic mirror. A dedicated website allows visitors uploading their own photos of the art work which then appear in a blog.
> extensive documentation and additional info at deichtorhallen.de
(photos by Henning Rogge)
Insight in the background and production process of one of the most spectacular exhibitions of 2010, Sunflower Seeds by Ai Weiwei at Tate Modern. Follow Ai Weiwei to the city of Jingdezhen in northern Jiangxi, China, famed for its production of Imperial porcelain, where all of the sunflower seeds have been individually hand-sculpted and hand-painted.
> official site
> visitor questions answered by Ai Weiwei
Additionally, you can see Sunflower Seeds at Mary Boone Gallery right now. The exhibition opened on January 7 and is on view until February 4. Below are a few installation shots. The installation is made out of millions (five tons) of hand-painted porcelain sunflower seeds. Each actual-size seed is unique and intricately hand-formed and like those shown at Tate Modern painted in Jingdezhen.
The sunflower, following the sun, is a well-known metaphor for The People during China's Cultural Revolution. The seeds provided nourishment at all levels of society, and the ubiquitous discarded husks provided evidence of an individual's existence. Ai Weiwei created a deceptively unified field with a large number of individual seeds. Sunflower Seeds comments on social, political and economical issues relevant to contemporary China such as the role of the individual in relationship to the collective.
(photos by twi-ny.com)