SELECTED WORKS
JON LEUNG
Jon Leung (b. 1983) is a visual artist born in Antwerp/Belgium and mainly based in Hong Kong. Versatile in his use of media, he comments on and intervenes in the existing (socio-political) surrounding space.
Exploring notions as conditioning and self-reflection, he's interested in the discourse and conception of art, rather than merely the 'production' of it. By posing questions and setting up ambiguous frameworks wherein his art-practice takes place, he undermines and eliminates preconceived and thus biased interpretations.
> About / Series: CCTV / Series: Sample / Project: Home from home / Mixed works
CCTV I – III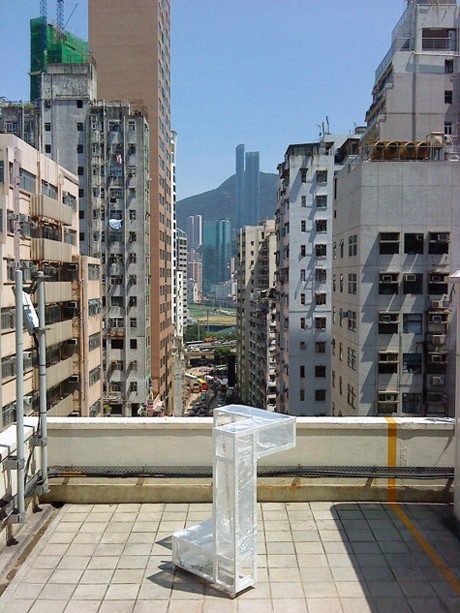 CCTV III, 2010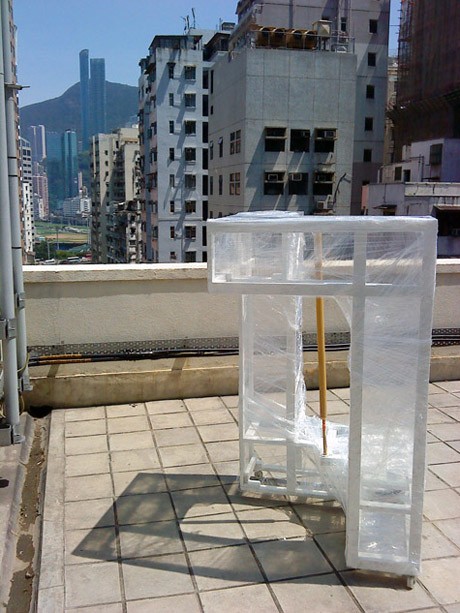 CCTV III, 2010
CCTV is a series of sculptures, based on the OMA building of the Chinese Central Television Headquarters in Beijing. Deliberately abstracting the form and changing its function, it serves as a contemporary shrine to worship the new Chinese Post-Capitalistic religion. Mixing traditional Chinese religious elements (incense) with Postmodern realism, the CCTV-series is a celebration of both the good and the bad of what China currently represents.
> click to see and read more about CCTV
Sample I – III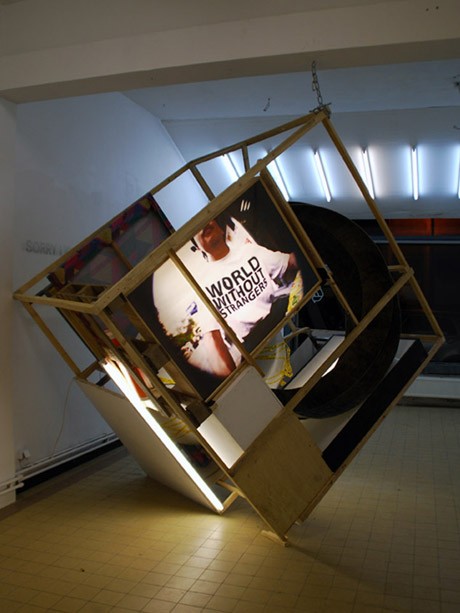 Sample I, 2010

Sample III, 2010
Sample refers to the archiving of art works, that are highly valued and reserved for future use. It's created by stacking different artworks, pre-serving them together.
> click to see and read more about Sample
Mixed Works

Kwailow, 2009

The Cut, 2009

Self Promo, 2010

Performance, 2009
> click to see and read more about Leung's mixed works
Home From Home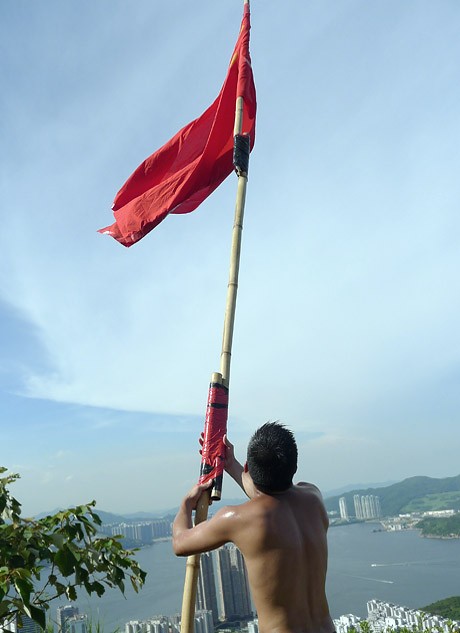 Site-specific acte-de-présence by Jon Leung together with Public Delivery
On Divergence

On Divergence, 2009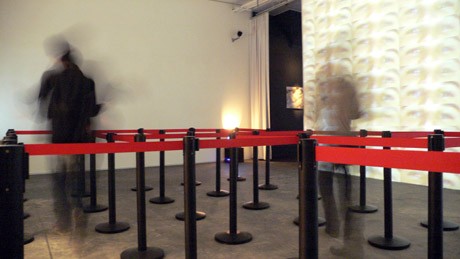 On Divergence, 2009
35 crowd-controlling bollards, 0,8 x 5 x 5m
Occupying the middle space of the gallery, by re-using the crowd-control-bollards a.k.a. dividing-poles, the work is providing an extra interpretation of the idea of the irony of the gaze that occurs in the so-called controlling devices. CCTV's, mirrors, poles etc. are commonly used for pseudo-security reasons, to maintain law & order, but not only for a harmonious society. Controlling means being in power and more importantly, maintaining that power; Control over every possible information on every potential divergent is thus of an unprecedented value in recent history. The underlying implication is that no one is supposed to excess any border.
Not only visual control but also physical/spatial control is desired. The conversion/ob-/reversion of this necessity to divide and conquer, arrange, queue-up and condition every possible divergent is what the piece represents. The open space of the gallery/white cube is used as the stage to provoke certain feelings of being mirrored/controlled/watched. By introducing different elements of urban banality/banal urbanity that in se are pretty boring, the viewer will be forced to undergo the work by taking part in a sense of slowing-down/ retardation of the interpretation. The subtlety of normal control will be used exactly to counter(feit) it and return it to the sender, which in this case may be only the viewer itself, instead of a governmental, intelligence bureau f.e.
Therefore the gaze will start & end at/with/in the participant only. So, actually, there is nothing to see, only one's own experience of perception, introspection and contemplation.
Inertia of interpretation rather than immediacy works both on one's nerves as triggers one's curiosity, playing with people's expectations of art.
Shown at Osage Gallery's Feigned Innocence exhibition, curated by Nana Seo.
Parabellum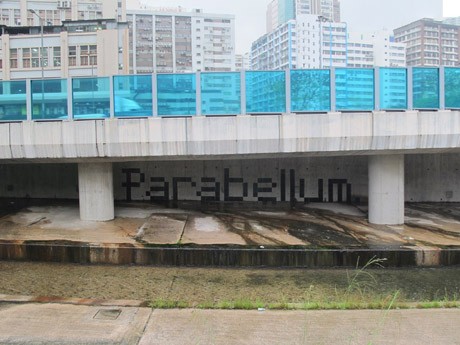 Parabellum, 2011
A 2 x 15m large work, installed in a central spot in Hong Kong.
Lacquer, wood, glue on concrete, 2011.
Inspired by "Si vis pacem, para bellum" (Thucydides)