Jon Leung – CCTV
Jon Leung (b. 1983) is a visual artist born in Antwerp/Belgium and mainly based in Hong Kong. Versatile in his use of media, he comments on and intervenes in the existing (socio-political) surrounding space.
Exploring notions as conditioning and self-reflection, he's interested in the discourse and conception of art, rather than merely the 'production'. By posing questions and setting up ambiguous frameworks wherein his art-practice takes place, he undermines and eliminates preconceived and thus biased interpretations.

CCTV
CCTV is a series of sculptures based on the OMA building of the Chinese Central Television Headquarters in Beijing. Deliberately abstracting the form and changing its function, it serves as a contemporary shrine to worship the new Chinese Post-Capitalistic religion. Mixing traditional Chinese religious elements (incense) with Postmodern realism, the CCTV-series is a celebration of both the good and the bad of what China currently represents.
"[…] Now with the fireworks of the Olympics and the Shanghai World Expo, kicking the China PR machine into full gear, the mainland has been grabbing all the headlines. Massive government money has gone into organizing mass games type spectacles and a great Potemkinization of the urban landscape, involving tons of cement and thousands of gallons of paint. These spectacles are engineered to create a blinding flash of light designed to leave our eyes stinging with the after effect, so blurry that we fail to see the endemic problems of corruption and control.
Though Hong Kong may not be the infrastructural monolith, it nonetheless possesses something more important: more democratic forms of political representation, a less restricted press and a vibrant activist community. Still, as Hong Kong is struggling to define itself and as business interests weave a sticky web across to the Mainland, it is becoming more difficult for Hong Kongers to maintain such institutions of freedom of speech and plurality.
Jonathan Leung addresses this issue head-on with his provocative work "CCTV#2" 2009-2010. This sculpture and performance piece involves a replica of Beijing's China Central Television Station building. Designed by Rem Koolhaas, the building, which came to be known as dakucha, "big pair of boxer shorts," is a symbol of Chinese state media power. In Leung's sculpture, the legs of the "boxer shorts" create an altar for a large incense stick, which was burned over the course of eight days in a public performance on a roundabout at Sui Wo Road and Wong Chuk Yeung Street in the post-industrial area of Fo Tan. Using humor and irony, Leung captures China's changing attitudes towards the Mainland, how economic ties have begun to stifle criticism."

CCTV I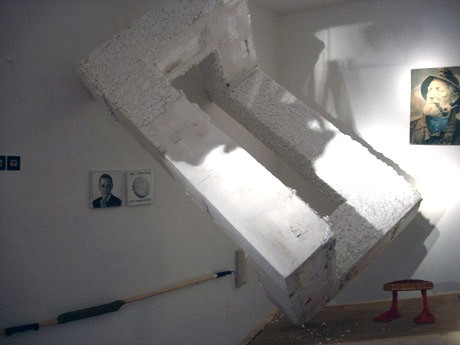 On display at the Museum of Contemporary Art Antwerp in 2009
Wood, polystyrene, 150 x 90 x 90cm
Also shown at Martin van Blerk Galerij for the exhibition Victimdesign (2008)

CCTV II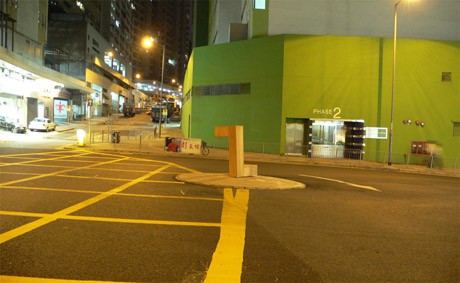 The CCTV-sculpture is the first public installation in Fo Tan / Hong Kong.
Wood, steel, 120cm incense stick, 150 x 90 x 90cm
CCTV III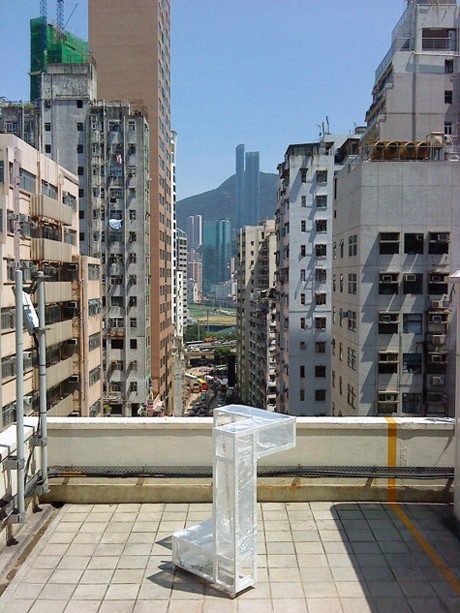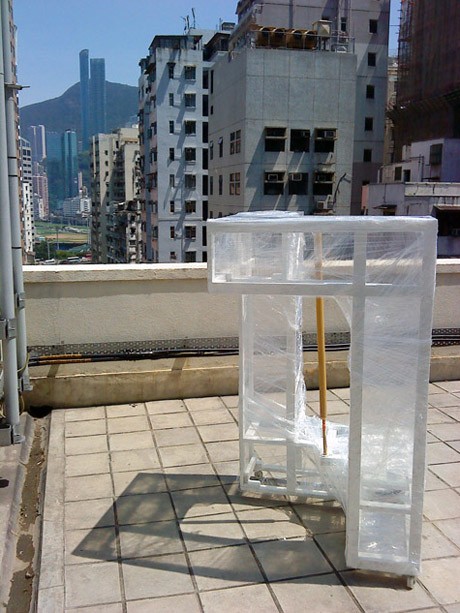 Third and last edition of CCTV for Dubble Happiness, the story of two siamese cities exhibition. Installed on the roof of Foo Tak Building, Wanchai, Hong Kong, blending in with the surrounding architecture.
Wood, 120 cm incense stick, plastic, 150 x 90 x 90cm