Archive: sculptures
Five decades of Sol LeWitt's famous sculptures

Sol Lewitt – Four-Sided Pyramid, 1999, first installation 1997, concrete blocks and mortar, Hirshhorn Museum & Sculpture Garden, Washington, DC, USA
Sol Lewitt's starting point
Sol LeWitt is an iconic artist who is regarded as a founder of both Minimal and Conceptual art. He believed that the figures that the mind can think of are possible to make and construct. To start his structural design making and abstract design actualization, he used the square as a reference figure where all the other figures were derived from it. His serial approach in making figures, using the square as the denominator structure, led him to advance further and make geometrical figures like triangles, circles and other figures using wood. In his five-decade career, he insisted that ideas were the backbone of his efficiency and artistic clarity.
Ai Weiwei's coloured vases: Clever artwork or vandalism?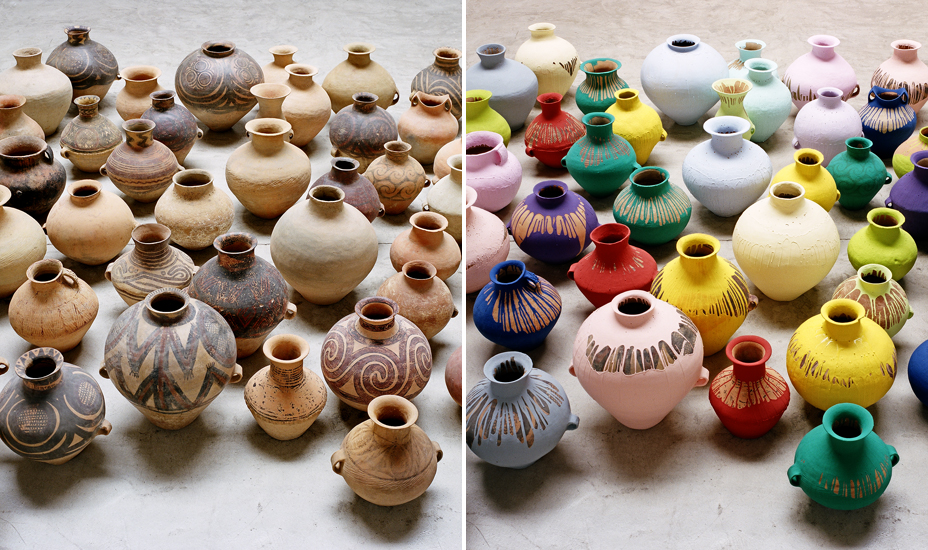 Ai Weiwei – Coloured Vases, 2006
Why did Ai Weiwei cover the vases with brightly colored paint?
Exhibition visitors have expressed feelings of uneasiness or even pain and nostalgia when seeing Coloured Vases by Ai Weiwei1. The 51 vases that make up the artwork are originally treasures from the Neolithic Age (5000–3000 BCE) and the artist has dunked them in common industrial paint, commenting on the devastation caused by the Chinese Cultural Revolution2 and the disregard for centuries-old craftsmanship3. By covering the surfaces, the history of the vases is no longer visible, but still there, beneath the dried layer of industrial color. Some viewers have felt provoked by this audacious act, in their eyes destroying something rare and precious, instead of safeguarding and worshipping it.
Like with many other works by Ai Weiwei, he uses irony to challenge viewers' assumptions and perspectives. As China's most notorious artist, he finds himself in constant confrontation with the Chinese authorities, and Coloured Vases is an essential piece in his rebellious oeuvre.
Photos

Ai Weiwei – Coloured Vases, 2006, Neolithic vases (5000-3000 BC), industrial paint, 51 pieces, dimensions variable

Ai Weiwei – Coloured Vases, 2006
Leading artist Xu Zhen: 19 Western sculptures for stunning installation

Xu Zhen – European Thousand-Arms Classical Sculpture, 2014, glass fiber reinforced concrete, marble grains, marble, metal, 304 x 1470 x 473 cm, Produced by MadeIn Company, at Long Museum, Shanghai, China, 2015
Photo: Thomas Fuesser
Who is Xu Zhen?
Xu Zhen is a leader within the domain of contemporary Chinese art and is said to be one of the most sought-after international contemporary artists. Xu Zhen uses inspiration from both Chinese and Western cultures while combining the embodiment of both. He uses sociocultural frameworks as an inspiration for his pieces as an attempt to target and what many would argue decrease ignorance surrounding "foreign" cultures. Xu Zhen occupies an artistic practice that uses numerous mediums, including painting, sculpture, installation, video, photography and performance.