Design of Memories
The Design Of Memories was a work that uses large mylar balloons shaped like distorted popular cartoon characters, painted white and left to float. The work existed as an indoor installation in the Dongdaemun Design Plaza in the heart of Seoul.

What was it?
The work is meant to be dreamlike. Icons that exist in our collective consciousness are a reminiscence of our own narratives and histories. They are the now-vague representations of characters that grew with us; their colors and shapes hold meaning and emotion.
They are globally recognizable and inspire similar feelings among people around the world. Altered, some so that they can still be identified, others so that their images are completely unrecognizable, they become like ghosts, symbolizing the capitalist culture embedded within our childish self.
The work within the art space shows 200 balloons together, milling aimlessly around the space so that visitors can interact with them. The balloons range from 116 to 170 cm in height.
Combining pop culture and street art, the work seeks to use implied imagery to create a bold statement that is at once impactful and playful: imagery in which we do need to see color or words but use shape and feeling to define identity and create a story.
There is no distinction between art, the street, life, our thoughts and our memories.

Exhibition venue
Situated in the heart of the city, around one of the world's largest shopping districts, 1/3 of the tourists visiting Seoul are coming to Dongdaemun Design Plaza (DDP), making it Korea's most visited landmark (8.5 million visitors in 2014)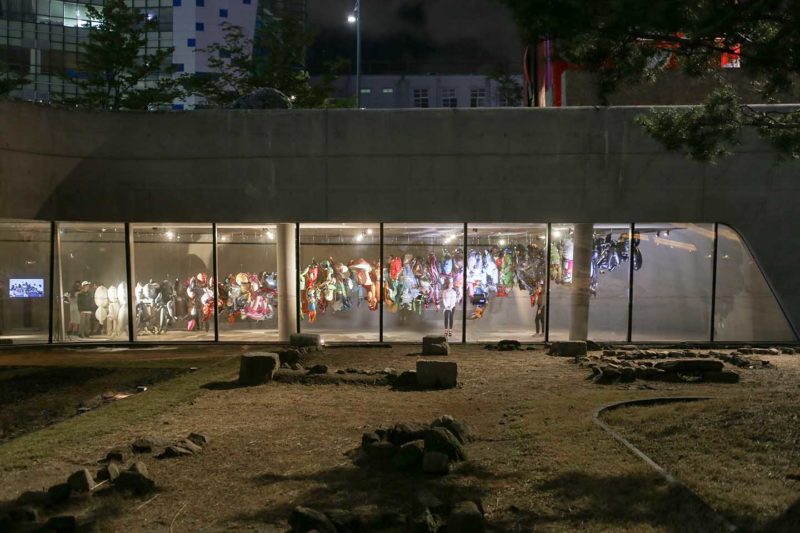 Partners
The exhibition was done in collaboration with the Seoul Design Foundation, the U.S. Embassy to Seoul and Absolut.