Archive: Luciano Calderon
Luciano Calderon's first museum solo exhibition
Yesterday, June 19, Ciudad Esperanza, Luciano Calderon's first solo exhibition in a museum pre-opened at Museo de Arte Antonio Paredes Candia in El Alto, Bolivia. The exhibition is a continuation of his recent show, El Choco, in which Calderon's hometown of El Alto and the neighboring city La Paz played a central role. Ciudad Esperanza includes both new large scale works as well as some older pieces, both of which evoked strong positive feedback from the enthusiastic crowd at the pre-opening.
As he did with El Choco, Calderon collaborated with local craftsmen of his neighborhood to produce some of his works for Ciudad Esperanza. In Chismoso Como Tu, which translates to God sees everything but he ain't a snitch like you, Calderon uses a common phrase to reflect on the mentality that prevails on the streets of El Alto, a city where almost everybody lives under harsh circumstances.
Calderon's painting Escudo is inspired by El Alto's official coat of arms. Using his own unique visual language, Calderon took the text from this coat of arms and transformed it into an art piece.
The official opening will take place later this month.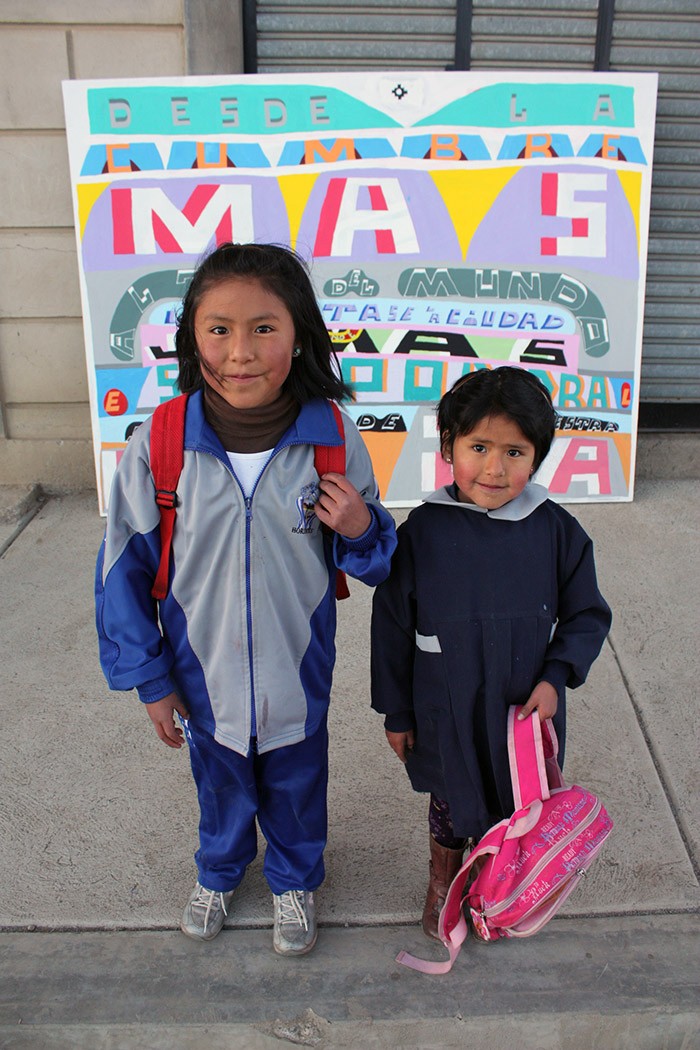 Chismoso Como Tu, 2013, mixed media on plastic, 220x340cm

Escudo, 2013, mixed media on canvas, 150x200cm
Related
Luciano Calderon & Public Delivery – El Choco exhibition

Muralla Alteña, 2013, plastic bags, wood, 600x380cm
El Choco was a solo exhibition by the Swiss-Bolivian artist Luciano Calderon. He showed completely new works ranging from videos to sculptures and paintings. The exhibition took place in one of Bolivia's most important non-commercial art spaces, Centro Cultural de España en La Paz (CCELP).
Luciano Calderon's solo exhibition Street Dreams in Germany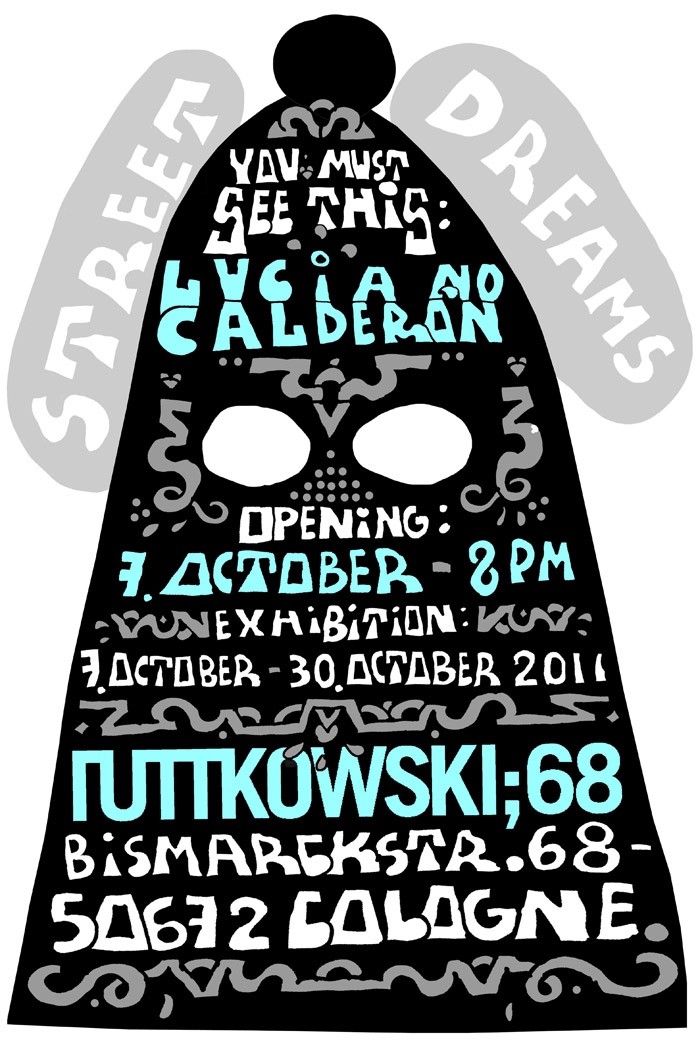 Public Delivery presents Luciano Calderon at Ruttkowski68 in Cologne, Germany. The exhibition opens on October 7th, 2011 at 8 pm. The exhibition is on display until October 30th, 2011.
About the exhibition
Coming from the ghetto of Villa 31 in Buenos Aires, Luciano Calderon (b. 1985) is showing new works on canvases. The exhibition is on display from the 7th until the 30th of October.
Calderon utilizes primitive figures and outspoken graphics in his artworks. Having both a foreigner's and a native's perspective, he is heavily influenced by the extreme contrasts of growing up in both the clean and calm Swiss capital, Bern, and the grimy but lively ghetto of El Alto, Bolivia. Calderon obtained a degree in graphic design in 2007 and continued to travel between Europe and South America; living, working in and drawing inspiration from both worlds.
His recent works show that Calderon exceeds simple comments on his and his friends' lives and reveal his perspective as an empathetic observer. He comments on sociological and political issues, sometimes obvious and nasty but sometimes also subtly, like in "Hormigón armado, 2010" ("armed ant"), which is an abstract portrait of a homeless person named after the newspaper of street children of La Paz, Bolivia. Another element of the work of Calderon is his usage of typical South American typography, inspired by the pixação from Brazil or the tattoo style of the notorious Mara Salvatrucha, as well as patterns, inspired by traditional Bolivian art and everyday objects.
Calderon lives and works in Villa 31, the most well-known informal estate located in Downtown, Buenos Aires. After several fruitless attempts to transplant the inhabitants to the outskirts of the city, it's now in the process of being transformed from a slum to a "regular" district.
Video trailer
2min 21sec
Photos