Archive: Barbara Kruger
Our top 10 from Art Basel Switzerland 2017
Since being introduced in 2000, Art Basel's Unlimited section shows artworks such as large-scale sculptures, video installations and performances that may not fit in the traditional art-booth framework. This is our top 10 selection of this year's Unlimited. All comments on the works below are citations from Gianni Jetzer, the curator of Unlimited (2017).
Nick Cave

Nick Cave – Speak Louder, 2011, mixed media including black mother of pearl buttons, embroidery floss, upholstery, metal armature
Photo: Public Delivery
Entire busses in major cities wrapped in prints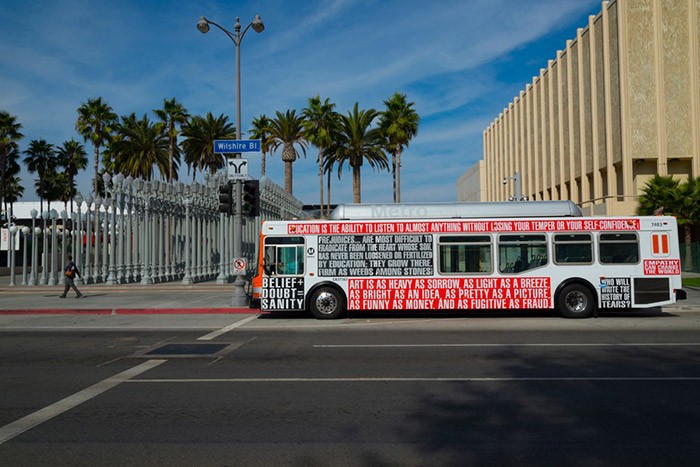 Barbara Kruger – School Bus, 2012, Los Angeles, CA
Photo: Steve Cohn Photography
Barbara Kruger wrapped a school bus, addressing the importance of arts education in Los Angeles public schools. Her work is universally known for its bold, eye-catching design, and philosophical themes. The artist's project for Arts Matter, a philanthropic organization, rendered in Kruger's signature style, addressed directly and urgently the importance of education, especially in the arts. Kruger's statement, Art is as heavy as sorrow, as light as a breeze, as bright as an idea.. emphasizes the fluid nature of art. At the same time, Kruger stresses that art remains a crucial, indispensible part of a successful educational system. School Bus also references an earlier bus wrap Kruger created for New York City's Public Art Fund in 1997 (photo below).
About Barbara Kruger
Barbara Kruger is an artist based in Los Angeles and New York and is one of the most renowned contemporary artists working today. For over three decades her work has encompassed a broad spectrum of contexts and scales, ranging from publication inserts to immersive installations that involve text, images, and video. Kruger's work has appeared in museums and galleries worldwide.

Barbara Kruger – School Bus, 1997, New York City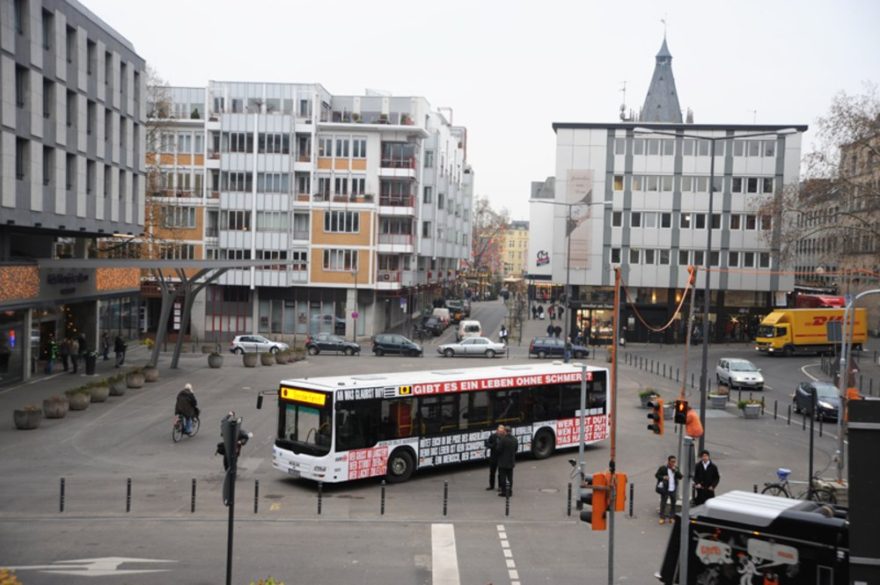 Barbara Kruger – School Bus, 2013, for Museum Ludwig, Köln, Germany