Archive: Barbara Kruger
What font is used in Barbara Kruger's art?

Barbara Kruger – Untitled (Your body is a battleground), 1989
Introduction
Barbara Kruger's art is easily one of the most recognizable on the planet. Characterized by the bold white Futura1 Oblique and sometimes caps locked sans serif, her artwork forces audiences to take a hard look at the institutions that she satirizes. Both direct and political, her art is designed to question the modern political and democratic process while challenging societal notions of sexism, consumerism and corruption.
Our top 10 from Art Basel Switzerland 2017
Since being introduced in 2000, Art Basel's Unlimited section shows artworks such as large-scale sculptures, video installations and performances that may not fit in the traditional art-booth framework. This is our top 10 selection of this year's Unlimited. All comments on the works below are citations from Gianni Jetzer, the curator of Unlimited (2017).
Nick Cave

Nick Cave – Speak Louder, 2011, mixed media including black mother of pearl buttons, embroidery floss, upholstery, metal armature
Photo: Public Delivery
Barbara Kruger wrapped entire buses in her iconic prints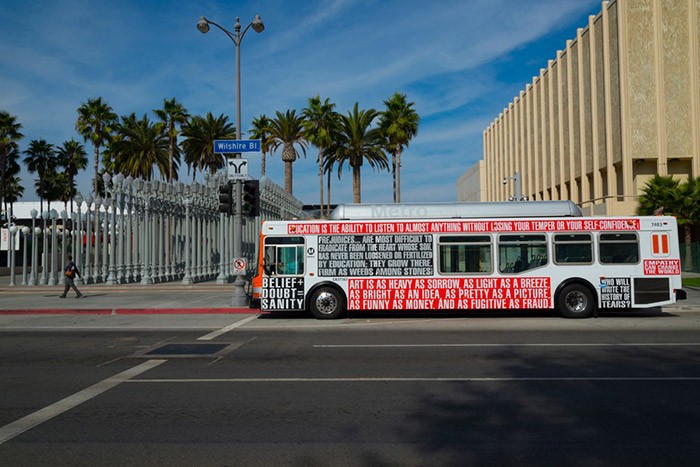 Barbara Kruger – School Bus, 2012, Los Angeles, CA
Photo: Steve Cohn Photography
Why did Kruger wrap these buses?