Archive: Art in Canada
They quickly disappeared: Andy Goldsworthy's four massive ice sculptures at the North Pole

Andy Goldsworthy – Touching North, 1989, North Pole
Andy Goldsworthy's installed sculptures at the North Pole
In 1989, Andy Goldsworthy created four massive snow rings at one the most remote place on Planet Earth, the North Pole. These ephemeral sculptures marked the position of the North Pole and were built around it. Through any of the four sculptures, the direction will always be south.
The material was cut and built in the white on white environment. The artist learned snow-cutting and packing techniques from a traditional indigenous source, an Inuit based in the Ellesmere Island, Canada's third-largest island, the 10th-largest island in the world and the most northerly island in the Arctic Archipelago. In winter 1989, before leaving for the North Pole, he wrote: "It belongs to no one — it is the Earth's common — an ever changing landscape in which whatever I make will soon disappear."
Andy Goldsworthy (b. 1956) is a British sculptor, mostly known for his site-specific sculptures and land art. He lives and works in Scotland.
Photos

Andy Goldsworthy – Touching North, 1989, part 1 out of 4, North Pole

Andy Goldsworthy – Touching North, 1989, part 2 out of 4, North Pole

Andy Goldsworthy – Touching North, 1989, part 3 out of 4, North Pole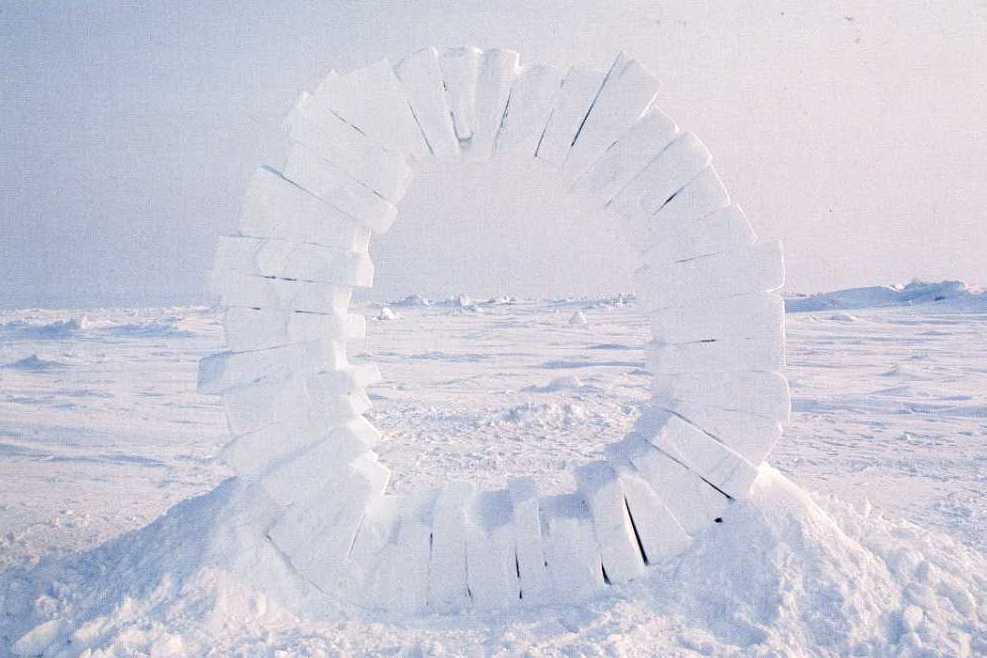 Andy Goldsworthy – Touching North, 1989, part 4 out of 4, North Pole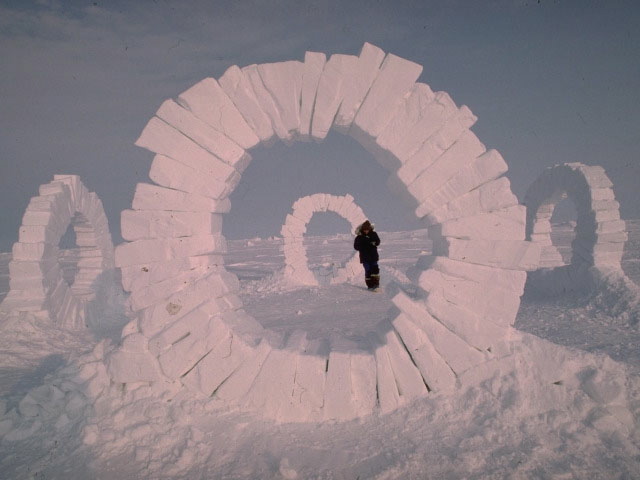 Catalog

Andy Goldsworthy: A Collaboration with Nature
If you love Andy Goldsworthy's work, you'll love this book
(affiliate link)
Jaume Plensa's stunning larger-than-life sculptures
Jaume Plensa is arguably one of the top sculptors today. He is largely known for creating huge-sized ethereal sculptures, and has also worked with different other types of contemporary art media, including from acoustic installations to video projections.
Posted in
Blog
Tagged

Art in Austria, Art in Brazil, Art in Canada, Art in Chicago, Art in Germany, Art in Italy, Art in New York, Augsburg, Calgary, England, façade art, Frankfurt, Jaume Plensa, Palm Springs Art Museum, Pappajohn Sculpture Park, Place Vendôme, public art, Salzburg, San Gorgio Maggiore, Schaezlerpalais, sculpture, Seattle Art Museum, Toledo Museum of Art, Venice, Venice Biennale, Yorkshire Sculpture Park
Leave a comment
Yue Minjun & The infectious power of laughter

Yue Minjun – Untitled, stainless steel sculpture, 95x197x143cm
Yue Minjun was born in Daqing in Heilongjiang, China in 1962. For most of his life, Yue moved from place to place, because his family had to move from oilfield to oilfield to find work. Before starting to work as an electrician, he graduated from Hebei Normal University in 1989, where he studied oil painting. 1989 was the same year in which China was left shocked by the infamous student-led demonstrations and the suppression of such on Tiananmen Square. These movements played a large part in the inspiration and mood of Yue's work. In order to fight the dark mood of the hour, the dark reality of the time, he created vibrant self-images embodying an almost mania; The laughing image.
Posted in
Blog
Tagged

1989, 2005, 2009, 2010, 2011, Art in Beijing, Art in Canada, Art in China and by Chinese artists, Art in Hong Kong, Chatsworth House, Chinese modern art, Cynical Realism, Harbour City, LongHouse Reserve garden, Milwaukee Art Museum, public art, sculpture, Terracotta Warriors, Tiananmen Square, Today Art Museum, Vancouver, Yue Minjun
Leave a comment