Archive: Tiananmen Square
One of the most disgusting performance pieces ever made – Zhang Huan

Zhang Huan – 12 Square Meters, 1994, single channel video, 3min 2sec, documentation of a 40-minute performance
Introduction
Zhang Huan is no stranger to controversy. Having attended school at a time when China was undergoing a dramatic time in its history, Zhang learned a lot from the years of protests and demonstrations that would be staged in front of the Tiananmen Square in Beijing. As an avid fan of Avant-garde art, Zhang did not really have adequate resources at his disposal that would allow him to execute his artistic vision. As such, and not surprisingly, Zhang decided to change the way he expressed himself by adopting a more provocative and transgressive form of performance art, which was later photographed and documented.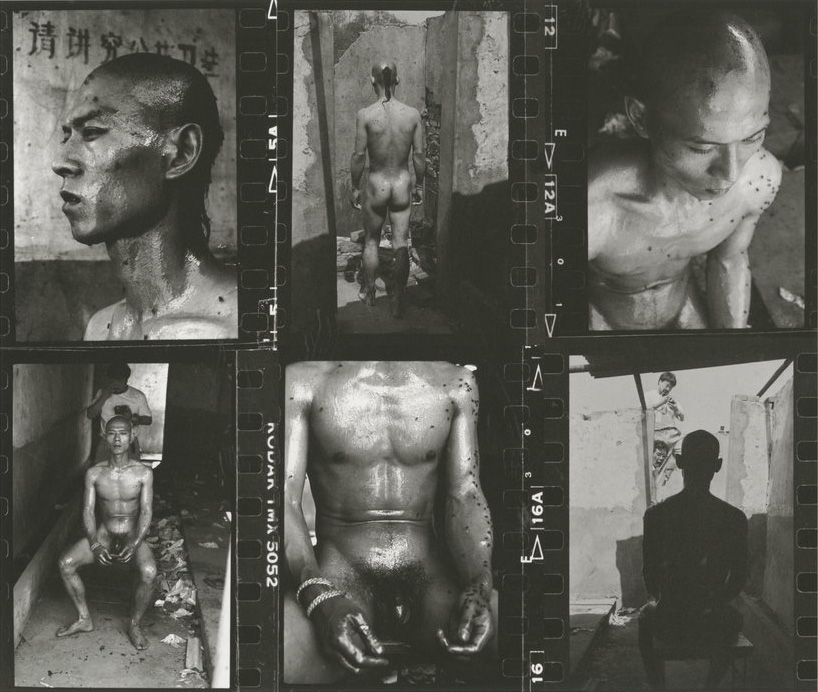 Zhang Huan – 12 Square Meters, 1994, documentation of a 40-minute performance
Yue Minjun & The infectious power of laughter

Yue Minjun – Untitled, stainless steel sculpture, 95x197x143cm
About Yue Minjun & his inspiration
Yue Minjun was born in Daqing in Heilongjiang, China in 1962. For most of his life, Yue moved from place to place, because his family had to move from oilfield to oilfield to find work. Before starting to work as an electrician, he graduated from Hebei Normal University in 1989, where he studied oil painting. 1989 was the same year in which China was left shocked by the infamous student-led demonstrations and the suppression of such on Tiananmen Square. These movements played a large part in the inspiration and mood of Yue's work. In order to fight the dark mood of the hour, the dark reality of the time, he created vibrant self-images embodying an almost mania; The laughing image.
Posted in
Blog
Tagged

1989, 2005, 2009, 2010, 2011, Art in Beijing, Art in Canada, Art in China and by Chinese artists, Art in Hong Kong, Chatsworth House, Chinese modern art, Cynical Realism, Harbour City, LongHouse Reserve garden, Milwaukee Art Museum, public art, sculpture, Terracotta Warriors, Tiananmen Square, Today Art Museum, Vancouver, Yue Minjun
Leave a comment
Ai Weiwei gives world his middle finger

Ai Weiwei – Study of Perspective, Tiananmen, 1995-2010, C-Print, 32,5×43,5cm
Overview
Ai Weiwei is a Chinese artist and activist. He has been vocal and openly critical of the Chinese government's stance on democracy and human rights. His work has captured global attention and served to bring attention to social injustices, human rights violations and systemic violence.