Luciano Calderon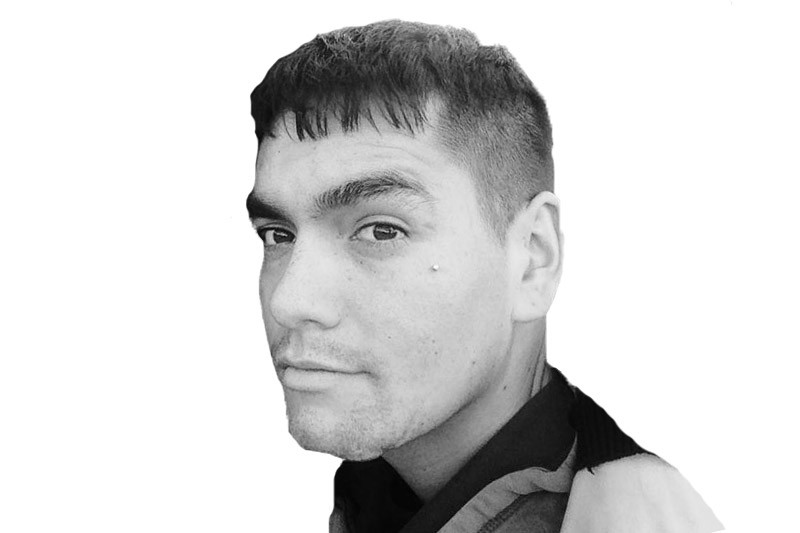 Luciano Calderon (b.1986) is a painter based in Switzerland and Bolivia. Calderon's work addresses what he has observed in the world around him. His adolescent years were divided between the pristine Swiss capital Bern and the grimy but lively ghetto of El Alto, Bolivia. The extreme contrast of cultures he was surrounded by sharpened Calderon's sociological view, giving him both a foreigner's and a native's frame of reference.
His work exceeds commenting on the life he and his friends lead; it reveals his perspective as an empathetic observer of the cross-cultural social dynamics he is emersed in. He represents the social and political issues, like gentrification of urban neighborhoods and police corruption, through images and text, often boldly headlining the painting with these statements.
He utilizes exaggerated figures and outspoken graphics to express his feelings of isolation from society and mistrust of the law. Calderon subtly weaves a clever subtext into the image in other works, as seen in Hormigón armado, 2010 ("armed ant"), an abstract portrait of a homeless person, named after the newspaper of street children of La Paz, Bolivia. The typography he references is typical to South America, inspired by the pixação from Brazil and the tattoo style of the notorious Mara Salvatrucha; he also looks to the bright and bold style of traditional Bolivian weaving and craft, referenced in his color palette and patterns.
Although often dark and politically weighted, Calderon presents his work through a playful lens, using bright colors and overstated features of the subjects to add an element of satire to the artwork.
With Public Delivery
Exhibition El Choco, 2013
About
El Choco
was the first major solo exhibition by Swiss-Bolivian artist
Luciano Calderon
, showing new works, ranging from installations to paintings. It took place at the most modern and most important Bolivia non-commercial art space, the
Centro Cultural de España en La Paz
, in the capital city La Paz.
Exhibition Counterparts, 2012
About
Counterparts
was a group exhibition at the prestigious non-commercial art space
Forum Kunst Rottweil
in Rottweil, Germany in 2012. It featured works by
Hendrik Beikirch
(DE),
Luciano Calderon
(CH/BO) and
Nils Müller
(DE) and was one of the most frequented exhibitions at the non-commercial art space, founded in 1970, that has established a reputation for exhibiting world-renowned artists throughout its 40-year history.
More
Exhibition Street Dreams, 2011
About
Luciano Calderon's much anticipated first solo exhibition in 2011 in Germany.
More
From the blog