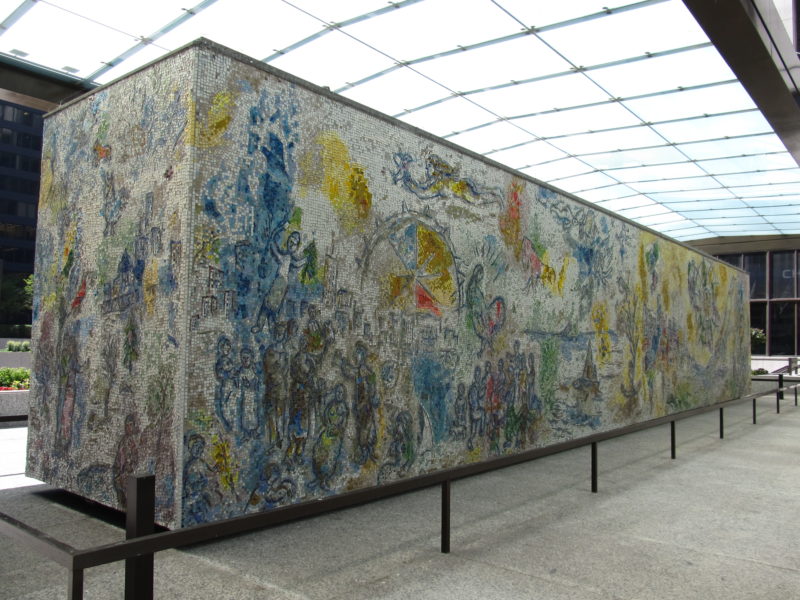 Introduction
Chicago is a bustling city with numerous buildings. In the midst of all the bustle is one magnificent landmark: Marc Chagall's Four Seasons mosaic.
Located in front of the Chase Tower Plaza, the mosaic spans over a 70-feet (21-meter) length and wraps around a rectangular support. In its dazzling display, themes of nature emerge from the imagery of animals and figures amid the lush colors.
Plan & construction
What makes Four Seasons even more dramatic as a public art treasure is the dedication with which Marc Chagall showed in crafting this intricate masterpiece. It is composed of thousands of inlaid chips. These chips feature over 250 vibrant colors, making the masterpiece one of the most colorful public art displays. During construction, Chagall brought over to Chicago stones from all over the world through his studio in France.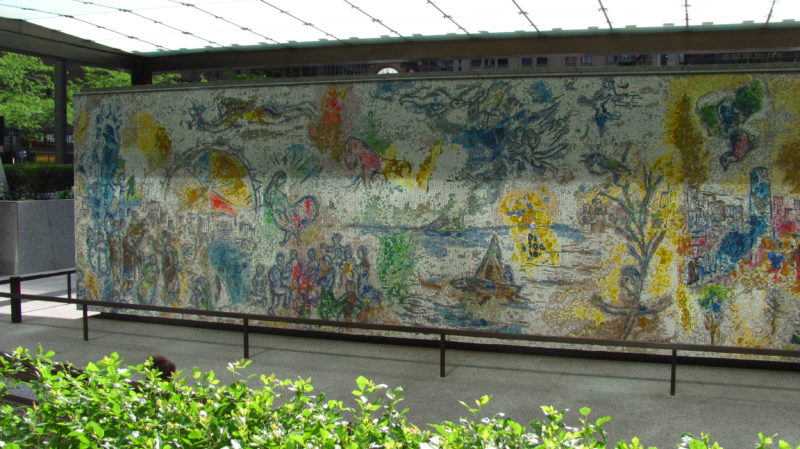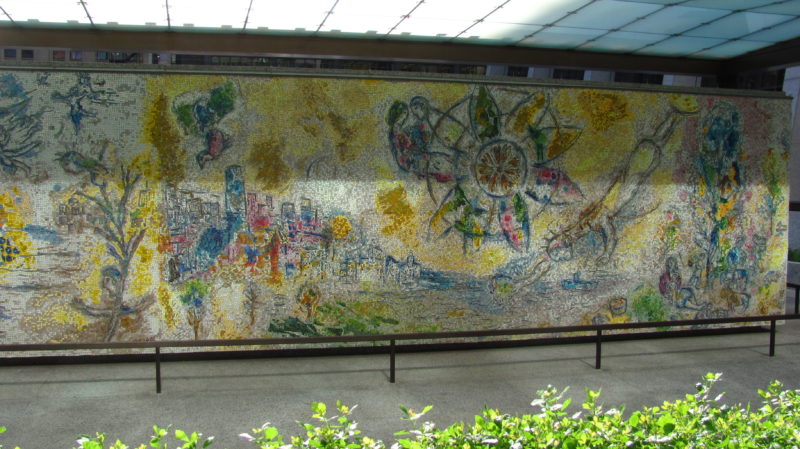 Marbles were gathered from places such as Belgium and Italy. Chagall also sourced granites from Norway and Brittany, brick stones from Chicago, green stones from the mines of Solomon and finally, from Paris and Venice, he got exquisite stained glass. Based on a model of the rectangular box in Chicago, he used all these materials to make about 128 panels in his studio, which were then transported via sea and air to Chicago.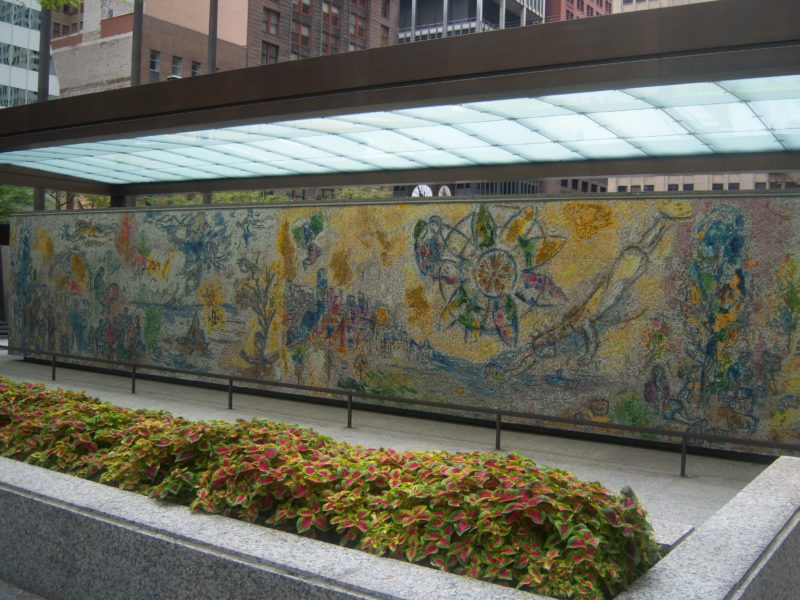 The installation process was lengthy, taking Chagall's craftsmen Michel Tharin and Alain Devy months to join and install the panels outside Chase Tower Plaza. Chagall came in to oversee the finalization of the mosaic and commission it, finally dedicating it to the people of Chicago on the 27th of September, 1974.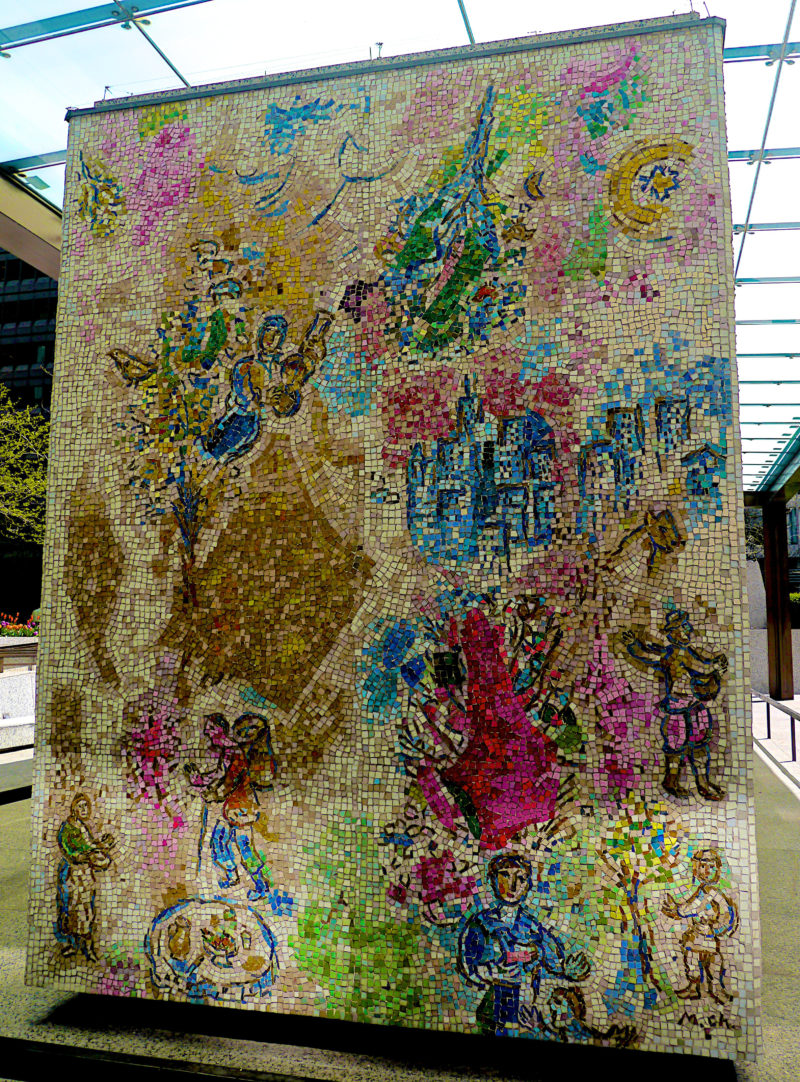 Why 'Four Seasons'?
Aside from the stones and glass that make up Four Seasons, the installation displays Chicago motifs. The mosaic is in six scenes around a rectangular four sides, measuring 21 meter long by 3 meter wide and rising to a height of 4.3 meter. Chagall didn't forget to sign his artwork. If you look closely, you can discover his signature six times in the entire piece.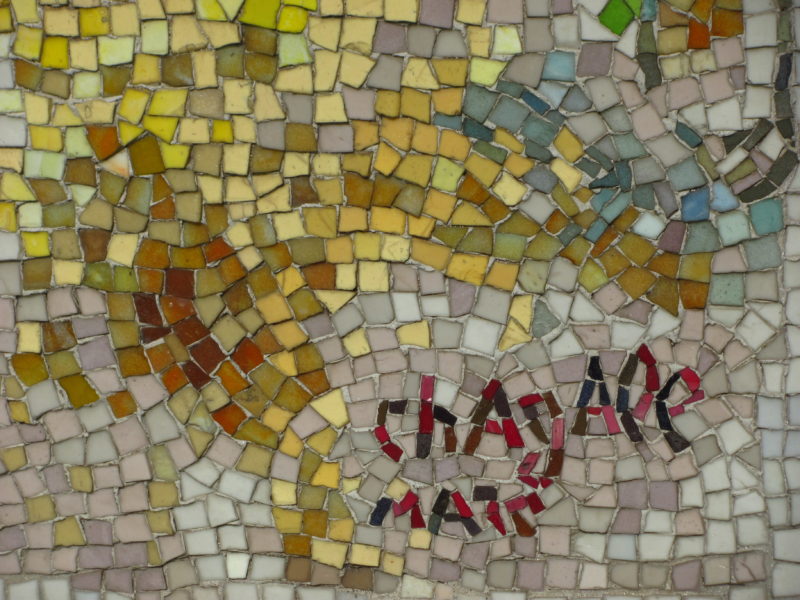 The Chicago scenes displayed on the rectangular mosaic show the state in every season. For instance, the winter scene is a depiction of a mother lovingly cradling her toddler on her lap, while the spring season shows a young lady dancing joyously. On the other hand, summer in Chicago is portrayed as Chicagoans having a beautiful picnic underneath sunshine. Finally, autumn is a depiction of a harvest.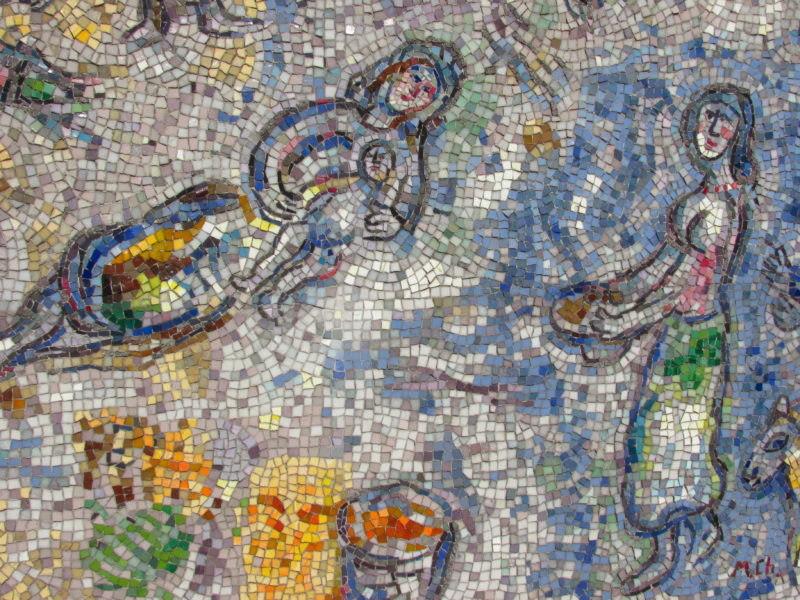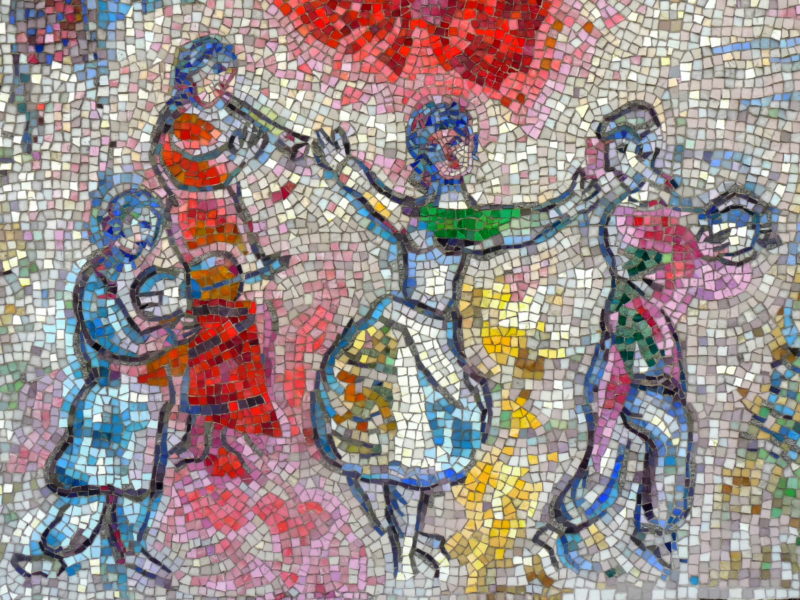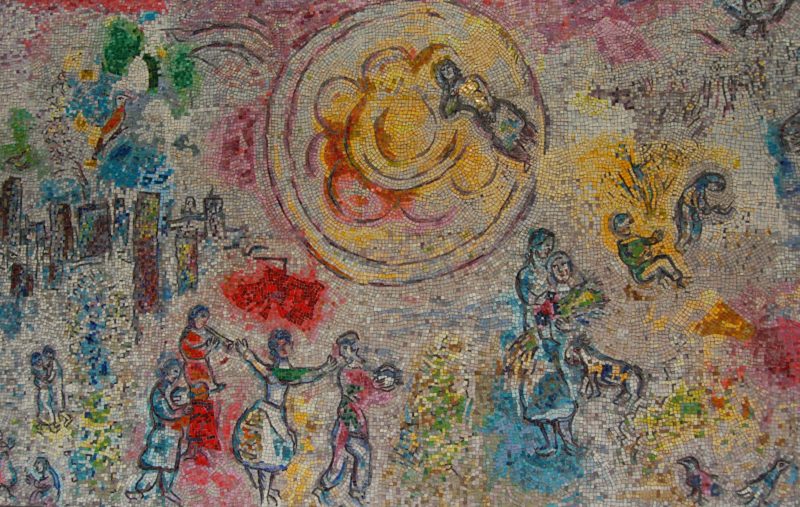 Besides the 'Chicago in every season' scenes, there are also numerous other motifs associated with the state, such as a Ferris wheel depicting the 1893 World's Columbian Exposition's spinning centerpiece and a cow in a stockyard.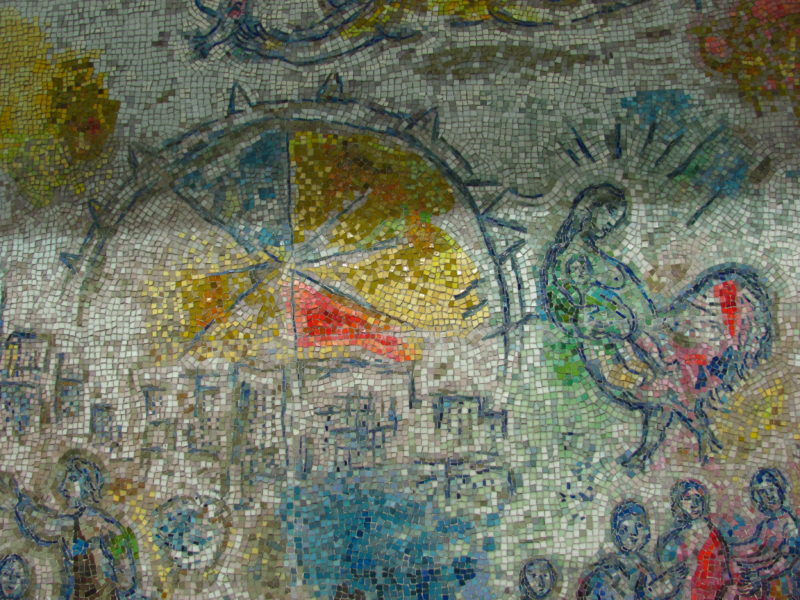 He depicted all these using his 'floating' figures technique as a way of adding a surreal feel to the scenes. Other imagery in the mosaic piece includes birds, flowers, sun, fish, lovers and the sky, which seek to reference simple village life as well as city skylines.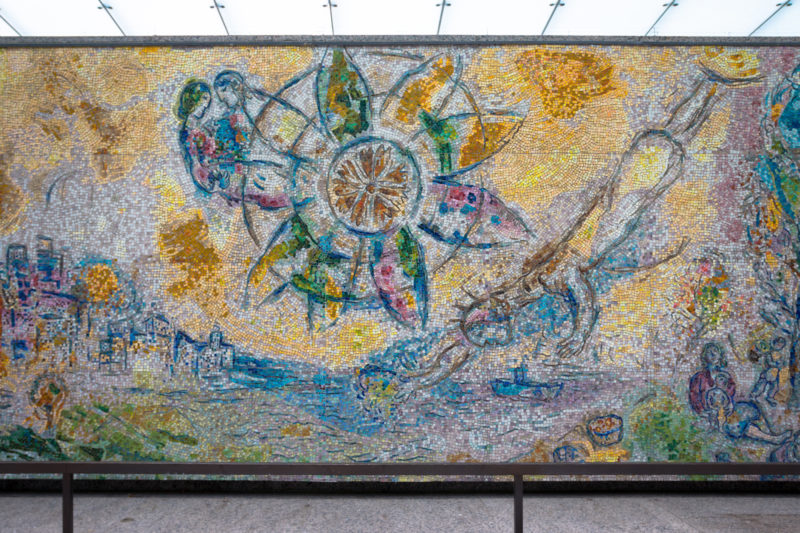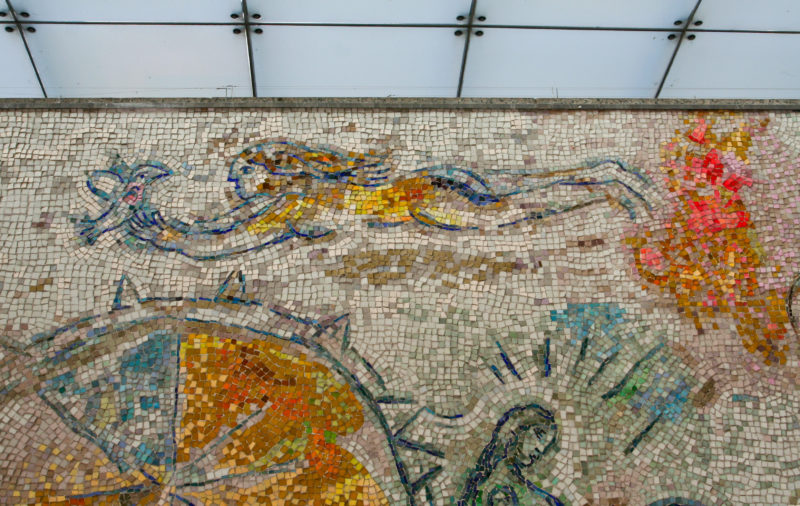 Speaking about the artwork in the 1974 documentary The Gift: Four Seasons Mosaic of Marc Chagall1 (see below), the artist said:
I chose the theme of the four seasons because I believe there will be many people going through this plaza in the heart of the city of Chicago. In my mind, the four seasons represent human life, both physical and spiritual, at its different stages. I hope that the people of Chicago will feel the same emotion that I felt when doing this work.
Needless to say that this unique work is not only art for art's sake but also a symbolic and literal depiction of the state of Chicago, which gives locals a sense of belonging while displaying some aspects of Chicago to visitors who are curious about it.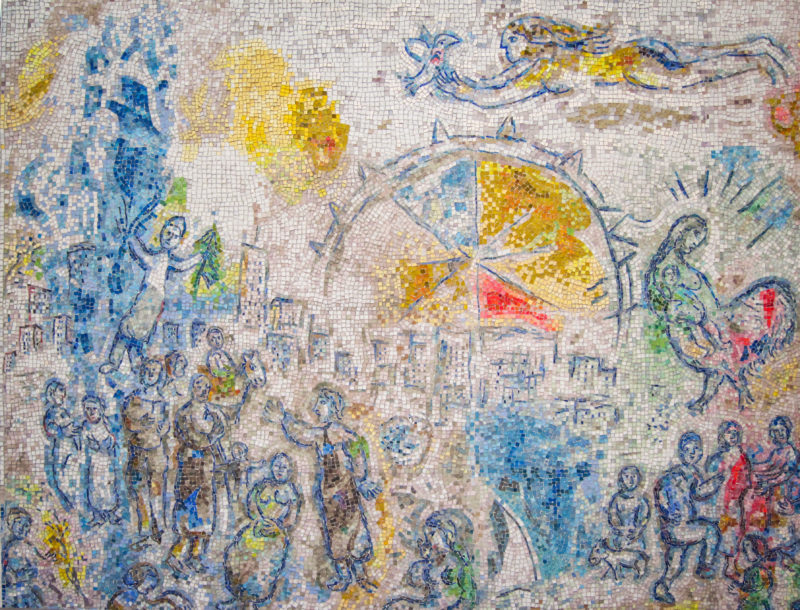 Vandalism & protection
Initially, the installation was not sheltered from weather elements. However, in 1994, the city of Chicago installed a protective glass canopy after the mosaic panels were restored over a period of two years.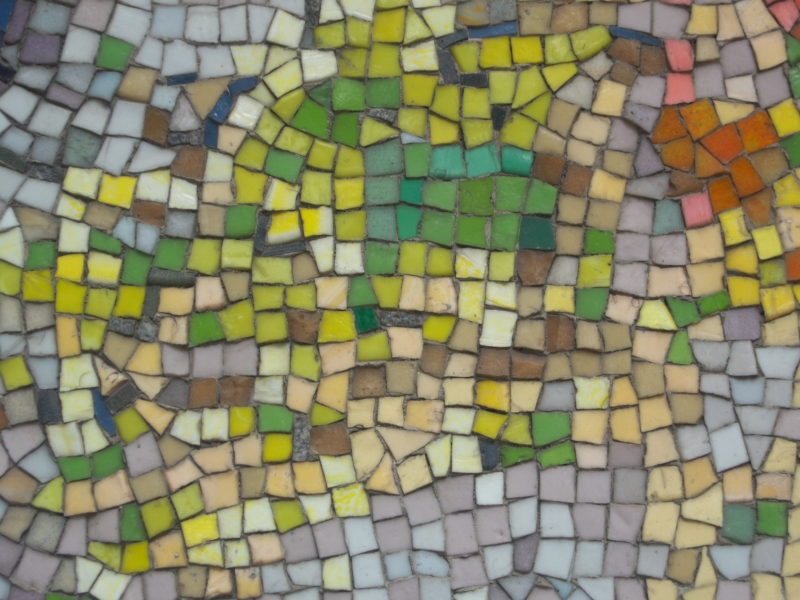 To maintain this intricate public art installation, a maintenance schedule was created. Today, the mosaic is inspected four times a day for graffiti, cleaned annually and undergoes major restoration every five years. Ken Bartman, building and grounds manager of Chase Tower, admitted2 that the artwork "periodically" gets vandalized. However, according to him, it is "not as common as you might think", thanks to a surveillance system.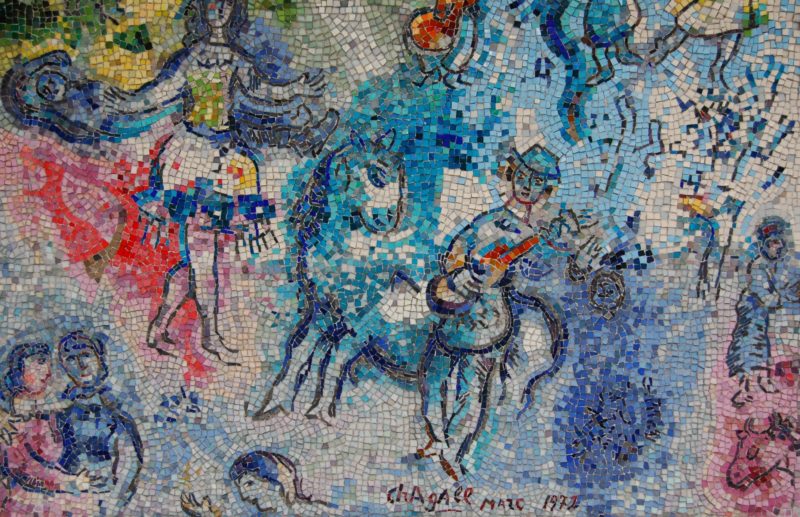 Not only is the mosaic great to look at but also, it forms a great environment for people to sit down and enjoy the view. With granite benches surrounding it, visitors can have a rest and snack as they admire the mosaic, making it a colorful picnic site.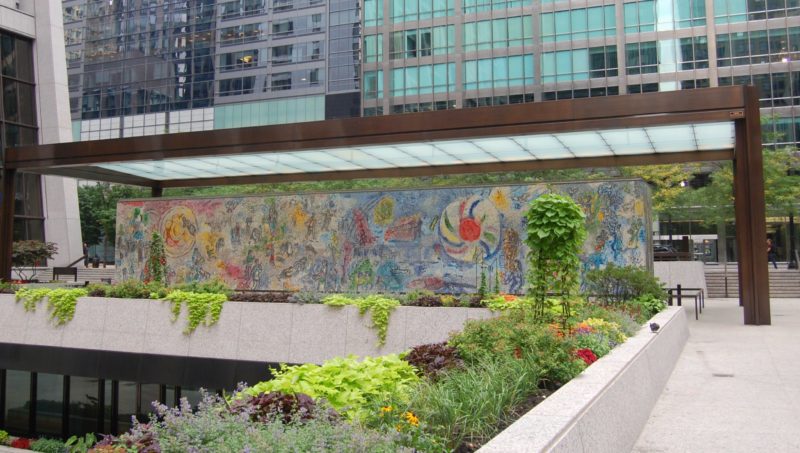 Location
Address: 10 S Dearborn St, Chicago, IL 60603, USA
Hours: 24/7
More iconic sculptures in Chicago
Chicago is home to more impressive sculptures, the major ones all conveniently within walking distance, located in The Loop, Chicago's CBD. In 1967, the Chicago Picasso3 was installed two hundred meters away from Four Seasons at Daley Plaza. One month after Chagall, Alexander Calder's 35-ton steel sculpture Flamingo got unveiled in the Federal Plaza.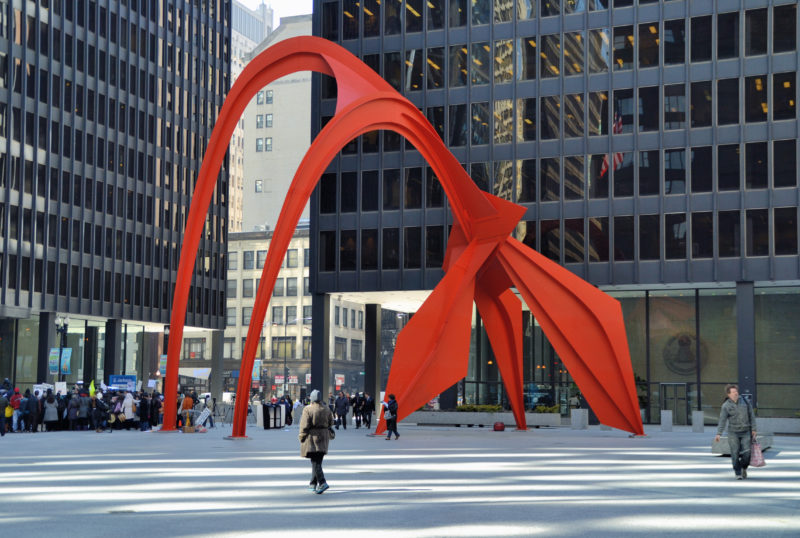 Joan Miró's Chicago was installed in 1981 in Brunswick Plaza, again in close proximity. Jean Dubuffet's monumental Monument with Standing Beast was installed in 1984. Just a few blocks away, you can find Anish Kapoor's most iconic work, Cloud Gate (2006), also commonly known as The Bean and Jaume Plensa's Crown Fountain4.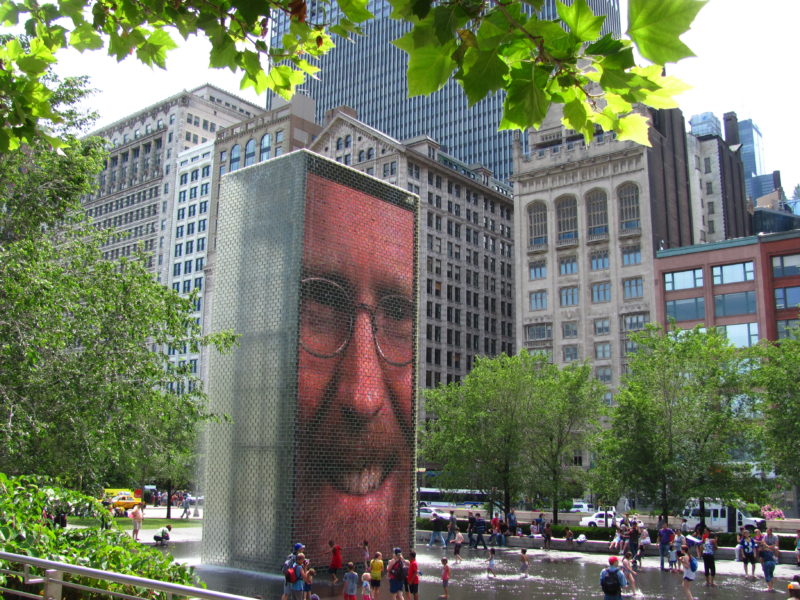 About Marc Chagall
Born in 1887, Chagall had an impressive career. However, he had a difficult childhood as he was born in near poverty in Russian Empire's Belarus. At 24 years, Chagall fled Belarus to enter Paris. Later, he lived in the United States during World War II and here, he became an influential Modernist artist. Chagall drew inspiration from Picasso's Cubism and the Fauvism movement by Matisse to create his art.
He also infused his art with Jewish elements, clearly coming out in the rectangular box mosaic. Besides being a renowned painter, Chagall was also a creator of ceramics and stained glass. One of his best-known works dealing with ceramics, stones and stained glass is, of course, Four Seasons.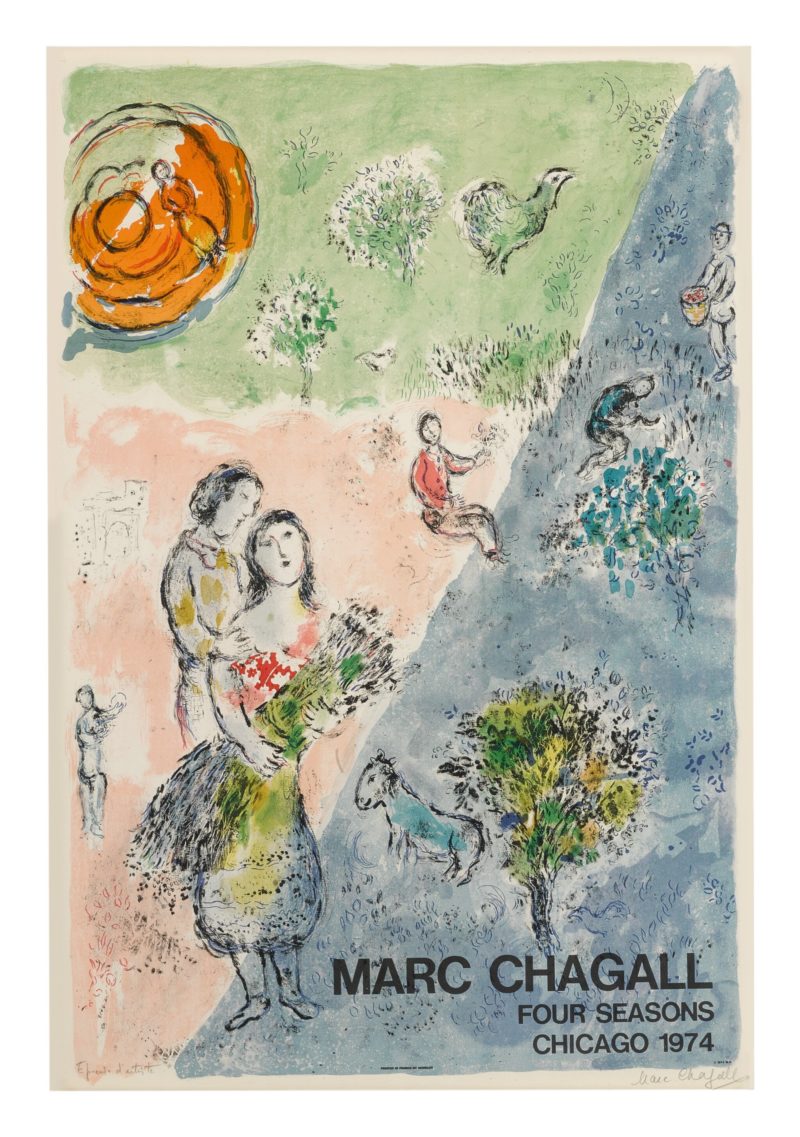 While Chagall has created several large-scale mosaics, including for the Knesset in Jerusalem, his museum in Nice and the University of Nice, Four Seasons is not only one of his last but also one of his most beautiful and impressive mosaics.
More by Marc Chagall
Footnotes