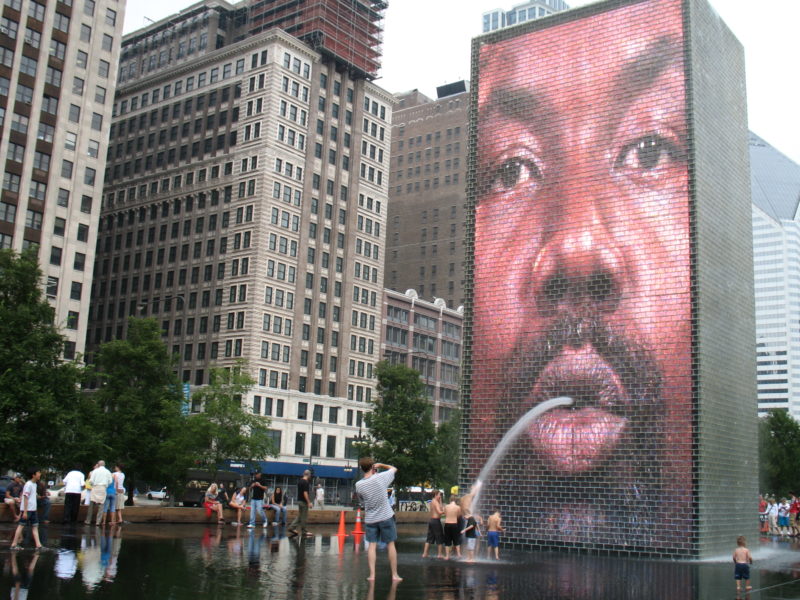 Introduction
Within Chicago's Millennium Park stands an interactive piece of art that the public never seems to have enough of. Designed by Jaume Plensa, a Catalan artist, the fountain is an illustration of how creativity and technology can mingle to form an enchanting piece of work.
Crown Fountain
The work, which was unveiled in July 2004, was executed by Krueck and Sexton Architects1 and in it, they use black granite which gives the illusion of a pool. The pool on which visitors stand is an area of space that separates two towers made from glass. Each one of the towers is 50 feet tall and LEDs are used on their surfaces to display inward faces developed by digital videography.
Mixed reaction & controversy
Residents marvel at such a symbolic installation living amongst them. For its value as an entertainment piece, the Crown Fountain appears to live up to its cost of $17 million. This appreciation was not always there, as some people, long before it was built, argued that its towering height would negatively affect the traditional aesthetics of the town. Further controversy would emerge after its completion when surveillance cameras were fitted at the top. These were, however, quickly removed, at least so that people would feel free.
Meaning of the work
One of the most impressive features of the Crown Fountain is the power it gives back to humanity. People have traveled far and wide to connect with this piece of art for a chance to walk on water and listen to the sound of it falling. The use of human faces as images on the towers from where the water pours indicates the coexistence that should exist between human beings and nature. There are benches where visitors can sit. The fact that they are positioned to face each other emphasizes the reality of peace when people communicate and genuinely care about each other.
Why name this work Crown Fountain?
Plensa chose the name to pay tribute to the Crown2 and Goodman families who for a long time had tried to redefine the meaning of public space.
Videos
Wading in Millennium Park's Crown Fountain by Jaume Plensa
Crown Fountain - by Jaume Plensa at the Millennium Park
Conclusion
Plensa's use of video technology is a unique concept and more so for work that is supposed to impact the lives of people from all walks of life. At a personal level, the Crown Fountain is a thought provoker for Plensa and he admitted in a 2006 interview with Sculpture magazine that the tension that this project produces draws them closer to each other.
Location of Crown Fountain
Address: Millennium Park, 201 E Randolph St, Chicago, IL 60602, USA
Hours: Daily from 6 am to 11 pm
More by Jaume Plensa
Footnotes