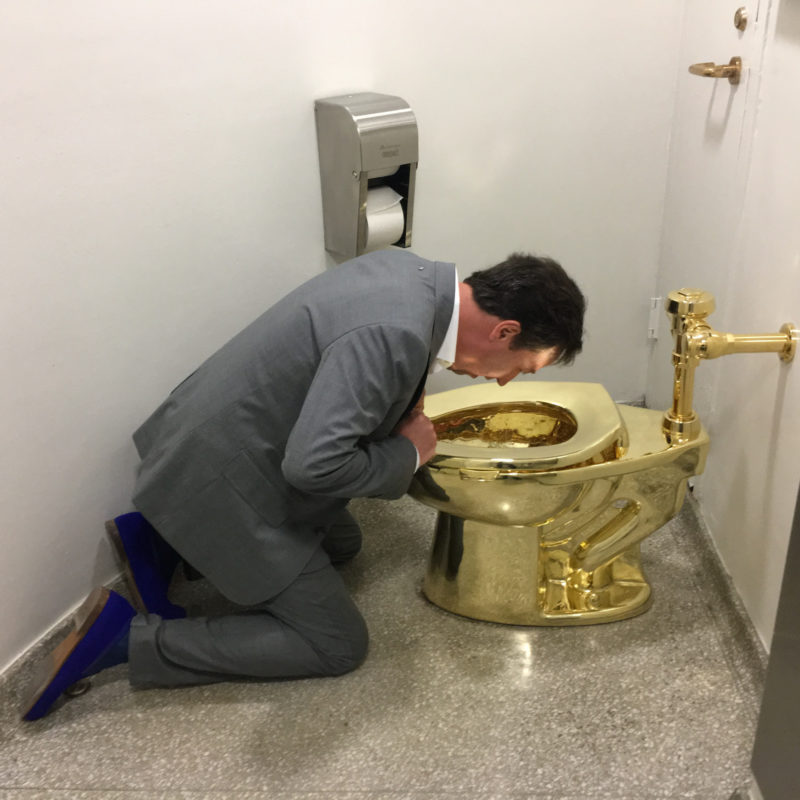 Who is Maurizio Cattelan?
Maurizio Cattelan is an Italian artist born in 1960 in Padua, Italy. His career in sculpting and art began way back in the 1980s through the making of wooden furniture. This was in his home country, but soon he mainly immersed himself in creating controversial sculptures whenever he could. Some have described his work as "post-Duchampian", referencing French artist Marcel Duchamp.
In the broad art scene, he might be the biggest joker out there. Cattelan slowly transitioned from wooden works to paintings to wax sculptures and those of stone and other heavy, durable materials. He even dubbed in the publishing and curating sector of the art world in the period of 2005 – 2010.
Style
His works are mostly satirical and ironic and always full of humorous twists. The art makes a great comedy of different systems of order and governance, whether social or political. Themes and motifs from the prior art and various cultural sectors are much used in his works to help portray his messages.
Maurizio's ability to create captivating works both astonished and motivated his audience and colleagues to always keep up with his progress. The use of puns and humor led him to be a worldwide sensation as he significantly uses the media to drive his points across to the general audience.
One great controversial work was the La Nona Ora of 1999, where he made a life-like wax sculpture of Pope John Paul getting hit by a meteorite. The statue stirred up quite a ruckus in the religious circles but didn't deter him from going on ahead with his crazy art designs. Other satirical works include; Him of 2001, L.O.V.E. of 2010 and his most recent and quite controversial so far, America of 2016.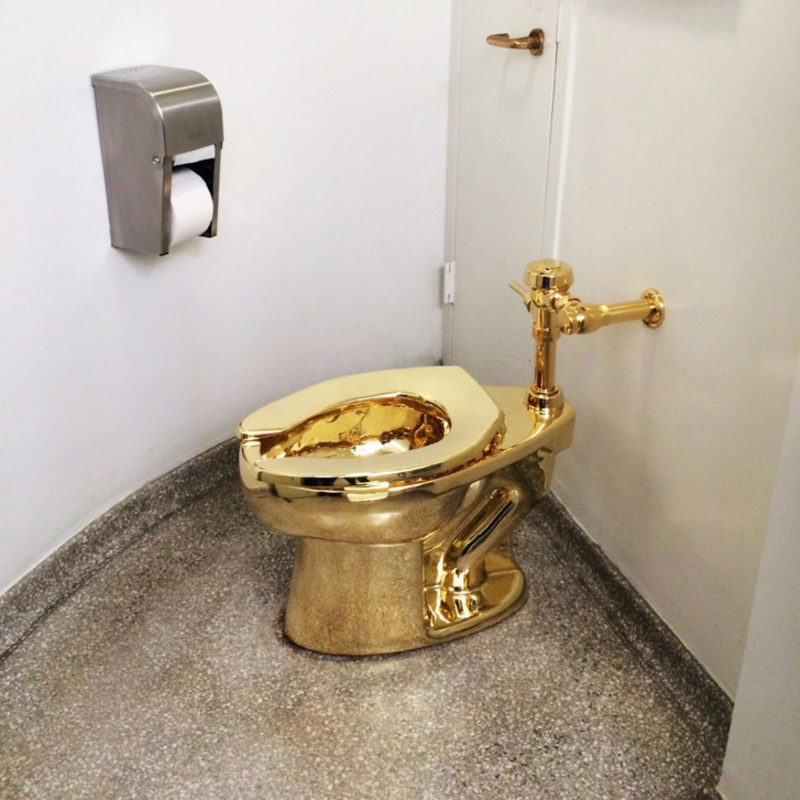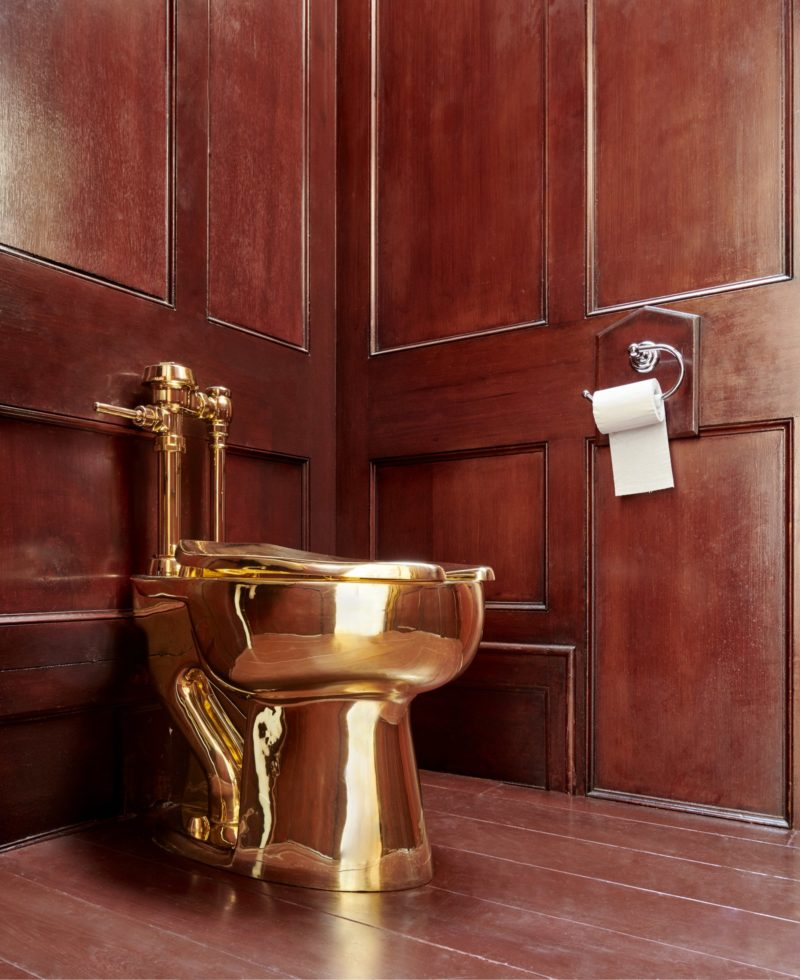 America
This work came after the artist had declared his decision to retire from art making back in 2015. The time off stirred up his artistic touch into creating an 18 karat, fully functioning solid gold toilet.
The golden toilet was for the Guggenheim museum in New York, but later found its way to Blenheim Palace in the United Kingdom, where it was reported stolen in 2016. The masterpiece was received with quite a stir in the United States as Cattelan said it represented and expressed the excess wealth in the country. Having its debut in the public scene coinciding with Trump's candidacy for president sparked even more talk of this piece.
The America piece expressed how, in modern times, the overly rich and the poor ultimately connect toilet-wise. This work was last estimated to be worth almost $6 million, but Maurizio Cattelan refused to comment on this or even the cost of producing the sculpture.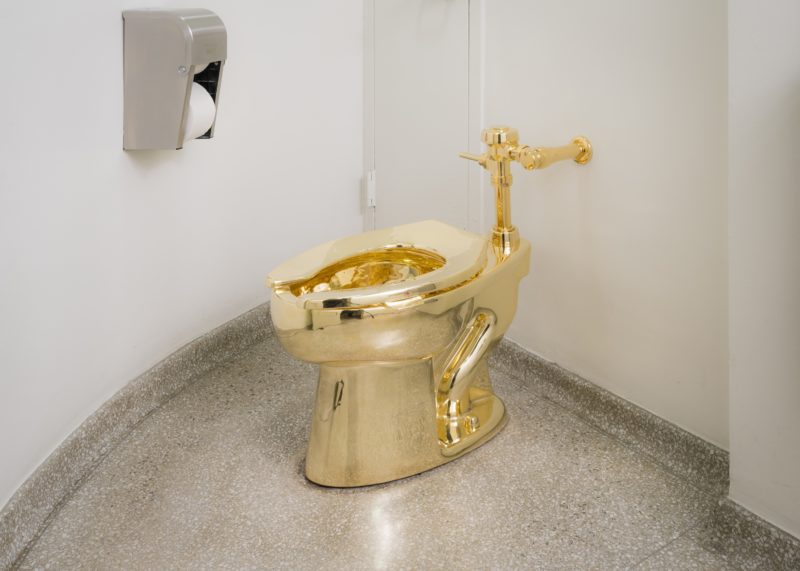 Theft
On 14 September 2019, America was stolen from the Blenheim Palace. The precious work was removed from its place by using brute force, causing flooding to the World Heritage Site.
More
More by Maurizio Cattelan