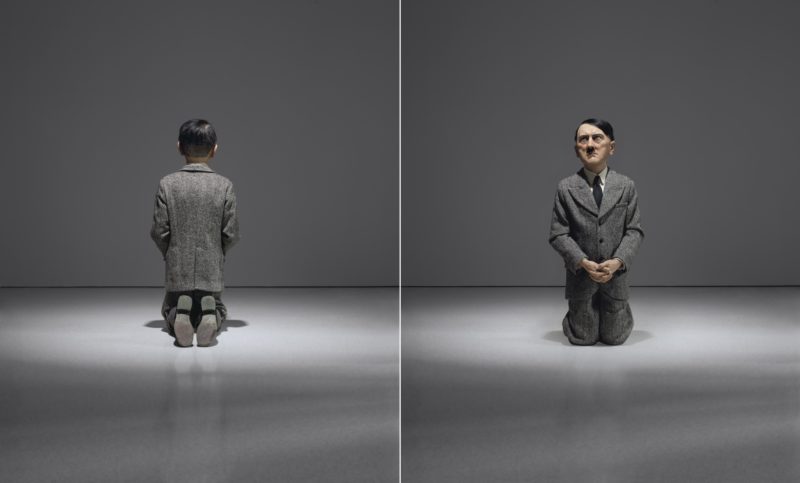 Adolf Hitler on his knees
How much penance do the atrocities that Adolf Hitler committed in his lifetime require to be forgiven? This is perhaps the question which Maurizio Cattelan wanted to arouse in his audience when he drew a picture of the fascist leader in a kneeling position.
There is nothing wrong with someone kneeling in prayer. In fact, it is an aspect of humanity that keeps us humble. With this in mind, it is hard to imagine that the person seeking forgiveness exercised untold torture on fellow human beings. If approached from behind, one cannot help but marvel at the self-discipline and commitment that this young boy eludes.
It is not until one gets close enough that they realize that the neatly pressed schoolboy attire, fresh raven hair and well-polished shoes actually belong to a leader whose name still raises goosebumps in the present day.
Why did Cattelan create this shocking piece?
Most of Cattelan's works are part soulful, part playful, and part autobiographical. The artists said that while growing up in his home village of Padua, he saw himself as an outcast trying to escape the poverty he was brought up with.
Cattelan's mother died when he was just 18 years, forcing him to start working early. He sold holy statues in a church but later was expelled after drawing a mustache on effigies of a saint. Cattelan worked for a short time as a nurse and at a morgue as an embalmer. But it was his time as a carpenter that got him into art.
We might never fully understand the inspiration behind Him, which, even in comparison to other works by Cattelan that were created at the same time, stands out as the most shocking piece on display.
In his defense, Maurizio Cattelan has distanced himself from provocative art but instead chooses to refer to himself as a realistic artist. By borrowing pieces of reality from different eras throughout history, he has created classics like Him.
To choose to use Hitler as the subject of an art piece is rather bold as he represents such profound evil that it is even hard to come to terms with. Is the dictator actually seeking forgiveness? Having lived like he was above God's authority, it does seem awkward yet humbling that he would kneel.
People do not like to be judged because they feel that all their actions are justifiable and this artwork contradicts this very nature of humanity. For as many, as questioned the sincerity of Hitler in this assumed praying position, the lingering question is whether he deserves to be forgiven.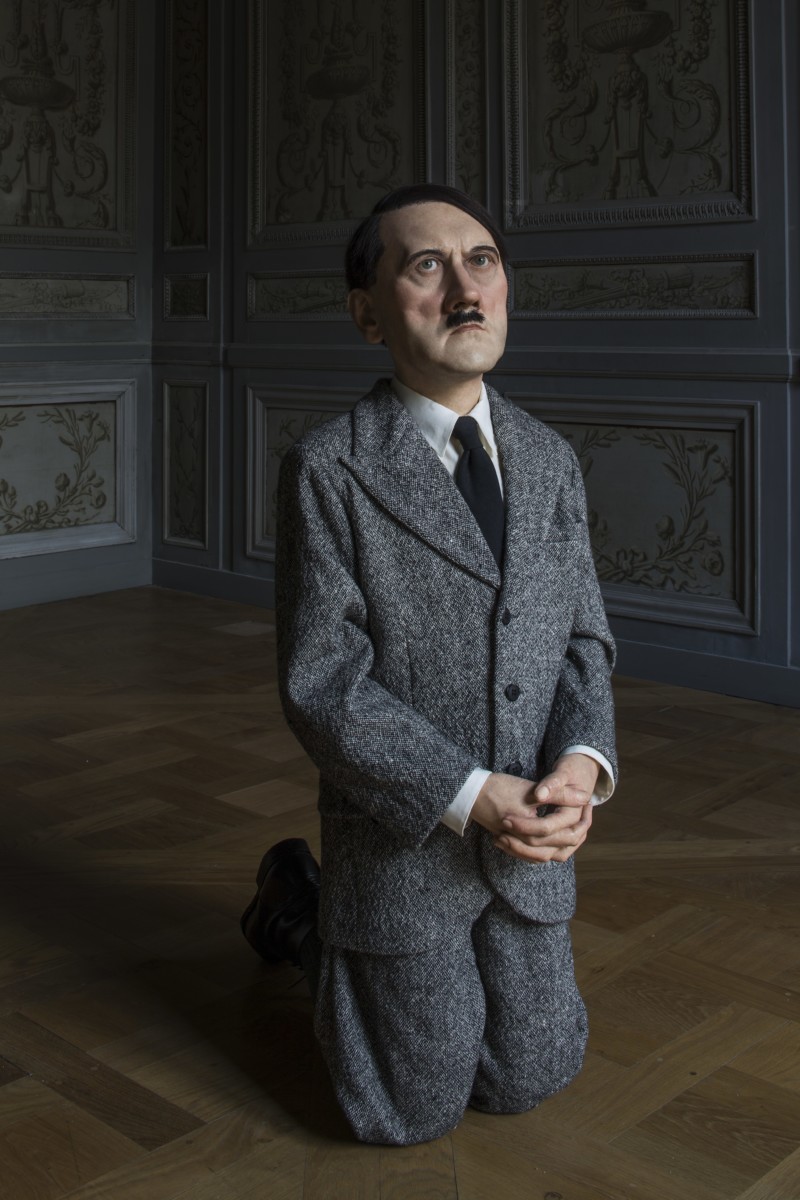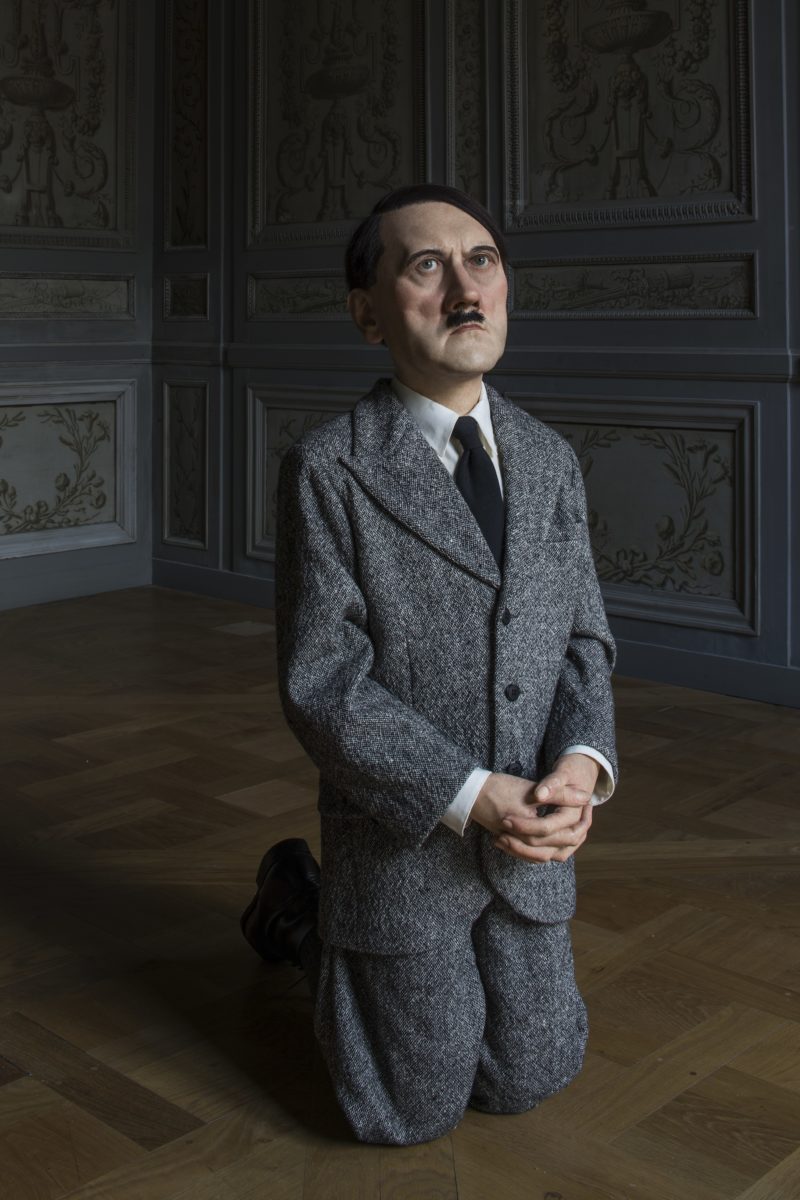 Video preview
Maurizio Cattelan on the Nature of Evil
Him sold for $17.2 million
Him has definitely aroused its fair share of controversy; Hitler is the epitome of human suffering and pain inflicted by one's own kind, so it can be quite disheartening to fathom him walking free of any blame.
From the rear, this picture of a small boy kneeling in prayer causes one to appreciate the boy's upbringing so far. Hitler is no young man, neither is he innocent and the face, when viewed from the front, gives this away.
Everybody seems to have a different opinion of why the artist chose to do this piece, but the record $17.2 million at Christie's in 20161 for his work is proof enough that the artist created a masterpiece.
Recognition & Awards
Despite all controversy, the artist has received many recognitions, including a finalist at the Hugo Boss Prize in 2000 arranged by Hugo Boss Prize. Cattelan was also in 2004 awarded an honorary degree in Sociology from the University of Trento, Italy.
In the same year, he received the Arnold Bode prize from the Kunstverein Kassel, Germany. To add to his collection of awards was the career prize – a gold medal, he received from the 15th Rome Quadriennale.
While most contemporary artists gain their status mainly through their intermediaries and lots of museum exhibitions, Cattelan's infamy has come primarily from the quirky exhibitions he holds and how successful his artworks are at auction.
More by Maurizio Cattelan
Footnotes