Who is Gilbert & George?
The artist duo of George Passmore and Gilbert Proesch – famously known as Gilbert and George – is undoubtedly one of the most long-standing and prolific collaborations of the post-conceptual art era. Perhaps the pair is best recognized for its wall-to-wall, colorful paintings, such as The Tuileries (1974).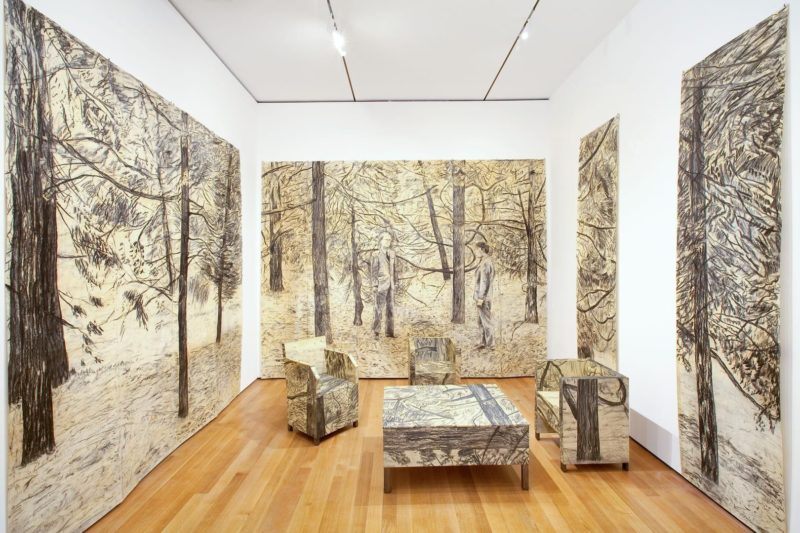 Living Sculptures
Gilbert and George - Singing Sculpture Excerpt
However, what ultimately put Gilbert and George on the map is their signature performance art, Living Sculptures. In this work, the two artists painted all over themselves in metallic makeup and started roaming around the streets of London, mimicking sculptures.
Video: Gilbert & George speak about the Singing Sculpture
Singing Sculptures (1969)
Living Sculptures is the first kind of living or performance art conceived by Gilbert and George in 1969 when they were students at the St. Martin's School of Art in London. It's what it sounds like. The two covered their faces in bronze paint before walking around London streets as they danced and performed a repetitive series of actions.
In 1970, the pair performed Singing Sculpture for the first time at the Nigel Greenwood Gallery. Instead of wandering through London's streets, Gilbert and George performed on top of the table, making robotic moves and dancing to Underneath the Arches. Wildly popular in pre-World War II Britain, this is a 1930s song about some homeless people (grudgingly called tramps) who spend cold nights sleeping under railway arches during the Great Depression.
Between 1970 and the early 1990s, Singing Sculpture was reenacted numerous times across the globe. It usually lasted about 6 minutes, but in some long-form versions, it went on for eight or more hours.
In some ways, the performances of Gilbert & George are somewhat semi-autonomous, much like what mime, automata, and puppet artists do. Their work, however, became quite controversial, diving the audience, something the duo doesn't shy away from.
Even still, Singing Sculpture was a notable turnaround at the time when artists were getting their feet wet in non-traditional art forms. In fact, the big idea behind Singing Sculpture was to break down the barrier between artists and art.
In this work, Gilbert and George were both the artists and the art. More specifically, the artists drew a parallel to pre-WWII Britain, a period in which many people lived in abject poverty and were grossly marginalized by the elite.
In an interview in 1992 the artists said1:
At some point, we realized the absurdity of much of twentieth-century art: that the artist chose language that appealed only to a certain class of people, from a certain city, from a certain country; and as soon as these words were taken out of context, they would be immediately null and void. You wouldn't even be a work of art anymore. We want art that we can show everywhere, to everyone. She must come out of life. We call it "democratic" more and more often now.
Video: Gilbert & George: The Early Years
Gilbert & George: The Early Years | ARTIST STORIES
About the Artists: Gilbert and George
George Passmore was born in 1942 in England, while his artist half, Gilbert Proesch, was born a year later in Italy. The duo has been active in the performance art scene for more than five decades, creating life-and-art works that "scream for attention."
Footnotes