Archive: 2016
Surprising freestanding waterfall at famous French landmark

Olafur Eliasson – Waterfall, 2016, crane, water, stainless steel, pump system, hose, ballast, Chateau de Versailles, Versailles, France
Photo: Anders Sune Berg
In his 2016 work on the Versailles waterfall, Olafur Eliasson made displacements and destabilization which have changed the perceptions people had about the famous landmark. Before he began his work, he approached the Chateau and gardens of Versailles to experiment whether the project was implementable. His work didn't involve installation of objects, but rather coming up with an apparatus which kept visitors engaged. The erection of the 'waterfall' in the Grand Canal where a surge of water rushes down a crane standing tall in the air turned into a major tourist attraction. This installation was inspired by Louis XIV's landscape architect André Le Nôtre who had a vision of creating a waterfall in the palace gardens, but he passed on before he did it.
Artist makes US-Mexico Border Wall disappear

Ana Teresa Fernández – Erasing the Border – Borrando la Frontera, 2012, Playas de Tijuana, Mexico
Ana Teresa Fernández, an artist born in Tampico, Mexico who studied in San Francisco, California and Lausanne, Switzerland, is known for her ability to make a powerful statement. Her statement is especially strong when it comes to the politics of space and place.
Her piece, "Erasing the Border" is one of her most commanding works in which alongside a number of other artist, residents, students and activists, she led an attack against the Mexico-US border wall, with the goal of "erasing" sections of the border. Sections of the fence were painted by Fernández to match the vast sky so that when viewed from afar there is the illusion of gaps in the fence. This appearance of a broken link, a useless border, is an effective statement on the arbitrary concept of borders separating place from place.
Fernández has been erasing the border wall in her series of installations "Borrando la Frontera" (Erasing the Border), beginning in 2011, where she erased a wall in Tijuana, Baja California. Prior to this she did a series of performance pieces near the border. She chose to use her art to breakdown the jail bars that impeded the sight of those in the border town by allowing people to see what it would look like if the bars didn't run down the beach breaking up the scenery. From a distance the landscape is continuous, not broken apart by the intrusive fence.
As word of her work began to spread, more and more artists, locals, and border organizations wanted to be part of her project. They too wanted to make a statement, and wanted to see the sections of border fences erased in Texas and Arizona. Texas and Arizona were politically charged sites in particular as they have recently passed a series of severe anti-immigration laws and vigilante militias enacting violence and inciting fear at the border. The work of Fernández is especially meaningful now, as there is a new president-elect, Donald Trump, who has built a winning campaign around threats to extend and raise the wall to block immigrants. Thus, her work becomes an even more powerful statement, in how she opens up the border and unlocks our imaginations, bringing us to a more open and inclusive world; one where we do not fear our neighbors and try to keep them away.
At her most recent event, groups came to the three sections of the fence in Mexicali, Baja California; Agua Prieta, Sonora, and; Ciudad Juárez, Chihuahua to erase the border. Groups from both Mexico and the U.S came to each site at the same time, as a planned attack, and began to paint and erase the fence. This unified people on both sides of the divide, effectively making the purpose of the fence (to separate people) mute.
Through her work, Ana Teresa Fernández proves that art is an effective political tool, a weapon even. One that can bring people together, bring freedom, and make a remarkable statement.

Ana Teresa Fernández – Erasing the Border – Borrando la Frontera, 2012, Playas de Tijuana, Mexico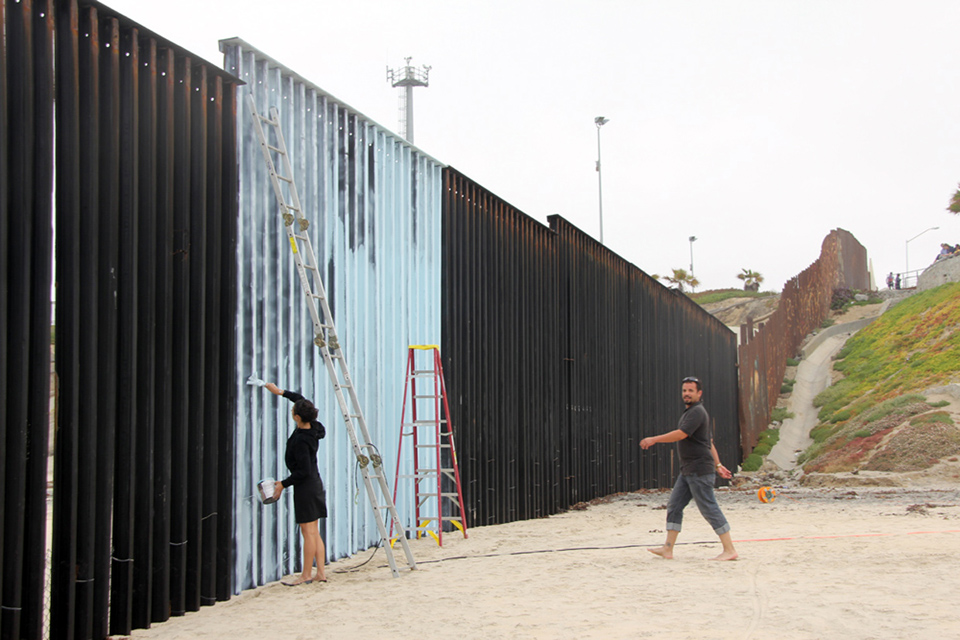 Ana Teresa Fernández – Erasing the Border – Borrando la Frontera, 2012, Playas de Tijuana, Mexico

Ana Teresa Fernández – Erasing the Border – Borrando la Frontera, 2016, Mexicali, Mexico
(Photo: Sandy Huffaker / Reuters)

Ana Teresa Fernández – Erasing the Border – Borrando la Frontera, 2016, Mexicali, Mexico
(Photo: Sandy Huffaker / Reuters)

Ana Teresa Fernández – Erasing the Border – Borrando la Frontera, 2016, Mexicali, Mexico
(Photo: Sandy Huffaker / Reuters)

Ana Teresa Fernández – Erasing the Border – Borrando la Frontera, 2016, Mexicali, Mexico
(Photo: Sandy Huffaker / Reuters)

Ana Teresa Fernández – Erasing the Border – Borrando la Frontera, 2016, Mexicali, Mexico
(Photo: Sandy Huffaker / Reuters)
Posted in
Blog
Tagged

2012, 2015, 2016, Ana Teresa Fernandez, Art in USA, border, invisible, Mexicali, Mexico, Nogales, performance art, Tijuana
Leave a comment
Conversation with the artist / librarian who has turned a library into an artwork (exclusive interview)

Andrew Beccone – Photo Credit: Phil America
Andrew Beccone is an artist with a master's degree in Information and Library Science and the founder of the Reanimation Library, a collection of carefully selected books. I caught up with Andrew during his residency at the Queens Museum Studio Program. While there have been remote temporary iterations in cities across the US and the World, this museum is the library's current home. When I first met Andrew, I was eager to hear his thoughts on building a space that encourages participation and collaboration. My own work relies heavily on interacting with spaces and people in performative ways, and documenting the process. Andrew has taken documentation (specifically books that are often deemed worthless in today's age, that have particularly interesting imagery) and placed them into a context that alters their meaning and value, encouraging people to interact with the content. I've been fascinated with the idea of creativity transcending the boundaries that we as a culture place on it, and was interested to hear how he merged the two worlds of fine art and books.

I first wanted to talk about your project, the Reanimation Library. I guess the first question, the starting point, is can you summarize the project in one sentence?
A library of 'outdated' books collected for their visual information.
So when you say 'outdated' what do you mean?
I put 'outdated' in quotes because the longer I spend working on this project, and it's been about 14 years now, the more I've started questioning that word. There are some very specific ways in which the word 'outdated' works. There are books that I collect that you may not want to consult for treating some kind of disease because the book was written 30 years ago and since then we've learned more about that disease and how to treat it. So there is something about the currency of information that can become outdated but at the same time books are a snapshot of the time and place that they were produced so they are archival by nature. Therefore it is hard to consider these books outdated in the sense that I still see a lot of value in them. Obviously for me the main attraction to starting this project, the main reason I still select books, is primarily for their visual information but if you start reading these books as well there is a lot of interesting things to take away. From a sociological standpoint and from a historical standpoint.
That is what is so interesting to me. It represents something. It is so indicative of that moment in time. What years do these books represent?
The bulk of it falls between the 1940's to the 1970's. I have some things as early as the 1890's up to the 1990's but the majority is from that time span.
When you look at it a lot of the information is outdated, to use that word, and it somehow becomes relevant because of the fact that it is outdated.
Right. There are plenty of libraries that will have, say, a history of psychology collections, right? There is a history of a subject and our understanding of a subject usually changes over time, so these kinds of collections are important. The Reanimation Library happens to be a weird version of that because I am not trying to be completist about any subject but you will see certain subjects repeated and well represented. That tends to be more a function of the subject itself; does it rely on visual information or not? There are plenty of subjects that are not included in this library because they don't rely on imagery.
Like what?
Philosophy. Literature. International Law.
So every book has images?
For the most part. There is a sub-collection over there with the orange labels (Andrew points to a section of the library). That's called the 'text and symbol collection', and it exists primarily because there are books like this out there (he hands me a book). It is called A Million Random Digits.
The entire book is numbers.
Random digits.
In some way it is still visual, right?
This is visually interesting to me, even though it doesn't contain images. I am also interested in translation, and the relationship between text and image, and languages themselves. I like collecting foreign language books. Even if I can't read a given language, I can generally have a sense of what the book is about through its images. And I am interested in things like this (he hands me another book).
Is this a book about braille?
For the sighted. There is no braille in there at all, just braille patterns. So who is this book written for? It is a really strange book. It doesn't contain images, but it has a certain visual quality that somehow occupies a space between text and image. And I have books on shorthand – a strange writing system made primarily for clerical work. You look at it and they just look like markings, but you put enough of them together and you start to make an image.
Absolutely. I think even if it is only text it is somehow still an image.
Right, it is a visual representation. I mean, they function in different ways but I don't think they are quite as separate as we often think they are.
So you have done it how many places? How many separate libraries have you done?
I have set up 16 branch libraries
And all temporary?
Yes. The branch I did in LA is potentially permanent. I first set it up in Joshua Tree at High Desert Test Sites and then it moved to LA at Monte Vista Projects. We left the books out there because one of the people that I worked on those projects with, Aurora Tang, is interested in establishing a more permanent library out there. I'm open to it, but I don't necessarily need it to happen. I also don't need the books back here immediately, so we will see. For the most part though, yeah, they are all temporary. In terms of the process, I go to the city that invited me to do the branch and I start from there. I source all the books from there. I would usually exhibit work that people have created from the library and work with artists from the hosting city, so we need somehow to get materials to them ahead of time so they can start to respond. It is a really cool way to see cities. To go there and find books.
Especially when you step outside the U.S., or at least outside New York City or other big cities that are changing so fast. I'm sure it is a lot easier to find the books.
Well, it's funny because people are always telling me they imagine how great New York must be for getting books but actually it is quite awful. One good thing is that you find lots of piles of discarded books on the street, but thrifting in New York is a joke.
Oh, I am sure. It is nearly impossible to find good stuff.
Smaller places like Joshua Tree and Portland, Maine were incredible.
I have been to both and to thrift stores or antique shops in both and it is incredible.
Yeah – amazing.
So it being temporary has no importance to you? Do you have a preference?
Branch libraries have all taken place in art spaces, within an exhibition structure, which is fine with me. If this thing in LA works out there is the logistical question of do I just give it away and say, "Here you go, start working on it"? What level of control do I try to maintain? How much can you really control something that is remote? At this point it has not been a priority to establish another permanent space. I feel like I have enough work just building and maintaining the collection here.
You select every book in here yourself? Nothing slips by you?
Right, I am the decider. (laughs)
So if it becomes something far away from you, you have to give up some of that control in order for it to grow.
So my friend, Aurura, who I was working with in Southern California, she contacted me and was very interested in the project and has a very good eye for the kind of material that I get. I went out there a couple times to set things up and she was collecting stuff too. She collected and let me decide. She found a lot of great stuff and about 70% of what she found I kept but I still definitely went through it. I am not quite ready to give up that aspect of that control. I very much think of it as a project that is inherently collaborative because when people are working in it they are working directly with my project. Sometimes I work very directly with them and that feels more visibly collaborative but even if someone is working in it and I am not involved in what they are doing, it still feels collaborative because they are building something out of this thing that I built. There is an interesting dynamic in the library that I have come to realize, which is that I have full control over the shape of the library, the look of the library, how I talk about the library but on the other hand I have almost no control over what comes out of it. In fact, I don't really need to know, or like, what comes out of it.
We could say that about anything, at the end of the day.
In a sense, yeah. For sure.
For me what is interesting is that you are bringing people together through collaboration but also creating something that people critically would question whether it is 'art' and what the true purpose of the work is.
To me this is a hybrid project. It is both a library and an artwork.
Did you intend it to be viewed in a fine art context?
It just emerged that way during the first couple years I was working on it. I was building my own collection of source material to make visual art with but after a few years I realized that I had I stopped making art and all of my art-making energy was going into creating the library. It felt like the same type of creative work, simply transferred to the library. That realization wasn't a crisis at all it was more like 'oh, this is the work.' The interesting thing about that is that the contemporary art world, for all the issues I have with it, has been incredibly open to the library. If you say, 'this is an art project or practice', the contemporary art world generally takes you at your word. It is a pretty open platform, where the idea of a library being an artwork is not so radical. The people that get freaked out by it are librarians. They don't like to think of it as a library. My mom was a librarian who is now retired. I am a librarian. I use Library Of Congress Classification. I catalog all of this stuff. There is a use-value aspect to it that allows people who come into this collection looking for something specific to find it if it is here. There are structures that libraries have built over many, many years that are quite effective for doing that. That is as much a part of the work as the creative process that goes into building this, so I fail to quite understand how it's not a library.
And I am sure also the other artists' work spawns from coming into this space.
And in that way it is actually not that different than any library because libraries are generative spaces. It may be more unusual for visual art to emerge from them, you may think more of writing as a product of libraries, but by their nature, libraries are generative. It is funny though, that the resistance comes from the librarians and not the art world.
I always see the people in the art world hypercritical if the librarians are worse, that is scary to me.
I think they are qualitatively different types of criticism. There is a hypercritical approach in the art world, but it seems like there is something categorically critical coming from libraries, as in "let's circle the wagons and load the guns" critical. The former seems like criticism informed by theory or fad, whereas the latter seems like criticism generated by existential fear. As a librarian myself, I have thought a lot about this. I have two ideas about this. The first is that I collect primarily the types of books that most libraries would get rid of, so in a sense the Reanimation Library is demonstrating the continued relevance of the material that a different library might weed from their collection, and so I could see how librarians might think that this is an implicit criticism of that practice.
Was that your intention?