Archive: Mexico
Watch the tremendous effect one book can have

Jorge Méndez Blake – The Castle, 2007, Bricks, edition of Franz Kafka's 'The Castle', 2300 x 1750 x 400 cm
The Castle by Mexican artist Jorge Méndez Blake, a mixed media conceptual artist, debuted in 2007. It featured a brick wall that was created by carefully arranging and stacking bricks over each other. The wall was made without mortar, and in the middle, a version of Franz Kafka's The Castle rested crushed by the extreme pressure of the bricks. Therefore, the entire length and width of the wall balanced precariously on the single hardcover book.
The border wall as you've never seen (and heard) it

Richard Misrach – Wall, Near Los Indios, Texas, 2015
When a writer or a composer creates a piece to tell a story, the imagination of the audience runs wild; people start envisioning the heroines and the villains and how they affect their attitudes and perceptions. The same applies to audiences when they view a piece of art or photograph for the first time; they create mental images and form opinions on what a piece means.
When artists combine two art forms, music and art, to create a piece, the result is nothing short of masterful. Photographer Richard Misrach and sculptor Guillermo Galindo, a joined forces to come up with Border Cantos, an art project accompanied by its own special sound and music.
Posted in
Blog
Tagged

Arivaca, Arizona, Art in California, Art in Texas, Art in USA, Big Bend National Park, border, Calexico, Guillermo Galindo, Jacumba, Los Indios, Mexico, Nogales, Ocotillo, Richard Misrach, Rio Grande, Tierra Del Sol
Leave a comment
Artist makes US-Mexico Border Wall disappear

Ana Teresa Fernández – Erasing the Border – Borrando la Frontera, 2012, Playas de Tijuana, Mexico
Ana Teresa Fernández, an artist born in Tampico, Mexico who studied in San Francisco, California and Lausanne, Switzerland, is known for her ability to make a powerful statement. Her statement is especially strong when it comes to the politics of space and place.
Her piece, "Erasing the Border" is one of her most commanding works in which alongside a number of other artist, residents, students and activists, she led an attack against the Mexico-US border wall, with the goal of "erasing" sections of the border. Sections of the fence were painted by Fernández to match the vast sky so that when viewed from afar there is the illusion of gaps in the fence. This appearance of a broken link, a useless border, is an effective statement on the arbitrary concept of borders separating place from place.
Fernández has been erasing the border wall in her series of installations "Borrando la Frontera" (Erasing the Border), beginning in 2011, where she erased a wall in Tijuana, Baja California. Prior to this she did a series of performance pieces near the border. She chose to use her art to breakdown the jail bars that impeded the sight of those in the border town by allowing people to see what it would look like if the bars didn't run down the beach breaking up the scenery. From a distance the landscape is continuous, not broken apart by the intrusive fence.
As word of her work began to spread, more and more artists, locals, and border organizations wanted to be part of her project. They too wanted to make a statement, and wanted to see the sections of border fences erased in Texas and Arizona. Texas and Arizona were politically charged sites in particular as they have recently passed a series of severe anti-immigration laws and vigilante militias enacting violence and inciting fear at the border. The work of Fernández is especially meaningful now, as there is a new president-elect, Donald Trump, who has built a winning campaign around threats to extend and raise the wall to block immigrants. Thus, her work becomes an even more powerful statement, in how she opens up the border and unlocks our imaginations, bringing us to a more open and inclusive world; one where we do not fear our neighbors and try to keep them away.
At her most recent event, groups came to the three sections of the fence in Mexicali, Baja California; Agua Prieta, Sonora, and; Ciudad Juárez, Chihuahua to erase the border. Groups from both Mexico and the U.S came to each site at the same time, as a planned attack, and began to paint and erase the fence. This unified people on both sides of the divide, effectively making the purpose of the fence (to separate people) mute.
Through her work, Ana Teresa Fernández proves that art is an effective political tool, a weapon even. One that can bring people together, bring freedom, and make a remarkable statement.

Ana Teresa Fernández – Erasing the Border – Borrando la Frontera, 2012, Playas de Tijuana, Mexico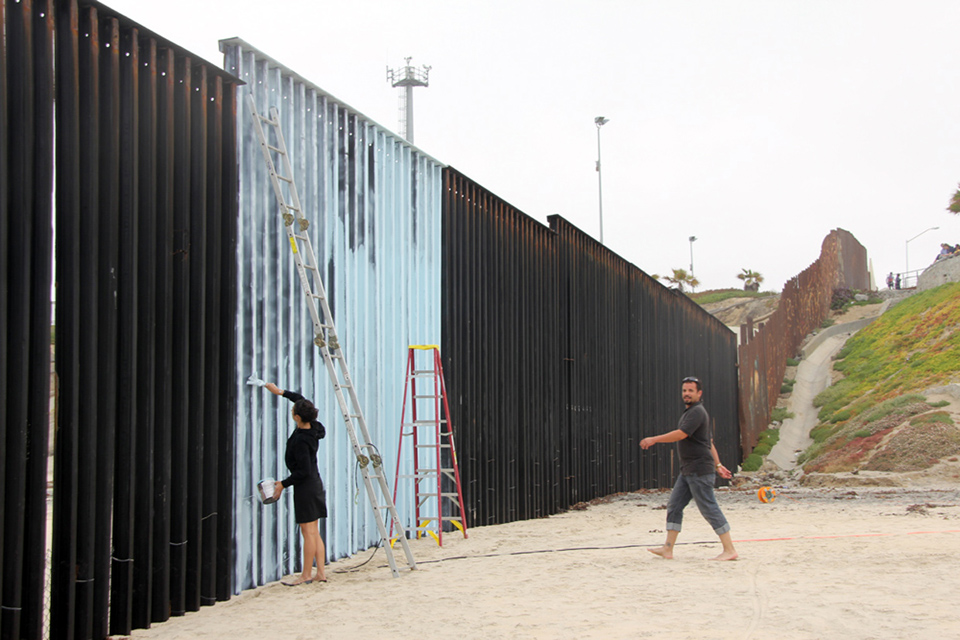 Ana Teresa Fernández – Erasing the Border – Borrando la Frontera, 2012, Playas de Tijuana, Mexico

Ana Teresa Fernández – Erasing the Border – Borrando la Frontera, 2016, Mexicali, Mexico
(Photo: Sandy Huffaker / Reuters)

Ana Teresa Fernández – Erasing the Border – Borrando la Frontera, 2016, Mexicali, Mexico
(Photo: Sandy Huffaker / Reuters)

Ana Teresa Fernández – Erasing the Border – Borrando la Frontera, 2016, Mexicali, Mexico
(Photo: Sandy Huffaker / Reuters)

Ana Teresa Fernández – Erasing the Border – Borrando la Frontera, 2016, Mexicali, Mexico
(Photo: Sandy Huffaker / Reuters)

Ana Teresa Fernández – Erasing the Border – Borrando la Frontera, 2016, Mexicali, Mexico
(Photo: Sandy Huffaker / Reuters)
Posted in
Blog
Tagged

2012, 2015, 2016, Ana Teresa Fernandez, Art in USA, border, invisible, Mexicali, Mexico, Nogales, performance art, Tijuana
Leave a comment