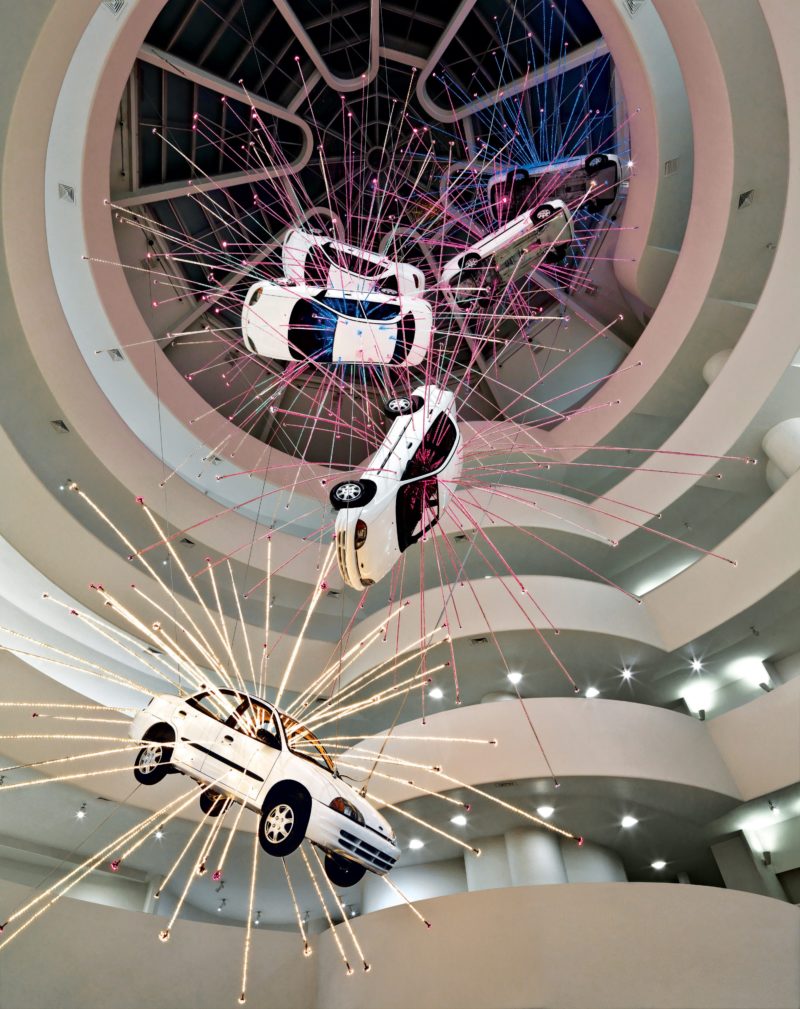 What is Cai Guo-Qiang known for?
Cai Guo-Qiang has been making art since 1985. However, the installation piece that he is perhaps most well known for, or at least helped to propel him to global fame, was his brief but impressive exploding rainbow of fireworks1 over the East River in 2002. This piece, which was created to commemorate MoMA's opening in Queens, was followed by a massive pyrotechnic exhibition over Central Park in 2003, which resulted in a 1,000-foot halo over the world-famous park. Inopportune was created a year later in 2004 and featured two parts that were appropriately named "Inopportune: Stage One" and "Inopportune: Stage Two."
Video: I Want to Believe, Guggenheim Museum, New York, 2010
"Cai Guo-Qiang: I Want to Believe"
Inopportune: Stage One
For "Inopportune: Stage One," Cai utilized nine real-life Ford Taurus cars that he had suspended at different angles to resemble the type of frame by frame or stop-action images that you would typically see on a car bombing scene in a movie.
The first and 9th fords used for the piece remained on the ground and were not suspended to suggest the start and the end of the bombing motion.
To evoke the effect of a bombing, Cai used firework rods that stuck out of the car's windows. These rods would change hues almost in the same manner that fireworks do. The suspended cars would produce a mix of colors, while the grounded ones only produced purple, indigo, and blue. These last three colors (purple, indigo and blue) were used to suggest that the heat from the bomb had died out to signal the end of the explosion.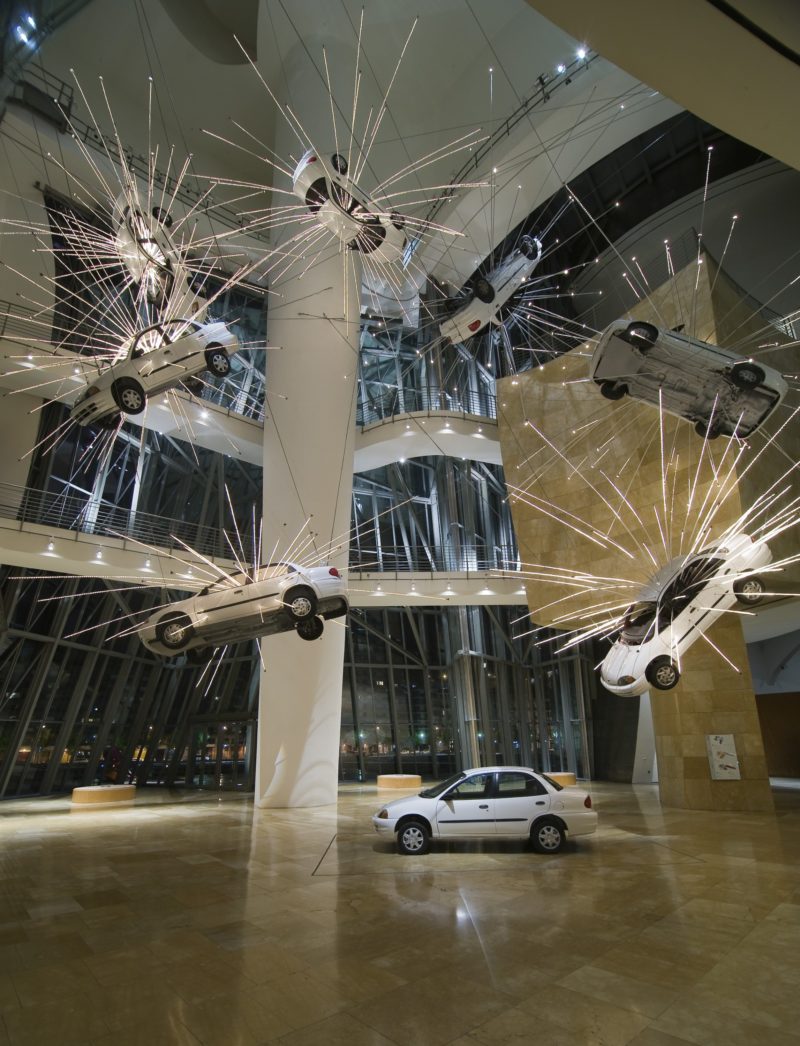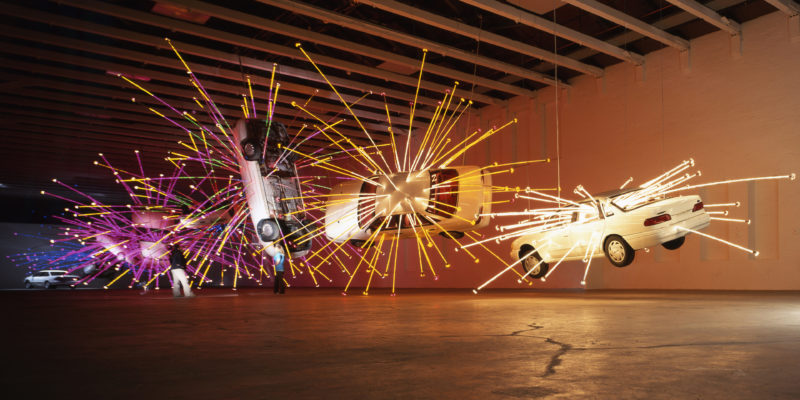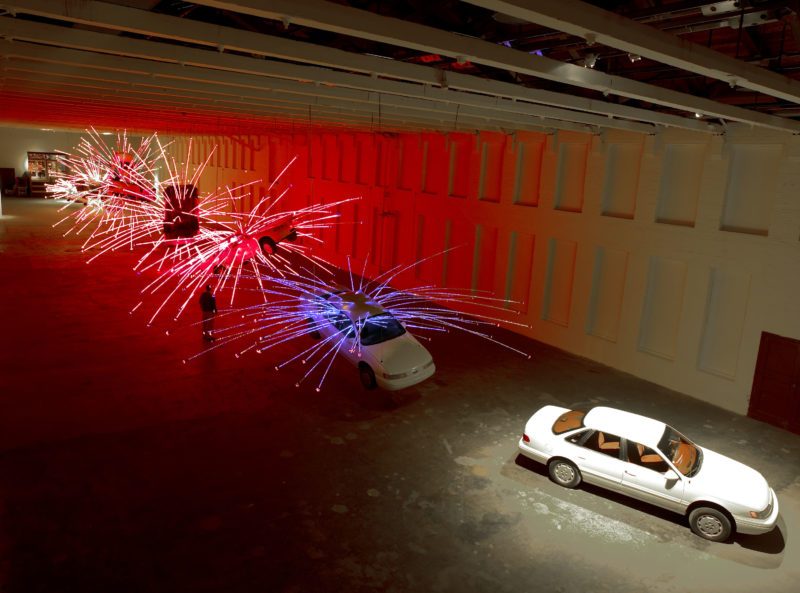 Inopportune: Stage Two
In Inopportune: Stage Two, Cai used nine life-sized tiger replicas jumping convulsively in the air. The artist pierced each of the nine tigers with dozens of bamboo arrows to exhibit the agony that the tiger was in as it was mid-air. The room this scene was set in was completely empty except for a rock extension and a tree that stood subtly in the background.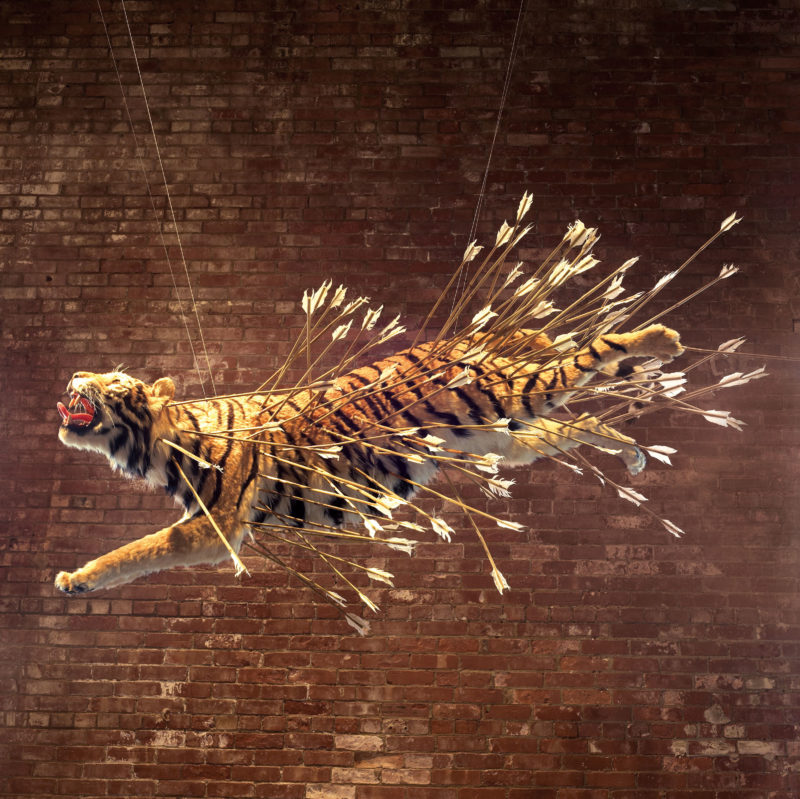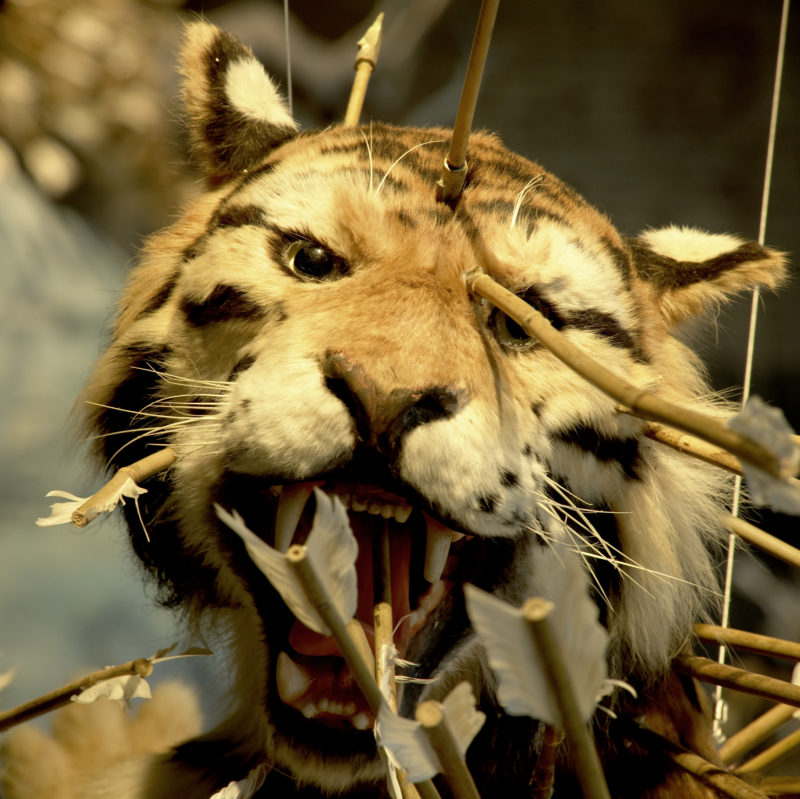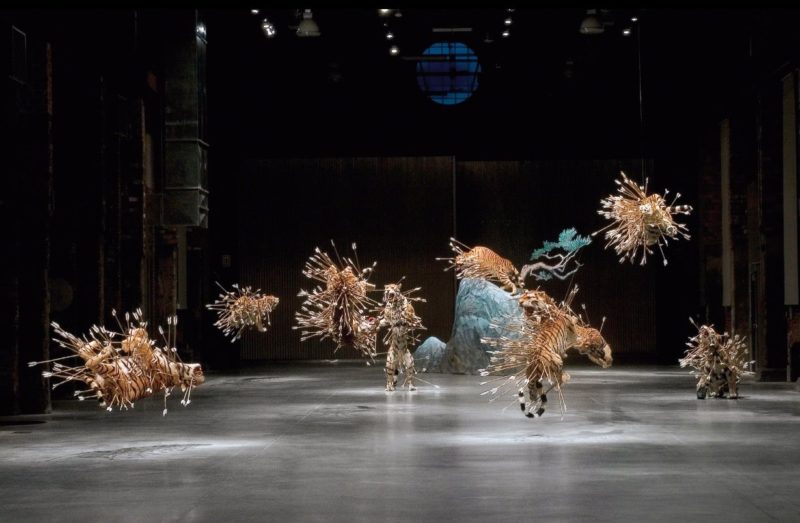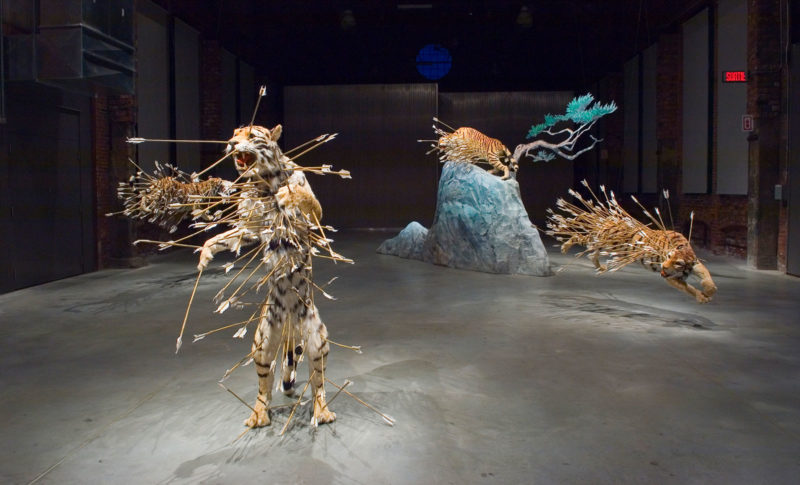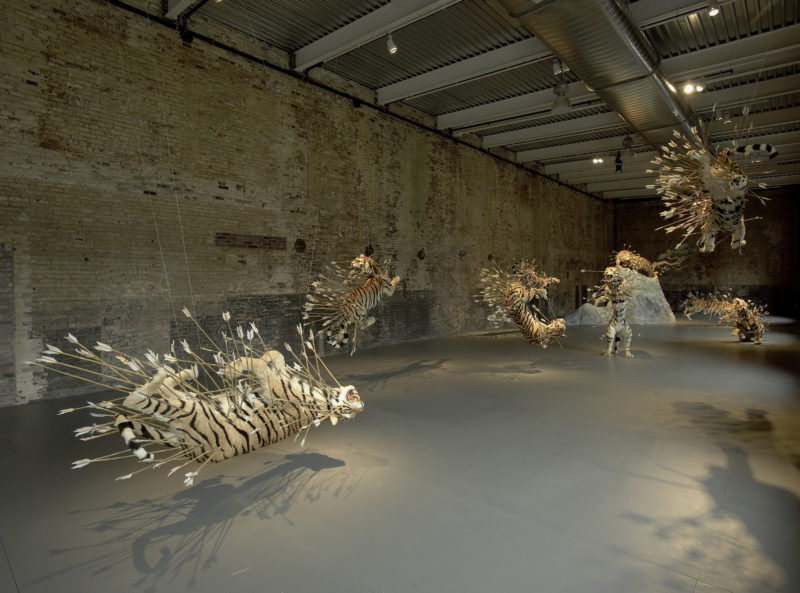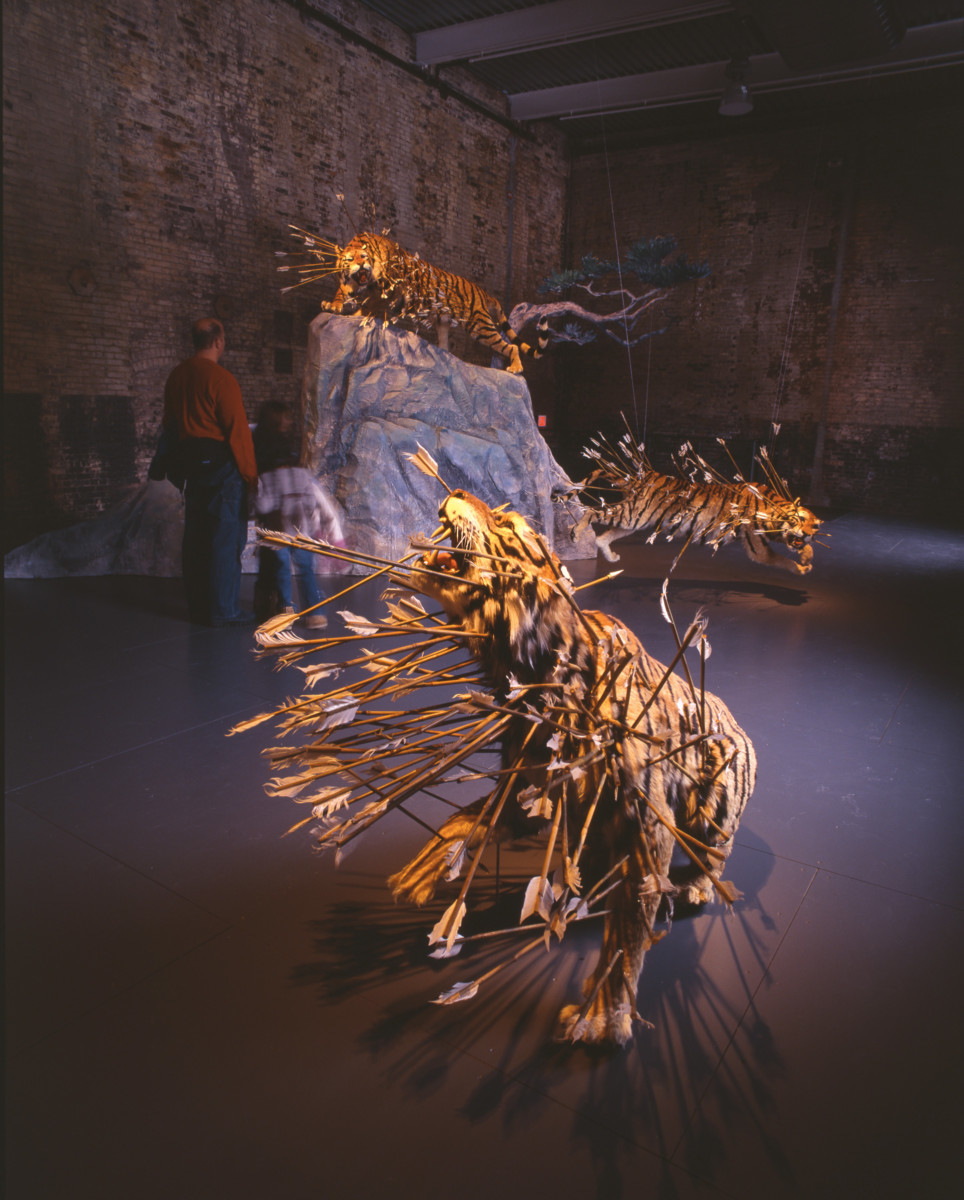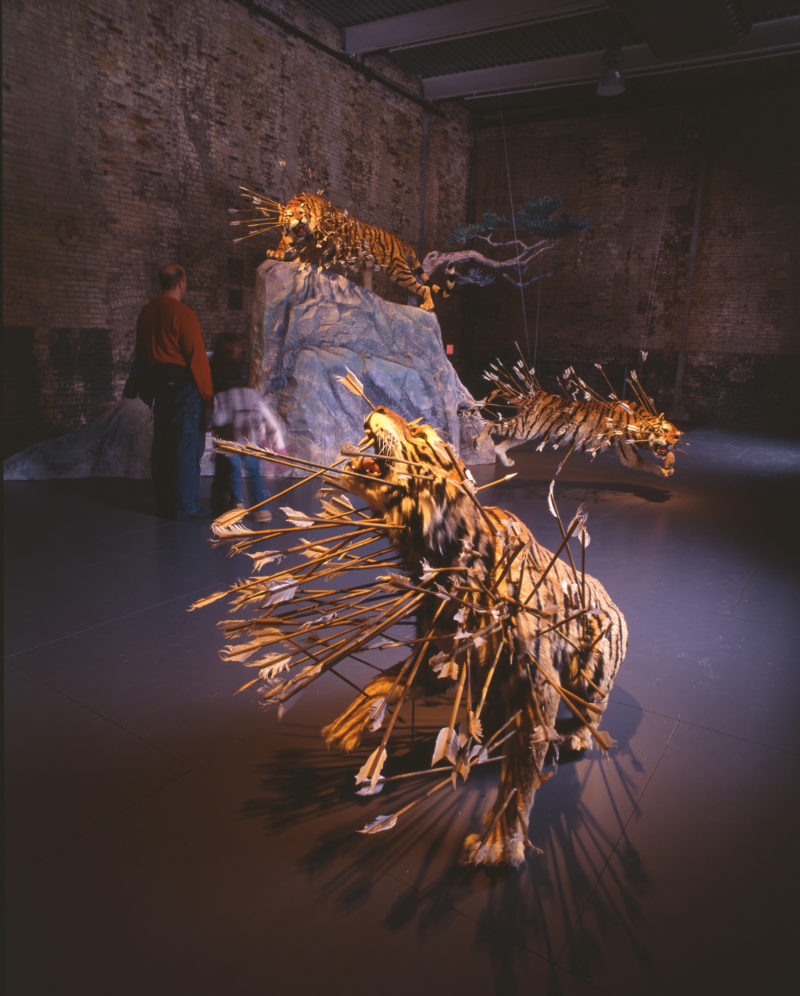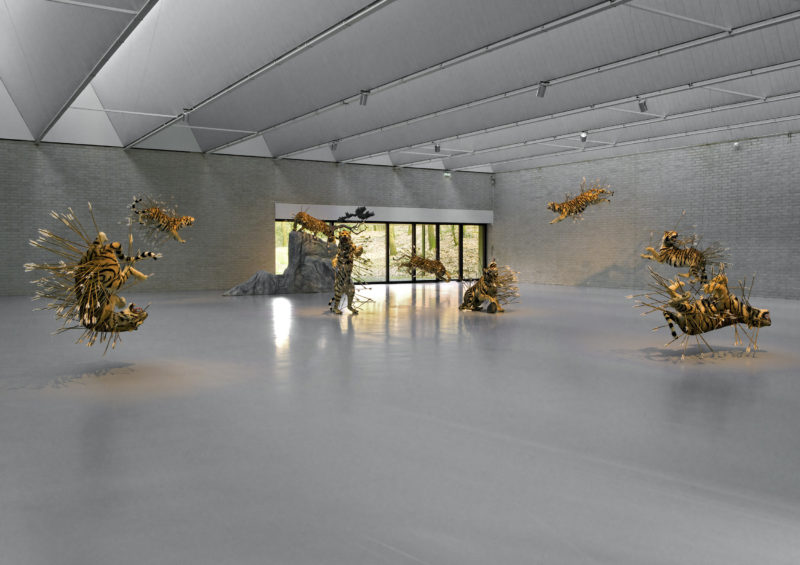 Video: Cai Guo-Qiang about I Want to Believe, 2009
Cai Guo-Qiang: I Want to Believe - Inopportune: Stage One, 2004 (part 2)
Analysis
Inopportune: Stage One exhibited the artist's interest in pyrotechnics, as well as cosmological science. With its beautiful rods of fireworks, Stage one was created to symbolize the effect of violent power, especially during war. The fireworks inside the car were tied to Cai's love for gunpowder and were used to demonstrate the devastation that often arises from bombs and other war-like events.
Stage Two, however, was created to comment on the complex relationship that human beings have with their surroundings. By using the tigers in Stage 2, Cai was attempting to warn people about how all forms of violence and war result in havoc and devastation for nature, such as is the case of the tiger, which is currently under the threat of extinction.
Video: I Want to Believe, 17th Biennale of Sydney
17th Biennale of Sydney: Cai Guo-Qiang Timelapse
More by Cai Guo-Qiang
Footnotes