Keith Haring arrested & interviewed
Keith Haring's subway art
In the early 1980s Keith Haring created hundreds of drawings in the New York subway system. He used chalk to paint on unused advertising space, which was covered with black sheets of paper. Haring was caught and fined numerous times.
Graffiti & Haring moving to New York
The graffiti peak was exactly when Keith Haring arrived in NYC, and artists started to use just about anything as their canvas. That's when storefront gates, subway cars and walls were full of graffiti. But Keith Haring, in particular, started to define some interesting ideas and that really started to connect with a lot of people at that time.
Keith enrolled in the SVA and started to work on carton drawings in 1978, but one year later, he started to work with graffiti writers. His focus here was offering a way for people to express themselves and provide a unique insight into the process and the entire experience as a whole.
Defacing public property led to countless arrests
Manifesting a return to expressive figuration in the art world of the late 1970s (as well as in Haring's own practice), the subway drawings also represented a unique conflation of studio practice and public art, cartoons and graffiti. Although Haring never identified himself as a graffiti artist, he was arrested many times for defacing public property.
Video: The Universe of Keith Haring
Keith Haring's Subway Drawings
Why did he start this project?
The endeavor began serendipitously when Haring noticed one of these empty advertising spaces with black paper on them in the station at Times Square. He saw that as the perfect place to expand his work and immediately went above ground to buy some chalk. The resulting process of drawing on these panels, a hobby that Haring later called a responsibility fueled his early work.
It was at that time when Keith Haring created numerous drawings in the subway system. Cultivating the project remained an important activity for him until 1985, long after achieving international critical and commercial success. This is a clear testament to his focus on distinctively expressing creative and powerful ideas.
Haring became captivated by the commitment to drawing worthy of risk that for him was one of the many attributes of the work of graffiti artists gaining acceptance at the time. Not wanting to imitate their efforts, and mindful of the science of semiotics to which he had been recently introduced, Haring started to regard the subway as a laboratory for communication and engagement.
Sometimes Haring would create 40 drawings a day
Often produced before an audience of commuters, which might include police who could ticket him for vandalism, the drawings emerged at a rate of sometimes 40 a day. When not torn or cut from their locations by admirers, they would eventually be covered with new ads.
The routine disappearance of these works, in fact, became an incentive for their replenishment and a catalyst for constant reinvention. While many were documented by photographer Tseng Kwong Chi (whom Haring would phone upon returning to his studio to provide their locations), most of the drawings went unrecorded, thus creating one of the most epic and ephemeral projects in the history of the city.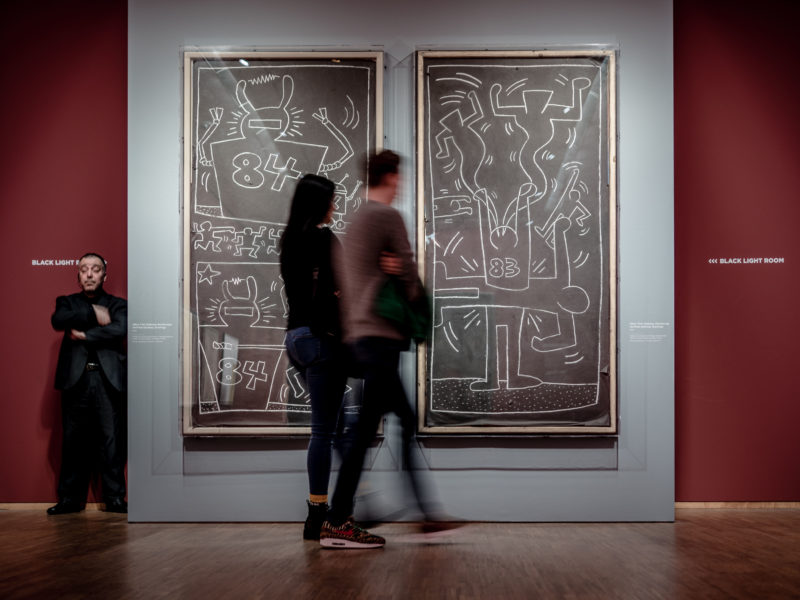 Why did his work stand out so much?
Motivated by the contact with a diverse (non-art) audience the Manhattan Transit Authority enabled, Haring, regarded the MTA as an ideal platform for experimenting with a vocabulary of readily identifiable figures, such as the radiant baby, the barking dog, the hovering angel, and the flying saucer, among many others.
Constructed entirely from outlines, each of these characters is staged within a frame lining the perimeter of every black sheet, a unifying trope of Haring's work that could reference the television screen, the proscenium, or box from a comic strip.
Due to prolific repetition and inexhaustible permutation, these characters assumed the identity of potent signs that could address a range of themes, both topical and universal, in a manner ideally suited to the pace and viewing conditions of commuters.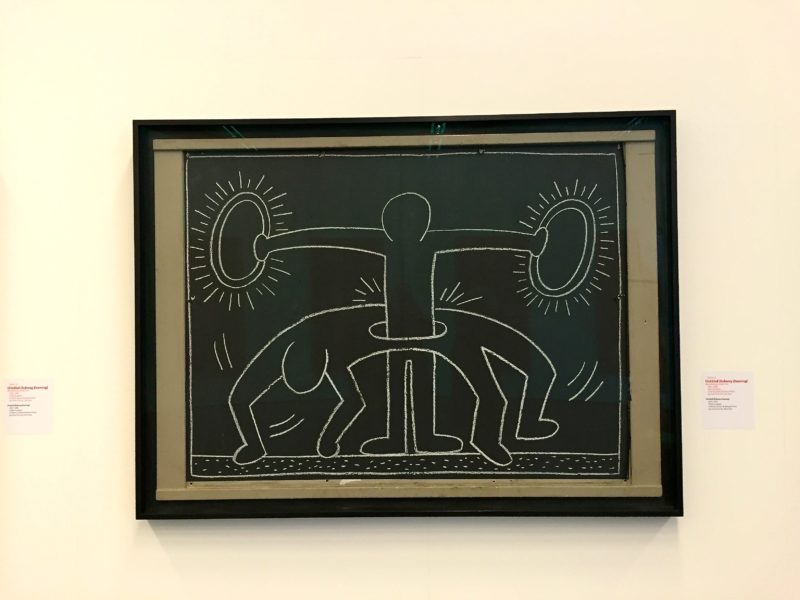 Influence & Inspiration
Encompassing a subculture
Graffiti was a very prominent way for artists to express themselves, and Keith Haring started to connect with DJs, break dancers and the hip hop culture as a whole. His work offered some great lessons for making graffiti visible in a hectic and vibrant place like NYC.
Despite all of that, Keith Haring was never recognized as a graffiti artist, which is quite strange considering how many of these he made in the first place. But what he did here was to encompass a subculture that started at the margins of NYC, allowing every artist to express themselves without worrying about problems or limitations.
Haring's long-lasting influence on art
Ultimately, Haring's subway drawings were a synthesis of performative process, automatic writing, and democratic access. Critical to understanding Haring's overall career and his efforts to connect street culture, fine art, and commercial practices (manifest most boldly by the 1986 opening of his "Pop Shop"), they have proved to be influential to subsequent generations of artists—from merchandise-savvy Takashi Murakami to street artists such as FAILE, Banksy, Shepard Fairey, and Swoon, among many others.
While all of these artists fuse idiosyncratic, graphic style with iconic characters using forms of prodigious public address, Haring's work remains distinctive in its celebration of the primacy of unmediated, spontaneous drawing.
Inspired by Jean Dubuffet
The New York art scene was quite different in the 1978-1980 period. There were museums as well as galleries, but you could find art in non-traditional locations too. Artist Jean Dubuffet had a saying1:
For myself, I aim for an art which would be in immediate connection with daily life which would start from our daily life and which would be a straightforward and heartfelt expression of our real-life and moods.
Keith Haring adopted all of that.
Video: Subway Drawings exhibited at the Brooklyn Museum
More by Keith Haring
Art in subway stations
Footnotes