Introduction
As an outspoken social rights activist, Keith Haring was not one to shy away from controversy. His Berlin Wall Mural is just that – controversial and provocative. In fact, Haring himself told The New York Times1 that the mural was a "subversive" act that was meant to make a political statement, and help on a psychological level destroy the Berlin Wall.
Mesmerizing, conspicuous and intriguing, the Berlin Wall Mural was a masterpiece that helped put both street art and Keith Haring on the map. It took Haring about 6 hours to complete painting the mural over a yellow background a team had applied the previous day. The mural itself was commissioned by Checkpoint Charlie2 Museum's director, Rainer Hildebrandt.
Berlin Wall Mural, 1986
Keith Haring's Berlin Wall Mural spread over across a 300m long portion of the 100-mile Berlin Wall3 (the 'Berliner Mauer'). The project was highly publicized and equally risky for Haring. The mural was composed of human figures who were interlinked at their feet and their hands. Of course, the interconnected human symbols were designed to signify the quest for unity of people, as opposed to the idea of constructing such an obtrusive wall. Haring's choice of colors matched those found in the German flag: yellow (representing gold), red and black.
The destruction of the painting
Unfortunately, the 300-meter stretch Haring had painted the mural was vandalized, destroyed and painted over by other artists when the wall came down on 9 November 1991. Although the actual mural is no longer there, Keith Haring is often given credit for agitating for the free movement of East Berliners to the Federal Republic of West Germany.
About the artist
Born Keith Allen Haring in 1958 in Reading, Pennsylvania, Keith Haring was one of the most prolific American pop artists. His paintings grew out of the NYC street culture of the 1980s. He was a painter, a street artist, a social rights activist and an avid HIV/AIDS awareness movement advocate, all wrapped into one. He was known for whipping up colorful and artistic murals on New York streets, subway stations and even cars. Funny enough, he was famous for referring to the subways as his "lab." Since the early 1980s, Haring started organizing exhibitions at the popular Club 574.
Location: Checkpoint Charlie

Painting no longer exists
Friedrichstraße 43-45, 10117 Berlin, Germany
The portion of the Berlin Wall painted by Haring was located to the right of the entrance to the border crossing Friedrichstraße, Checkpoint Charlie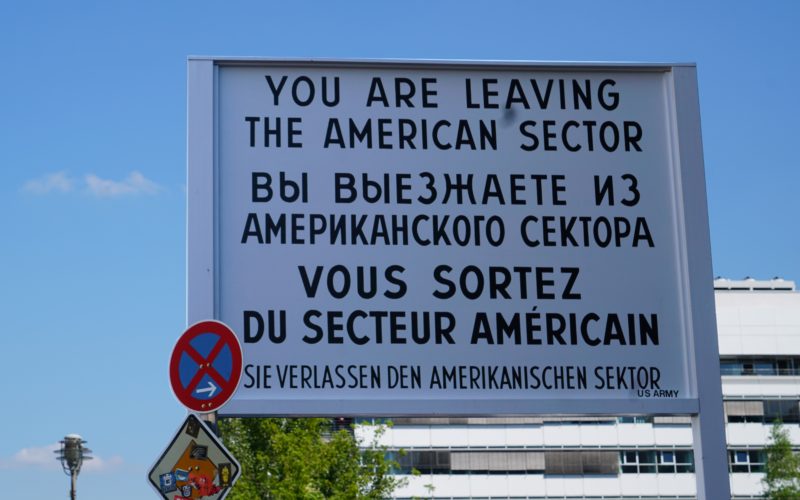 More by Keith Haring
Footnotes