Last updated

Sun Yuan and Peng Yu – Dogs Which Cannot Touch Each Other, 2003, 8 Bull Terriers, 8 Running Machines Without Drive
Published on: Tuesday October 17, 2017
Last updated
Introduction
The video work titled Dogs That Cannot Touch Each Other has only recently been removed from Guggenheim Museum's exhibition series known as Art and China after 1989: Theater of the World1. The video series has been met with disapproval2 and disparagement not only by some art critics but animal lovers and welfare organizations as well. Critics claim that the exhibition would have featured a series of various distinct video presentations depicting instances of unmistakable and unacceptable animal cruelty in the name of art.

Sun Yuan and Peng Yu – Dogs Which Cannot Touch Each Other, 2003, 8 Bull Terriers, 8 Running Machines Without Drive
Major exhibition at the New York Guggenheim
The Art and China art series, which still takes place as programmed, is made up of more than 140 works. The series consisting of experimental and conceptual art explores the end of the Cold War, the rise of China to become the economic and technological powerhouse it has become today, as well as the fast spread of globalization. The Art and China exhibit took over the Guggenheim on October 6th, 2017.
About the performance
The video work installation Dogs That Cannot Touch Each Other was an important part of the exhibition until the Guggenheim succumbed to pressure from the public to get rid of the video, along with two others. Sun Yuan and Peng Yu's seven-minute long video that was filmed during a performance that took place in a Beijing museum back in 2001 featured four pairs of American pit bulls that have been placed face to face on non-motorized treadmills. The pit bulls, which appear aggressive in the video, keep trying to charging at one another without success since they are attached to the non-motorized treadmills. As the dogs get wearier and more frustrated, their mouths increasingly salivate, a fact that has angered many animal lovers and critics.
5min 41sec
Sun Yuan and Peng Yu – Dogs Which Cannot Touch Each Other, 2003, 8 Bull Terriers, 8 Running Machines Without Drive
Two other works were removed from the exhibition
The other two pieces set to be removed from the exhibition are conceptual artist Huang Yong Ping's piece Theater of the World which was created in 1993 and Xu Bing's video from 1994. The Theater of the World would have featured a dome made out of steel, wood and wire mesh with heating lamps inside. The dome would have contained a mixture of reptiles and all manner of insects that would have decreased as the exhibition continued showing; some insects would have been devoured or died of exhaustion only to be replaced by a local pet supply shop.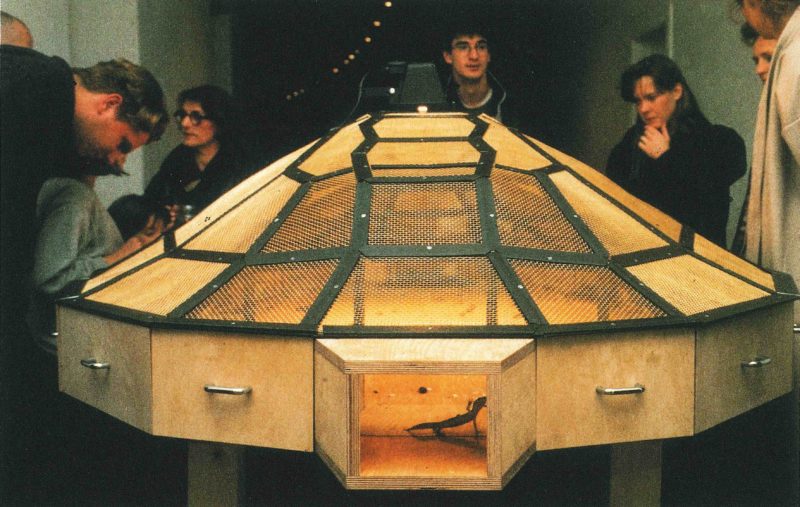 Huang Yong Ping – Theater of the World, 1987/1993
Photo: Guggenheim/guggenheim.org
Xu Bing's video from 1994 titled A Case Study of Transference would have included two live boars covered in stamps having sex in front of people.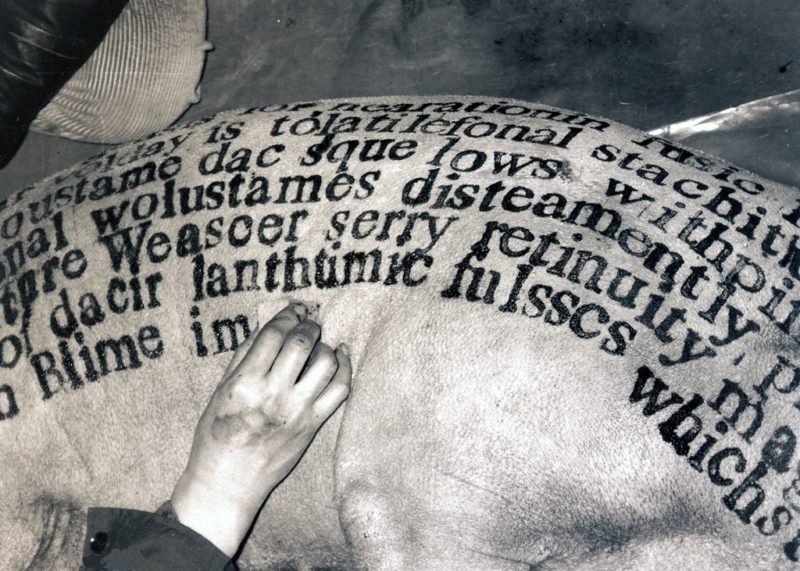 Xu Bing – A Case Study of Transference, 1994
Image: Xu Bing/xubing.com
All three pieces were to be featured prominently in the show. They would have captured the theme of the exhibition perfectly as they would have displayed the power and the evolving might of China as a country in a contemporary world.
Works that remained in the exhibition
Zhang Huan's To Add One Meter to an Anonymous Mountain3 performance and Ai Weiwei's Dropping a Han Dynasty Urn4 were amongst other important works in what was the largest exhibition of contemporary art from China that has ever been mounted in North America.

Zhang Huan – To Add a Meter to an Anonymous Mountain, 1995, chromogenic print, 114.3 x 165.7 cm. (45 x 65 1/4 in.), edition of 15
Image: Zhang Huan/zhanghuan.com

Ai Weiwei – Dropping a Han Dynasty Urn, 1995
Image: Ai Weiwei/timeout.com
All images by Sun Yuan and Peng Yu/sunyuanpengyu.com unless otherwise noted.
Related works
Related readings
Discover more ..