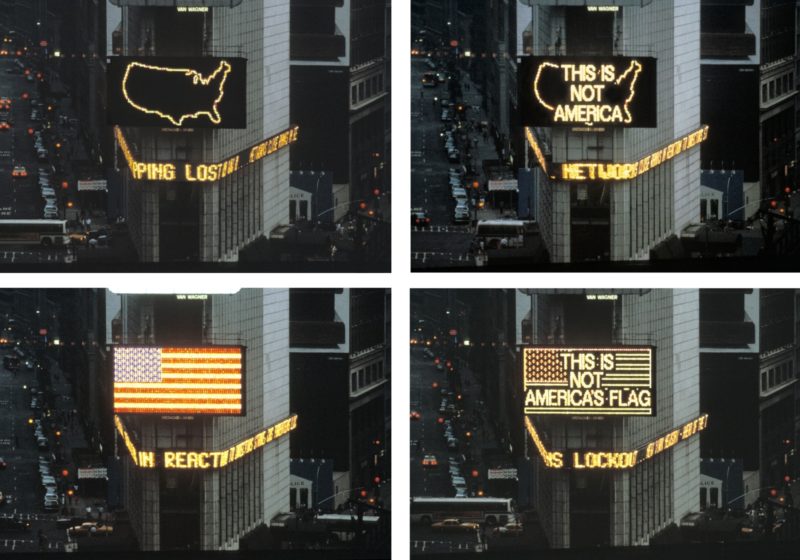 The Times Square, New York
The Times Square in New York is characterized by an epic display of contemporary consumerism; it is flooded with tourists from all regions of the world and filled with numerous electric billboards displaying services and a range of products for sale. If you are going to install an art exhibition, and a successful one at that, there is no better location that offers as much visibility as Times Square.
A Logo for America by Alfredo Jaar
Chilean artist and filmmaker Alfredo Jaar realized this, which is why in 1987; he installed A Logo for America, a LED screen display that was located above 42nd street. Needless to say, the piece was a raging success. However, it elicited a lot of outrage and debate at the time.
Video: A Logo for America, 1987/2014, Times Square, New York, 1987
Alfredo Jaar's 'A logo for America' at Times Square, New York, 1987
Jaar's message
Jaar transposed the pixilated words 'this is not America' onto a glowing outline of the US map. The words 'this is not America's flag' also ran across the LED display, changing into the image of the stars and stripes that are synonymous with American nationalism. When Jaar created his installation in 1987, the US was dealing with political problems with Latin America, and how they were dealing with discrimination and oppression of migrants living in the US.
Remounted in 2014
In 2014, the installation was remounted again, at a time when the message could not have been more pertinent. When the installation was re-introduced in Times Square, it was intended to highlight the continuity of the same problems experienced in 1987 by migrants.
Video: Alfredo Jaar and curator Pablo León de la Barra discuss A Logo for America
Alfredo Jaar's "A Logo for America" in Piccadilly Circus
Why is this work still relevant?
Jaar's exhibition was made even more relevant and applicable to today's context by President Donald Trump's decision to create a wall designed to keep migrant workers out. For American residents that have the same opinions as President Trump, the America they live in now is the America they want. However, for those citizens that disagree with the president's controversial policies, the LED exhibition works to reverse their logic; that this really isn't America.
Changes made for the 2014 edition
Although the installation still maintains similar elements as the 1987 version, Jaar reformatted the original piece to ensure that it fits the contemporary society. Jaar's work effectively manages to assign corporate logo grading and status to America's most notable symbols, the flag and the map of the mainland.
Conclusion
By featuring these elements, Jaar forces people to reconsider the history of America and the struggle and sacrifice of people that formed it in a bid to construct a definition of nationhood that is acceptable and welcoming of all people. The piece effectively challenges the injustices that have plagued the USA from its colonial past to the inequalities that are still experienced today from 1987.
Photos
Times Square, New York, 1987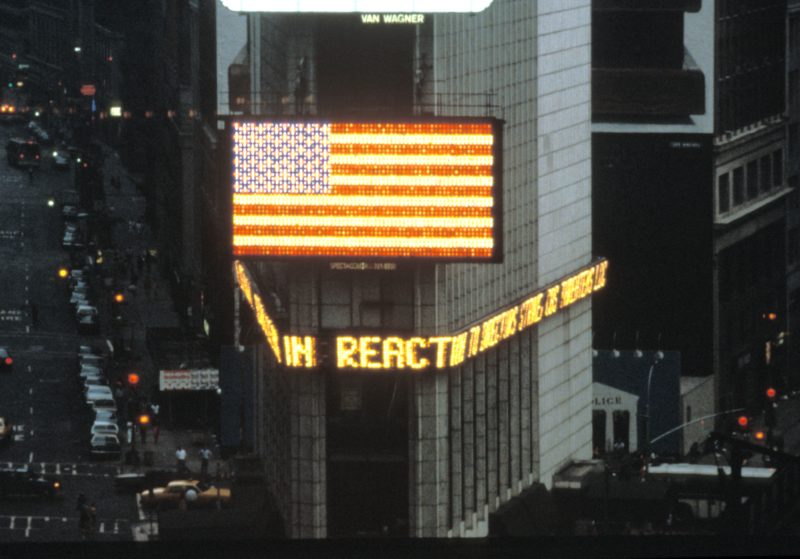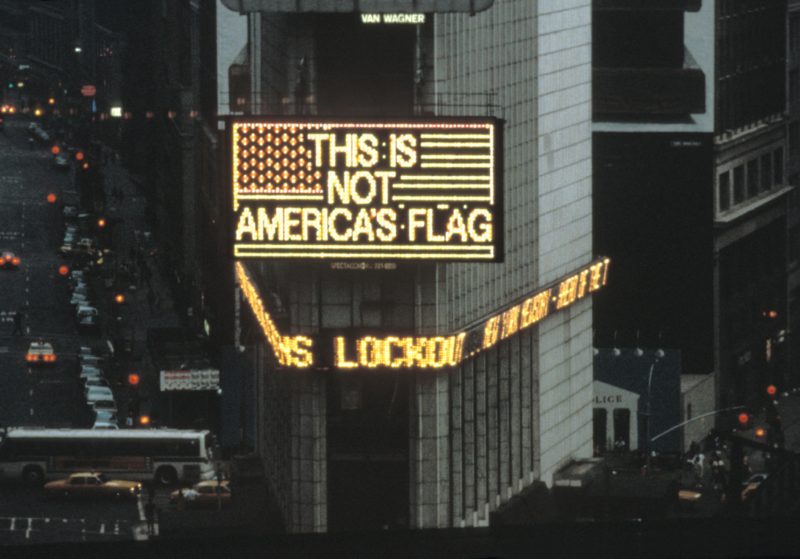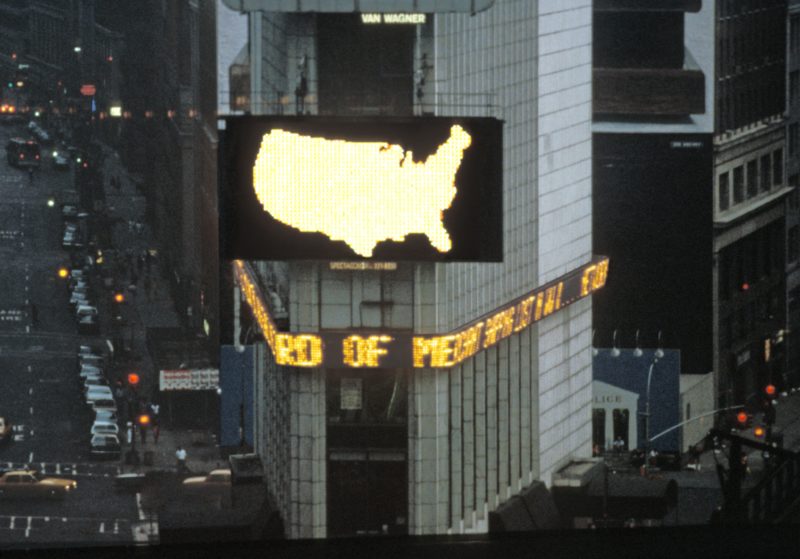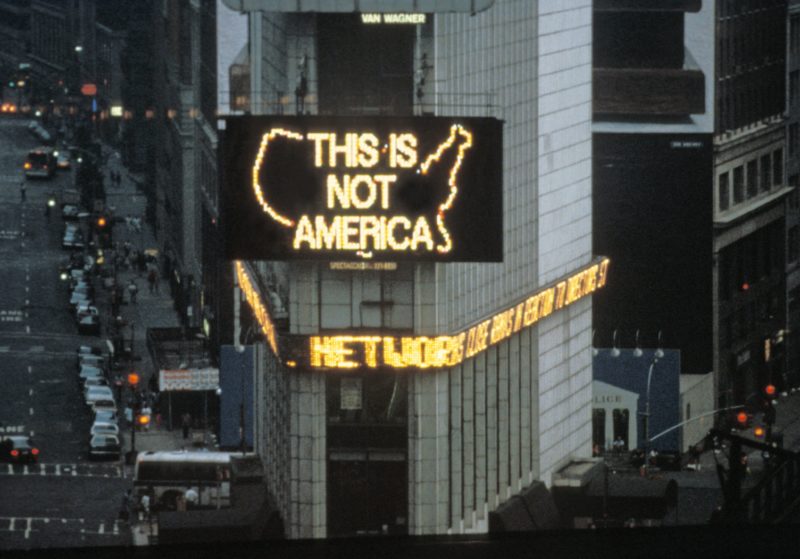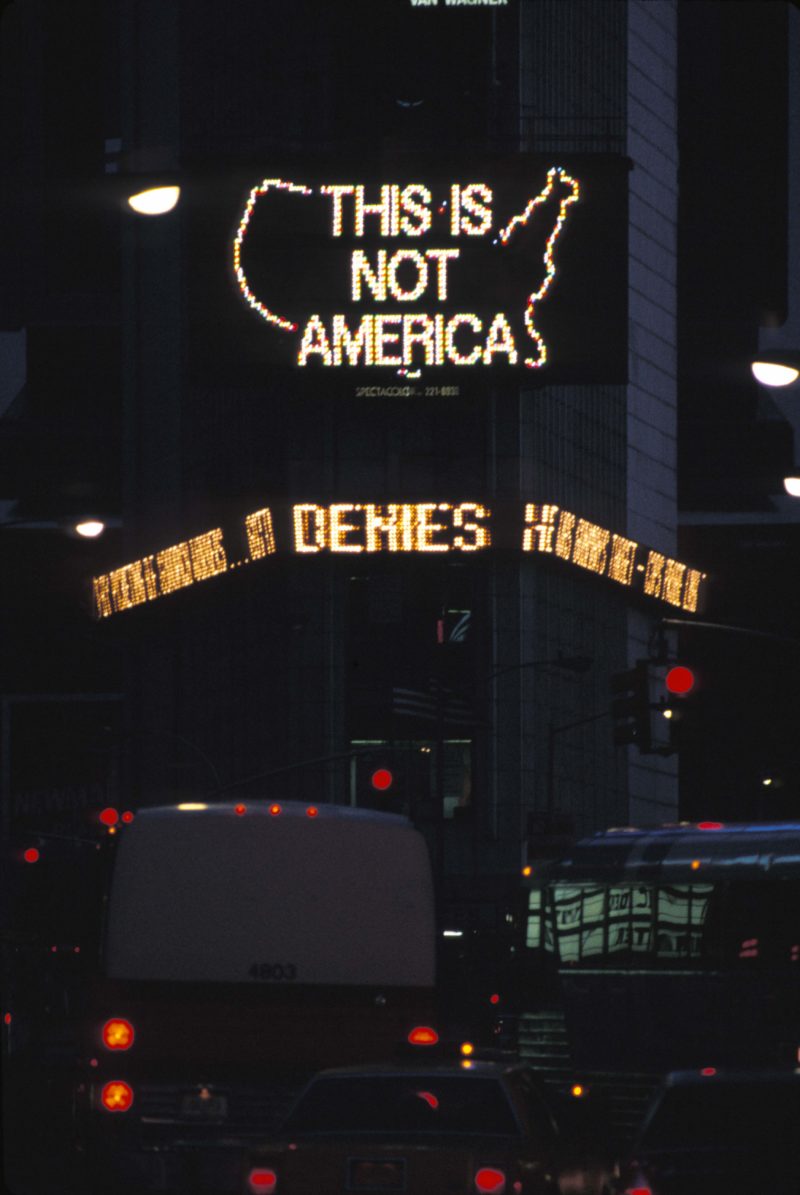 Times Square, New York, 2014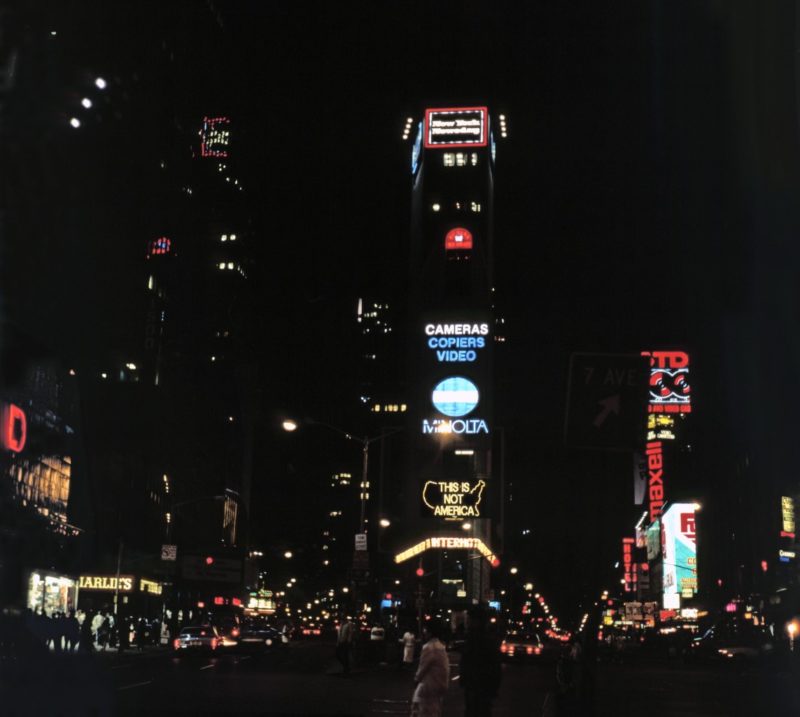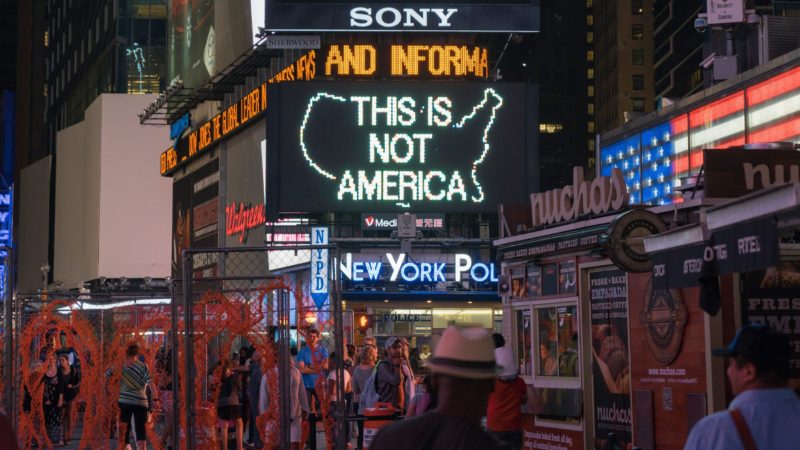 Piccadilly Circus, London, 2016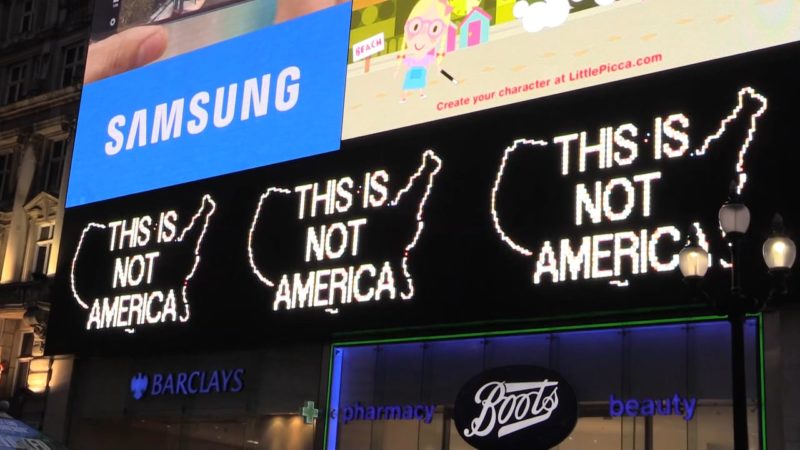 Video stills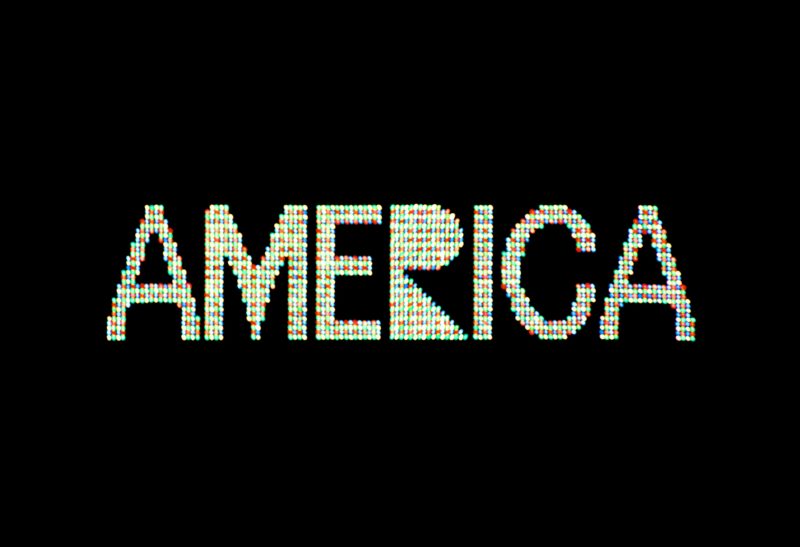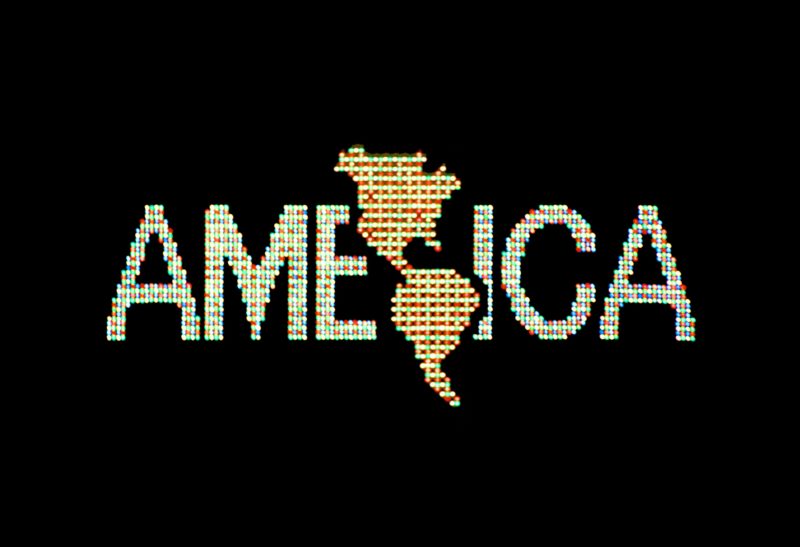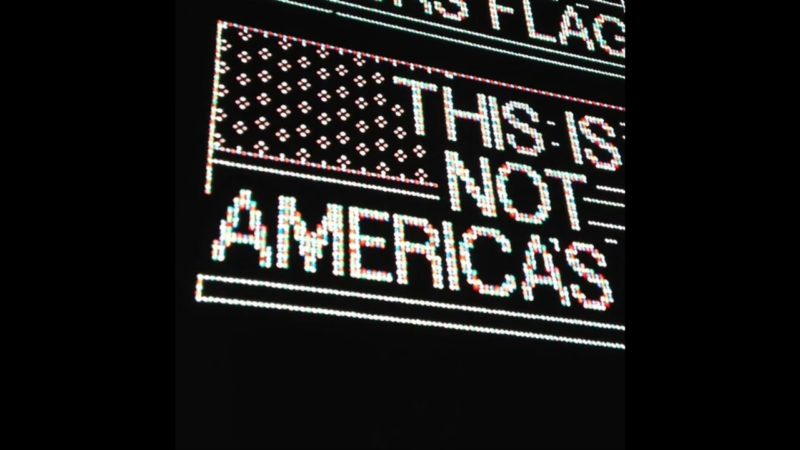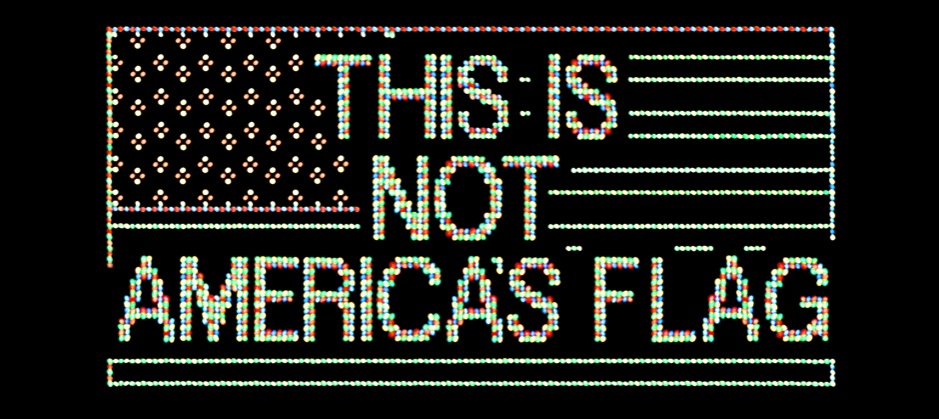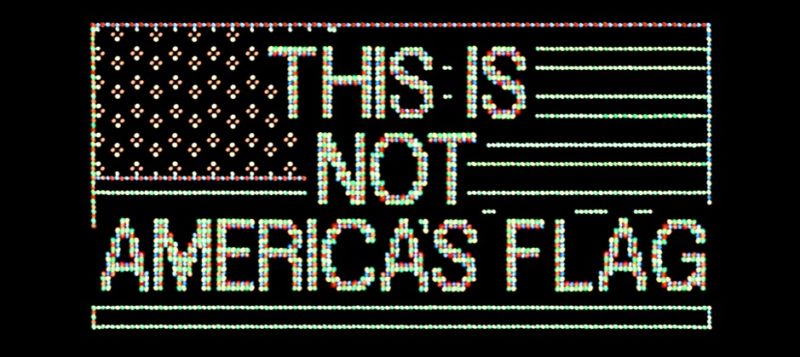 More by Alfredo Jaar