Archive: 1994
One of the most disgusting performance pieces ever made – Zhang Huan

Zhang Huan – 12 Square Meters, 1994, single channel video, 3min 2sec, documentation of a 40-minute performance
Introduction
Zhang Huan is no stranger to controversy. Having attended school at a time when China was undergoing a dramatic time in its history, Zhang learned a lot from the years of protests and demonstrations that would be staged in front of the Tiananmen Square in Beijing. As an avid fan of Avant-garde art, Zhang did not really have adequate resources at his disposal that would allow him to execute his artistic vision. As such, and not surprisingly, Zhang decided to change the way he expressed himself by adopting a more provocative and transgressive form of performance art, which was later photographed and documented.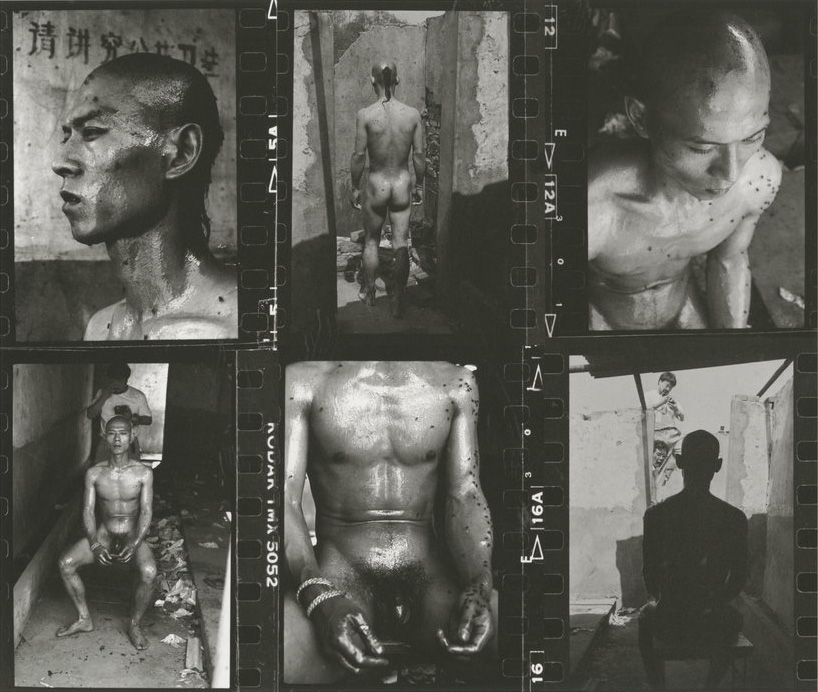 Zhang Huan – 12 Square Meters, 1994, documentation of a 40-minute performance
Luckily these are not real tattoos – Qiu Zhijie (邱志杰)

Qiu Zhijie – Tattoo 2, 1994
Who is Qiu Zhijie?
Qiu Zhijie is well known for his capacity to add provoking new meanings to traditional Chinese calligraphy. In many of his works, Qiu incorporates calligraphy into modern media as a way of fusing important elements from his culture into his art. His Tattoo series that was released in 1994 explores the state of one's independence and invisibility.
Alighiero Boetti's beautiful Maps of the World

Alighiero Boetti – Mapa del mundo (Map of the World), 1971-72, embroidery
The story behind Boetti's Maps of the World
In 1971 upon his departure from Italy and his arrival in Afghanistan, Alighiero Boetti began a continuous collaboration with local weavers to produce embroidered tapestries, using himself only as the referential artist but considering the works a creation of a combined effort. Mappa del Mundo is a colorful, beautifully crafted tapestry showing each country emblazoned with its own flag, examining borders, frontiers, nationalism, and patriotism. The borders are emblazoned with Italian and Persian texts, selected by Boetti and the craftswomen.
More than 150 maps created between 1971 to 1994
Over the next two decades, from 1971 to 1994, more than 150 maps of different colors and sizes were created in this way. From this, geopolitical changes were tracked throughout the world, transforming a simple idea into a political vision by visualizing territory disputes and regime changes. Halfway through their endeavor, the embroiderers selected a pink thread to fill in the oceans, completely altering the look of the works. Boetti loved the intrusion of chance into the artistry of the craftsmen, and let them select the thread colors from then on. Because of this, he has little say in the appearance of the maps.
Posted in
Blog
Tagged

1971, 1972, 1979, 1984, 1985, 1988, 1989, 1994, Alighiero Boetti, Art in Afghanistan, canvas, carpet, NYC MoMA, painting, Randi Malkin Steinberger, rug, Rugs of War
3 Comments