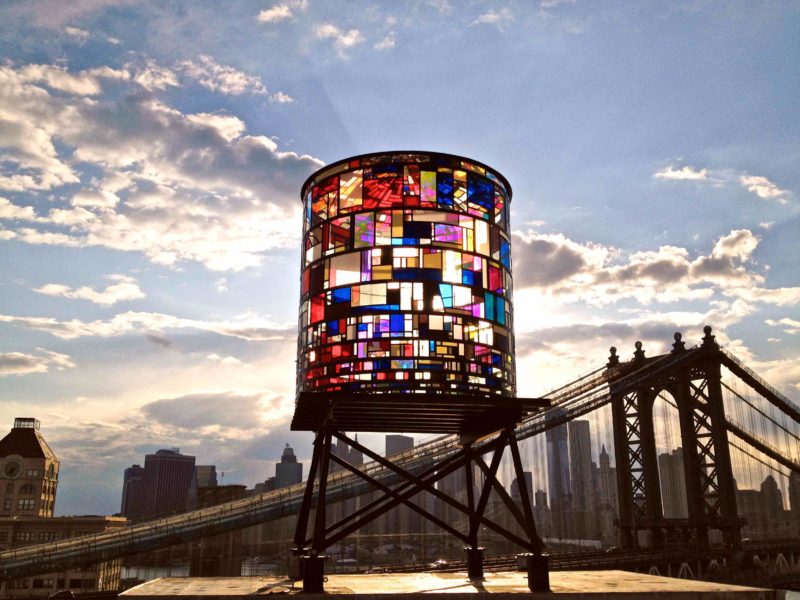 The Water Tower
Not many artists enjoy the privilege of having their pieces displayed in New York City's prime locations, but artist Tom Fruin does enjoy this. His creation of the Water Tower is a sight to behold and can be easily viewed from FDR Drive, parks and streets of Dumbo, Manhattan Bridge, Lower Manhattan, Brooklyn Bridge Park, and various other nearby points.
The water tower is just a water tower, but nothing as beautiful is found in New York. For New Yorkers, the Empire State Building, the Brooklyn Bridge and the rooftop Water Tower are all the same because all three reach the skyline. In 2012, when the distinctive Water Tower received a redesign from the artist Tom Fruin, it was transformed into something extraordinary.
How the artwork was made
In the South of the Manhattan Bridge, atop Jay street and in Dumbo, Manhattan, sits the water tower designed by Tom Fruin. This sculpture was created with more or less one thousand individual pieces of salvaged Plexiglas and steel bands. These Plexiglas pieces were obtained from all over New York, from old sign shops in Chinatown, warehouses, and even closed-down artist studios.
Some say that Fruin's water tower shows quite a resemblance to a modern stained-glass window. In the daytime, the kaleidoscopic work is illuminated by the rays of the sun. At night this beautiful piece is lit by some custom-designed lights by Ryan Hollsopple, a conceptual artist. The lights in the water tower are Arduino-controlled internal light sequence that makes the bright colors glow more in the dark.
This project was from the series Icon that consisted of sculptural tributes to architectural icons worldwide, made from Plexiglas and steel. It focused on creating art from recycled materials. Many scavenged and reclaimed material was found and turned into architectural icons all around the globe. The water Tower is designed from bright Plexiglass, which makes it glow in the sunlight.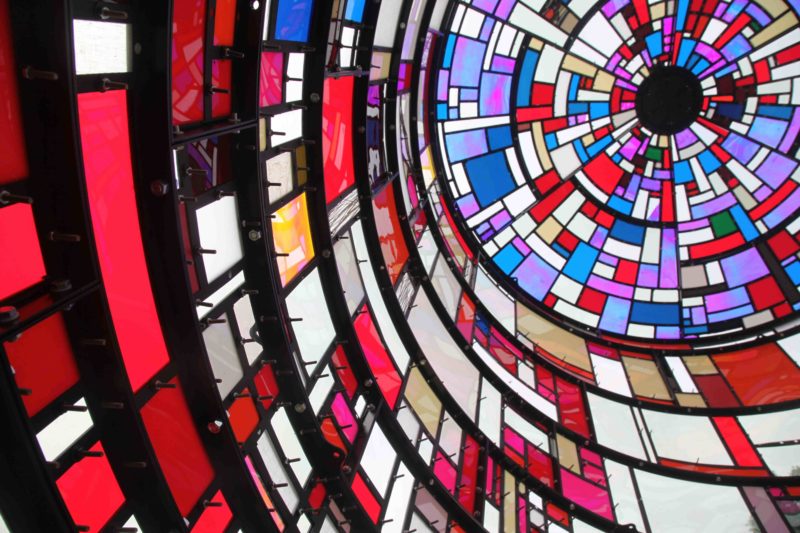 The meaning of the work
These beautiful water towers were made to reach a broader audience. Water Tower is one of Fruin's very first public sculptures. He wanted to reach everybody, not just people who could understand and appreciate art, and create something that would impact everyone.
A symbol of New York
Fruin considers the water tower as a symbol of New York. He talks about how he finds it casual and cool. The round wood design pulls him towards it even more. As a New Yorker since the 1990s, he finds salvation in the water tower. It looks like something humane in a very urban environment. It almost feels like one can depend on it for humanity.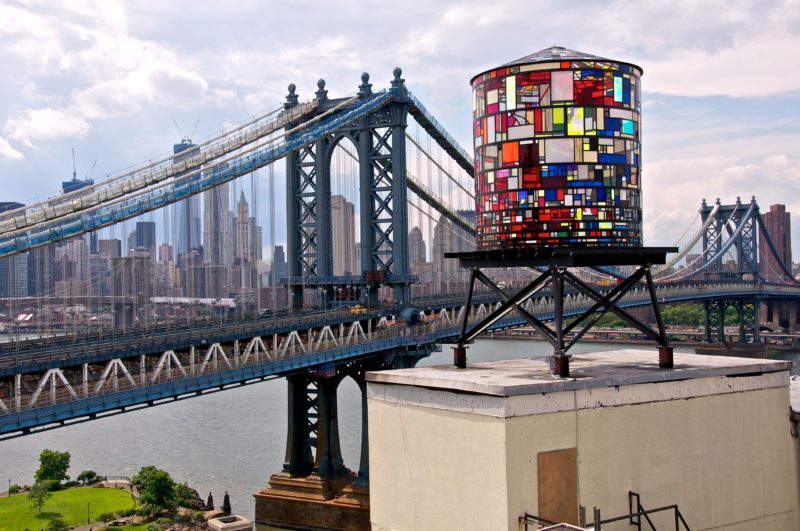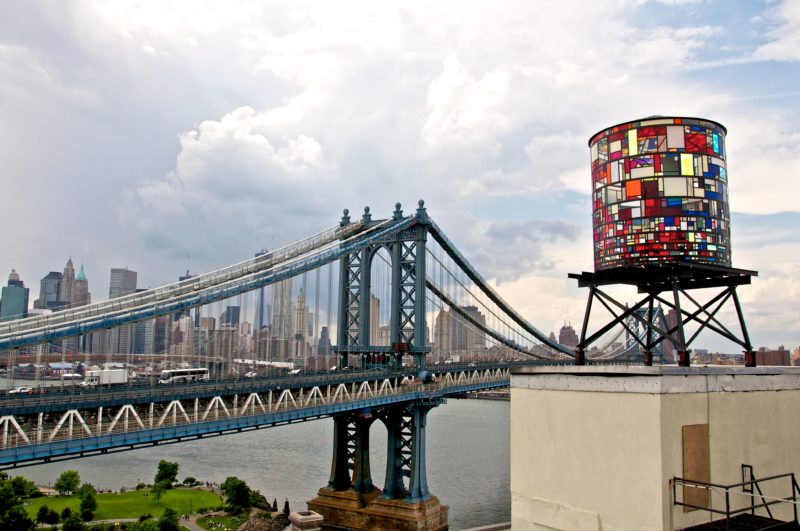 The influence of the environment
Fruin also says that the urban environment is critical to his work. That is where most of his work comes from. The urban environment does not just show up in his work but also in the type of materials he uses. The materials Fruin uses in his work are readily available in a city like New York but won't be that readily available in the countryside.
He confirms this when he says that his work would reflect that if he were someone in the countryside. He then would be making something from leaves or other natural elements. This shows that he is a more modern and urban artist who would make do of anything given. The way he redesigns those water towers in an urban way while still preserving its natural rural tinge is merely remarkable.
Fruin likes to work with anything obtainable. He would not require unique materials or paints. There is no extravagance in his work. He would work with anything people found as scrap and turn it into a masterpiece. He uses his knowledge and the recyclable material to develop something new and unique.
Video: The Watertower at night
Tom Fruin Watertower Lights
Why does this work matter?
Water Tower is an essential piece in terms of learning. This multicolored piece by Fruin tells us how the most beautiful things can be created by recycling. In a very urban city like New York, it is quite remarkable that he uses the idea of recycling. It truly is iconic. He could create something out of scrap. But what pulls you towards this sculpture is not just the easy design and the beauty. It is the humanity encased in it. It rather is a very symbolic structure.
Water Tower represents salvation, and here, in the middle of New York City, this water tower represents humanity and simplicity. It is like a beacon of hope for many. Through this idea, Fruin reaches out to many apart from the art connoisseurs.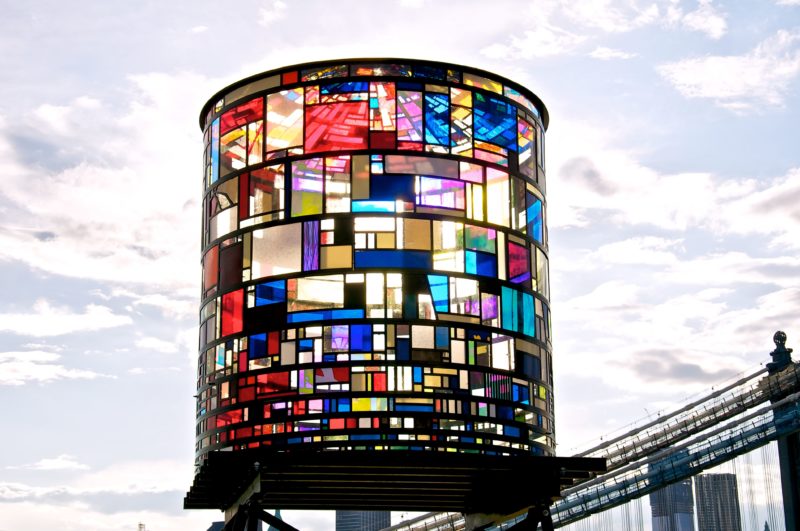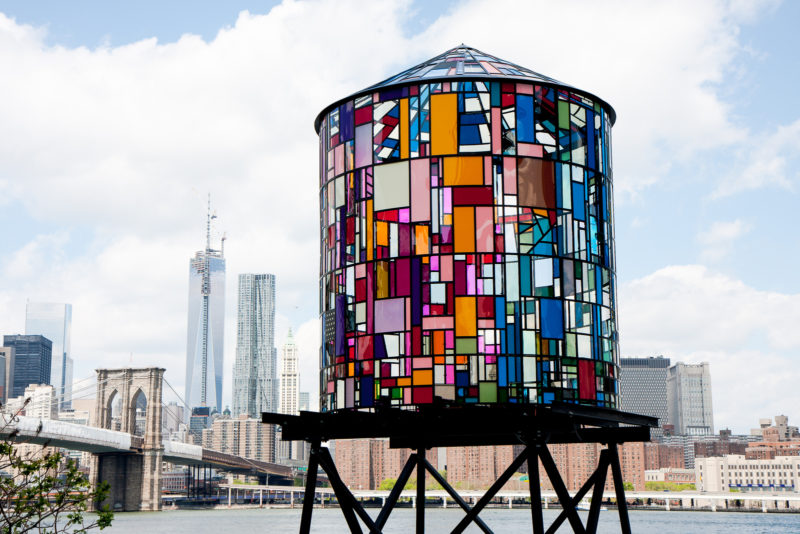 Light Show & Former Location
Since the opening in June, daily light shows began at dusk and continued to morning, using light sequences designed by Ryan Holsopple. Watertower was installed until June 2013.
The Water Tower was installed on the rooftop of 20 Jay Street and viewable from the parks and streets of Dumbo, the Brooklyn and Manhattan Bridges, FDR Drive and Lower Manhattan.
Prime viewing locations
Brooklyn Bridge Park at Washington Street (map) and the Manhattan Bridge bike path.
Conclusion
In a city like New York, there are large buildings everywhere and people rush from one place to another, being least bothered by the passing fellow. This water tower gives many of those hope to humanity. Even though it is mostly steel and plexiglass, there is wood in it that is not too industrial. The thing about Fruin is that he doesn't put too much effort. He wants to be his work effortless and not over the top for people to feel connected to it, and he finds simplicity the key.
In a city like New York, the water tower is an impressive sight. High in the sky, from where everyone can see it, the Water Tower reaches out to everyone. There is simplicity, there is beauty, and there is cost-effectivity that pulls the eyes towards it.