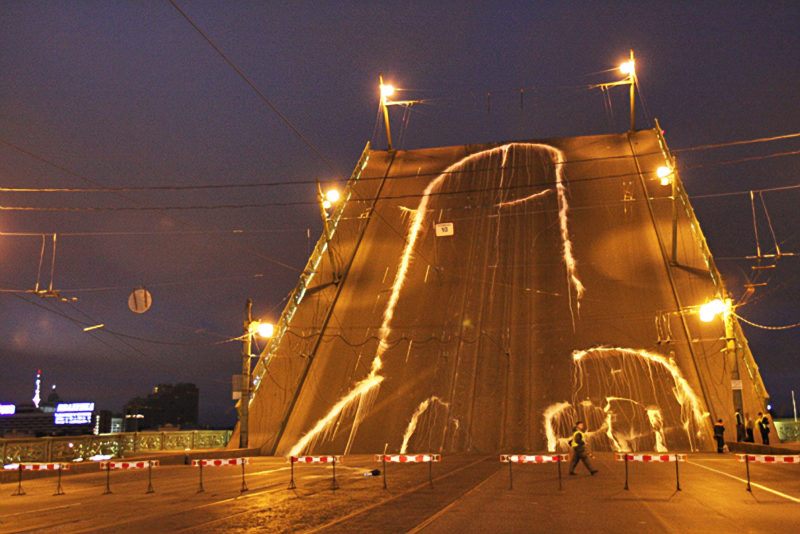 Who is Voina?
A group of Moscow art members, also known as the "Members of War" or more popularly as Voina have racked up quite the reputation for themselves as art rebels. The group is famous for faking gay beatings at local malls or portraying Russia's federal museum director in an orgy. On the morning of famed revolutionary Che Guevara's birthday in 2010, the group created a 65m (213ft) tall drawing of a gigantic phallus on the Foundry Bridge. The drawing did not take long to complete (23 seconds). However, it did deliver in terms of the message that Voina wanted to pass across.
Why did they paint this gigantic phallus?
In short, the drawing of the phallus was created as a giant "fuck you" to all the Russian authorities that have operated through years with corruption, impunity, and oppression. According to the group members, the large drawing would rise and fall every time it was raised to allow passing ships beneath through. It was framed on the Foundry Bridge because the bridge represented the striking architecture of the former capital city of the Russian Empire.
Video: Report from Russia Today
Why did they choose the Foundry Bridge?
When the Foundry Bridge rose as it does every morning, the galactic phallus created by the group faced the Federal Security Service (FSB) windows directly. The renegade art group created the image to send a simple message; that Russian government officials were corrupt and that the public was aware and willing to do something about it.
Aftermath: Arrests
Needless to say, the leader of the group was arrested, but not before thousands of bridge users, city residents and FSB agents from across the city had received the message. Some of them took the opportunity to take photos of this political statement, and it made rounds on some of the most popular social media platforms.
Mixed reactions
According to Voina, another group of activists was supposed to spell out the FSB acronym to clarify who the recipients of the message were. However, the activists did not make it to the daring graffiti installation. The security guards at the bridge were perceptibly annoyed by the installation; however, the local police seemed to find humor in the galactic phallus.
Video: Making of
Conclusion
Voina, although unconventional in the techniques, managed to snag a nomination from a prestigious government-sponsored art award. Up to this day, the giant galactic space phallus, now dubbed "the pen*s in FSB captivity", has managed to inspire thousands of Russians in different ways.
Location of Liteynyy bridge (Литейный мост)