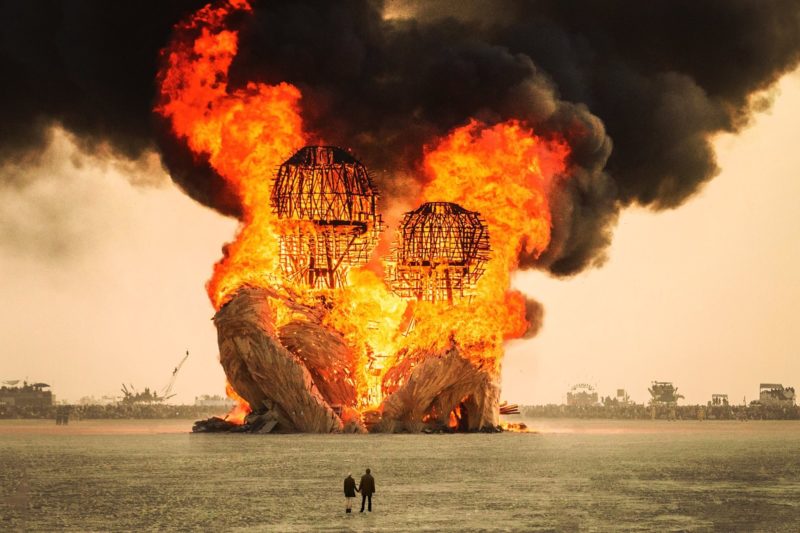 Embrace by The Pier Group
The Pier Group, a collective of artists, engineers, and builders, came together and spent a budget of $265,000 in order to create Embrace, the 72-foot (22 meter) sculpture of two figures embracing, whose fleeting life would end up in flames at the Burning Man festival.
The sculpture had an internal staircase
The enormous sculpture had previously supported an internal staircase that allowed visitors to climb up to the heads. In their chests, each figure held massive chandeliers in the shape of human hearts. As people would climb up the spiral staircase, they would work their way up through the neck leading to the head. As the journey becomes increasingly tighter and claustrophobic, there is a cathartic release into the mind. As groups of people would come together, gathering in each head of the sculpture where they would look through the eyes upon the other head, they would be in a place of unique contemplation. Each head contained a mandala. One mandala was dedicated to the act of birth and creation. The other was dedicated to logic and reason.
Video of Embrace
Watch $265k Burning Man 2014 Embrace Burn
The meaning of the artwork
Embrace serves as a testament to the moment, a representation of temporality, as the massive statue is the epitome of the beauty of immediacy. This massive sculpture was dedicated to and honored every relationship in all of our lives, and like the Burning Man itself, the sculpture represents an internal pilgrimage.
Embrace also represents the moment that is the now. As individuals approach the sculpture, a couple towering high above the desert rises as if it is a piece of the landscape that belongs there and always has. The embrace itself is a reminder to the audience of loved ones, those who are still there, those who have been lost; lovers, family, friends…
The temporality becomes apparent as the 70-foot sculpture was set to flames, disappearing in a cloud of smoke and becoming part of the landscape as ash.
More Burning Man
Art in deserts