Zhang Xiaogang – Bloodline Series – Father and Son
Why Zhang Xiaogang started painting
Contemporary artist, Zhang Xiaogang, was born in Kunming in China's Yunnan province in 1958 and was the third of four brothers. Zhang's mother, Qi Ailan, taught Zhang how to draw in order to preoccupy him so that he would stay out of trouble. Zhang has made waves with his paintings in his predominantly monochromatic Bloodline series, which are stylized portraits of Chinese people, posed stiff and upright, in a manner that is deliberately reminiscent of family portraits from the 1950s and 1960s.
Analysis of 'Bloodline'
Through his painting, Zhang questions concepts of difference, otherness, and perception. His sitters stare out from the canvas with penetrating detachment, thus confronting the audience with an almost otherworldly gaze; the sitter's vacant expressions seem to look into the audience's soul, nothing can escape from their big piercing eyes.
Mao's Cultural Revolution of 1966-77 witnessed the annihilation of a significant number of historical documents, including family portraits. Family photos were a strong tradition in China before the revolution, and the change in the Family portraiture tradition represents to many the loss of precious family memories that are addressed in this Bloodline: The big family series.
Technique
He also uses vivid lighting effects combined with flat indistinctive backgrounds to venerate his subjects. In his work, individuals are painted with a smooth pearly finish looking very similar to the finish of porcelain, and their faces lack any emotion whatsoever. These detached faces stare into the audience and the world beyond. However, the reminiscence of the traditional family portrait draws you in, contradicting the aversion to the seemingly unnatural expressionless stare of the figures staring back at you. Zhang Xiaogang uses his talent to create a sense of nostalgia in his works by employing the conventions of traditional Chinese photography. This work is simply intriguing.
Single portraits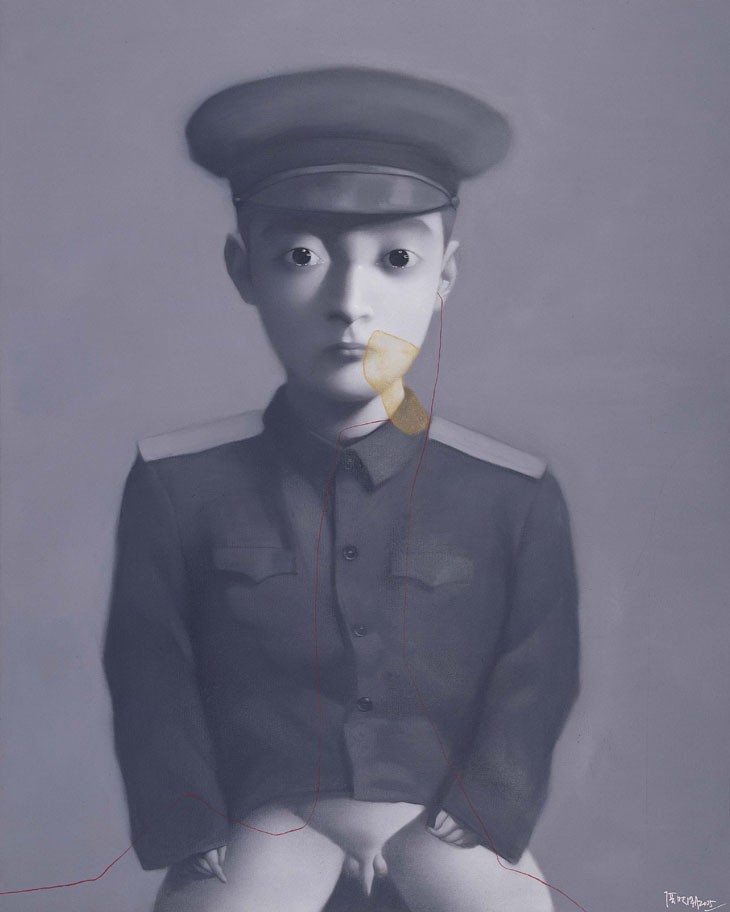 Zhang Xiaogang – Bloodline Series – My dream, Little General, 2005, Oil on canvas, 200x260cm

Zhang Xiaogang – Bloodline Series – Boy, 2003, oil on canvas, 130x110cm

Zhang Xiaogang – Bloodline Series – Boy, 2004, oil on canvas, 146x118cm

Zhang Xiaogang – Bloodline Series – Comrade (Sister), 2006, Lithograph on wove, 94×77cm, Edition of 99

Zhang Xiaogang – Bloodline Series – The Fixed Gaze, 2009, Lithograph, 120x80cm, Edition of 130

Zhang Xiaogang – Bloodline Series, 1996, oil on canvas, 40×30.2cm

Zhang Xiaogang – Bloodline Series, 1997, oil on canvas, 40x30cm
Siblings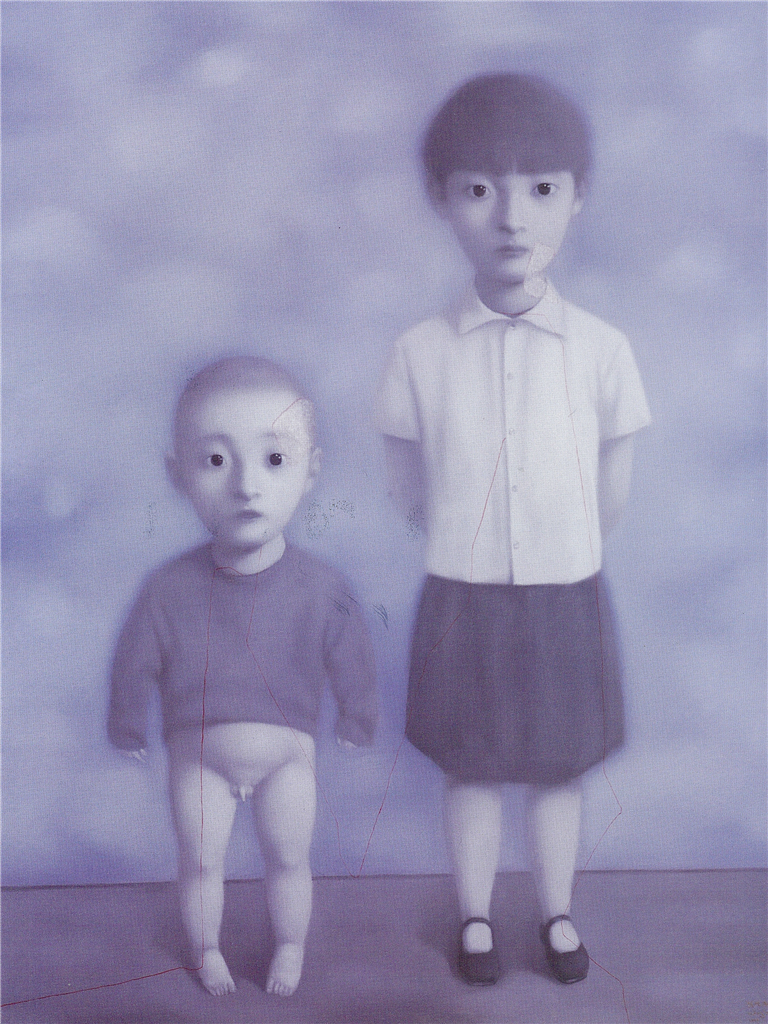 Zhang Xiaogang – Bloodline Series – Big Family – Sister and Brother, 1999, oil on canvas, 190x150cm

Zhang Xiaogang – Bloodline Series – Brothers, 2006, oil on canvas, 180x230cm

Zhang Xiaogang – Bloodline Series – Sister and Brother, 2010, oil on canvas, 270x370cm

Zhang Xiaogang – Bloodline Series – Two Sisters, 2003, Lithograph, 50.8×64.1cm

Zhang Xiaogang – Bloodline Series – Big Family No. 9, 1997, oil on canvas, 150x190cm
One Child Families

Zhang Xiaogang – Bloodline Series – Big Family No. 1, 2001, oil on canvas, 200x300cm

Zhang Xiaogang – Bloodline Series – Big Family No. 2, 1993

Zhang Xiaogang – Bloodline Series – Big Family No. 2, 2001, oil on canvas, 200x300cm

Zhang Xiaogang – Bloodline Series – Big Family No. 9, 1996, oil on canvas, 150x190cm

Zhang Xiaogang – Bloodline Series – Big Family Series, 2006, lithograph, 105.4×139.7cm

Zhang Xiaogang – Bloodline Series – Big Family, 2003, Lithograph printed in colors, 56.9 x 71.88 cm, Edition of 199
Father & Daughter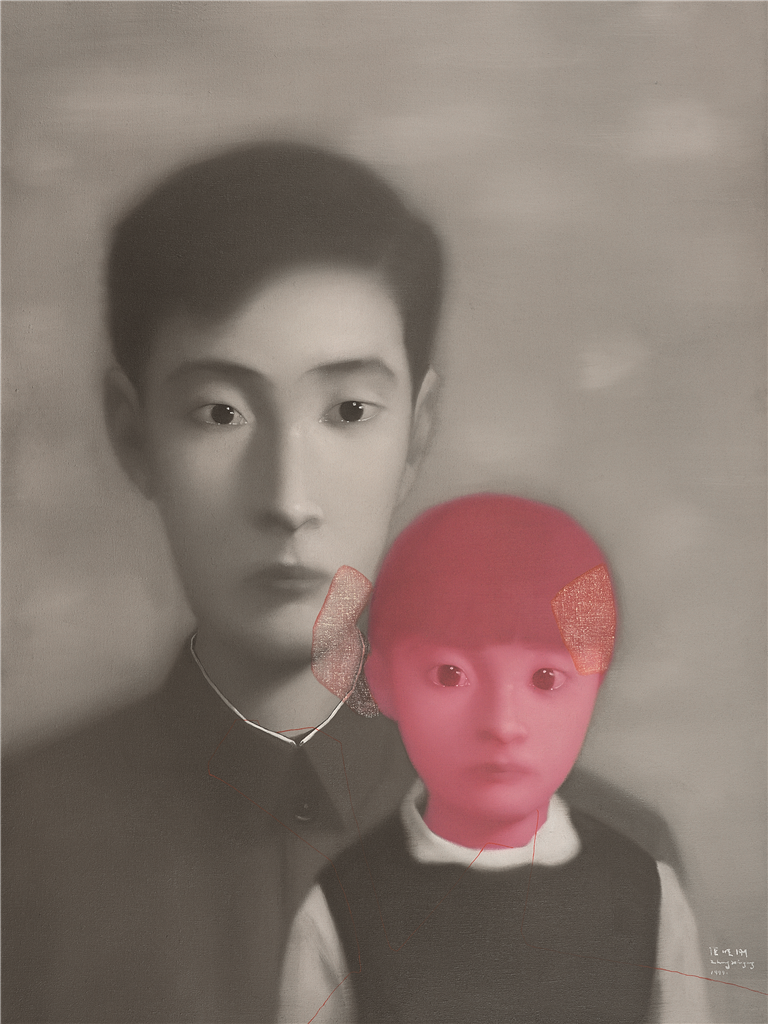 Zhang Xiaogang – Bloodline Series – Father and Daughter No. 1, 1999, oil on canvas, 100x80cm

Zhang Xiaogang – Bloodline Series – Father and Daughter No. 1, 2005, oil on canvas, 80x100cm

Zhang Xiaogang – Bloodline Series – Father and Daughter No. 1, 2008, oil on canvas, 200x160cm

Zhang Xiaogang – Bloodline Series – Father and Daughter No. 1, 2010, oil on canvas, 120x150cm

Zhang Xiaogang – Bloodline Series – Father and Daughter No. 2, 2008, oil on canvas, 160x200cm
Father & Son

Zhang Xiaogang – Bloodline Series – Father and Son
Big families

Zhang Xiaogang – Bloodline Series – Big Family No. 1, 150x179m

Zhang Xiaogang – Bloodline Series – Big Family No. 2, 1996, oil on canvas

Zhang Xiaogang – Bloodline Series – Big Family No. 10, 2000, oil on canvas, 200x300cm

Zhang Xiaogang – Bloodline Series – Big Family, 1995, Oil on canvas, 179x229cm
Others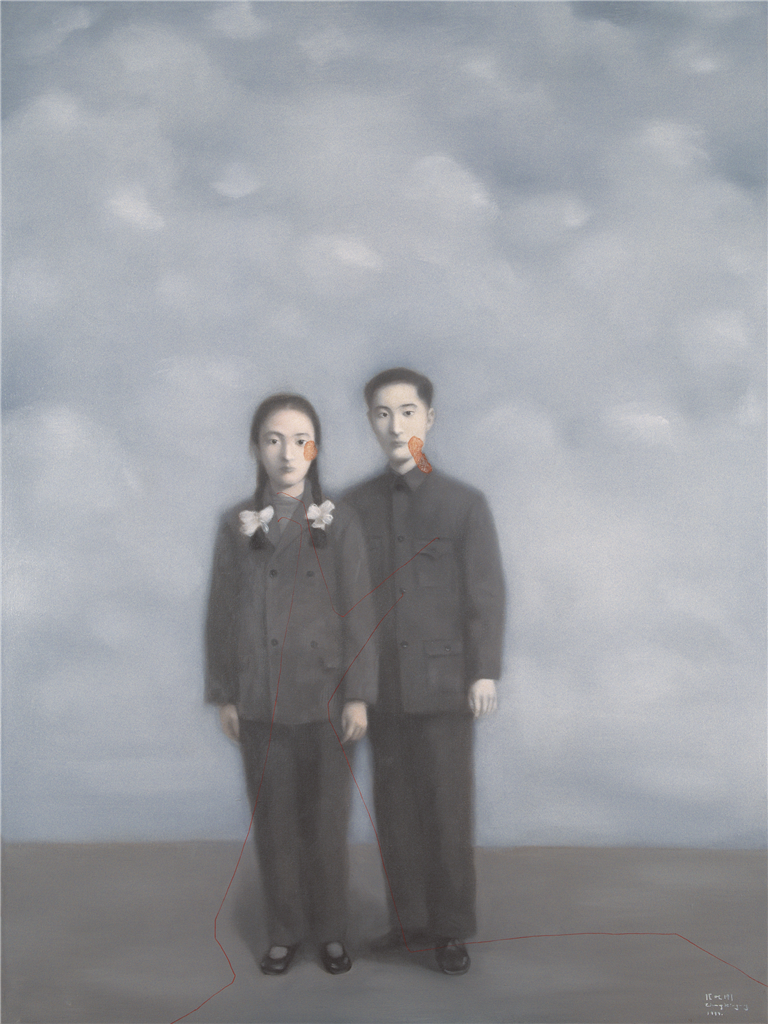 Zhang Xiaogang – Bloodline Series – Lovers, 1999, oil on canvas, 130x110cm

Zhang Xiaogang – Bloodline Series – My Ideal Job — Worker, Peasant, Businessman, Student, Soldier, 2008, oil on canvas, 280x500cm

Zhang Xiaogang – Bloodline Series, 1998, 150x150cm